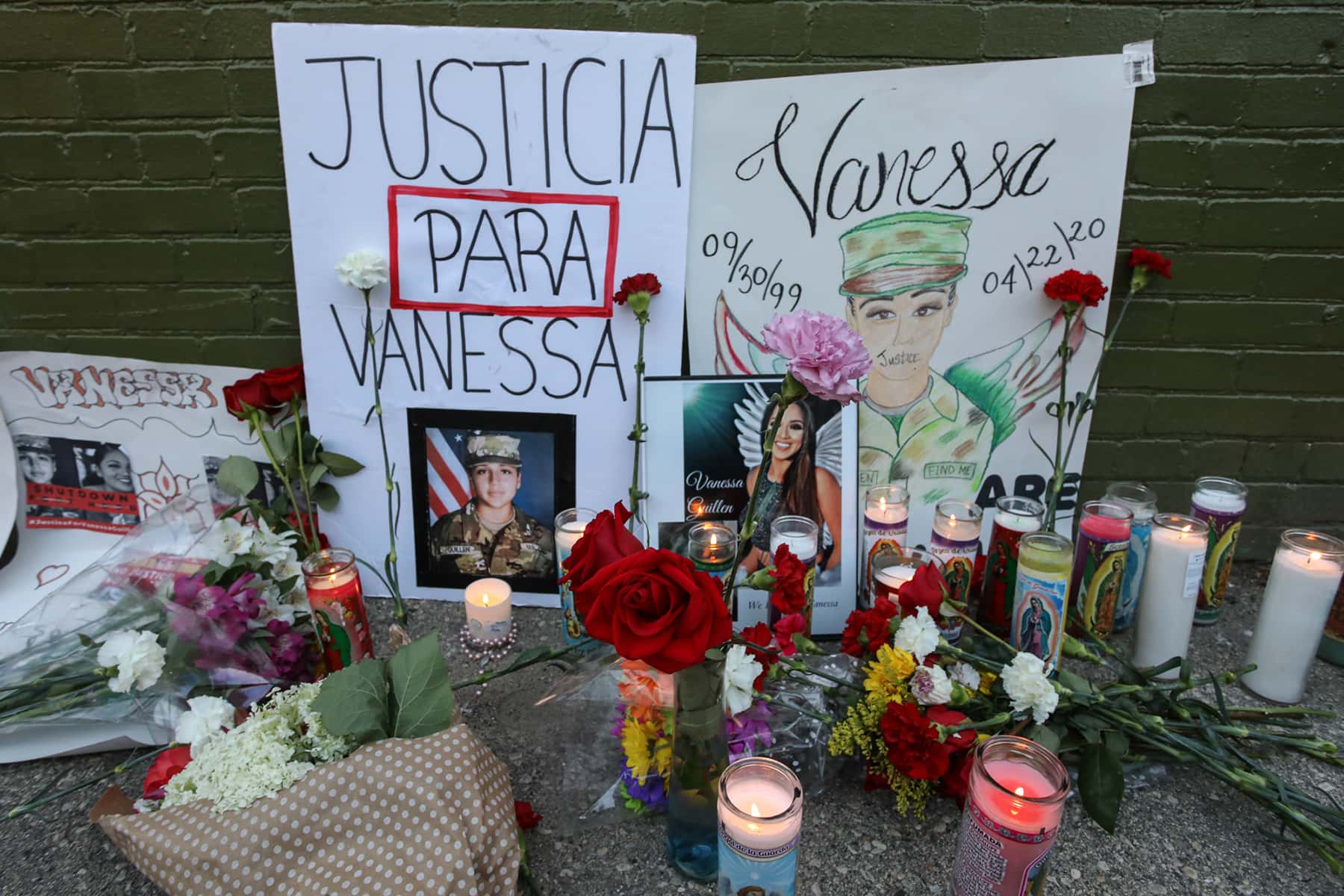 A candlelight vigil was held July 6 at Kosciuszko Park on Milwaukee's south side to remember U.S. Army Specialist Vanessa Guillen, who was subjected to sexual harassment, then murdered and dismembered.
Several hundred people gathered at the memorial event to demand justice for the family of Guillen. The vigil was organized by student activists Melissa Soto and Deisy Espana, and coordinated by Forward Latino, a nonprofit advocacy organization dedicated to assisting the Latino community.
As the vigil began, a large group of Black Lives Matter demonstrators marched into the park and joined the event. Speakers included Milwaukee County Supervisor Sylvia Ortiz, Yolanda Medina, Director of Military & Veteran Affairs; Darryl Morin, National President of Forward Latino; and Congresswoman Gwen Moore.
"Vanessa was a talented young woman who wanted to dedicate her life to serving her country. Yet in her time of need, she could not turn to those who should have been best positioned to help her," said Congresswoman Moore in a prepared statement read by Morin. "I am saddened and outraged that we have to be here to commemorate another brilliant life cut short. It is a tragedy that, in this day and age, women in the military continue to be the targets of unwanted sexual harassment and assault."
Organizers called for an independent Congressional investigation into the murder of Guillen, and for legislation that would create an independent organization that U.S. Military personal could file complaints with in confidence. A growing number of sexual harassment claims and assaults in the United States Military goes unreported each year due to a fear of investigation bias and jepradizing careers for speaking out.
"The facts behind the Vanessa Guillen story, though unbelievably sad, are not at all shocking to me. Based on my own experiences in the military and story after story from fellow female veterans, sexual harassment and assault is rampant in the military. The blatant disregard for the soldiers, sailors, airwomen, Marines, and guard members who try to report it has gone on for decades," said Medina. "In Vanessa's case, it appears the world has not changed in the 30 years since I served active duty."
The remains of the 20-year-old soldier were found buried about 20 miles east of Fort Hood, ending a two month search after she vanished from the Texas base. Army officials told the family it took longer to identify the remains because Guillén was bludgeoned so terribly that they were unable to use dental records.
Guillén, who had been missing since April, was killed and dismembered by U.S. Army Specialist Aaron Robinson, a 20-year-old soldier who took his own life to avoid being arrested. Cecily Aguilar, a 22-year-old civilian from Killeen, was taken into custody and charged with helping hide Guillén's body.
"Military leaders and others keep saying that because of reforms made in the past few years, the military has made progress but needs additional time for reforms to truly take hold," added Congresswoman Moore. "How can there be progress when most people who suffer sexual harassment or assault in the military will never report it? It is clear that we need bolder and stronger reforms if we are going to significantly change a culture that is quick to blame and punish those who suffer, while failing to hold perpetrators to account."
The U.S. military has a responsibility to ensure the safety and well-being of the young women and men that take an oath to defend the country, and critics charge that leaders have been failing in that duty. Guillen's family has said that she previously experienced sexual harassment, but was afraid to report the incidents for fear of retribution.
"Serious allegations have been made regarding the lack of transparency of the investigation into her murder, as well as inaction on numerous complaints of harassment made against the individual suspected of taking her life in a most brutal and barbaric manner," said Morin.
According to the Department of Defense Annual Report on Sexual Assault in the Military, Fiscal Year 2019, there were 7,825 reported sexual assaults in the U.S. Military. That represents a 3% increase over 2018. There was also a 10% increase in the number of sexual harassment claims. The Department of Defense also saw an increase in victims who confidentially disclosed their assault without starting an official investigation by 17% with 2,126 reports being filed. The data illustrates a clear lack of faith in the chain-of-command to address the issues. Even though the numbers are staggering, they represent only a fraction of the actual acts of harassment and assault because victims most often choose not to disclose such personal attacks.
"All those people who praise the military and honor our soldiers, where are their voices now? Why are they unable to show support for this American, who was killed on an Army base?" said Maria Hernández in a tweet. "They are silent because Vanessa Guillen was a Latina, and in the absense of words their racism speaks for them. #JUSTICEFORVANESSAGUILLEN"
After a Mariachi band brought a conclusion to the vigil, the Black Lives Matter rally continued marching to the Our Lady of Guadalupa mural painted by Mauricio Ramirez and Chacho Lopez across from the St. Josaphat Basilica. Homemade signs memorializing Guillen were left at the mural, along with candles and flowers. Further speaches were made by participants before the march continued north.
These headline links feature the daily news reports published by Milwaukee Independent about the George Floyd protests, the revival of the Black Lives Matter movement that followed, and their impact on the local community in for 8 months from May to December of 2020.