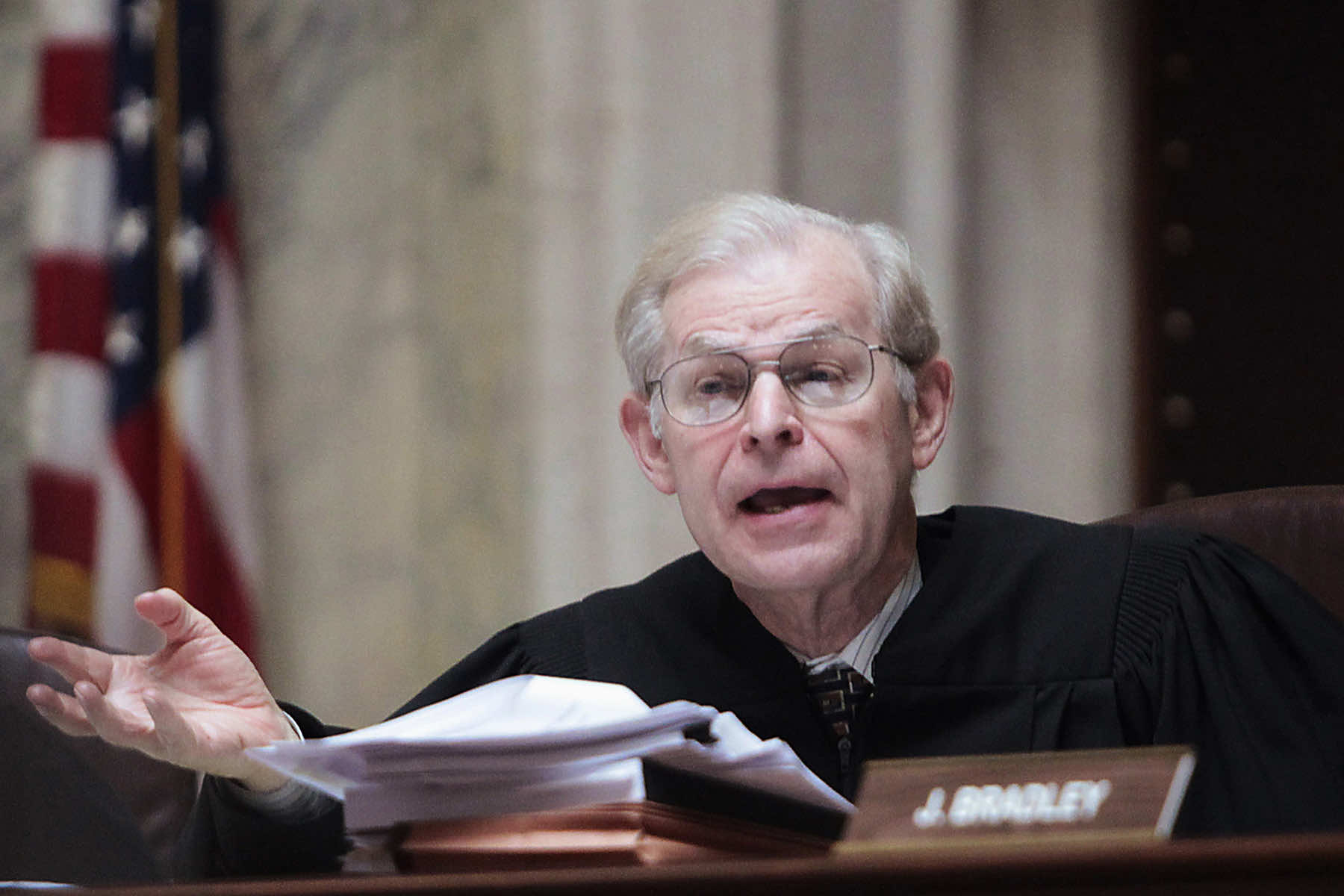 One of the former Wisconsin Supreme Court justices tapped to investigate impeaching newly elected Justice Janet Protasiewicz for taking Democratic Party money accepted donations from the state Republican Party when he was on the court.
The former justice, Republican David Prosser, gave $500 to the conservative candidate who lost to Judge Protasiewicz, did not recuse from cases involving a law he helped pass as a lawmaker, and was investigated after a physical altercation with a liberal justice.
Prosser is one of three former justices tapped by the Republican Assembly speaker to investigate the criteria for taking the unprecedented step of impeaching a current justice. Speaker Robin Vos has threatened impeachment because Judge Protasiewicz accepted nearly $10 million from the Wisconsin Democratic Party and said during the campaign that heavily gerrymandered GOP-drawn legislative electoral maps were "unfair" and "rigged."
The retaliatory impeachment threat comes after Judge Protasiewicz's win this spring handed liberals a majority on the court for the first time in 15 years, which bolstered Democratic hopes it would throw out the Republican maps, legalize abortion, and chip away at Republican laws enacted over the past decade.
It also comes at the same time that Assembly Republicans passed a sweeping redistricting reform bill Vos described as an "off-ramp" to impeachment and Senate Republicans voted unlawfully to fire the state's nonpartisan elections director. Both moves take on heightened importance in Wisconsin, one of a handful of swing states where four of the past six presidential elections have been decided by less than a point.
Vos would not say who he had chosen for the secret, three-judge impeachment review panel, but Prosser confirmed that Vos asked him to participate. None of the other eight living former justices, six of whom are conservatives, have commented on if they were selected. Justices are officially nonpartisan in Wisconsin, but in recent years the Republican party has weaponized the court to support their gerrymandered majority.
A former liberal justice, Louis Butler, said he was not asked. Four former conservative justices — Jon Wilcox, Dan Kelly, 7th U.S. Circuit Court Chief Judge Diane Sykes and Louis Ceci — said they were not asked.
Ceci, 96, is the oldest living former justice. He served on the court from 1982 to 1993 and served one term as a Republican in the state Assembly in the 1960s. Ceci said he does not know anything about the impeachment threats Judge Protasiewicz faces beyond what he reads in newspapers.
A seventh former justice, Janine Geske, said that she was not asked. Vos said former Justice Michael Gableman, whom Vos fired from leading an investigation into the 2020 election, was not on it. The most recently retired justice, conservative Patience Roggensack, declined to comment.
Roggensack and Prosser voted to enact a rule allowing justices to sit on cases involving campaign donors. In 2017, a year after Prosser left the court, Roggensack voted to reject a call from 54 retired justices and judges to enact stricter recusal rules.
Roggensack, in 2020, sided with the conservative minority in a ruling that fell one vote short of overturning President Joe Biden's victory in the state. And she endorsed Dan Kelly, the conservative opponent to Judge Protasiewicz in this year's election. Prosser donated $500 to Kelly, who replaced Prosser on the court after he retired.
Prosser served on the Supreme Court from 1998 to 2016 and also spent 18 years before that as a Republican member of the Assembly — two years as speaker.
There were numerous times during Prosser's years on the court where he did not recuse himself from cases involving issues he had voted on as a member of the Legislature.
Prosser did recuse himself from cases involving the constitutionality of a cap on medical malpractice damages, because he was speaker of the Assembly when the cap was instituted. But in 2004 he changed course and authored the majority opinion upholding the law he helped pass. He dissented from a 2005 Supreme Court ruling overturning the law.
Prosser also refused a request to recuse in 2015 from considering three cases related to an investigation into then-Gov. Scott Walker and conservative groups that supported him. The groups in question had spent $3.3 million to help elect Prosser in 2011.
He defended hearing the cases, saying that because the money was spent four years earlier, enough time had passed to make them irrelevant. Prosser then voted with the majority to shut down the investigation.
Prosser was also embroiled in one the court's most contentious periods in 2011, accused by a liberal justice of attempting to choke her. Impeachment was never raised as a possibility, even though police investigated but no charges were filed. The Wisconsin Judicial Commission recommended the court discipline him but nothing happened because the court lacked a quorum when three justices recused.
In 2016, Prosser received $25,000 of in-kind contributions from the Wisconsin Republican Party. Less than three weeks later he resigned with nearly three years left on his term. Vos spun the controversy of Prosser's past, by saying it would not affect his ability to fairly offer advice on how to proceed.
Prosser said the charge given to him by Vos was investigating "whether there was a legitimate reason for impeaching" Judge Protasiewicz.
When asked whether he thinks the panel should include liberals, Prosser said, "I'm really not going to answer that question."
"I really don't know what the process is going to be, who's going to be doing the writing," Prosser said. "I just really don't know."
No matter who is on the impeachment review panel, Democrats say the process is a joke and an attack on democracy designed to undo the will of the voters.
"The entire concept of having a secret panel deliberating in secret to advise an Assembly speaker on an unconstitutional impeachment on a justice who has yet to rule on a case is a farce," said Wisconsin Democratic Party Chair Ben Wikler. "This is a charade."
Under the Wisconsin Constitution, impeachment is reserved for "corrupt conduct in office or for the commission of a crime or misdemeanor." Threats to impeach Judge Protasiewicz came before she even heard any case before the State Supreme Court.
It is up to each justice to decide whether recusal in a case is warranted, and the conservative majority of the court adopted a rule saying that justices do not have to recuse if they accepted money from parties arguing a case. Other current justices have also been outspoken on hot-button issues before they joined the court and all but one have taken money from political parties.
When asked if the panel would include liberals, Vos dodged the question.