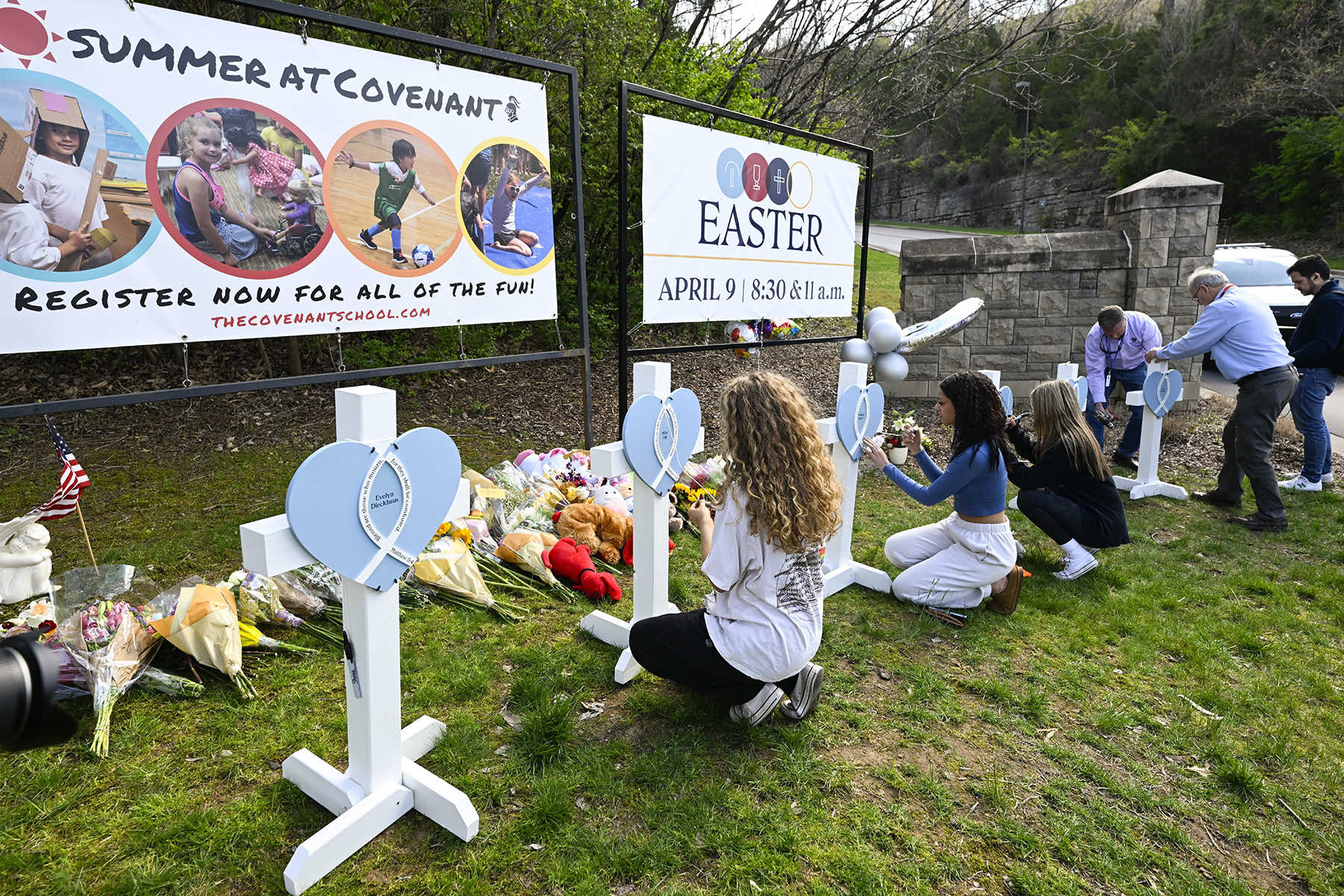 Public outrage is swift following mass shootings, such as the killing of six people at a Christian elementary school in Nashville. Sorrow and sympathy are widespread. But what comes next from policymakers is likely to depend on which political party is in charge of a state.
Do not expect new gun controls in Republican-led states, such as Tennessee or Texas. But when similar tragedies occur in Democratic-led states, more gun limits are likely, even if they already have restrictive laws. Mass shootings generally do not seem to change a state's basic political makeup.
"Democratic-led states tend to focus more on firearm restrictions whereas Republican-led states do not and often emphasize lessening regulations on guns," said Jaclyn Schildkraut, executive director of the Regional Gun Violence Research Consortium at the Rockefeller Institute of Government.
The fact that responses seem predicated by Republican and Democratic labels is perhaps an indication of the nation's political polarization — and of differing viewpoints that pin the problem primarily on violent individuals or their easy access to weapons.
TENNESSEE SHOOTING RESPONSE
Following the recent shooting at The Covenant School in Nashville, tensions ran high among state lawmakers meeting across town in the state Capitol. Democrats called for action on gun control — and got their microphones cut off by Republican leadership for criticizing their GOP colleagues' love of the Second Amendment.
"Prayers are good, but faith without works is dead," Democratic state Senator Raumesh Akbari implored with a biblical reference. "Let's not let another preventable tragedy unfold without this legislature taking real action."
Any action from Republican lawmakers, however, is more likely to move in a different direction. Republicans this year have introduced bills that would make it easier to arm teachers and allow college students to carry weapons on campus.
On the same day as the Nashville shooting, a federal judge approved a legal settlement lowering the minimum age to carry handguns without a permit in Tennessee from 21 to 18. That came just two years after a new law set the age at 21.
BLUE STATES
Michigan's new Democratic legislative majority took its first steps earlier this month toward passing a sweeping gun safety package.
The Senate voted along party lines for a red-flag law that would allow guns to temporarily be removed from people with potentially violent behavior. It also passed measures requiring anyone purchasing a rifle or shotgun to undergo a background check, which is currently only required for handgun purchases, and to store guns safely where they cannot be accessed by minors.
Much of the package was crafted by Democrats nearly 15 months ago following a shooting at Oxford High School. But the bills saw little movement until Democrats won control of the Legislature from Republicans in last fall's elections. They've gained momentum after a gunman killed three people last month at Michigan State University, not far from the state Capitol.
In Colorado, the Democratic-led Legislature was pursuing a variety of new gun restrictions after five people were killed last November at an LGBTQ nightclub in Colorado Springs. After another shooting injured two administrators a Denver high school last week, Democratic majorities are pushing through hours of Republican filibusters to send several gun control bills to Democratic Gov. Jared Polis.
The bills would expand who can petition to temporarily remove a firearm from someone who poses a danger, raise the minimum age for purchasing a firearm from 18 to 21 and institute a three-day waiting period when buying a gun. While Polis supports those three bills, he has demurred from questions around a fourth bill that would ban semi-automatic firearms. That bill faces a steeper battle to become law.
RED STATES
Republican-led Florida responded to a 2018 shooting that killed 14 students and three staff members at a Parkland school by passing laws that raised the gun-buying age to 21, imposed a three-day waiting period for purchases and authorized red-flag laws to temporarily remove guns from people. But that marked a bit of an exception for Republican states.
In Texas, minority party Democrats have filed numerous gun-control bills after a shooter killed 19 children and two teachers last May at Robb Elementary School in Uvalde. Relatives of some of the victims have joined Democratic lawmakers at Capitol rallies urging action.
Some proposals would raise the age for owning so-called assault weapons, limit firearm transfers among people and create requirements for safe firearm storage. But GOP state leaders have made clear from the start that these bills do not have the necessary votes to pass.
Instead, Texas officials responded last summer with about $105 million for school safety and mental health initiatives. The Senate also passed a bill earlier this month that would require the reporting of court-mandated mental health hospitalizations to the FBI's National Instant Criminal Background Check System for people as young as 16. That bill now is pending in the House.
Students from Central Visual Arts and Performing Arts High School in St. Louis, where a gunman killed two and injured seven others last fall, also have traveled to the Missouri Capitol to urge greater gun-control measures. But Democratic-sponsored bills to create a red-flag law allowing temporary gun removals have yet to receive a hearing in the Republican-led Legislature.
Instead, the Legislature approved $20 million for safety grants to schools across the state in response to the shooting, and is considering more money for the program. A House committee also recently endorsed budget amendments that would provide several hundred thousand dollars for mental health care, art supplies and musical instruments at the school.