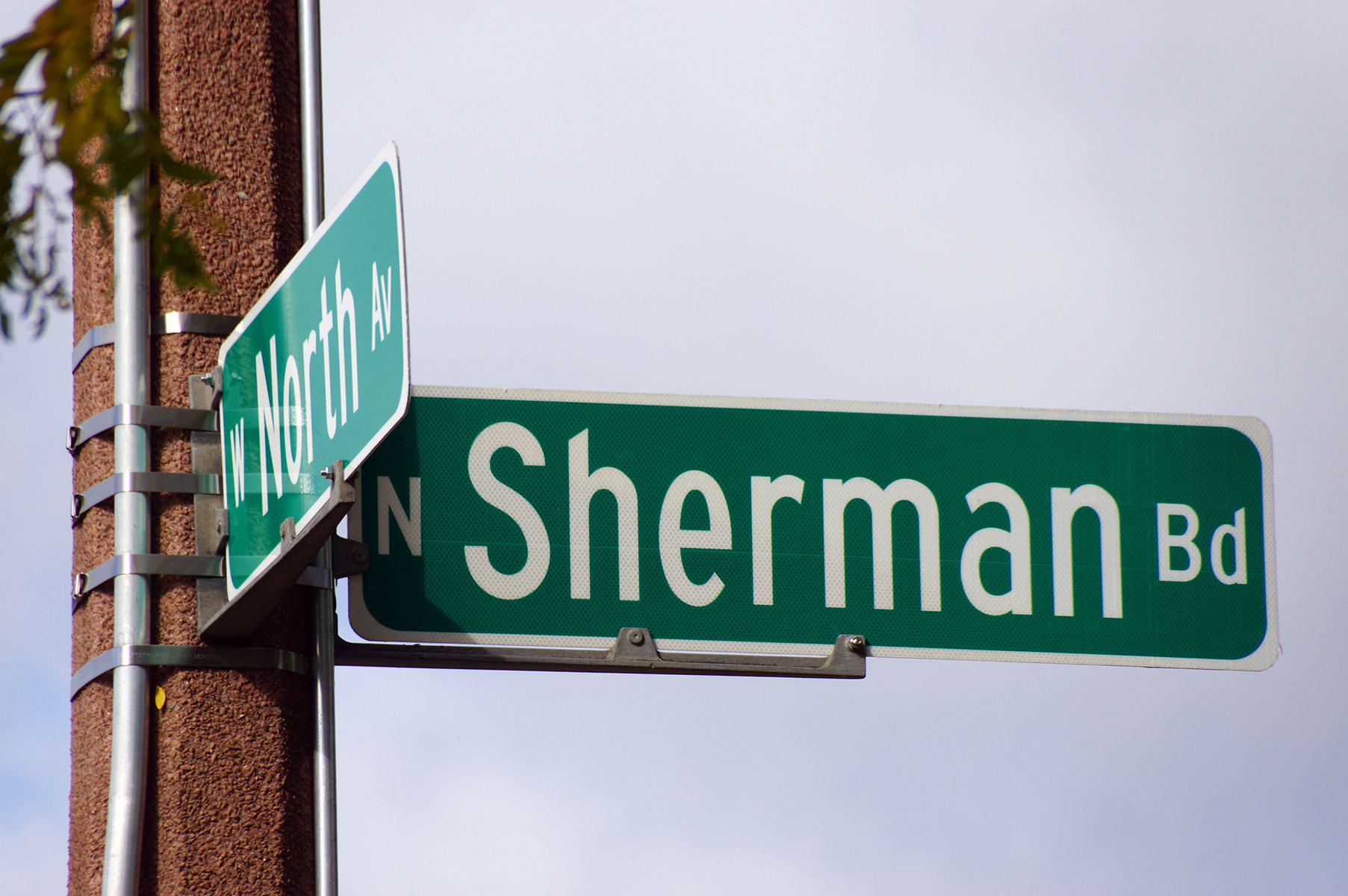 Late on the night of Saturday, August 13 as I was driving home from Chicago, I changed the dial on my radio to discover that my neighborhood, Sherman Park, was on fire. It is ironic that at that moment I was passing by the amusement park known by many as simply "Great America."
A young man had been shot and killed by another young man who was a police officer in Milwaukee earlier that same day just around the corner from my house. I saw the police tape and groups of residents "gawking" as our mayor described it in the early afternoon as I was leaving the city.
I returned to a Sherman Park neighborhood that was quite different than the one I'd left only eight hours earlier. Or so I was told. Within the next week, media members from local newspapers, television stations, and national and international news organizations descended on Sherman Park. They told many different stories in the days after the shooting. I too told stories, and in a number of interviews attempted to place the events into historical context.
They say that hindsight is 20/20. A number of people told of the coming storm that they'd predicted in the days and months leading up to the civil unrest in Sherman Park. The conditions that existed in this neighborhood were well known by its residents. Local police officers saw the devastating impact of the concentrated poverty. Business owners were dealing with the effects that the Great Recession of 2008 had produced. Elected officials had spoken about the trauma of joblessness in our city. My neighbors had been having conversations about how the neighborhood was changing for months or perhaps years. Our local universities had studied the segregation of Milwaukee for decades.
None of these stories were new. But to some of those outside of Sherman Park these stories were "eye opening." I had friends and family from around the country calling to check on my well-being. They thought the entire black section of Milwaukee was on fire. Many of my neighbors in Sherman Park told me the same thing. Even people within the city of Milwaukee were calling, texting, and tweeting to those of us in the "danger zone." I responded like many, that the violence, burning, and looting was not widespread. It was concentrated within a short distance of the flashpoint on 44th and Auer Avenue.
I've taken the time to read nearly everything that was written in our local newspaper this past week. Likewise, I spent a great deal of time watching videos and reading articles online from the local news stations and a great variety of state, national, and international news sources. This is not a critique of the media coverage, only my observations of it. As a teacher, I talk to my students about the necessity of being meticulous in your research for a reason.
The first headline about the events on the front page of our largest newspaper said "Crowds turn on police: Fires set, shots fired after officer kills armed man."
One of our local news affiliates had a story titled: "Things get out of hand:" Violence breaks out in Milwaukee following officer-involved shooting that Saturday night, August 13, at 9:31 pm.
Before the week was over, the local television stations reported hundreds of stories. All of these are archived for us to revisit thanks to the modern marvel known as the Internet. We can look back and see the progression and patterns that developed in the reporting. Early on, during those first twenty-four hours of what has become known as "Milwaukee's unrest," the stories were alarming.
Gov. Walker activates National Guard after Milwaukee unrest: Decision to deploy lies with Milwaukee police Chief Ed Flynn posted at 8:25 pm Sunday night, August 14,  by one of the local news affiliates.
MPD's District 7 station barricaded, officers on roof after shots fired at building Sunday was posted by another local outlet at 5:34 pm Sunday.
Milwaukee County Sheriff David Clarke requests mobilization of National Guard was a story at 9:54 am Sunday morning.
Looked like Baghdad was the lead in to a story at 4:39 pm.
Raw video captures police protests in Milwaukee greeted a CNN audience at 2:15 pm Sunday afternoon.
But there were other more measured responses. Some of the news stories reported what I saw that Sunday morning and afternoon in the impacted area.
Volunteers turn up to help clean up after unrest was posted at 9:10 pm Sunday night.
This is not the way to go: Coalition for Justice leads efforts to clean up neighborhood hit hard by violence was online by 8:59 am and updated at 5:55 pm Sunday.
Over the next few days there would be confrontations between police and civilians in the street around the BP gas station after the sun went down. These extended out two to three blocks from the intersection of Sherman and Burleigh for the most part. Late Sunday night a stray bullet struck a young man. This is the only gunfire I'm aware of that injured someone. Police cars were damaged and destroyed. A few homes and businesses in other parts of the city went up in flames after the initial events Saturday night.
Watching the news coverage, both local and national was surreal. To have my home be the focus of intense national and international news was not new to me. I lived in Los Angeles during the events that followed the beating of motorist Rodney King in 1991. I was at work when the verdicts were announced. All of us were sent home immediately. I watched from the comfort of my living room as stores were looted and burned while police officers stood by and watched. I saw news helicopters fly over a large store where a handful of people were running out with merchandise as police stood outside watching. Within a few minutes dozens of vehicles from all directions descended on the store. I knew that those burning neighborhoods were the scenes of violence, looting and despair earlier in 1965, the year I was born in a little town in Mississippi.
As I searched the archives of so many different news sources to see what was being said about Milwaukee, themes developed. I noticed that very few headlines in Milwaukee's local media mentioned the word riot as a description of the events unfolding. Nationally that term was used often. I saw that stories about the neighborhood focused on the difficulty of living as an African American in Milwaukee. Many stories were told about people from around the city rallying to help the Sherman Park neighborhood. The role that local groups played in assisting in the cleanup and calming of Sherman Park became prominent. There were dozens of stories written about the faith community stepping in to help bring things back to normal. Local community leaders were featured in stories that described the pulse of the community leading up to these events.
The events were described by most as "unrest." This word is defined in dictionaries as: disturbance or turmoil, a disturbed or uneasy state, disagreements or fighting between groups of people, a state of dissatisfaction, angry or violent behavior by people who are protesting against something. In fact, there were articles nationally that debated which terms should be used to describe what was happening in Milwaukee. Not all news outlets were the same.
Riots erupt in Milwaukee was posted on August 14 by Fox News nationally.
When did rioting become a legitimate response for grievance? was another story on their site August 15.
Trump to address Milwaukee riots with speech on law and order followed as the Fox News headline for August 16.
How different news outlets described and analyzed the events this past week was based on their editorial discretion. Which term to use was simply a choice that was made by the powers that be in that newsroom. Did it matter? I think it did.
What happened in Los Angeles in 1992 was called riots by everyone universally. The civil unrest in Milwaukee in 1967 was referred to as riots by both local papers. The term used allows people to understand the extent of the happened. Unrest is not as bad as riots. The National Guard is called in and deployed for riots but not unrest. I did not speak to many people in Sherman Park this past week that used the term riots.
I know Sherman Park pretty well. I've lived in this community since 2003. I too have seen it change. I saw the impact of the housing crisis. Homes were foreclosed on. Single-family homes became rental properties. Businesses struggled to survive and then closed. Lots of people have lost jobs. Many have been forced to work new jobs that do not pay as well as their previous jobs.
Crime has increased since I moved to the area. My wife and I witnessed the "Sherman Park rapist" fleeing the scene after pistol-whipping a young woman who fought off his advances. We saw this same man force a family across the street to move to another state after he attacked their young daughter. This innocent child who often played with our daughter, was victimized just weeks after we reported the pistol-whipping. The police told us that night that a detective would come and take our witness statements. They never came.
It is a tough place to live in many respects. However, many of us residents in Sherman Park love our neighborhood. We love it because of the stories that were not told this week. We love it because despite the harsh economic conditions and feelings of hopelessness many feel there are other narratives in Sherman Park. These stories are not sensational and do not grab headlines. They tell a different and more upbeat story of Milwaukee and Sherman Park. We are a city of nearly 600,000 people. Thousands live within the borders and surrounding neighborhoods we call Sherman Park.
They have pictures to paint of people who have overcome these obstacles. I can share a few of these with you. We have a young neighbor who is attending college to become a physician. She was an honor student and comes from a two-parent family just a couple houses away from us. We have a young man on our block who works long hours to help pay for his education at a local college. There is a young man I see getting up in the early morning hours to drive to a suburban community to work a twelve hour shift several days a week. We have neighbors who for worked many years and retired from their jobs, but continue to work part-time because they cannot just sit around doing nothing.
Single parents, both male and female who support their children and provide a safe home that values education, live throughout Sherman Park. There are dozens of entrepreneurs who own small businesses in the neighborhood. These men and women provide employment for residents in the community. Residents of Sherman Park will tell you a myriad of stories about their everyday experiences. These are the stories we want people to hear about our neighborhood.
We are only a small part of Milwaukee and suffer many of the same ills of the city. The changes that our elected officials and community organizers called for this past week will help all of Milwaukee, and Wisconsin.
Having a poorly functioning organ in our bodies creates debilitating illnesses. Doctors treat that organ to improve the condition of the entire body. Those who lack empathy for the residents that are calling out for assistance from Sherman Park and other parts of Milwaukee are shortsighted. They also lack the understanding that we are all in this together. Even if they do not care about Sherman Park or African Americans in our city, they need to understand that these people matter.
Our County Sheriff described the events this week by saying than when "social order collapses tribal behavior takes over. The law of the jungle replaces the rule of law."
We are not wild animals. Sherman Park is not a jungle. All young people in our community should not be painted with a broad brush and described as "bad."
President Lyndon Johnson, who created the National Advisory Commission on Civil Disorders in 1967, said these important words on June 4, 1965 during a commencement speech at Howard University:
"You do not wipe away the scars of centuries by saying: Now you are free to go where you want, and do as you desire, and choose the leaders you please.
You do not take a person who, for years, has been hobbled by chains and liberate him, bring him up to the starting line of a race and then say, 'you are free to compete with all the others,' and still justly believe that you have been completely fair.
Thus it is not enough just to open the gates of opportunity. All our citizens must have the ability to walk through those gates.
This is the next and the more profound stage of the battle for civil rights. We seek not just freedom but opportunity. We seek not just legal equity but human ability, not just equality as a right and a theory but equality as a fact and equality as a result."