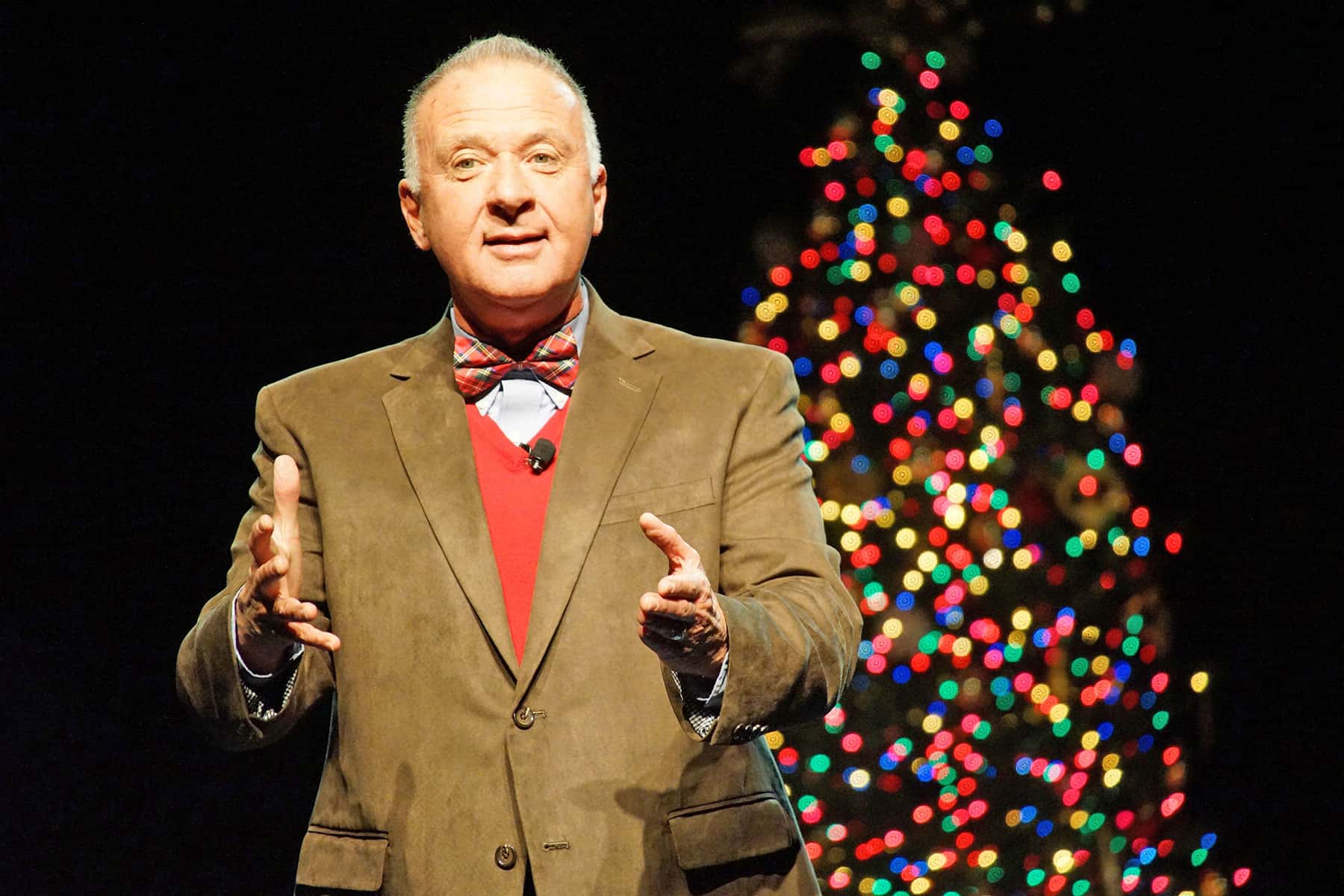 Milwaukee's own John McGivern returned to the Northern Lights Theater with his new show, "John McGivern's Holiday Tales," with five performances that ran from December 2 to 16.
As a holiday ambassador and esteemed comic entertainer, McGivern delivered a showcase of hilarious and heartwarming stories from his Milwaukee childhood. His show recalled an age of innocence surrounded by Thanksgiving dinners on the Eastside of Milwaukee, and featured the chaotic joys of life from his holidays with family. McGivern's tales of discovery included his first childhood performance as the narrator of "Shoes of Gold," to his father's adventure at the Odd-Lot-Tree-Lot, and his Christmas cookie recipe featured in the 2016 WE Energy's Cookie Book.
Presented here is the Q&A with John McGivern, as he talks about his latest show and the family source material that inspired it.
Q:
How did you develop the new show "John McGivern's Holiday Tales?"
A:
All of my solo work is developed with the help of my director Ed Morgan. What we do is go through all the stories we think could make up a show and work through the stories for theme and time, and come up with what we believes makes a full evening. Morgan arranges the order, and finds music and movement to create the production. We come up with a prop/set piece list and try to make it more than me sitting on a stool for 80 minutes.
Q:
What is your favorite story in the show or the most enjoyable part of the performance?
A:
I'm being honest when I tell you that I love the ones that have been told before, the old standards so to speak. I love the Thanksgiving War of 1964 / Brandy Old Fashion Sweet Republican vs Brandy Old Fashion Sour Democrat Story.
I'm very happy with the new WE Energies Cookie Book Story, and how it connects this year to a past year in my mother's continuing history. I'm thrilled with the way it has developed into a full, funny, touching piece.
Q:
Was there any audience feedback that is most memorable to you?
A:
Generally, when I hear the sound of recognition, when I can see people shaking there heads as if I am telling their stories. People are so quick to respond to something that speaks to their own personal experiences.
Q:
Why do you think people respond so well to your family stories?
A:
The sense and feeling of familiarity. I think my stories are touchstones to time and place, what it was, and why we remember with a sense of fondness. I always think my stories are specific and limited to just my experience, until I bring them to stage. Then I realize that so many of us have stories that feel the same. The names and streets are different, but what happens in our families and in our hearts is universal.
Q:
Were your holiday experiences growing up different than your friends who were not from an Irish Catholic family?
A:
I'm not sure they were any different. I think I speak to an era. If you are the generation behind me, you may not recognize all the stuff I talk about, but you were raised by my peers and will recognize the voice of your parents generation.
Q:
Do you have plans for another holiday show in 2017, and what will be your next live performance?
A:
Next holiday season I will be doing a tour of Pat Hazell's KODACHROME CHRISTMAS. There are a few cities already booked and most likely a few more will fill out the season. I am doing a January tour of WONDER BREAD YEARS. I will be at the gorgeous Al Ringling Theater in Baraboo on January 14th, then at the Wisconsin Rapids PAC on January 20th, and ending with a four show run at the Schauer Arts Center in Hartford starting January 27th.
Read the article, Q&A, and view the photo essay that were produced as companion features for this news report.