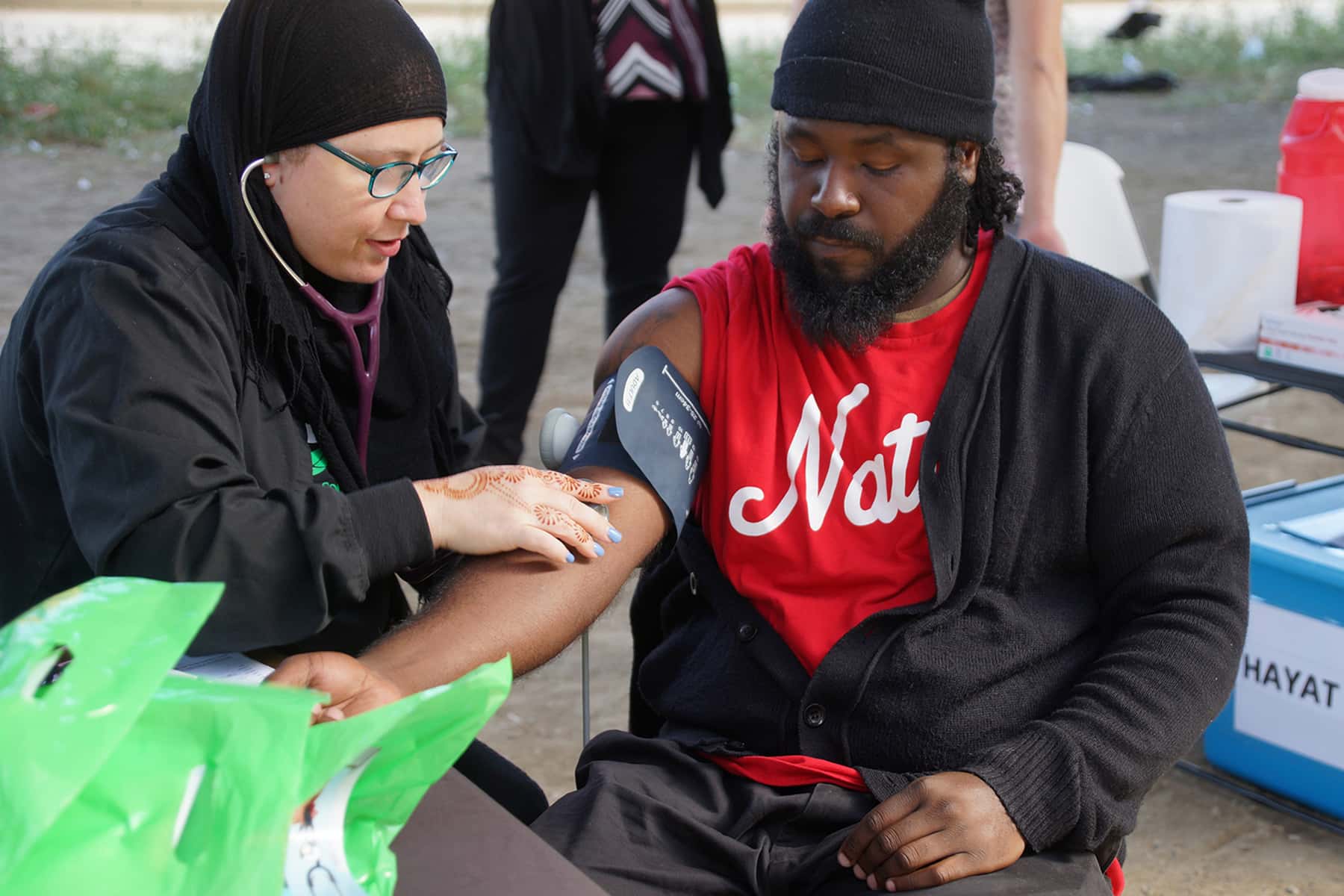 Volunteers with Milwaukee-based Hayat Pharmacy and the Muslim Community & Health Clinic (MCHC) extended free health services to the homeless community residing in the city's main tent city on August 28.
A temporary mobile health clinic was setup under the highway overpass at 6th and Clybourn Streets to take bodily vital signs, discuss individual medical histories, and address immediate health concerns with members of the homeless neighborhood, along with medication consultation and prescription management.
"We realized that there were transportation limitations for the underserved residents in Tent City. As a result, they are unable to receive the medication and care that is needed," said Hashim Zaibak, Hayat Pharmacy CEO. "We decided to step forward and be part of the solution to this growing issue, by reaching out to where they are and bring a clinic to them."
Patients who required mental health or other more specific consultations were offered appointments at MCHC's facility, and given free bus passes to reach their appointments. The on-site medical care also included flue shots, an immunization review, and hygiene products. Staff also helped with insurance enrollment and education about important medical services.
"From a Muslim perspective, if you save one person it's as if you save all of humanity," said Fauzia Quraishi, a manager at MCHC. "So we really believe in that purpose for our mission. If we can serve one person at this health clinic, we've done our job. But if we can serve more, that would be wonderful. Helping people is our number one mission."
MCHC was founded as a free and charitable clinic to care for uninsured patients from any walk of life. Milwaukee residents in need of medical services are encouraged to contact the clinic at 803 West Layton Avenue. Hayat Pharmacy has over 17 locations that offers free prescription delivery, free medication packaging, and free in-home pharmacist medication consultation.
Organizers hope that other groups in the area will offer similar health services at Tent City, and work with city and county departments for a sustainable plan to address the medical and living situations of the homeless.