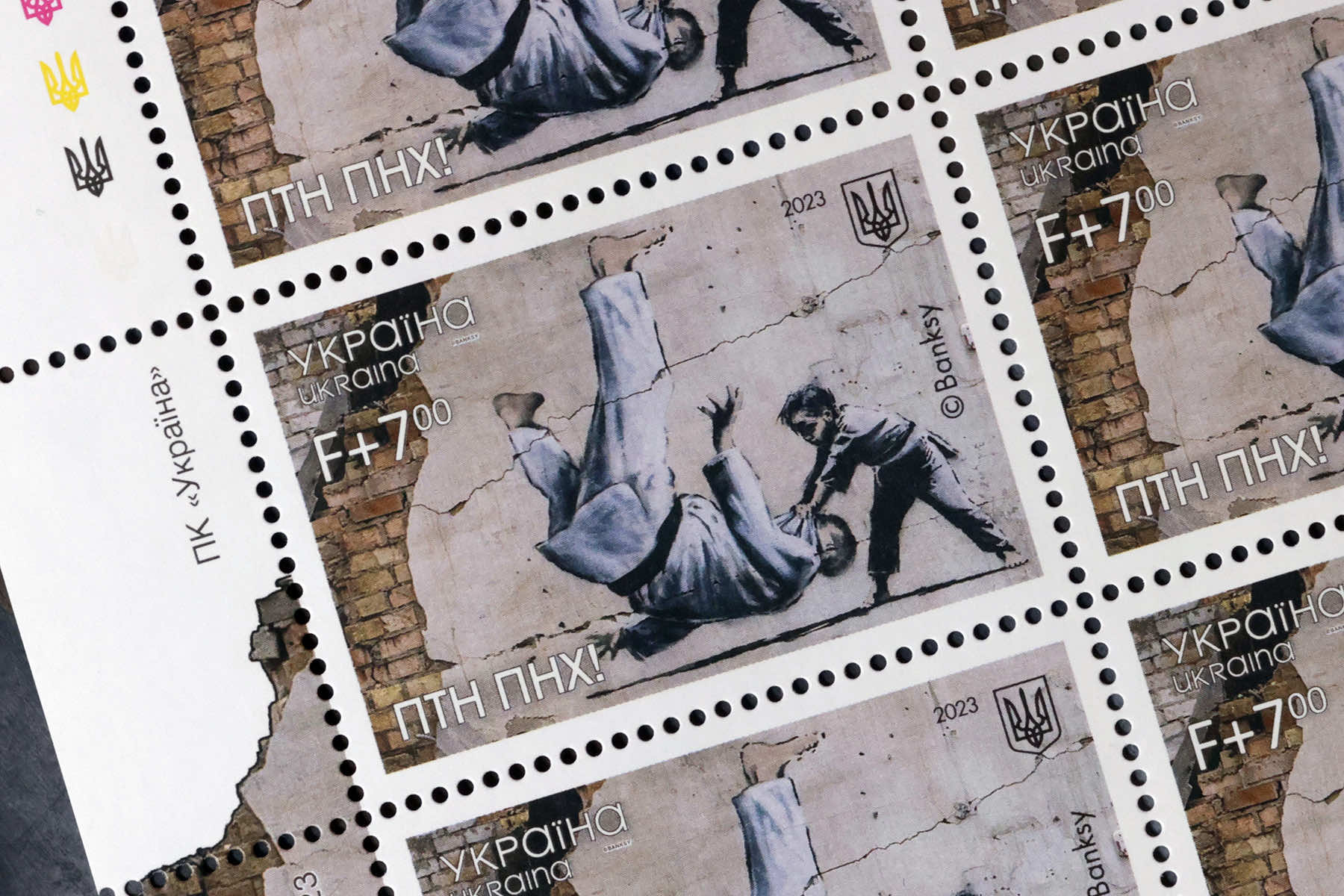 Again highlighting its tenacity, its resilience and its way with words, Ukraine marked its grim anniversary of Russia's invasion with a new postage stamp, featuring an image from street artist Banksy's recent visit there.
A small boy deftly flipping to the ground a man in a judo match, with in one lower corner the words, in Cyrillic, "FCK PTN (ПТН ПНХ)." The "allegorical" image, says the post office, describes, "A year of resistance – painful, ragged, fierce, persistent," but above all "Ukrainian."
A bloody year on, Russia's war of aggression remains what one U.S. official calls "a grinding slog," with no swift, definitive victory in sight. After a spate of drone attacks he blamed on Kyiv, Putin has ordered the border be further tightened; the Kremlin says they're open to talks, but not to renouncing claims to four partly occupied Ukrainian regions widely deemed non-negotiable. President Zelenskyy says Ukraine is prepping for spring counter-offensives with the focus on fighting in eastern embattled Bakhmut, where soldiers remain under "insane pressure."
To some international observers, today's "Great War" seems "a perverse continuation" of decades-long hostilities: Stalin's 1930s efforts to "starve the people of Ukraine into non-existence," Hitler's 1940s Einsatzgruppen murdering tens of thousands of Jews, Soviet 1960s flooding and landslides, the 2014 Russian seizure of Crimea.
In a recent visit to "bear witness (to) tales of trauma and humanity," members of a pan-European coalition of political, economic and faith leaders describe an ongoing war of "myth versus truth" against a Ukraine that "isn't meant to have existed"; the price of losing is "the eradication of memory and identity."
It is within that historic context that Ihor Smilianskyi, the head of Ukraine's Postal Service, announced the issuing of their new stamp on the first anniversary of the current war. "They wanted to make us afraid every day," he says. "So we now count the new year differently – from Feb. 24 to Feb. 24." For Smilianskyi, the David-and-Goliath image of the boy and man, clearly judo-aficionado Putin, symbolizes "our small country … pinning Russia to the mat."
"We thought this exact painting would be the best representation of what every Ukrainian feels about our enemy," he said. "This is the struggle between Ukraine and Russia." On the unequivocal message in the lower left corner: "Banksy's mural, like Biden's visit, sends a powerful message to Putin: "Go Fuck Yourself!"
During a secret trip to Ukraine last fall, Banksy painted seven images in ravaged Borodyanka. The longtime political street artist – see here and here – also created 50 limited-edition prints to fundraise via Legacy of War Foundation for "our friends in Ukraine"; he felt it was "the least I should do" after he used one of the Foundation's ambulance to elude "an angry babushka" who found him painting on her building and called police.
Ukraine's post office issued 1,500,000 copies, or 250,000 sheets, of the Banksy stamp symbolizing what one resident called "a small Ukraine which defeats the big man, Russia," with about a quarter of proceeds going to humanitarian efforts, mostly rebuilding schools. It was initially offered inside an artful envelope that included a post card – with a hoodie available – and can be bought online.
It is the third time Ukraine has used stamps as wartime posters to boost morale and funds: Last year a Ukrainian artist won a design competition with his image of the soldiers who defended Snake Island – another "Go fuck yourself" message, and an 11-year-old girl drew a young girl flying alongside a Ukrainian plane.
Meanwhile, the carnage drags on. "Every murderer, terrorist and torturer will be brought to justice," Zelensky vowed in last week's address. "Life and Ukraine will prevail." But for those who have fled, including to the United States, the death and destruction feel "absolutely mad."
"I have no safe place," said one woman in halting English. "I have terrible memories."
Many Russians seem to agree, mourning "what our country is turning into." "The whole world hates us now because of this … ghoul," laments an 82-year-old woman in one video. "Putin is war."