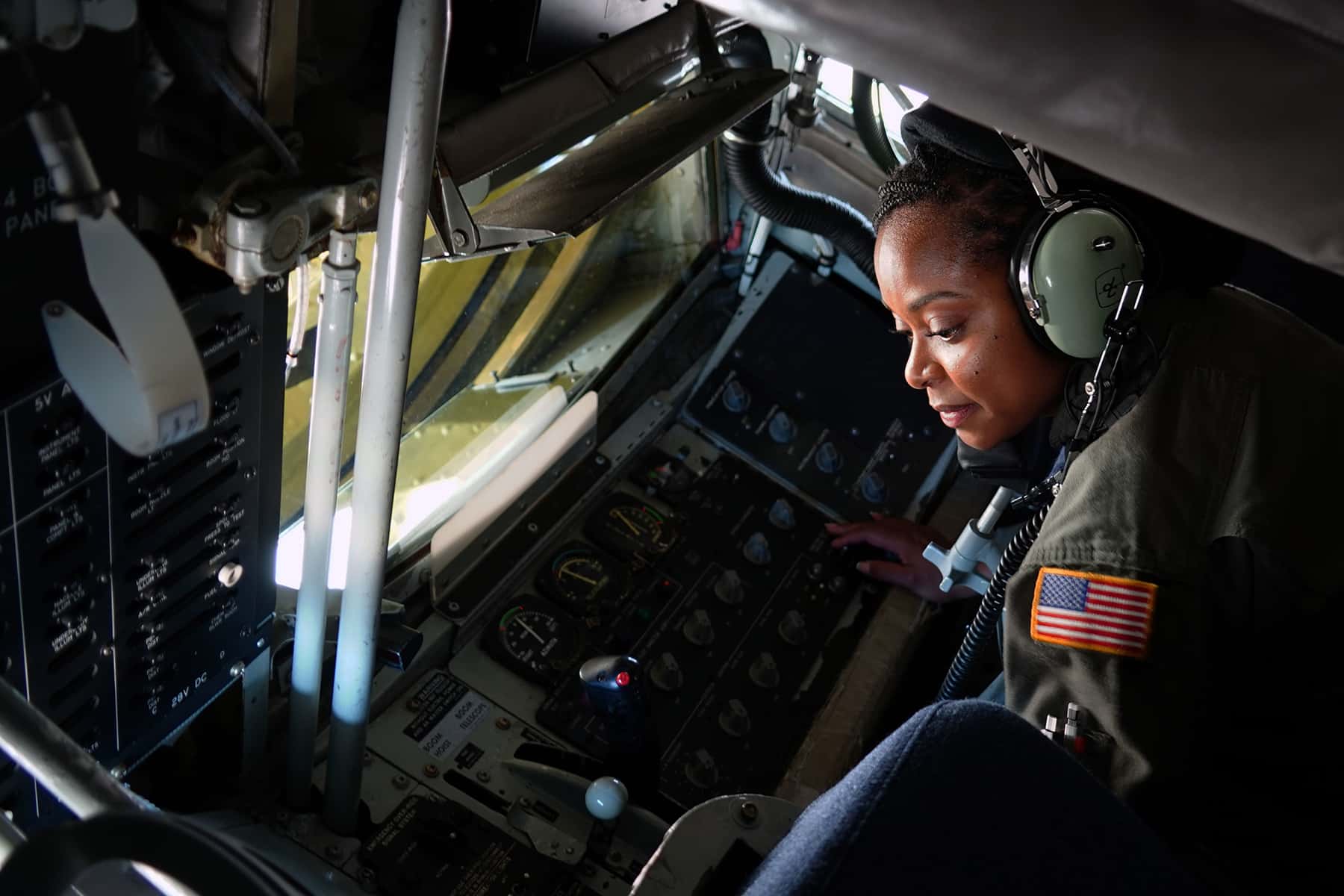 Being a Wingman is at the foundation of the Air Force culture. It is a concept instilled during basic training. The final part of the creed says, "I am an American Airmen. Wingman, Leader, Warrior, I will never leave an Airman behind, I will never falter, and I will not fail."
For Tech. Sgt. Carla Villarreal, this concept is not only one she embraces as an elite KC-135 boom operator, but one she uses to support, encourage, and lead her mother through the battle of her lifetime. When Villarreal learned that her mother had been diagnosed with breast cancer her world was upended.
"I cried, a lot," said Villareal. "I didn't know anything about breast cancer, so of course I turned to Google and that just led to more crying and more questions. Then I started asking, 'what now?' and immediately wanted to know what I could do to help her along her journey."
Villarreal's mother, Benedict Prospere, was diagnosed with stage 2 triple negative breast cancer. Triple negative is the most aggressive and hardest type of breast cancer to treat because it doesn't have any of the receptors that are commonly found in breast cancer.
Coming to terms with her mother's diagnosis was difficult. Since becoming a mother herself, Villarreal has found a new appreciation for her mother.
"For so long in my life, my mom has been my rock," she said. "Seeing her fight through this has been difficult. But I just kept telling myself that it's my turn to be strong for her."
Villarreal knew she had to step up and embrace a role in her mother's support system. Whether it was taking her to appointments or being a shoulder to cry on, Villarreal took it on, including an act of solidarity that would leave no doubt that she was in the fight with her mother.
"Like most women, losing her hair was hard," Villarreal said. "So my husband and I went over one day and we let her shave our heads. I knew how hard it was for her, so I hoped that shaving my head would be a small way to get her through another step in her battle."
Even under the best conditions, battling breast cancer is a difficult process, but doing it during the COVID-19 pandemic made things that much more problematic. Many hospitals restricted appointments to patients only to mitigate the possibility of transmitting the virus.
"Not being able to go in during her treatments felt cold," she said. "It felt lonely. We made the best of it, but it was definitely difficult on her and us."
The pandemic not only affected Villarreal's ability to attend appointments with her mother, but also family gatherings and everyday life for herself.
"It was hard to have people over," Villarreal said. "We didn't want her to get sick from COVID as well, so that felt lonely. It also meant masks during visits, being extra careful during times I was away from her because I knew I would have to drive her to an appointment."
Despite the circumstances surrounding her mother's condition, Villarreal used past experiences helping fellow Airmen facing similar situations as a path forward in her mother's fight.
"Whether it was making group breakfast or donating money or helping with a food chain, I had some insight on some of the things I could do to help my mom," she said.
Villarreal's past experience helping others is of great value, but she also credits the resiliency skills she has learned from being in the military.
"The resilience I've learned through the military to have a short memory to help recover quickly after making a mistake while also learning from it, helped immensely when I would have those days when I would cry and ask, why?" she said. "I didn't have the option of remaining sad. I had to be there for my mom. I had to recover and pivot quickly. It wasn't my time to be sad. It was my time to be supportive and help her navigate her sadness."
Seeing a loved one battle cancer can affect people differently, but for Villarreal she has made it a point to not let it get the best of her.
"My mom's battle has required sacrifices, but sacrifices I would make time and time again," she said. "It also made me angry. So I've tried to channel my anger into finding unique ways to support my mom and by just being present and grateful for each day I have with her."
Discovering a silver lining is not out of the ordinary when you find a loved one faced with a life threatening illness, and Villarreal has been able to realize one of her own.
"It has increased my appreciation for my mom even more," added Villarreal. "Tomorrow is not guaranteed. I want to give her the world. I want her to be there to see my son grow up. It is okay to cry. Crying doesn't show weakness. Do what you can, and don't beat yourself up about the things that you cannot do. Just showing up is all that is needed sometimes."
With one in eight women having a chance of developing breast cancer in their lifetime, it is the second most common cancer women can develop. Despite that, everyone's battle with cancer is different, and Villarreal has words she would use to encourage them in their fight.
"Everyone's battle is so unique, so it's hard to find words that would feel right, but I would tell them I see them," said Villarreal. "I see them fighting. I see them going through one of life's great tests. I see strength. I see will power. I see them!"
And for the wingmen standing by the side of those in the fight, Villarreal has advice for them too.
"Trust yourself, and always advocate for yourself. Get your mammograms and other screenings. Don't skip it because it's inconvenient. Show up for the people you care about and take care of them and yourself."