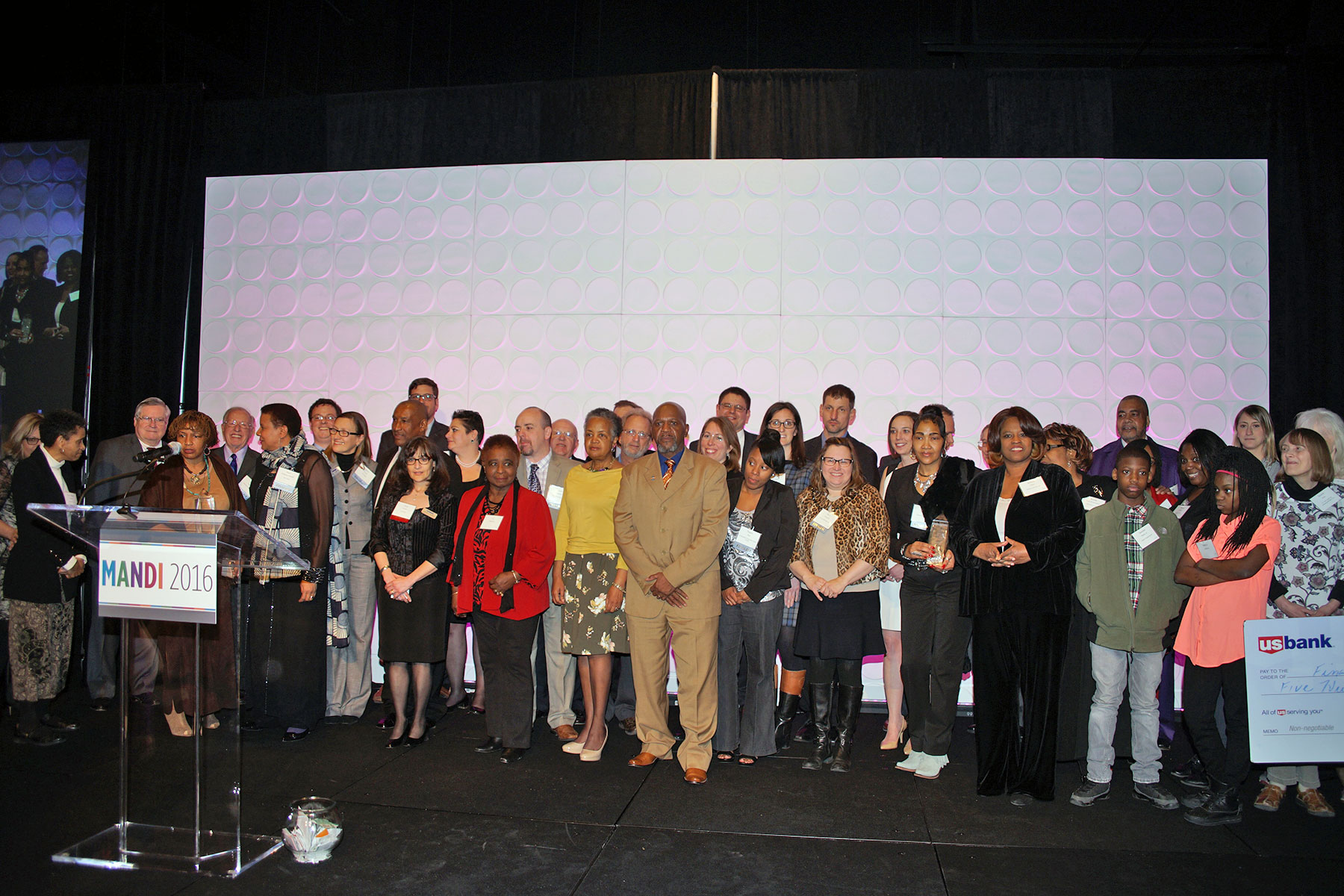 The Milwaukee Awards for Neighborhood Development Innovation (known as the MANDIs) celebrate the "good news" of successful efforts to revitalize neighborhoods and strengthen the community.
From public nominations, a volunteer Selection Committee has named 15 finalists for the awards this year.
"The MANDIs celebrate Milwaukee's diverse neighborhoods, and the many talented, committed people working together to create a better future for our communities," said Donsia Strong Hill, Executive Director, LISC Milwaukee.
Finalists in five categories were announced at a public event at Mr. J's Lounge on Milwaukee's north side to an audience of one hundred community leaders.
Sponsored by U.S. Bank, in partnership with LISC Milwaukee, the MANDIs recognize individuals, organizations, and projects that are improving conditions in Milwaukee's central city neighborhoods. Finalists are selected from public nominations by a 40-member, independent, cross-sector volunteer committee.
Winners will be announced at an Oscar-style gala at the 18th Annual MANDIs on Thursday, April 6th, at the Potawatomi Hotel and Casino. The event draws a diverse audience of more than 800 leaders from the private, philanthropic and nonprofit communities.
MANDI 2017 finalists include:
Brewers Community Foundation Public Space Award recognizes a public space that helps build the community. Finalists include:
Green Tree Community Garden in Havenwoods
Johnsons Park Revitalization in Lindsay Heights
Journey House Community Garden in Clarke Square
BMO Harris Cornerstone Award recognizes an organization for their commitment and effectiveness over time. Finalists include:
City on a Hill
Milwaukee Christian Center (MCC)
Silver Spring Neighborhood Center
Northern Trust Navigator Award recognizes an individual for leadership and collaboration. Finalists include:
Diane De La Santos from City on a Hill
Darryl Johnson from Riverworks Development Corporation
Gretchen Mead from the Victory Gardens Initiative
PNC Bank Trail Blazer Award recognizes an innovative approach to a community problem. Finalists include:
The Arts@Large Fill in the Gaps Initiative in partnership with the Milwaukee Public Schools
The Layton Boulevard Home Improvement Matching Grants Program
The Historic Wally Schmidt Tavern Redevelopment
State Farm Building Blocks Award recognizes a real estate project that advances the community. Finalists include:
Innovation and Wellness Commons, Walnut Way Conservation Corp.
Milwaukee Asian Public Markets Phongsavan, Pai Yang
Milwaukee TechForce Training Center, Housing Authority of the City of Milwaukee
Wells Fargo People's Choice Award will be given to finalists who receive the most public votes between March 27-April 6.
About LISC
Local Initiatives Support Corporation
(LISC) is the recognized leader in neighborhood development. Since 1980, LISC national has marshaled $9 billion from 3,100 investors, lenders and donors to foster the revitalization of more than 300 urban neighborhoods and rural communities. Since 1995, LISC Milwaukee has invested $130 million in Milwaukee's neighborhoods through grants, loans and technical assistance to neighborhood-based community development efforts.