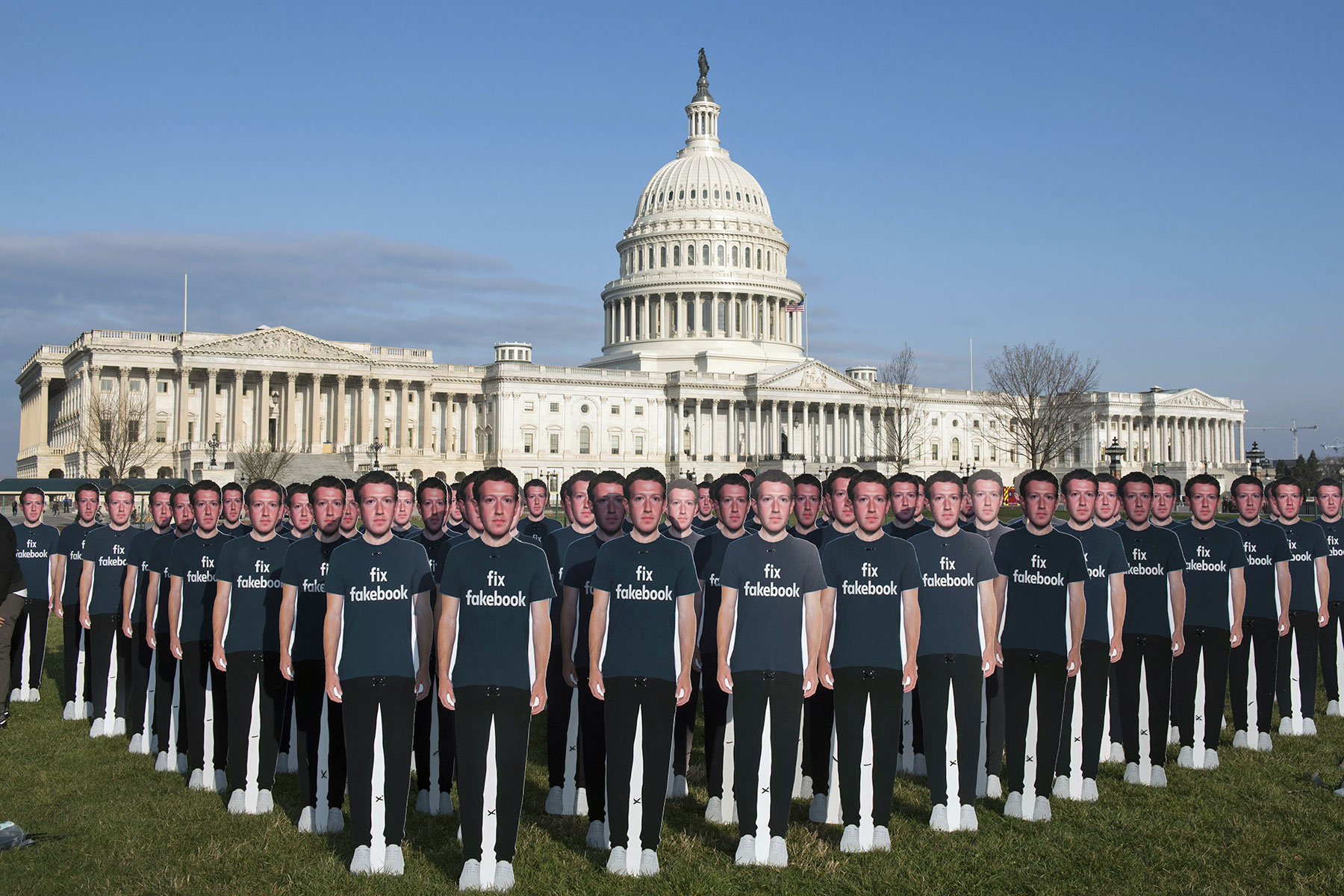 Ahead of Mark Zuckerberg's Senate hearing on April 10, advocacy group Avaaz took an army of 100 life-sized Zuckerberg cutouts wearing 'Fix Fakebook' t-shirts to the Capitol lawn.
After battling disinformation campaigns worldwide, Avaaz has consulted with governments in 6 countries, social media executives, and polled its global membership.
It is calling on Mark Zuckerberg, Internet CEOs and government regulators to fight disinformation campaigns that threaten democracies across the world. By the evening of April 10, one million people had signed an open letter, will appeared in front page ads of Politico and Washington Post in reply to Mark Zuckerberg's apology.
"Avaaz has set up a fake army of Mark Zuckerbergs to flood the U.S. capitol just as fake news and fake profiles have flooded our democracies" says Nell Greenberg, Campaign director at Avaaz. "As Zuckerberg testifies before the Senate, hundreds of thousands of people are calling on him to delete "Fakebook" by banning all fake accounts. They banned thousands in France and Germany to protect democracy, it's time to extend the same protections to the US and worldwide."
The glaring gaps in Zuckerberg's testimony include:
Ban the Bots: Facebook has banned tens of thousands of fake accounts to protect French and German democracies. Yet currently, there is no commitment to extend that protection to millions of fake accounts. It is critical that Zuckerberg delete "Fakebook" by banning ALL fake or imposter user accounts.
Alert the Public: Hundreds of millions of people have been misled by disinformation campaigns on Facebook. Yet they have not committed to mitigating the damage by prominently notifying individual users each and every time they have viewed fake, malicious, or disinformation campaign content.
Fund the Fact Checkers: While artificial intelligence is crucial, any corrective system will need to rely on human fact checkers. Facebook has taken steps in only 6 countries, but they have not committed to help rapidly stand up a new and independent industry of fact-checkers that is fully multilingual, global and capable of the breadth, volume and speed required to stem the flow of lies.
Tell the Truth: Facebook needs to commit to full disclosure of the extent of fake users, fake activity, and disinformation campaigns on its platform, and support independent audits to assess them.