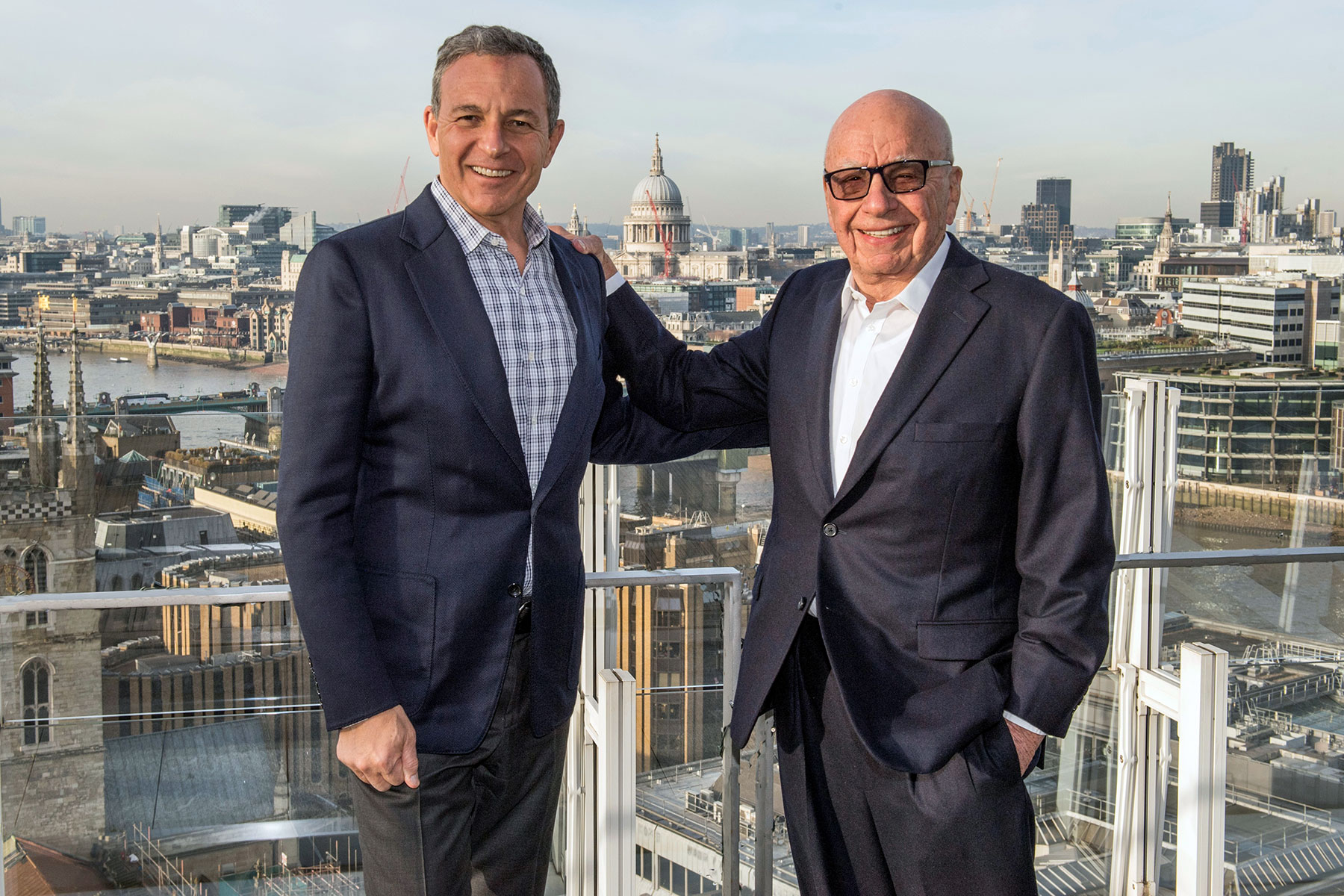 The Walt Disney Company and Twenty-First Century Fox, Inc. announced on December 14 that they have entered into a definitive agreement for Disney to acquire Twentieth Century Fox Film and Television studios for approximately $52.4 billion in stock.
Building on Disney's commitment to deliver the highest quality branded entertainment, the acquisition of these complementary assets would allow Disney to create more appealing content, build more direct relationships with consumers around the world and deliver a more compelling entertainment experience to consumers wherever and however they choose.
Immediately prior to the acquisition, 21st Century Fox will separate the Fox Broadcasting network and stations, Fox News Channel, Fox Business Network, FS1, FS2 and Big Ten Network into a newly listed company that will be spun off to its shareholders.
Under the terms of the agreement, shareholders of 21st Century Fox will receive 0.2745 Disney shares for each 21st Century Fox share they hold (subject to adjustment for certain tax liabilities as described below). The exchange ratio was set based on a 30-day volume weighted average price of Disney stock. Disney will also assume approximately $13.7 billion of net debt of 21st Century Fox.
"The acquisition of this stellar collection of businesses from 21st Century Fox reflects the increasing consumer demand for a rich diversity of entertainment experiences that are more compelling, accessible and convenient than ever before," said Robert A. Iger, Chairman and Chief Executive Officer, The Walt Disney Company. "We're honored and grateful that Rupert Murdoch has entrusted us with the future of businesses he spent a lifetime building, and we're excited about this extraordinary opportunity to significantly increase our portfolio of well-loved franchises and branded content to greatly enhance our growing direct-to-consumer offerings. The deal will also substantially expand our international reach, allowing us to offer world-class storytelling and innovative distribution platforms to more consumers in key markets around the world."
Popular Entertainment Properties to Join Disney Family
Combining with Disney are 21st Century Fox's critically acclaimed film production businesses, including Twentieth Century Fox, Fox Searchlight Pictures and Fox 2000, which together offer diverse and compelling storytelling businesses and are the homes of Avatar, X-Men, Fantastic Four and Deadpool, as well as The Grand Budapest Hotel, Hidden Figures, Gone Girl, The Shape of Water and The Martian — and its storied television creative units, Twentieth Century Fox Television, FX Productions and Fox21, which have brought The Americans, This Is Us, Modern Family, The Simpsons and so many more hit TV series to viewers across the globe. Disney will also acquire FX Networks, National Geographic Partners, Fox Sports Regional Networks, Fox Networks Group International, Star India and Fox's interests in Hulu, Sky plc, Tata Sky and Endemol Shine Group.
"We are extremely proud of all that we have built at 21st Century Fox, and I firmly believe that this combination with Disney will unlock even more value for shareholders as the new Disney continues to set the pace in what is an exciting and dynamic industry," said Rupert Murdoch, Executive Chairman of 21st Century Fox. "Furthermore, I'm convinced that this combination, under Bob Iger's leadership, will be one of the greatest companies in the world. I'm grateful and encouraged that Bob has agreed to stay on, and is committed to succeeding with a combined team that is second to none."
At the request of both 21st Century Fox and the Disney Board of Directors, Mr. Iger has agreed to continue as Chairman and Chief Executive Officer of The Walt Disney Company through the end of calendar year 2021.
Enhancing Disney's Worldwide Offerings
Adding 21st Century Fox's premier international properties enhances Disney's position as a truly global entertainment company with authentic local production and consumer services across high-growth regions, including a richer array of local, national and global sporting events that ESPN can make available to fans around the world. The transaction boosts Disney's international revenue mix and exposure.
Disney's international reach would greatly expand through the addition of Sky, which serves nearly 23 million households in the UK, Ireland, Germany, Austria and Italy; Fox Networks International, with more than 350 channels in 170 countries; and Star India, which operates 69 channels reaching 720 million viewers a month across India and more than 100 other countries.