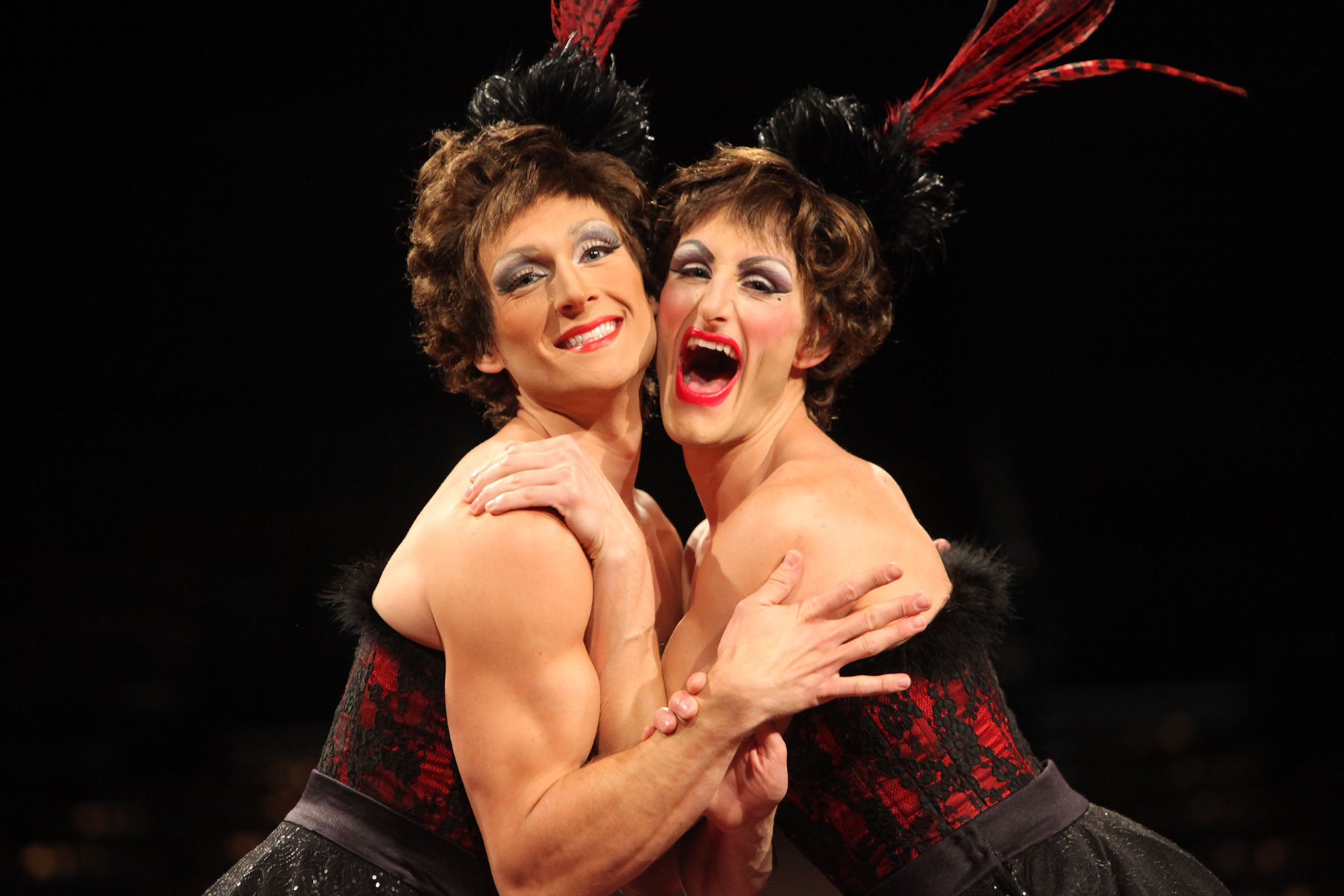 This is the first time Skylight Music Theatre will present La Cage Aux Folles, which won 11 Tony Awards and eight Drama Desk Awards.
Skylight Music Theatre announced the full 22-member cast for the Tony Award-winning Broadway musical La Cage Aux Folles (The Birdcage), running November 18 through December 23 in the beautiful Cabot Theatre at the Broadway Theatre Center, 158 N. Broadway, in Milwaukee's Historic Third Ward.
The music and lyrics are by legendary composer Jerry Herman (Hello, Dolly!, Mame) and the book is by Harvey Fierstein (Kinky Boots, Newsies). The musical inspired the hit 1996 film, The Birdcage, starring Robin Williams and Nathan Lane.
La Cage Aux Folles is the comedic and heartfelt story of Georges, the owner of a drag nightclub, and Albin, his partner and the club's star attraction. After 20 years of unwedded bliss, the couple prepares to meet the straight-laced parents of the fiancée of Georges' son. It is a hilarious night of complications, chaos and a tender triumph of love.
According to director and choreographer John de los Santos, "La Cage Aux Folles is ultimately a show about families – the ones we are born into and the ones we create. There is a special joy to present this feel-good musical around the holidays, a time when family dynamics are front and center. The story resonates with so many relatable emotions — love, compassion and ultimately, self-acceptance."
The show will mark the Skylight debut for de los Santos, who has worked for the Kennedy Center, Dallas Opera, Fort Worth Opera and Arizona Opera, to name a few.
The original Broadway production of La Cage Aux Folles opened in 1983 and won six Tony Awards, including Best Musical, Best Book and Best Score, and went on to win five more Tony Awards including Best Revival of a Musical for its 2004 and 2010 Broadway productions. It is based on the play of the same name by Jean Poiret.
Skylight Favorites Jivoff and Moses
The cast of La Cage Aux Folles will be led by two Milwaukee favorites, Ray Jivoff, who plays Albin, the star of the drag nightclub "La Cage Aux Folles," and Norman Moses, who plays Georges, the nightclub's owner.
Jivoff will mark his 25th show at Skylight playing Albin in La Cage Aux Folles. He first performed at Skylight in 1990 and has appeared in such productions as The Producers, Guys and Dolls and Into the Woods. Jivoff was Skylight's first education director and started its education program in 1999. He is currently Skylight's interim artistic director.
Moses, who will play Georges, was most recently seen at Skylight as Henry Higgins in My Fair Lady (2015), and previously in The Music Man, White Christmas and I Do, I Do, among others. He first started working at Skylight during high school and has gone on to perform extensively at Skylight and other local companies such as the Milwaukee Repertory Theater and Milwaukee Chamber Theatre.
The two actors have appeared together before, including a string of Marx Brothers' shows with Jivoff as Harpo and Moses as Groucho in Animal Crackers, Cocoanuts and A Day in Hollywood/A Night in the Ukraine.
Project Runway Designer Returns to Skylight
Returning to Skylight Music Theatre as costume designer is Chris March, the Project Runway designer who wowed audiences with his costumes for Skylight's 2015 production of My Fair Lady.
March said the costumes are influenced by the show's themes of illusion and metamorphosis. "Things aren't always what they seem, so there will be many quick changes backstage and in front of the audience – all in glorious live theatre," said March, who also promised "feathers and more feathers!"
March, an acclaimed fashion and costume designer, was a breakout star on Bravo TV's Project Runway (Season 4) and Project Runway All-Star Challenge and lists among his clients Meryl Streep, Madonna, Cirque du Soleil, Prince, and Beyoncé. His show-stopping costumes and hats for Skylight's My Fair Lady were called "exquisitely lavish" and "whimsically outrageous." March received Drama Desk Award nominations for his costuming work in 2002 and 2012.
Also returning to Skylight will be Shari Rhoads as music director, Liliana Duque Piñeiro as scenic designer, and Noele Stollmack as lighting designer.
The members of the La Cage Aux Folles' design team:
Creative Team
Stage Director/Choreographer …………… John de los Santos
Music Director ………………………………………….. Shari Rhoads
Scenic Designer ……………………………. Liliana Duque Piñeiro
Costume Designer ……………………………………… Chris March
Lighting Designer …………………………………. Noele Stollmack
Sound Designer……………………………………… Zack Berinstein
Assistant Stage Director………………………….. Cleary Breunig
Assistant Music Director ……………………………….. Paul Helm
Assistant Costume Designer ………………………… Kara Waala
Production Stage Manager………………….. Daniel J. Hanson*
The cast of La Cage Aux Folles:
Cast
Albin……………………………………………………………. Ray Jivoff*
Georges………………………………………………. Norman Moses*
Jean-Michel………………………………………………… Colte Julian*
Jacob…………………………………………………….. Shawn Holmes
Anne…………………………………………………. Stephanie Staszak
Edouard……………………………………………………… Dylan Bolin
Marie………………………………………………………….. Carol Greif
Jacqueline………………………………………… Rhonda Rae Busch
Renaud………………………………………………. Jonathan Stewart
Francis…………………………………………………… Tommy Novak
The Cagelles
Ryan Cappleman, Doug Clemons, Will Henke, Sean Jackson, Benjamin J. Ludwig, Jorge Quintero, Brett Sweeney
Ensemble
Karl Hall, Andrew Kelly, J. Keegan Siebken, Ava Thomann and Matthew Zeman
*Member of Actors Equity Association
Performance Information
Performances of La Cage Aux Folles are Friday, November 18 through Friday, December 23 in the Cabot Theatre, Broadway Theatre Center, 158 N. Broadway in the Historic Third Ward of Milwaukee.
La Cage Aux Folles is suitable for audiences ages 12 and up.
Tickets & Box Office
Tickets may be purchased online at www.skylightmusictheatre.org.
Special Events
Skylight Insights. In-depth discussions with directors and special guests take place one hour before every Wednesday and Sunday performance.
BeOUT. A pre-show celebration and tickets for LGBTQ members and supporters takes place Wednesday, December 7.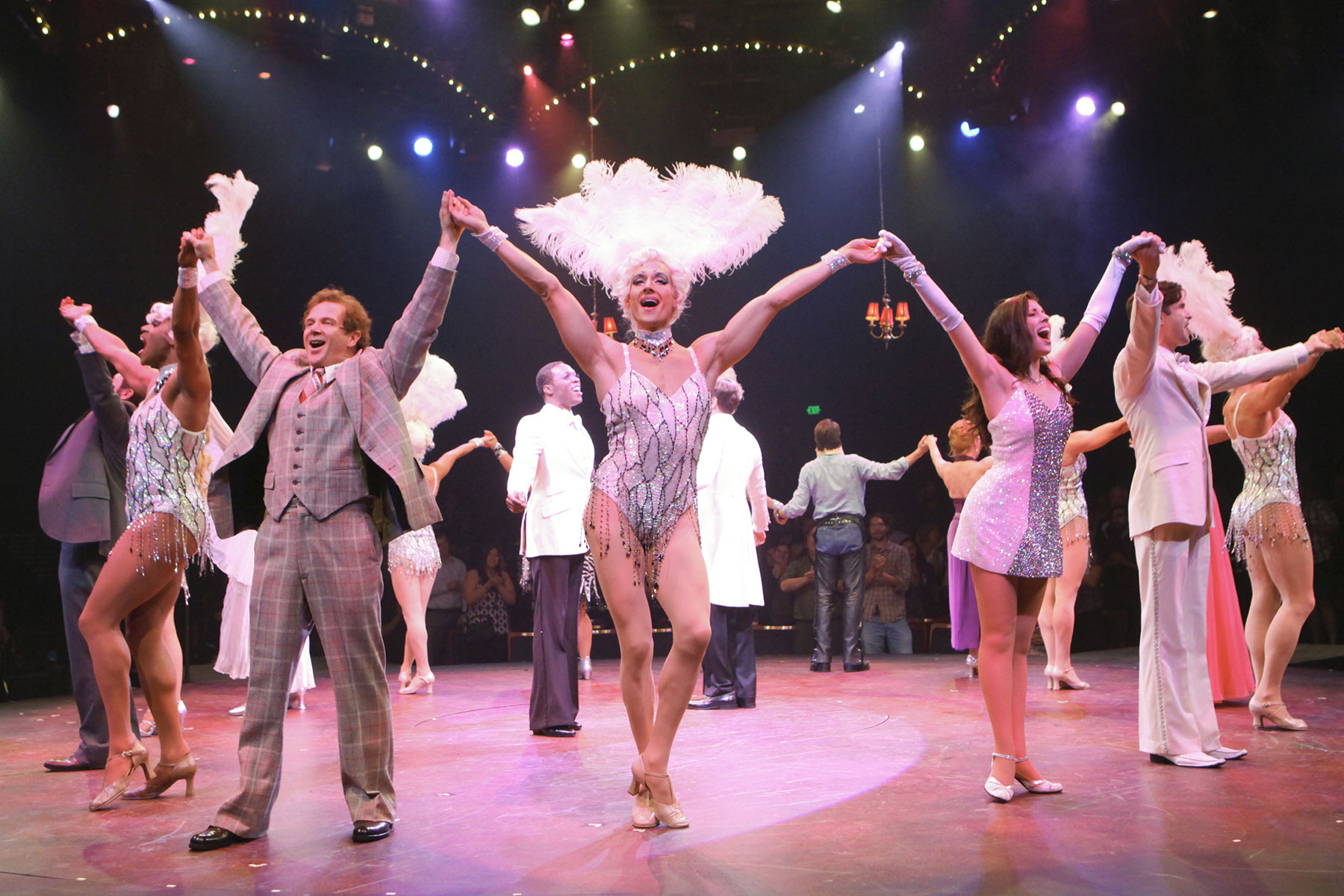 About Skylight Music Theatre
Since 1959, the mission of Skylight Music Theatre has been to bring the full spectrum of music theatre works to a wide and diverse audience, in celebration of the musical and theatrical arts and their reflection of the human condition. Skylight presents productions "Skylight Style" – bringing fresh approaches or interesting twists to music theatre works, creating meaningful connections, not only between the characters on stage but with the audience as well. The beautiful, intimate Cabot Theatre allows audiences to feel close to the powerful emotions on stage.
© Photo
California Musical Theatre