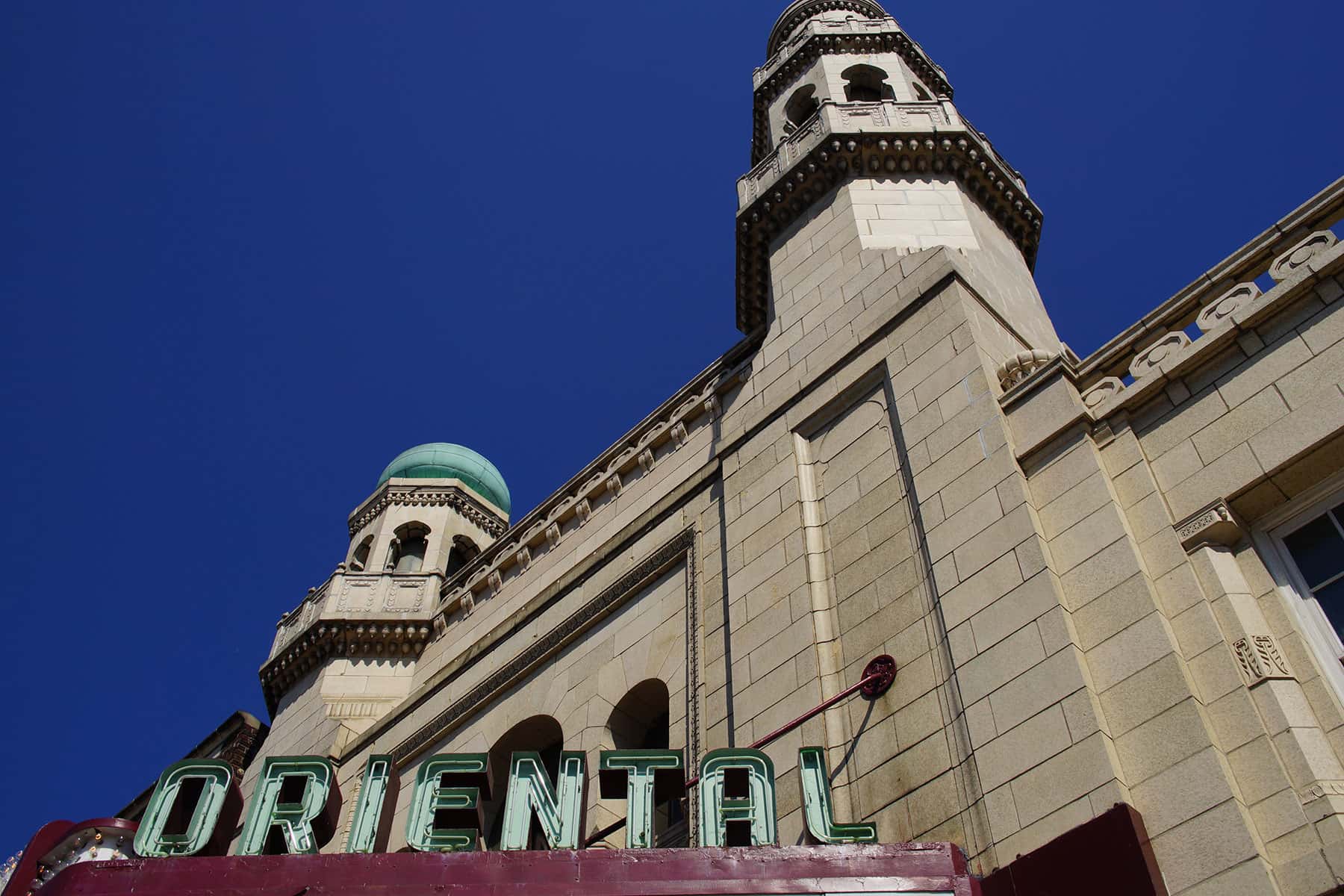 The 8th Annual Milwaukee Film Festival, presented by Associated Bank, released a preliminary list of guests for this year's festival.
The current list of guests includes filmmakers, actors, and documentary subjects as well as industry members who will serve as jurors and panelists.
Headliners include Academy Award-winner John Ridley, Emmy Award-winner Sam Pollard, The Blind Side actor Quinton Aaron, Silicon Valley actor Martin Starr, and Arrested Development actor Mae Whitman
"One of the key things that sets the festival experience above all other moviegoing experiences is the ability for the audience to have one-of-a-kind interactions with creators and subjects of the films they're seeing," shares Jonathan Jackson, Artistic & Executive Director of Milwaukee Film. "It's part of our effort to make our festival experience more personal for the audience."
Featured guests this year include Academy Award-winner John Ridley who recently joined the Milwaukee Film Board of Directors and will be delivering this year's keynote address, Emmy Award-winner Sam Pollard who directed the Black Lens film Two Trains Runnin', The Blind Side actor Quinton Aaron who stars in the Spotlight Presentations film Halfway, plus Silicon Valley and Freaks and Geeks actor Martin Starr and Arrested Development's Mae Whitman who both star in the United States of Cinema film Operator.
Several documentary subjects who are attending are noteworthy additions to the festival lineup, including Almost Sunrise subjects Anthony Anderson, Katinka Hooyer, and Tom Voss, Check It subjects Ron Moten and Travon Warren, From Mass to the Mountain subject Father Wally "Padre Pablo" Kasuboski, HAPPY: A Small Film With A Big Smile subject Leonard "Porkchop" Zimmerman, Motley's Law subject Kimberley Motley, and Presenting Princess Shaw subject Samantha Montgomery.
In addition to Sam Pollard, the Black Lens Program is strongly represented with guests from every feature film scheduled to attend. Featured guests include director Matthew A. Cherry (9 Rides), director Delila Vallot (Can You Dig This), actor Charles Brice (How to Tell You're a Douchebag), director Steven Caple Jr. (The Land), designer Ciara Whaley (The Land), executive producer Raymond C. Lambert (Maya Angelou: And Still I Rise), director Lanre Olabisi (Somewhere in the Middle), and actor Charles Miller (Somewhere in the Middle).
Several acclaimed short-form filmmakers will also be guests of the festival, including Alex Myung (Arrival: A Short Film by Alex Myung), Derek Dow II (The Big Chop), Sterling Milan (Black Movie Night), Amy Storkel (The Dean Scream), Julian Lasseur (Last Call Lenny), Brian Petsos (Lightningface), Shingo Usami (RICEBALLS), and Carlos Javier Ortiz (We All We Got).
Panels and Filmmaker Services events will feature appearances from WNOV 860 radio host Michelle Bryant, Groundwork Milwaukee Program Director Antoine Carter, Walnut Way Executive Director LaShawndra Vernon, WUWM's Mitch Teich, sports journalist and author Jessie Garcia, Seed&Spark's Julie Keck, and many more notable guests.
FACT SHEET
282 Total Films
119 Total Features
163 Total Shorts
340 Public Screenings
55 Fiction Features
63 Documentary Features
1 Super Secret Members-Only Film
7 Classic Films
51 Countries
15 Film Program Categories
3 New Program Categories
16 Shorts Programs
2 Films Starring David Oyelowo
2 Films Starring Vincent Cassel
38 Milwaukee Film Festival Director Alumni
Shortest Film: Color TV Evolution (44 sec)
Longest Film: Metropolis (148 min)
108 Women Directors
9 Education Screenings
9,000+ Students attending Education Screenings
12 Panels
111 Conversations
27 Jurors
287 Community Partners
3,450 Milwaukee Film Members
137 Sponsors
SPONSORS BY LEVEL
1 Presenting Sponsor
1 Premier Sponsor ($100,000+)
4 Luminary Sponsors ($100,000+)
4 Leading Sponsors ($50,000+)
6 Visionary Sponsors ($50,000+)
15 Producing Sponsors ($30,000+)
34 Supporting Sponsors ($20,000+)
28 Providing Sponsors ($10,000+)
15 Contributing Sponsors ($5,000+)
12 Sustaining Sponsors ($2,500+)
5 Additional Foundation Supporters
12 Restaurant Partners
AWARDS
Abele Catalyst Award
Allan H. (Bud) and Suzanne L. Selig Audience Awards for Best Feature Film & Best Short Film
Black Lens Jury Award ($5,000 cash)
Brico Forward Fund (multiple awards from a pool of $50,000 cash and $95,000 in donated production services)
Cream City Cinema College Filmmaker Award ($2,500 cash)
Cream City Cinema Jury Award ($5,000 cash)
Documentary Jury Award ($5,000 cash)
Herzfeld Competition Award ($10,000 cash)
Kids Choice Short Film Award ($1,000 cash)
Milwaukee Music Video Award ($5,000 cash)
Shorter Is Better Award ($1,000 cash)
SCREENING VENUES
Avalon Theater (2473 N. Kinnickinnic Ave.)
Fox-Bay Cinema Grill (334 E. Silver Spring Dr.)
Landmark Oriental Theatre (2230 N. Farwell Ave.)
Landmark Downer Theatre (2589 N. Downer Ave.)
Times Cinema (5906 W. Vliet St.)
EVENT VENUES
88Nine Radio Milwaukee (220 E. Pittsburgh Ave.)
The Bay Restaurant (342 E. Silver Spring Dr.)
Burnhearts (2599 S. Logan Ave.)
Cafe Centraal (2306 S. Kinnickinnic Ave.)
Good City Brewing (2108 N. Farwell Ave.)
Kenilworth Greenway (1915 E. Kenilworth Pl.)
Landmark Lanes (2220 N. Farwell Ave.)
Marquette University, Eckstein Hall (1215 W. Michigan St.)
Milwaukee Film Festival Lounge (2155 N. Prospect Ave.)
Ugly's Bar & Grill (1125 N. Old World 3rd St.)
UWM Peck School of the Arts Kenilworth Building (1925 E. Kenilworth Pl.)
Vintage (2203 N. Prospect Ave.)
Wauwatiki (6502 W. North Ave.)
CONVERSATIONS VENUES
Avalon Bar & Lounge (2473 N. Kinnickinnic Ave.)
The Bay Restaurant (342 E. Silver Spring Dr.)
Boswell Books (2559 N. Downer Ave.)
Cafe Hollander (2608 N. Downer Ave.)
Cold Spoons Gelato (5924 W. Vliet St.)
Milwaukee Public Library, East Library Branch (2320 N. Cramer St.)
Valentine Coffee Co. (5918 W. Vliet St.)
Yo Factory (2203 N. Farwell Ave.)
Milwaukee Film is a non-profit arts organization dedicated to entertaining, educating, and engaging our community through cinematic experiences. In addition to our annual 15-day Milwaukee Film Festival, Milwaukee Film provides a number of year-round opportunities for film lovers, filmmakers, and educators.
Milwaukee Film's independent board is made up of the following members: Chris Abele (Past President); John P. Bania; Donna Baumgartner; Dr. Robert M. Davis; Michael Drescher; Karen Ellenbecker; Jeff Fitzsimmons; Alexander P. Fraser; Cecelia Gore; Bill Haberman (Past President); Carmen Haberman; Susan Haise; Katie Heil; Patti Keating Kahn; Michael G. Klein; Michael J. Koss Jr.; Tracey L. Klein (President); Kenneth C. Krei; Mary Ann LaBahn; Alexander Lasry; Steve Laughlin (Past President); Emilia Layden; Marianne Lubar; Sara Meaney; Steve Mech; Barry Poltermann; Bob Pothier; John Ridley; Joseph A. Rock; Lacey Sadoff; Dave Stamm; Julia Taylor; John Utz. Emeritus members: Tom Barrett, Jacqueline Strayer.