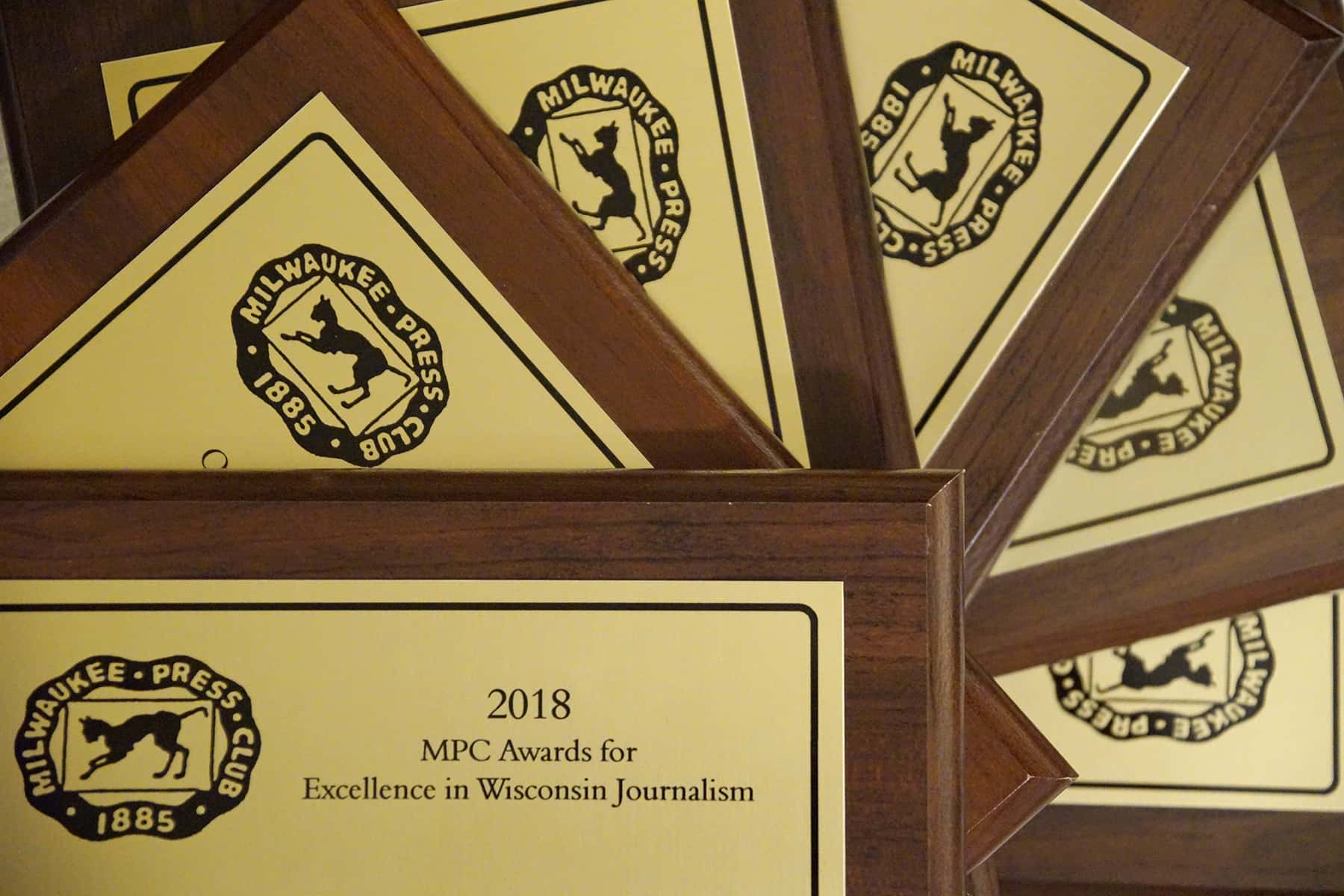 The Milwaukee Press Club announced the winners of its 90th Annual Gridiron Awards for Excellence in Wisconsin Journalism, and Milwaukee Independent was selected as a finalist for 13 features.
The recognition exceeds 2018's total of 10, in competition against all major media outlets in Milwaukee and many across Wisconsin. Founded in 1885, the Milwaukee Press Club is the oldest continuously operating press club in North America.
As a Finalist, Milwaukee Independent has already won but the place (Gold, Silver, or Bronze) will not be announced until May at the Gridiron Awards Dinner. The 13 pending awards were split over 2 main categories this year, Visual Journalism and Online. The work of 6 staff members is recognized in 10 categories, and in 3 the staff are competing against each other.
Under competition rules, news organizations could only enter work from last year in the Milwaukee Press Club's competition. The 2020 awards, therefore, reflect editorial produced in 2019. In May, Milwaukee Independent will have earned a total of 30 awards for the first 4 years of work. The editorial Finalists are:
01. VISUAL JOURNALISM: BEST ILLUSTRATION OR CARTOON
Sherrill Knezel
Knezelism: Light (Knezelism of the Week: November 25)
02. VISUAL JOURNALISM: BEST PHOTO ESSAY OR SERIES
Lee Matz
Lake Michigan's freezing waves wallop participants at 2019 Polar Bear Plunge
03. VISUAL JOURNALISM: BEST NEWS PHOTOGRAPH (1)
Lee Matz
Milwaukee Stands United Against Hate: Interfaith vigil mourns massacre at New Zealand mosques
04. VISUAL JOURNALISM: BEST NEWS PHOTOGRAPH (2)
Lee Matz
Controlled roof demolition leaves Bradley Center topless
05. VISUAL JOURNALISM: BEST FEATURE PHOTOGRAPH
Lee Matz
LULAC members swarm Senator Ron Johnson's Milwaukee office in protest of "Kids in Cages" at border
06. VISUAL JOURNALISM: BEST SPORTS PHOTOGRAPH (1)
Lee Matz
Fear the Deer: Milwaukee paints the town green to celebrate Bucks NBA playoffs
07. VISUAL JOURNALISM: BEST SPORTS PHOTOGRAPH (2)
Rich Zimmermann
Need for Speed: Motorsports returned to Milwaukee Mile for first major auto race in 5 years
08. ONLINE: BEST USE OF MULTIMEDIA
Lee Matz and Lodi Broekhuizen
88Nine Radio helps 10 Milwaukee bands produce Tiny Desk videos for NPR music contest
09. ONLINE: BEST USE OF MULTI-PLATFORM REPORTING
Lee Matz
Crochet Away: Fiber artist Jonah Larson unites communities with hope and healing in accidental hobby
10. ONLINE: BEST SPORTS STORY
Kenneth Cole and Lee Matz
Surfing Comes Home to Milwaukee: Forging friendships in the frigid freshwater waves of Lake Michigan
11. ONLINE: BEST INVESTIGATIVE STORY OR SERIES
Reggie Jackson and Lee Matz
From Mississippi To Milwaukee: My Journey To 53206
12. ONLINE: BEST COLUMN (1)
Dominic Inouye
Dominic Inouye: Exploring Milwaukee on foot to understand the social relationships between place and space
13. ONLINE: BEST COLUMN (2)
Reggie Jackson
Reggie Jackson: Racism in Milwaukee suburban schools and the constant struggle for social equality