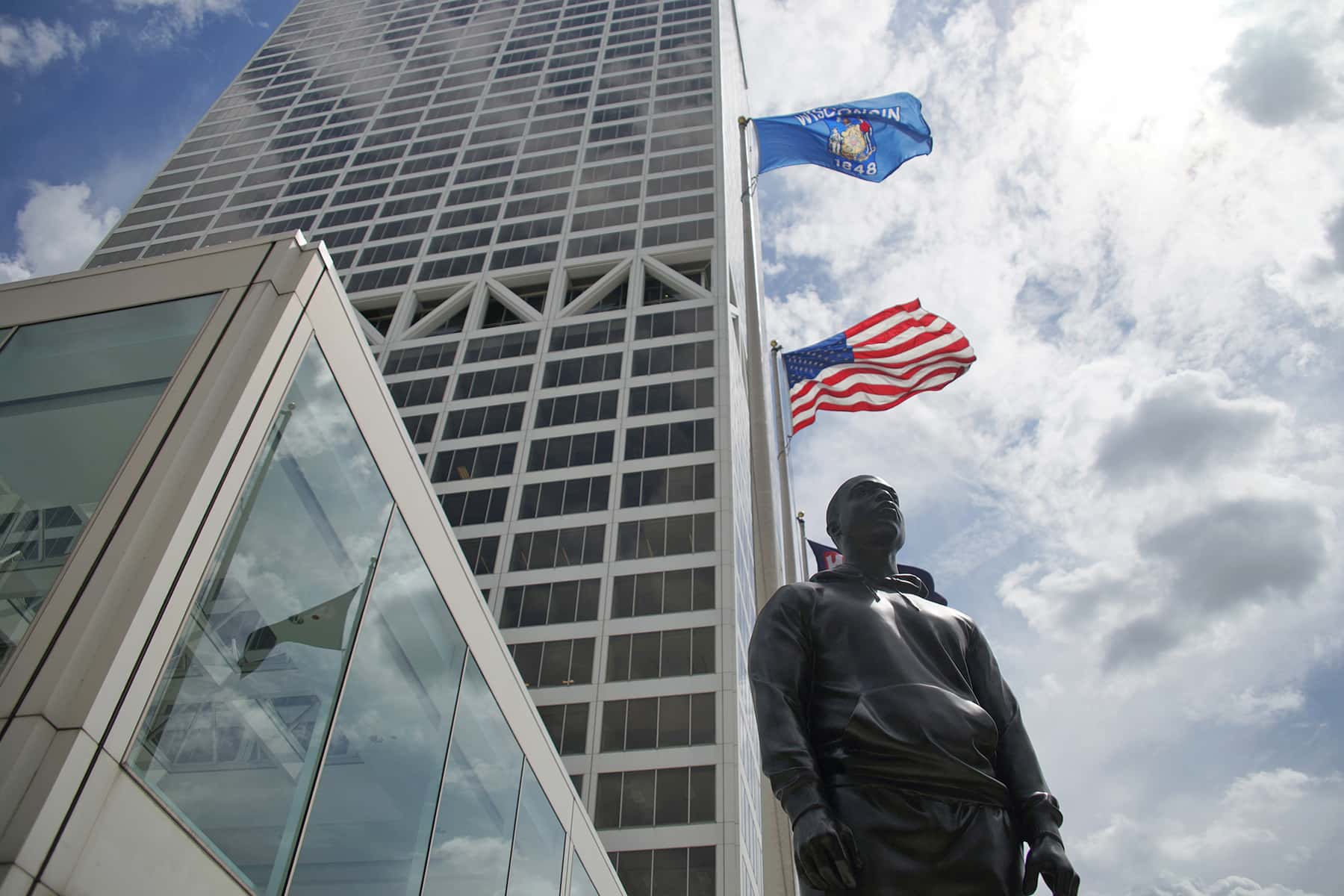 Nineteen creative works scattered over a mile and a half of downtown Milwaukee for the annual free exhibition of international, national, and regional artists, officially went on view beginning August 19. The featured pieces continued Sculpture Milwaukee's tradition of committed to engaging the cultural issues of our time.
Overcoming significant logistical challenges and delays brought on by the global pandemic, the fourth edition of Sculpture Milwaukee features an expanded curatorial program. In addition to the artworks selected by the project's Founding Art Advisor, Russell Bowman and Marilu Knode, Director of Curatorial Affairs and Education, the 2020 exhibition also includes artworks selected by guest curators Michelle Grabner, Senior Chair of Painting and Drawing and Professor, School of the Art Institute of Chicago; Mary Jane Jacob, Professor and Director, Institute for Curatorial Research and Practice, School of the Art Institute of Chicago; and Lisa Sutcliffe, Herzfeld Curator of Photography and Media Arts, Milwaukee Art Museum. Curatorial advisor Courtney J. Martin, Director, Yale Center for British Art, New Haven rounds out this year's curatorial field.
Making an international debut in Milwaukee is a powerful new work by British artist Thomas J. Price titled Within the Folds (Dialogue I), 2020. The statue is a nine-foot bronze depiction of a standing Black man clothed in a hoodie, sport shoes and sweatpants. The figure is unyielding and stares resolutely over the heads of onlookers.
"When I first reached out to Thomas J. Price a year ago it was because his work is beautiful and evocative. I am interested in how his work addresses not only the history of sculpture and public monumentation, but also how his work speaks to the ways in which non-Western and non-White people have been represented throughout Western art history. Price has long been actively engaged in critiquing art history's role in sustaining the fictions created by empires like the United Kingdom and the United States. He is part of a next generation of artists who are addressing cultural representation that reflects our current world." – Marilu Knode, Director of Curatorial Affairs and Education for Sculpture Milwaukee
Working within the tradition of classical statuary, Price's idealized "everyman" is sited against Milwaukee's US Bank Center. Its bronze patina is in sharp contrasting against the white aluminum façade of the financial skyscraper, contributing boldly to the cultural discussions around race and equity.
"It is love at first sight. The figure is striking, attractive and familiar. The monumental scale makes him hard to miss. What I see is a tribute to the life force of the everyday young Black male. Its existence is doing what it is supposed to do, capture our imagination and perception of those who are ignored, or made less essential, or just in the way." – Portia Cobb, excerpt from the artist's audio guide on sculpturemilwaukee.com
Sculpture Milwaukee's Within the Folds (Dialogue I), is equal in impact to Price's other celebrated new sculpture Reaching Out, 2020 that was installed this summer in east London. For that work, Price portrays a Black woman standing in contraposto and holding her mobile phone. Both sculptures implore viewers to deliberate on the subject and the form of public monuments, the history of memorializing, and the current role representational sculptures play in political debate.
When the global pandemic hit home, it transformed the 2020 Democratic National Convention into a virtual event, denying Milwaukee of its host city status and the promise of an international stage. Nari Ward's Apollo/Poll, 2017, a replica of the famous Apollo Theatre sign, was installed at the Wisconsin Center. The location took over as the stage for the DNC from the Fiserv Forum. The large scale sculptural emphasizes the word "poll," in "Apollo" with red LED lights. The work is a testament to the foundation of American democracy, while simultaneously evoking contemporaneous campaigns to disenfranchise the constitutional rights of many Americans.
Punctuating the east end of Wisconsin Avenue is Richard Wood's pink cartoon Holiday Home (Milwaukee), 2019 and Roxy Paine's to-scale reflective steel tree, Cleft from the series Dendroids, 2018. Alex Katz's cut-out sculpture Park Avenue Departure, 2019 and Julian Opie's double-sided LED monolith Natalie Walking, 2016, are juxtaposed with Tony Tasset's multi-colored Blob Monster, a conspicuous apparition with menacing outstretched arms.
The Blob Monster graces the corner of the Milwaukee Federal Building and U.S. Courthouse, and brings a satirical contrast to one of the last examples of Romanesque Revival architecture in the region.
The 2020 edition of Sculpture Milwaukee also expands on its downtown Wisconsin Avenue venue by offering work in the city's Historic Third Ward. Viewers can watch an ever-changing technoscape film by Leslie Hewitt, and video work by Sky Hopinka and Amy Yoes. The works explore varied spatial and animated vocabularies, resulting in conceptually different narrative ends.
The Third Ward also hosts Paula Crown's JOKESTER, 2018, a colossal reproduction of a disposable red Solo cup that straddles the line between Claus Oldenburg's vernacular Pop and urgent environmental critique. Works by Lawrence Weiner, Maggie Sasso, Jim Dine, Anna Fasshauer, Beverly Pepper, Carlos Rolón, and Paul Druecke are also included in the 2020 exhibition.