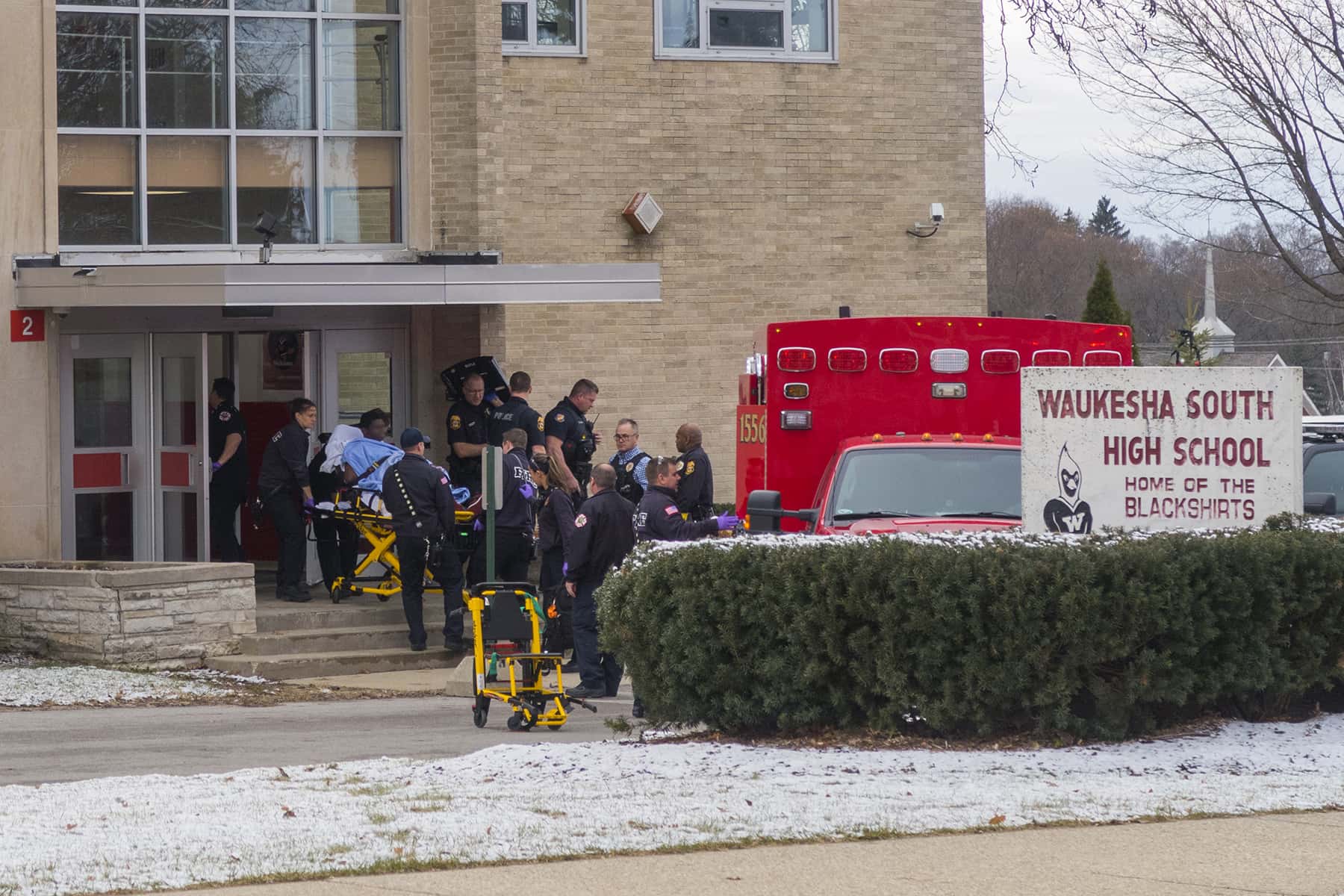 Waukesha South High School was on lockdown for several hours on Monday, December 2 after an armed male student refused to disarm and pointed his handgun at an officer.
Waukesha Police Chief Russell Jack told the news media at a noon press conference that a 17-year-old male student had been reported at 10:07 a.m. to be in possession of a handgun that he brought to school. The Waukesha South Resource Officer responded and secured the classroom, while getting other students to safety. Other law enforcement officers arrived on the scene and attempted to deescalate the situation.
"The suspect would not remove his hands from his pockets and continued to ignore commands from the officers," said Chief Jack. "The suspect removed his handgun from his waistband and pointed it at the officers. An officer was forced to discharge his firearm, striking the suspect."
Officers provided lifesaving medical attention to the wounded student, who was transported to a local hospital. Last reports of his condition were stable. The remaining students were evacuated from the classroom, and the school was put on lockdown shortly after the incident. No other officers or students were injured, and police were not seeking any other suspects as they began the investigation.
"This is an isolated incident. We are not seeking anybody else, we have no other persons of interest. We are in the investigative stage right now as the scene is stabilized." – WaukeshaPD @ 11:00am
Chief Jack said that the officer who opened fire was an 11-year veteran and that his actions were sanctioned by state statute and department policy.
Governor Tony Evers released a statement of heartfelt support, calling the situation traumatic for educators and students. Just last month Republican lawmakers snubbed his special session to address gun safety, with two measures that 80% of the Wisconsin population supported.
"It's gut-wrenching that our kids wondered whether this was a drill or it was real. Our kids shouldn't have to fear for their life in our classrooms or at school, and no parent should have to send their kid off to school in the morning worrying about whether or not they'll come home," said Governor Evers. "Today is a grim reminder that this can happen anywhere, but I do not accept — nor should we accept — that this is an inevitable reality for our kids, our communities, our state, or our country."
Parents were gathered outside Waukesha South when students began streaming out, once the lockdown was lifted. Some of the students said that there was an announcement about a drill, and they began to take cover under desks while teachers barricaded doors. However, they knew it was not a drill because they had heard gunshots.
"Clearly this is a superintendent's worst nightmare," said Todd Gray, Waukesha School District Superintendent. "We are grateful for the response of the school resource officer, police, and sheriff. We will be reviewing the situation and working with students, staff, and the police department to allow our students to resume learning tomorrow."
The incident places Waukesha on long list of communities that have experienced the terror and trauma associated with a school shooting. It also renewed calls for safety measures.
"The coalition calls on our state legislators to take action on two legislative proposals that are proven to reduce gun violence," said Darryl Morin, President of the nonprofit advocacy group 80% Coalition. "The first would close the background check loopholes on firearm purchases and the second would provide police and parents an Extreme Risk Protection Order (ERPO) option that would allow them to address credible threats before they turn in to tragedy. Both proposals have the overwhelming support of Wisconsinites including Republicans and Democrats, firearm owners and non-firearm owners alike."
Message to parents from Waukesha South High School principal
Dear Parents and Guardians,
Today at approximately 10:00am we went into a lockdown. The students and the staff responded quickly as all students were cleared from the hallway and in a locked classroom out of site. All the students were put into lock down due to the School Resource Officer (SRO) getting information that a student had a gun.
The SRO responded immediately to the situation and got the situation contained in one location. At the same time, as the building was put into a lock down the Waukesha Police Department responded quickly to the building and the situation.
They immediately went to the classroom the student that was suspected to have a gun. The situation was contained to this location and all the students were safe. Due to this event the students are going to be dismissed early.
The dismissal time will at 11:15am. Again we appreciate all the quick response by the staff and students. The safety and security of all students and staff are a top priority. I will be providing follow-up information later today as I know more information.
Sincerely,
Kevin Kitslaar
December 2, 2019