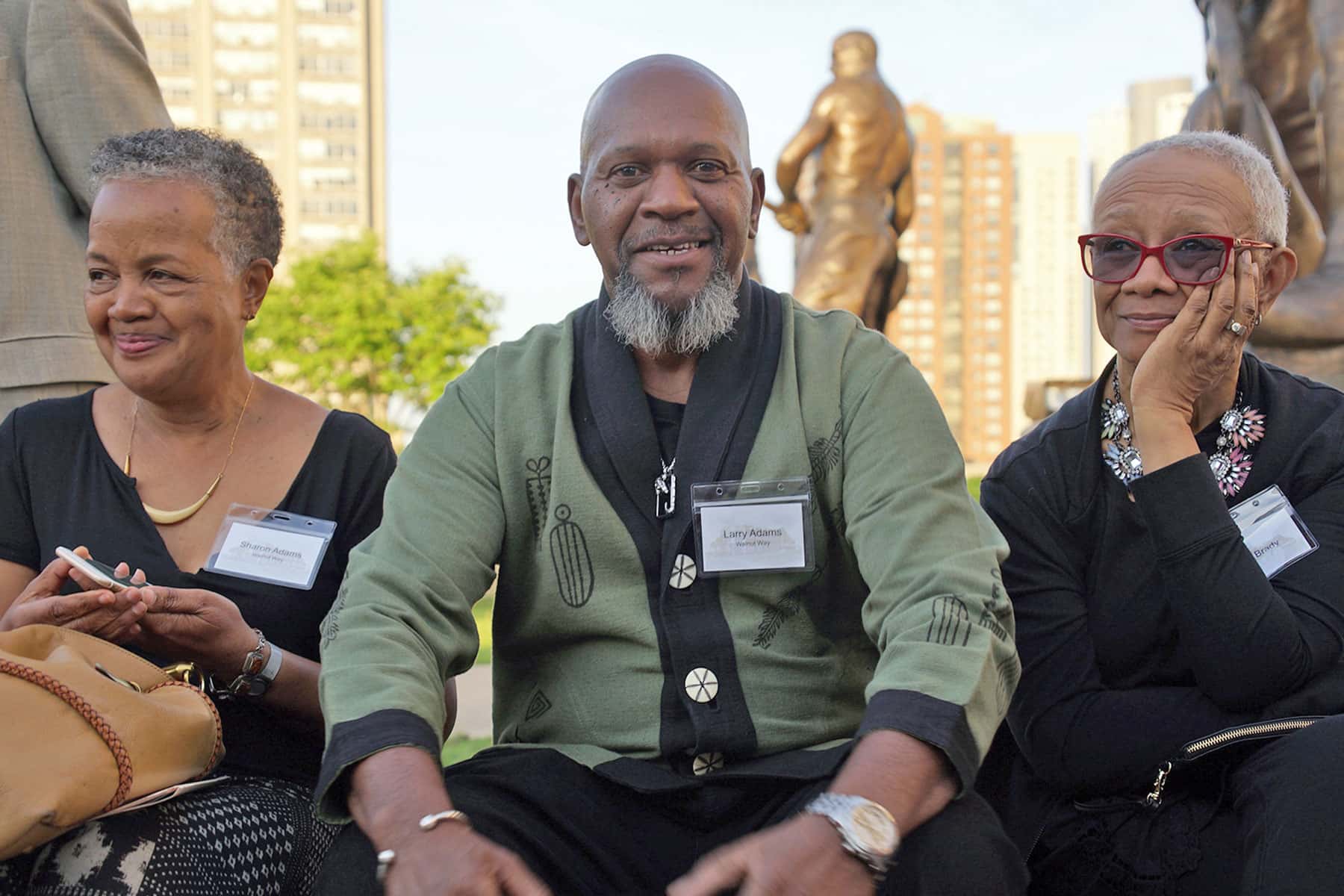 The MSOE Grohmann Museum hosted a special fundraising event at its Rooftop Sculpture Garden on June 2, helping to accelerate interest and support for Phase II of the Walnut Way's Innovations & Wellness Commons in Milwaukee's Lindsay Heights neighborhood.
Community leaders and neighborhood stakeholders celebrated a list of accomplishments from Phase I of The Commons development, as the project sought support from attending guests to move forward with the next stage of its plan.
Developed by the nonprofit Walnut Way Conservation Corp., Phase II is a new construction that will be built on the parking lot adjacent to Phase I. It will cover 11,500 sq. ft. and also include a 2,000 sq. ft. rooftop terrace overlooking W. North Avenue, that will serve as a community gathering area for up to 130 people.
"We are estimating that Rooftop Terrace will cost approximately $250,000 overall for the design and the construction," said Melissa Goins, President of Maures Development Group. "Plus an additional $100,000 is needed for landscape design and construction, lighting, furniture, and artwork."
The total cost of Phase II is $4.2 million. So far $2.8 million has been raised, with $1.4 million more required to begin construction for a Fall 2018 completion. To finance the project, Walnut Way created an innovative, cooperative-based funding model that uses a combination of philanthropy, federal and state grants, and community support.
Phase II of The Commons will focus on creating a hub of like-minded tenant-partners offering entrepreneurial and workforce development, integrative health and wellness services, STEM learning opportunities, a coffee house and bakery, and event spaces that foster community engagement.
Co-Founder of Walnut Way Conservation Corp., Sharon Adams, was introduced by Dr. John Walz, President of MSOE, with some background of the University's formation. In 1903, a young German immigrant named Oscar Werwath saw the need for a school to train engineers to meet the demand of the growing industry around the city of Milwaukee. In a modern age of push-button technology, it is easy to overlook the important role that hard work by skilled laborers played in building the community.
"Work continues to transform the lives and fortunes of individuals and cities in our country, and that translates into an abundance of wealth, technological innovation, progress, and an abundance of knowledge," said Adams. "Those who know me understand that I have a particular bend towards abundance, because we are often framed in our communities through scarcity. So the Innovations and Wellness Commons in Lindsay Heights is a place that touches on every aspect of what it means to be abundant, whole, and healthy."
Lindsay Heights is a 110-bock neighborhood just north of Milwaukee's downtown, and the section of W. North Avenue between I-43 and W. Fond du Lac Avenue was once a thriving commercial district. By the 1960s, however, the good fortune of the area dissolved from many social and political factors that maintained a downward spiral for the following decades. A positive shift did finally began around 2000, to reclaim and redevelop the economic health and vitality of the community. It did not come from any government initiative, but the neighbors themselves who came together to form Walnut Way. The efforts have since been used as a model for transformative commercial and community investments.
The Innovations and Wellness Commons is a $6 million, 20,00 sq. ft. multi-use commercial development driving the economic and environmental revitalization of the former commercial corridor. In Phase I, Walnut Way renovated a vacant building at 1609-1617 W. North Avenue and added a new 4,500 sq. ft. building for a commercial kitchen. The focus was on creating a healthy food oasis for Lindsay Heights and surrounding neighborhoods, which was completed in October 2015. The four tenant-partners who lease the space are The Juice Kitchen, Outpost Natural Foods, Milwaukee Center for Independence, and Fondy Food Center.
The MSOE rooftop location was a fitting event venue, since a major aspect of Phase II will be the Rooftop Terrance. Walnut Way also announce plans to sponsor some of the 400 K to 12 students who will participate in the engineering school's summer camp on its campus.
"We are very committed to helping our city improve and advance, and there is no doubt to me that the greatest resource that we have is our students," said Dr. Walz. "They are hardworking, smart, ambitious, and very creative students. In my opinion, if we can unleash those talents on projects around our community, not only will it pay great dividends for the citizens of Milwaukee, but it also really enhances the education of our students. So we are very happy and proud of the relationship that we have with Walnut Way."
Keynote speaker at the fundraiser was Dr. Mary Pattillo, Professor of Sociology and African American Studies at Northwestern University. One of the groundbreaking books that she authored was "Black on the Block," which focused on gentrification and public housing transformation in Chicago's South Side. The noted scholar read several poems to share her insight, which highlighted an outsider's view of urban black neighborhoods. Dr. Pattillo's reading can be heard in the companion audio report.
"I want to frame my remarks using pieces of poetry and prose by those most knowledgeable about black neighborhoods, the residents themselves. Their words move us from an emphasis on pathology and oppression to one of celebration, resilience, and agency," said Dr. Pattillo. "All of these things are relevant for the work that Walnut Way does, and it's important efforts to cultivate life in Lindsay heights and its surrounding communities."