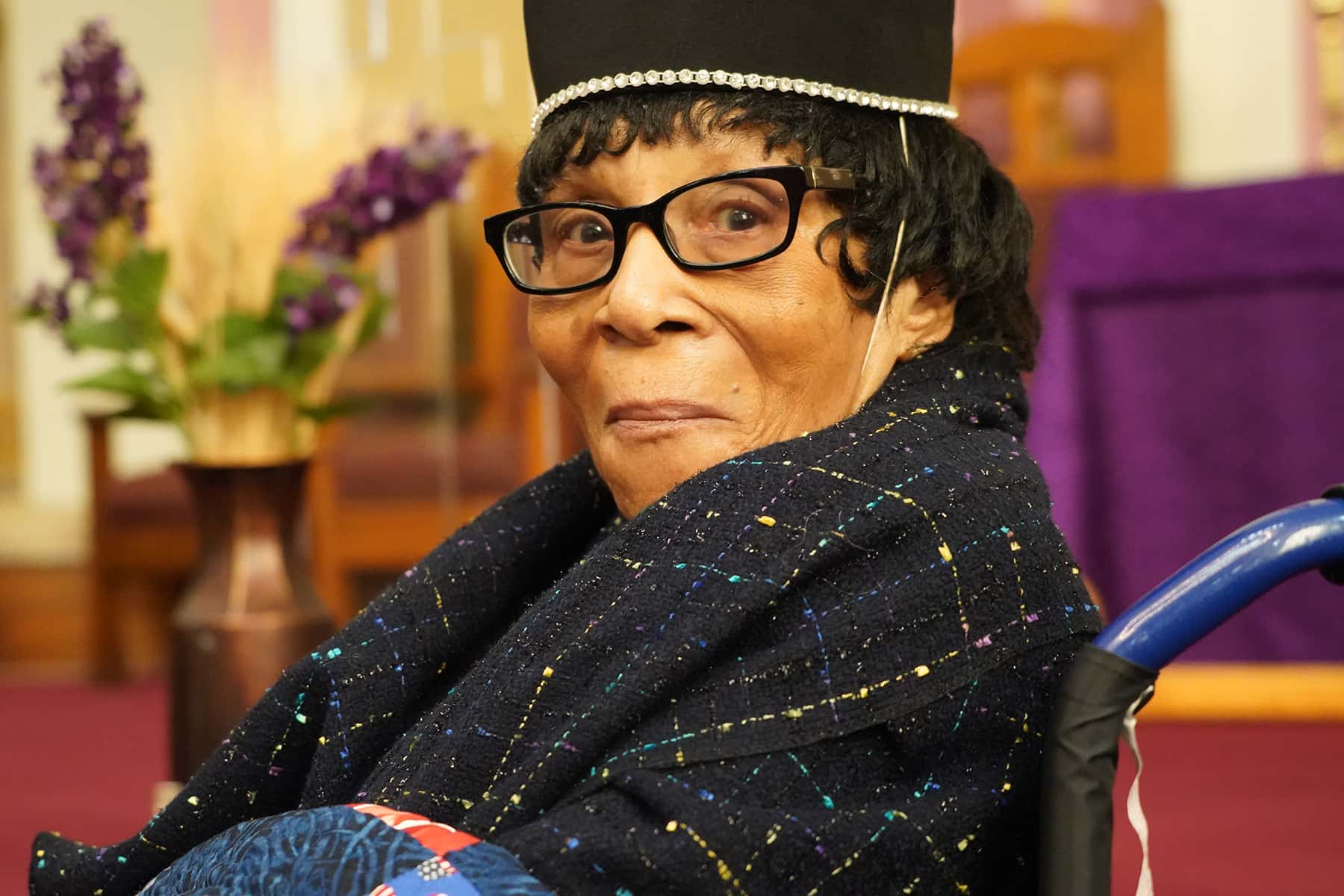 Acting Mayor Cavalier Johnson presented veteran Anna Mae Robertson with a proclamation on March 4 at the Tabernacle Community Baptist Church, in celebration of her military career and civilian accomplishments in advance of her 98th Birthday on March 5.
Pastor Donna Childs joined with the Robertson family and the public to honor Robertson's service. Robertson had been a member of the 6888th Central Postal Directory Battalion in 1943, the only African American Women's Army Corps to serve overseas during World War II.
Acting Mayor Cavalier Johnson declared Saturday, March 5 to be "Anna Mae Robertson Day" throughout the entire city of Milwaukee.
"You are an inspiration to me, to your family and friends. You are an inspiration to the entire city, and more than that, an inspiration to the entire country for your service during some of the most challenging times in our history," said Mayor Johnson.
Known as the "Six Triple Eight," Robertson's Battalion was sent to Europe in February 1945 to sort an extensive backlog of mail. During the voyage her vessel was chased by German submarines. Her Battalion was first sent to Birmingham, England. The women worked around the clock to ensure approximately 65,000 letters per eight-hour shift were sent to their final destinations.
The assignment was expected to take the group six months, but the women were able to complete it in half the time. The Battalion's motto was "no mail, low morale." Robertson and others endured more than their share of racism, sexism, and challenging work environments, but that did not slow them down. After leaving England, the Six Triple Eight moved on to Rouen, France, then finally to Paris, France.
Only a handful of the 855 members from Six Triple Eight are still alive today, with Robertson being the youngest at 98. Her Battalion has become the subject of increased attention and honors in recent years. The shift came after decades of being denied any sort of recognition. The House of Representatives recently passed legislation to award the Battalion the Congressional Gold Medal, one of the highest civilian honors in the United States.
"The Six Triple Eight was a trailblazing group of heroes who were the only all-Black, Women Army Corps Battalion to serve overseas during World War II," said Congresswoman Gwen Moore, who sponsored the bill after being contacted by Anna Mae Robertson's daughter. "And the Six Triple Eight Battalion are the only women to receive a Congressional Gold Medal of any race."
The Battalion was also credited with serving as a role model to generations of Black women who joined the military. Congresswoman Moore said that the medals were still being designed, and once completed there would be another celebration held in Milwaukee to honor Robertson.
Robertson's daughter Sheree has called her mother a quiet warrior. She said her mother did not talk about her military service. Instead she led her children by example, taking them with her to the Open Housing demonstrations held in Milwaukee during the 1960s. Sheree also recalled marching with the Father James Groppi across the 16th Street viaduct, with her mother and her siblings.
After World War II, Robertson worked in Milwaukee as a nurse's aide at Woods Veterans Hospital. In 1948 she married a veteran, who went to work for the Milwaukee Road railroad. Robertson would eventually become a full-time homemaker and care for eight children. On March 5, "Anna Mae Robertson Day," she plans to celebrate her 98th birthday together with family.
"Three years ago, you and I met briefly when we are being photographed for the "I'm Not Invisible" project. I was so honored to meet you then, to hear your story that had gone untold for too long, alongside so many other brave women," said Secretary Mary Kolar, Wisconsin Department of Veterans Affairs. "It is fitting that we are here again during Women's History Month, celebrating a woman who truly made history. Not only did you accomplish great things in the past, but you helped pave a better future. You and I share something. We are two of the nearly 30,000 women veterans who call Wisconsin home. Your service helped make it possible for countless others to continue to demonstrate that patriotism, commitment, fortitude, and pride of service is not limited to gender or the color of your skin."