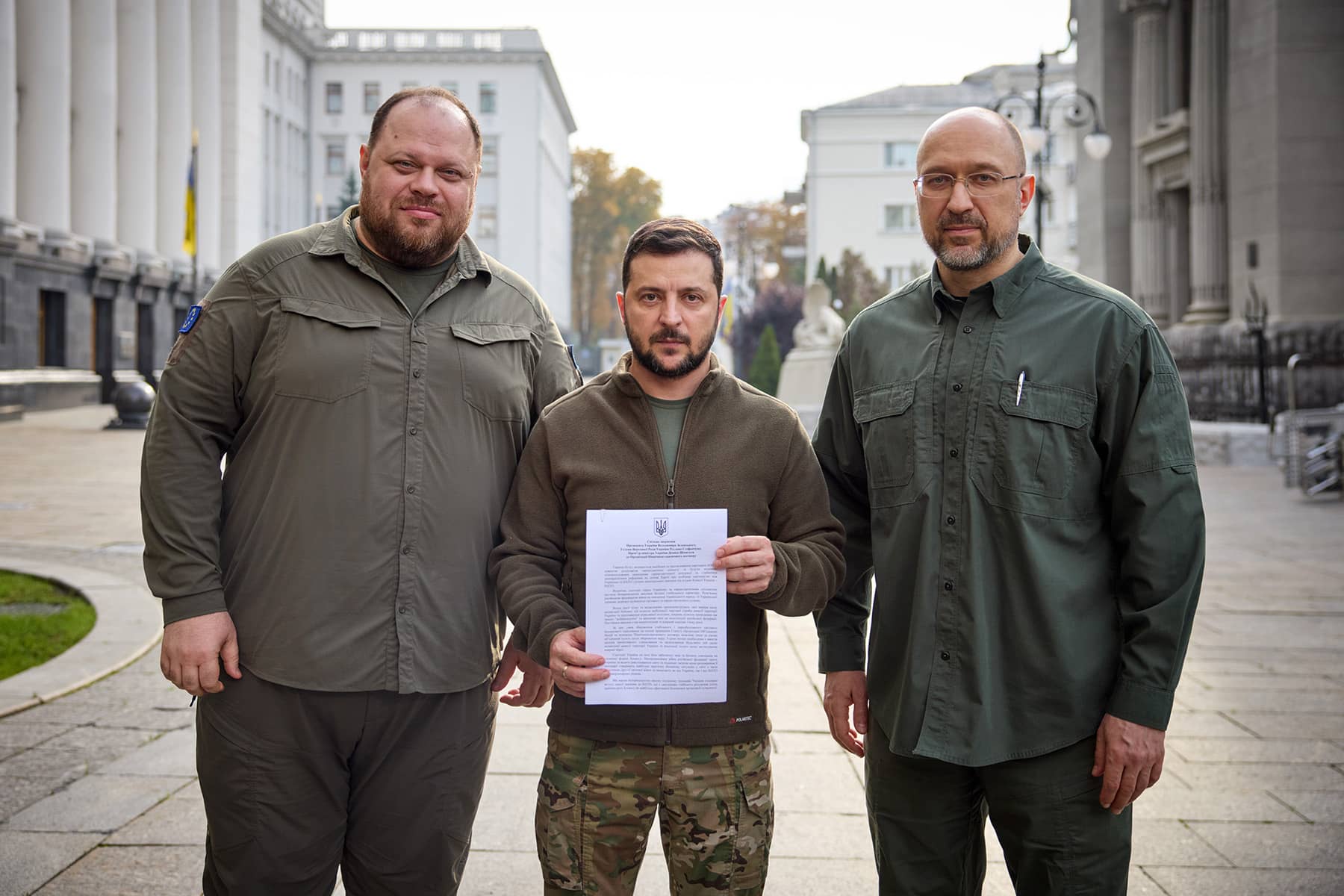 Ukrainian President Volodymyr Zelenskyy formally applied for NATO membership on September 20, along with a public statement. The application came after the Russian dictator signed an illegal decrees to annex four Ukrainian territories, a move widely believed to reflect Putin's desire to distract from his failed war effort.
After a two-month stalemate, earlier this month Ukraine launched a game-changing counteroffensive against the Russians occupying their eastern territories of Donetsk, Luhansk, Kherson, and Zaporizhzhia.
Over the summer, Ukrainian forces destroyed Russian arms, command centers, and supplies behind Russian lines with U.S.-supplied long-range High Mobility Artillery Rocket System (HIMARS), then began to talk of a counteroffensive in the south, near Kherson. To guard against such a move, Russia moved many of its soldiers from the northeast to Kherson, leaving its northeastern troops stretched thin.
On September 6, Ukrainians moved, but not near Kherson in the south. Instead, they struck hard on the weakened northeastern lines, cutting quickly through the stretched and disheartened Russian occupiers and capturing more than 6000 square miles in less than a week. Russian troops abandoned their weapons and fled.
Russian president Vladimir Putin had launched the war on February 24 with the expectation that a lightning-quick attack would give him control of Ukraine before other nations could react, much as when he had invaded Crimea in 2014, or Georgia in 2008.
But he did not reckon with the careful rebuilding and training the Ukrainian military had undergone since 2014 as it worked to hold off Russia. He also misjudged the strength and commitment of the North Atlantic Treaty Organization (NATO), which former president Trump had worked hard to dismantle. In office only a year at that point, President Joe Biden and Secretary of State Antony Blinken had made reconstructing the world's democratic alliances a top priority.
Those alliances held against Russia's invasion of a sovereign nation as they had not before when Putin had bought appeasement with promises: "Don't believe those who try to use Russia to scare you, who say that, after Crimea, other [Ukrainian] regions will follow," he said in 2014. "We don't want to carve up Ukraine. We don't need this." In 2022, international sanctions began to bite into and then to bring down the Russian economy, while shipments of weapons and economic support kept the Ukrainians supplied. Rather than a quick, successful strike, Putin found himself in a drawn-out and deeply unpopular conflict.
The Ukrainian counteroffensive tightened the screws further. Putin responded to it on September 21 by hinting that he might use nuclear weapons and calling for what initially was described as "partial" mobilization, a move he had tried to avoid because of its potential to turn the Russian people against him. Immediately, Russian men headed for the country's borders, while civilians and draftees, provided with few supplies and no training, began to resist.
Putin also announced that the four occupied regions would hold referenda on joining Russia and would be part of Russia as soon as those referenda occurred, so any attacks on them would be considered attacks on Russian territory. With this upfront admission that the vote was predetermined, Putin's move was clearly designed to enable him to keep the Ukrainian territory he seems about to lose. It also violated international law by attacking another nation's sovereignty, and Biden and other democratic leaders condemned it in advance.
In a televised ceremony on Septeber 30, Putin announced that the sham referenda had taken place and that "there are four new regions of Russia." The four territories, which Russia does not fully control, cover about 18% of Ukraine. Putin's speech seemed to indicate a concern that the countries under his sway are sliding away. He focused on the "West," claiming that Russia itself is under attack from western democracies. "The West is looking for new opportunities to hit us and they always dreamt about breaking our state into smaller states who will be fighting against each other," he said. "They cannot be happy with this idea that there is this large country with all [these] natural riches and people who will never live under a foreign oppression."
He offered to negotiate for an end to the war, but said that the "four new regions of Russia aren't up for negotiation."
Journalist Anne Applebaum, who is a specialist on Central and Eastern Europe, identified Putin's actions as a war not just on Ukraine, but on world order and the rule of law, a system embraced by the democratic world. It is, she writes in The Atlantic, "a statement of contempt for democracy itself." That world order says that big countries cannot attack smaller countries and that mass slaughter is unacceptable. In contrast, in Putin's world, she writes, "Only brutality matters."
Secretary of State Blinken tweeted: "We took swift and severe measures in response to President Putin's attempt to annex regions of Ukraine—a clear violation of international law. We will continue to impose costs on anyone that provides political or economic support for this sham."
In turn, Ukraine's president Volodymyr Zelensky announced that Ukraine is applying for "accelerated ascension" into NATO. Ukraine's membership in the organization would require other NATO countries to send troops to fight Russia. Admission to NATO requires the consent of all 30 members, and that consent is unlikely to materialize in the midst of a war, but Zelenky's announcement overshadowed Putin's.
Zelensky appealed to the ethnic minorities conscripted into Russian armies not to fight, telling them that more than 58,000 Russian soldiers had already died in Ukraine and warning them that they do not have to die for Putin. If they do come, he warned, those who are sent without dog tags should tattoo their names on their bodies so the Ukrainian authorities can inform their relatives when they are killed.
"The United States condemns Russia's fraudulent attempt to annex sovereign Ukrainian territory," President Biden said. "Russia is violating international law, trampling on the United Nations Charter, and showing its contempt for peaceful nations everywhere. Make no mistake: these actions have no legitimacy."
The U.S. announced new sanctions against Russians and Russian entities and will continue to provide aid to the Ukrainians. In what sounded like a reference to the damaged pipelines, Biden told reporters "America's fully prepared with our NATO allies to defend every single inch of NATO territory, every single inch," President Biden said, adding: "Mr. Putin, don't misunderstand what I'm saying."
Meanwhile, Ukrainian troops have advanced around the city of Lyman and appear to be on the cusp of encircling the Russian troops there. Lyman is a key logistics and transportation hub, and the Institute for the Study of War, a think tank, says its loss "will likely be highly consequential to the Russian grouping."
Statement by President Volodymyr Zelenskyy
Ukrainians! And all our friends and allies!
De facto allies. Today, here in Kyiv, in the heart of our country, we are taking a decisive step for the security of the entire community of free nations.
We see who threatens us. Who is ready to kill and maim. Who in order to expand his zone of control does not stop at any savagery.
On February 24, the first full-scale attack on Ukraine was carried out. The first!
Russia would not have stopped at our borders if we had not stopped it. Other states would have been under attack. The Baltic countries, Poland, Moldova and Georgia, Kazakhstan…
Russia claimed to subjugate various nations of Europe and Asia. Claimed six months ago. This criminal ambition is breaking down in Ukraine. It was broken down in the suburbs of Kyiv and Chernihiv. In "Azovstal". In the Sumy region and Kharkiv region. On Zmiinyi Island. It will be broken down in Donbas and in the south of Ukraine when we liberate them. Definitely – in Crimea, in the free Ukrainian Crimea.
The entire territory of our country will be liberated from this enemy – the enemy not only of Ukraine, but also of life itself, humanity, law and truth.
Russia already knows this. It feels our power. It sees that it is here, in Ukraine, that we prove the strength of our values. And that is why it is in a hurry. Organizes this farce with the attempted annexation. Tries to steal something that does not belong to it. Wants to rewrite history and redraw borders with murders, torture, blackmail and lies.
Ukraine will not allow that.
Today I held a meeting of the Staff of the Supreme Commander-in-Chief. The meeting of the National Security and Defense Council has just ended. We have a decision.
First – it is only the path of strengthening Ukraine and ousting the occupiers from our entire territory that restores peace. We will complete this path.
Second – Ukraine was and remains a leader in negotiation efforts. It was our state that always offered Russia to reach an agreement on coexistence on equal, honest, decent and fair terms. It is obvious that this is impossible with this Russian president. He does not know what dignity and honesty are. Therefore, we are ready for a dialogue with Russia, but already with another president of Russia.
And third – we must de jure record everything we have already achieved de facto. It is in Ukraine that the fate of democracy in the confrontation with tyranny is being decided. It is here, with the firmness of our state borders, that we can secure the firmness of the borders of all European states. We can guarantee that no one else will dare to bring war back to our continent.
It is here, in Ukraine, that the values of our Euro-Atlantic community have obtained real vital energy. The strength of the nation that fights for freedom, and the strength of the nations that help in this fight.
We are de facto allies. This has already been achieved. De facto, we have already completed our path to NATO. De facto, we have already proven interoperability with the Alliance's standards, they are real for Ukraine – real on the battlefield and in all aspects of our interaction.
We trust each other, we help each other and we protect each other. This is what the Alliance is. De facto.
Today, Ukraine is applying to make it de jure. Under a procedure consistent with our significance for the protection of our entire community. Under an accelerated procedure.
We know it's possible. We have seen Finland and Sweden start accession to the Alliance this year without a Membership Action Plan.
This is fair. This is also fair for Ukraine. This is the consolidation at the level of the treaty of what has already been achieved in life and what are our values.
We understand that this requires the consensus of all members of the Alliance. We understand that it is necessary to reach such a consensus. And therefore, while this is happening, we offer to implement our proposals regarding security guarantees for Ukraine and all of Europe in accordance with the Kyiv Security Compact, which was developed and presented to our partners.
Security has no alternatives. But determination is needed to guarantee it.
We are taking our decisive step by signing Ukraine's application for accelerated accession to NATO.
Today, the National Security and Defense Council of Ukraine adopted a decision to impose sanctions on significant individuals and legal entities of Russia who did not have the courage to speak out in defense of humanity and international law, or who in one way or another are involved in aggressive steps against Ukraine and the community of democratic nations.
And at the same time, I am addressing the people's deputies of Ukraine: at the next session of the Verkhovna Rada of Ukraine, a draft law on the nationalization of all Russian assets will be considered, which should significantly simplify this procedure. Please endorse this bill without delay.
We are completing the dismantling of Russian influence on Ukraine, Europe and the world.
Glory to Ukraine!
The Presidential Office of Ukraine
Letters from an Аmerican is a daily email newsletter written by Heather Cox Richardson, about the history behind today's politics