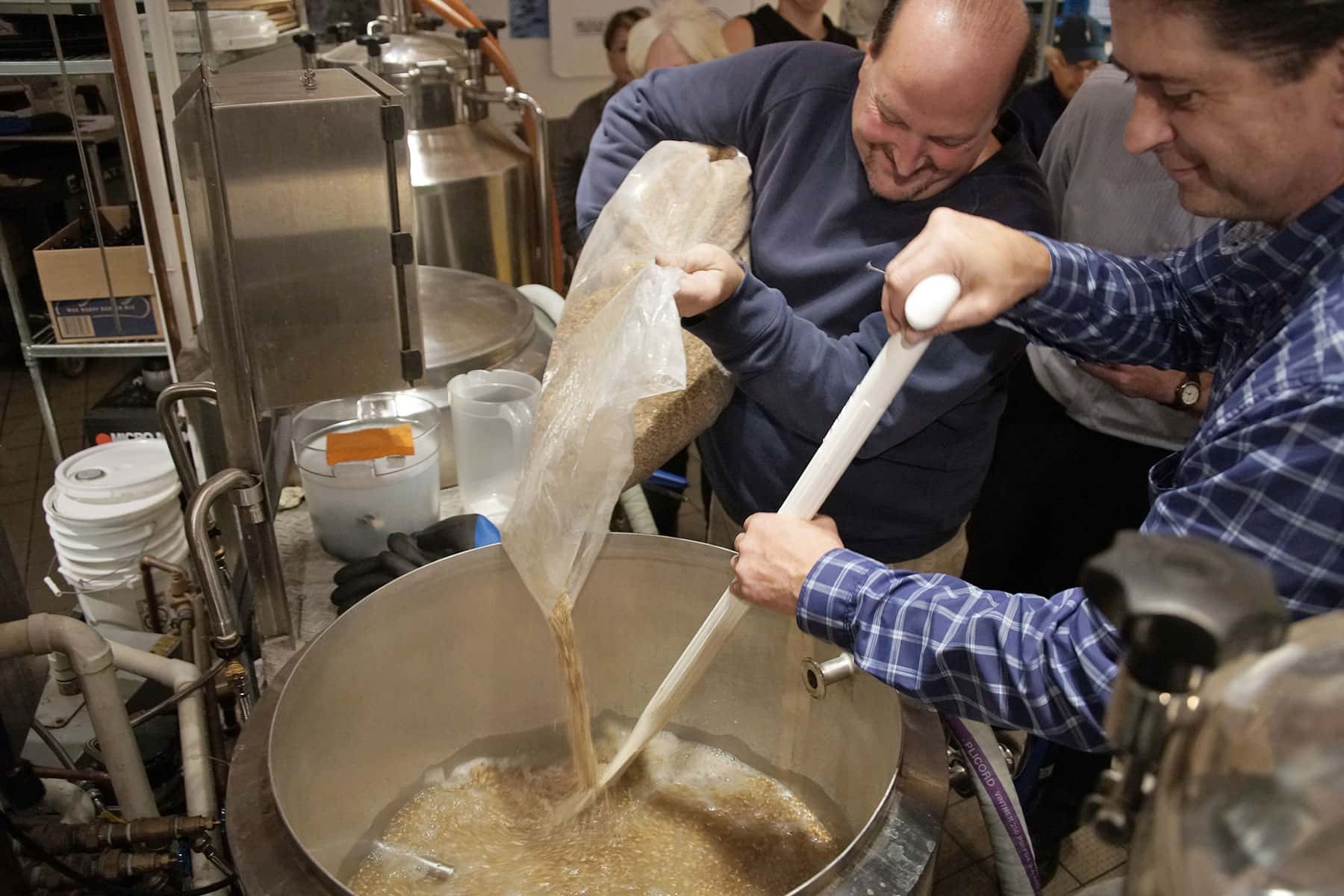 Beer enthusiasts had a chance to learn from one of the industry's top Brew Masters, and create a specialty batch of the popular Milwaukee drink on November 2.
"American beer drinkers tend to confuse flavor intensity with flavor quality," said Brian Reed, Trade Brewer for Tenth and Blake Beer Company
Reed taught the class in beer production at the THIRST Lab in Discovery World, using professional-grade brewing equipment. No previous brewing experience was required to attend the class. The innovation and education program, in cooperation with MillerCoors, allowed Reed to shares his ideas and expertise with participants. The result also created a limited edition beer recipe.
"I got started in brewing when I was about 16 with my cousin. My uncle was into home brewing and then quickly give up the hobby, but he had a bunch of equipment. People kept buying him kits for Father's Day or whatever. My cousin and I were bored so we brewed them, but never got to drink them because they were so terrible. We didn't read the directions or pay attention," explained Reed. "Then a few years later, when I was in college I got serious with it, which is a predictable place to get into beer. My dad and I start doing it together as a hobby."
The Miller Coors THIRST Lab for Freshwater Innovation, within Discovery World, provides a rich environment for the hands-on exploration of water. Visitors are empowered to explore, experiment, and innovate as they examine water's role in the creation of everyday products, from paper to perfume and soy sauce to soda.
"Discovery World has a special one barrel system that is perfect for these beer brewing tests. It is a very unique and rare system," said Education Manager Paul Mech.
It takes approximately the same amount of time to make one thousand barrels as it does one barrel. So the lab is a valuable teaching center, and one of the few systems like it in use. In fact, with the rise of Nano Breweries favoring one barrel systems, companies are making a business out of what Discovery World uses to teach with in its lab.
Beer is made from four basic ingredients: Barley, water, hops, and yeast. The basic idea is to extract the sugars from grains so that the yeast can turn it into alcohol and CO2, creating beer. Up until the 1880s, there was a really primitive understanding of yeast, and brewers just used a single isolated strain.
"Instead of technology, brewing innovation has come more from yeast strains, because they deeply affect the brewing process," said Reed. "Even with the same ingredients, 10 different yeasts can produce 10 different for beers."
Ironically, barley "mash" tastes very much like hot Grape-Nuts. Most breweries in Milwaukee get their malt from the same external suppliers. MillerCoors produces its own from the barley it grows. Fermentation and packaging are 90% of the beer making process.
As a historical note, the class was reminded that Kurtis Froedtert originally made his money through the Froedtert Grain and Malting business. It was the profit from his endowment that led to the creation of what would become Froedtert Memorial Lutheran Hospital.
"Someone can own a state-of-the-art brewing system, fantastic ingredients, everything ideal, but it could all be ruined in the fermentation process," said Reed. "Otherwise, someone could use a really old, generic, basic system, nothing special, but an amazing fermentation process can produce great beer."
Discovery World's President and CEO, Joel Brennan said that proceeds from the brewing event would go towards Discovery World's Annual Fund, which ensures unique, interactive exhibits, and educational programs continue to be available for the Milwaukee public to experience.
The biggest part of brewing is waiting, and the other part of brewing is cleaning. Bottling of the special edition beer will take place at the next class on November 18.