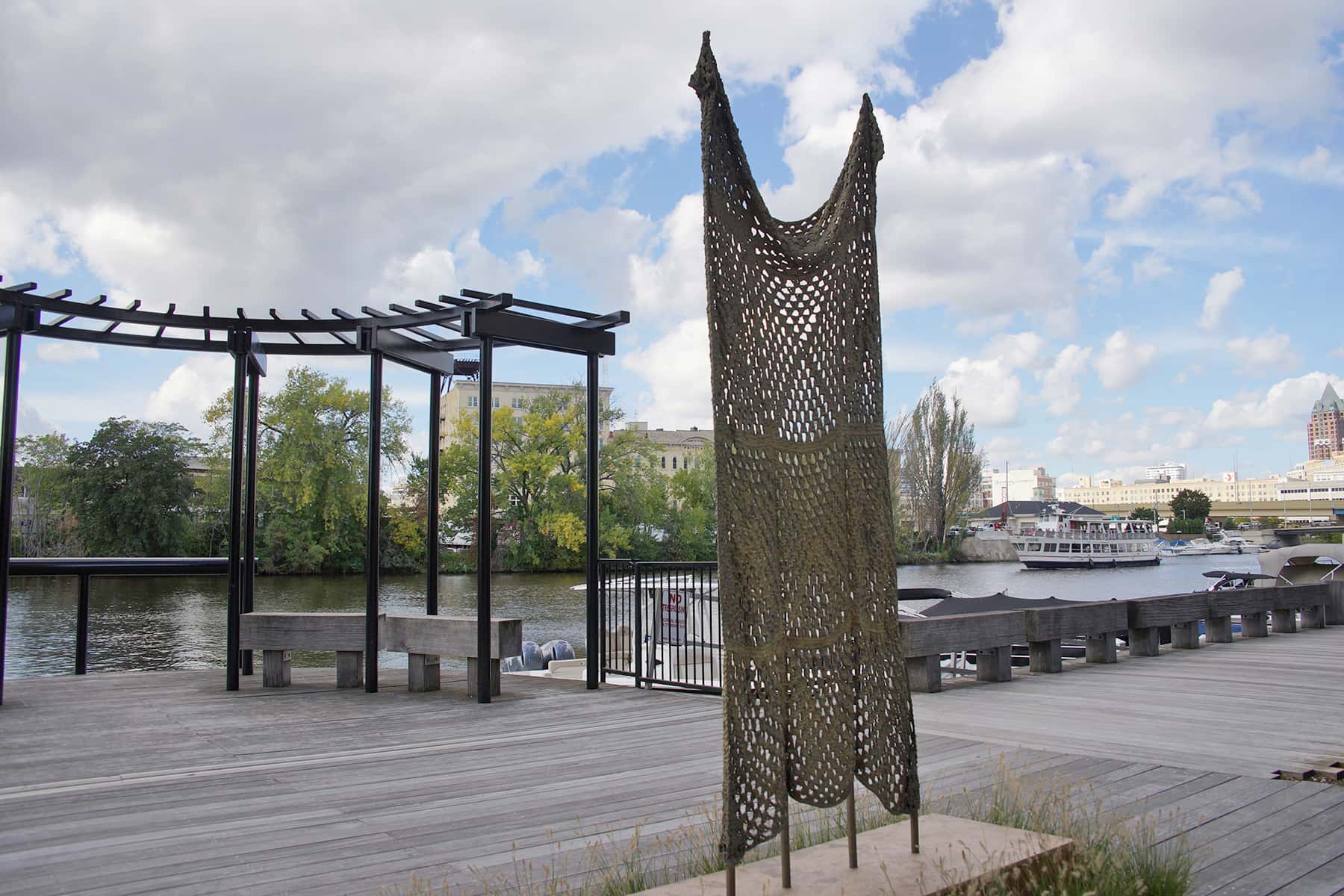 Sculpture Milwaukee, an outdoor urban sculpture experience that debuted last year along Wisconsin Avenue, is continuing to make a permanent impact on downtown Milwaukee. An anonymous donor of the Greater Milwaukee Foundation provided a grant to the Historic Third Ward Association to acquire Michelle Grabner's Untitled, 2017.
Untitled, 2017 was installed on August 21 at Chicago and Water streets, near the scenic Milwaukee RiverWalk. This is the second sculpture purchased from Sculpture Milwaukee 2017 and installed in a permanent, public space for the downtown Milwaukee community to enjoy.
Tony Cragg's Mixed Feelings, 2012 was donated anonymously and installed outside Milwaukee's City Hall in April.
Oshkosh-born and raised artist Michelle Grabner plays many arts roles throughout the Midwest and across the country. From artist, teacher and curator to parent, homeowner and gardener, Grabner draws upon these experiences to produce paintings, sculpture and weavings. She elevates handmade, hand-me-down fabrics (baby blankets, kitchen towels, kaftans) to fine art.
In her process of translating soft fibers into durable material, she creates a modern-day version of the marble cloaks of classic Greek gods and goddesses. Grabner reminds us to honor the art works that often go unnoticed in our everyday lives.
Sculpture Milwaukee 2017 was curated by Russell Bowman and on view from June 1 to Oct. 22. Featuring 22 sculptures by 21 artists, the pieces were positioned along Wisconsin Avenue from 6th Street to Prospect Avenue. The 2018 installation continues to line Wisconsin Avenue with works by more than 20 artists, representing a broad range of generations, working practices, materials, and styles. These works will remain in place until October 21.
Sculpture Milwaukee is the vision of Steve Marcus, a local philanthropist and chairman of the board of The Marcus Corporation. Milwaukee Downtown, Business Improvement District #21 serves as the administrative arm of the project with many Milwaukee organizations and institutions lending their support.