Rise and Thrive: Five Lessons of Storytelling and Resilience in Milwaukee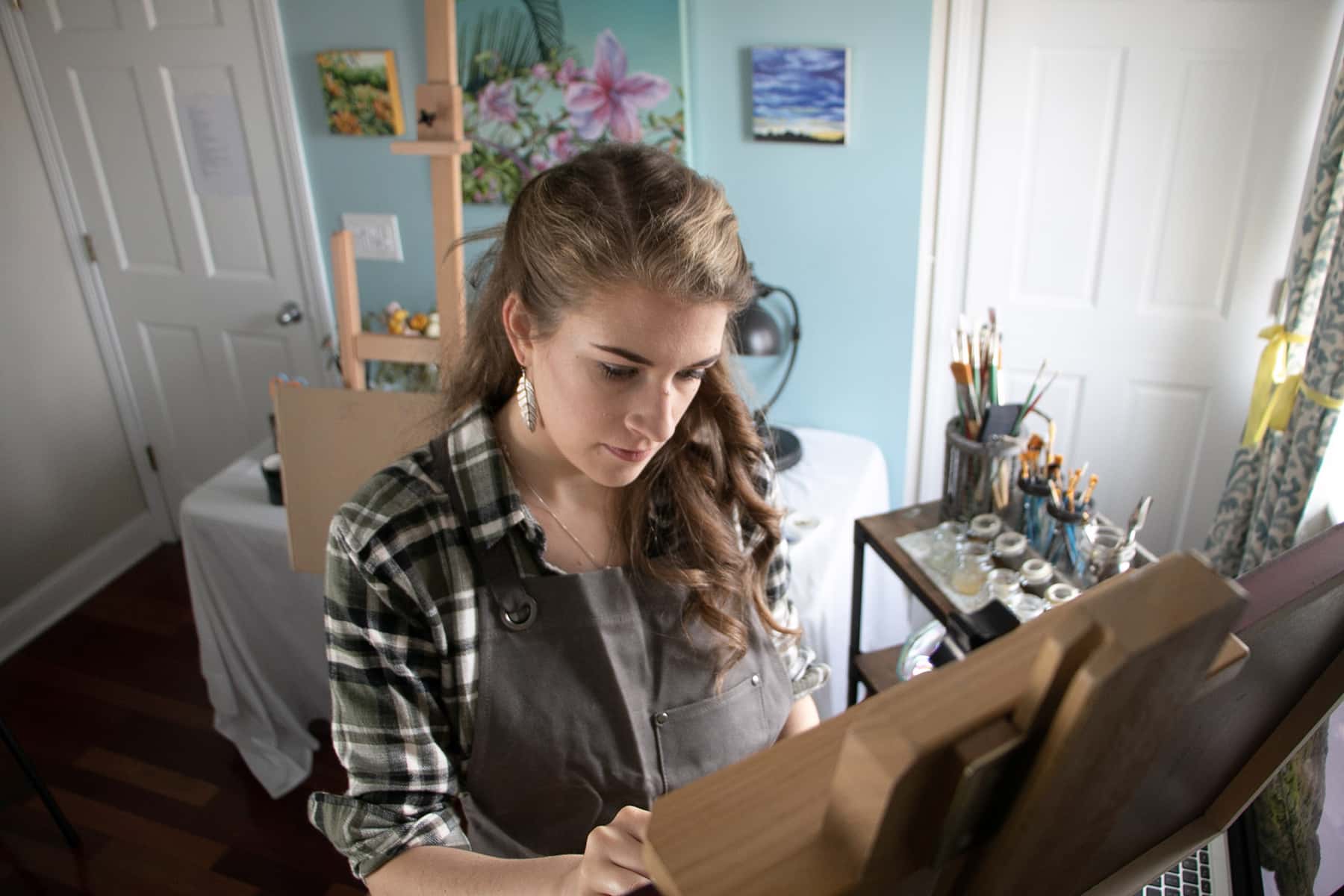 Do you remember a time when you stood in the sunlit silence of the woods, caught your breath at a fleeting sunset, or waded into the ocean only to be completely surprised at the strength of the waves?
It can be difficult to express why moments like these matter. And yet, if I asked you to tell me about a place in nature where you've felt a similar sense of wonder, freedom, safety, or peace, I wager that it wouldn't take long to think of "your" place. The natural world has an undeniable power to capture our attention and speak to our souls. In my opinion, these are the moments and spaces where we feel most alive.
As a visual artist and avid hiker, I've spent the past several years learning to listen to the natural world and the lessons these experiences might teach us. This practice has led me to create Lives in Landscape, a human-interest project that tells life stories through landscape paintings. Aesthetically, I am interested in our innate connection to the outdoors, and how spending time in wild spaces can transform our hearts and minds.
For the past two years, Rise and Thrive: A Lives in Landscape Exhibition has been an exploration of these ideas – specifically highlighting the stories of local survivors of sexual violence in partnership with Milwaukee nonprofit, LOTUS Legal Clinic.
Due to the pandemic, I had the unique opportunity this year to collaborate virtually with a team of six survivor-writers, a creative writing coach, and a filmmaker. Together we dug into "the unique landscapes of our lives" and created a virtual exhibit of oil paintings, short films and creative writings. These landscape-narratives tell stories of healing and transformation. But even more importantly, they point us to deeper truths about storytelling, resilience, and our shared humanity.
As I reflect on the 2020 Rise and Thrive Exhibit, there are five lessons that stand out:
1. Co-Creating in a pandemic taught me that the roles of storyteller and listener are equally sacred. And, when we engage in the stories of others, we discover that we are never truly alone.
This year, in the midst of a global pandemic and significant personal isolation, I've recognized the ability of shared experience to bring us together, especially when circumstances keep us physically apart.
We designed Rise and Thrive in the "pre-pandemic" days when anything and everything felt possible. This included in-person meetings, a writing workshop, studio visits, audio and video recording, and our culminating exhibit opening in November. The project also expanded to include two new artists – Austin M. Reece (Poet and Director of Survivor Empowerment at LOTUS Legal Clinic) and Michael Snowden (Milwaukee area photographer and filmmaker).
While COVID-19 caused us to pivot away from our planned in-person gatherings, we were still able to complete the project in meaningful and connected ways. Austin led a virtual writing workshop and our writers provided peer critique via Zoom. Michael directed socially-distant and virtual audio-recording sessions with each writer. I set up multiple cameras in my studio and recorded the painting process. These audio and visual components were then combined to create six short films. In each film a survivor's recorded voice literally "speaks their truth" over the landscape that has inspired them. And as they speak, visuals of their landscape slowly come to life through paint.
In a year of great uncertainty and social-political strife, the act of co-creating this exhibit about resilience, healing, and hope has been incredibly meaningful. Collectively, we need stories of resilience and hope now more than ever. Through the process, I had this incredible sense of being one of 9 creatives – each in their own strength – contributing to a larger narrative of what it means to "Rise and Thrive" from trauma and injustice. The experience builds community and understanding – not just with the cohort of creative writers and artists – but also with our audience who views the work over time.
After our virtual exhibit opening in mid-November, a virtual attendee reached out to me to say "I felt like I was in the presence of friends I have not met yet." What a beautiful thought this is. Whether we find ourselves in the role of storyteller or listener, may we all learn to invest ourselves in the stories of others. When we do so we emerge – no longer alone – but in the presence of friends.
2. The power of a landscape painting is not the image itself, but the story it invites us into.
The process of working alongside remarkable storytellers has been both thrilling and incredibly humbling. Over the past two years of this project, it has taught me this great truth: The power of a painting is not the image itself, but the story it invites us into.
As a visual artist I can create a beautiful object, but at the end of the day it is just that – an object. The real magic begins when someone tells a story that activates this object, providing meaning and metaphor to the image before us. The strength, then, of Rise and Thrive landscape paintings are their ability to draw an audience in with sensations of the familiar. From this place of shared experience, we can begin a deeper conversation about what it means to be human.
For example: In The Sun Will Rise Again, the writer begins with a story of walking down to the beach in her flip-flops. She then begins to examine the nature of the sea and parallels the cycles of nature to her own healing from trauma. We've received feedback from several community members about this piece, specifically that they loved how "relatable" it is. One person said "The word choice was comforting and a pleasure to read, like you were right there with her [on the beach]."
This, friends, is the beauty of taking time to share our stories with intention. When people can relate to our experiences, we can start to talk about the other things we share – our dignity, purpose, and hope for brighter days.
3. Empathy and awareness can be cultivated "one story at a time."
Empathy is something I've been thinking about a lot this year. It can be defined as our ability to share the joys and the heartbreaks of others; our ability to see ourselves in another's experience.⁠ I've heard it said (and I wholeheartedly believe to be true) that many of our world's greatest problems boil down to a lack of empathy.
There is no doubt that we live in a violent world, and it is easy to become numb to it. And in this inevitable process of "becoming numb", we unconsciously harden our hearts to the experience of others. Which leads me to wonder – what would the world look like if the reverse were true? What if we learned to practice empathy and compassion as a culture – pausing to really see each other, to really hear each other?⁠
Working alongside LOTUS Legal Clinic and their amazing community of survivors for the past six years has shown me what this dream for a brighter, kinder world might look like. A common refrain among the staff at LOTUS is the idea that "empathy and awareness are created – one story at a time." Over the years I've had the privilege of hearing many survivors speak their truth through poetry and prose. In sharing these stories, not only do they bear witness to their experience, but their voices shine like a beacon of hope for all of us on this journey called life. I am moved by it every time. And I've come to realize that shining this "beacon of hope" is the same reason that I create.
I used to think I painted landscapes to celebrate the beauty of the natural world. And in some ways, that is still true. But thanks to the example of LOTUS and the brilliant souls I've met through their programs, I now realize that landscapes are simply a metaphor to point us to the beauty and light we each carry within.⁠
4. Artmaking is essential to healing and developing a mindset of resilience.
An unexpected development in the project this year was the emergence of water as a central theme. Five out of six writers choose a waterscape as their primary focus. In the introduction of our 2020 Rise and Thrive magazine, my fellow artist and collaborator Austin M. Reece shared this insight on the nature of water:
"Here lies a central truth about art: as human beings and human societies need water to flourish, so people need art to heal and grow, to transform pain into beauty and truth. Art, both visual and literary, in paintings and in poems, quenches our thirst and keeps us afloat."
Austin makes the case that just as water is essential for sustaining life, artmaking is essential to the healing process. As I've worked through each landscape painting this year, and reflected on corresponding narratives, three key messages of healing and renewal emerged for me.
I encourage you, dear reader, to watch these films with an open heart. Consider, how has artmaking or storytelling been a part of your healing journey? What can these stories teach you about your own resilience?
5. Our work is successful when the output is LOVE.
This project was created first and foremost with an intent to honor the stories of remarkable human beings. It seeks to build a space that celebrates survivors and recognizes the process it takes to heal from trauma and injustice.
Secondarily, my hope is that through this act of witness these messages of healing and hope will resonate with the broader community who experience the exhibit. At the end of the day, my prayer is that we continue to "Rise and Thrive" – each in our own way – while we grow in compassion and kindness toward the stories of others.
Shortly after our virtual exhibit opening in November, I received an email from one of our participating writers. She said "It was a joy to watch [the short films]. I LOVE how the stories evolved – they were full of love." Another participant from our 2019 cohort shared that: "You always hear about 'what happened' to survivors, but never about how one gets through it, or what happens next. [This exhibit] embraces that larger sense of who we are."
This feedback captures everything I hoped the Rise and Thrive exhibits can achieve; that with each story shared we honor and empower each other in meaningful ways. I propose that if our work and our lives can be "full of love," that this is when we are truly successful.
Michael Snowden and Brianna Joy Seipel
VISUAL ART
Brianna Joy Seipel is an artist, designer, and curator whose colorful oil paintings explore the power of wild spaces to heal, inspire and transform. Her Lives in Landscape™ exhibitions are designed to honor the stories of remarkable human beings through landscapes that inspire.
FILM
Michael Snowden is an independent photographer and filmmaker who approaches every project with a lens of compassion and curiosity. Snowden is also the founder of Evelyn's Angel – a nonprofit that advocates, trains, and provides individually curated care for loved ones living with Alzheimer's and Dementia.
CREATIVE WRITING
Austin M. Reece is Director of Survivor Empowerment at LOTUS Legal Clinic and Lecturer in Philosophy at Mount Mary University. He co-edits Untold Stories magazine, a literary art journal for survivors of sexual violence and human trafficking, and facilitates trauma-informed writing workshops for youth and adults across the state of Wisconsin.
Through her
Lives in Landscape™
Project,
Brianna Joy Seipel
has worked collaboratively, curating exhibitions that honor the stories of remarkable human beings in Milwaukee. By telling their stories through "landscape narratives," her work highlights the wild beauty of the natural world that is a reflection of the true self we all share.
LOTUS Legal Clinic
empowers survivors of sexual violence and trafficking. They provide direct, comprehensive legal services, advocacy, and community education, and they invest in survivors as change agents. Serving the state of Wisconsin since 2013, their vision is to create a national model for restoring the dignity, rights, and voices of survivors. As of 2019, Legal Clinic has served 117 survivors through the Untold Stories project, empowering men and women alike to bear witness and share their stories as vehicles for powerful personal and social change.
Rise and Thrive: A Lives in Landscape Exhibition
is supported in part by a grant from the Wisconsin Arts Board, with funds from the State of Wisconsin and the National Endowment for the Arts.