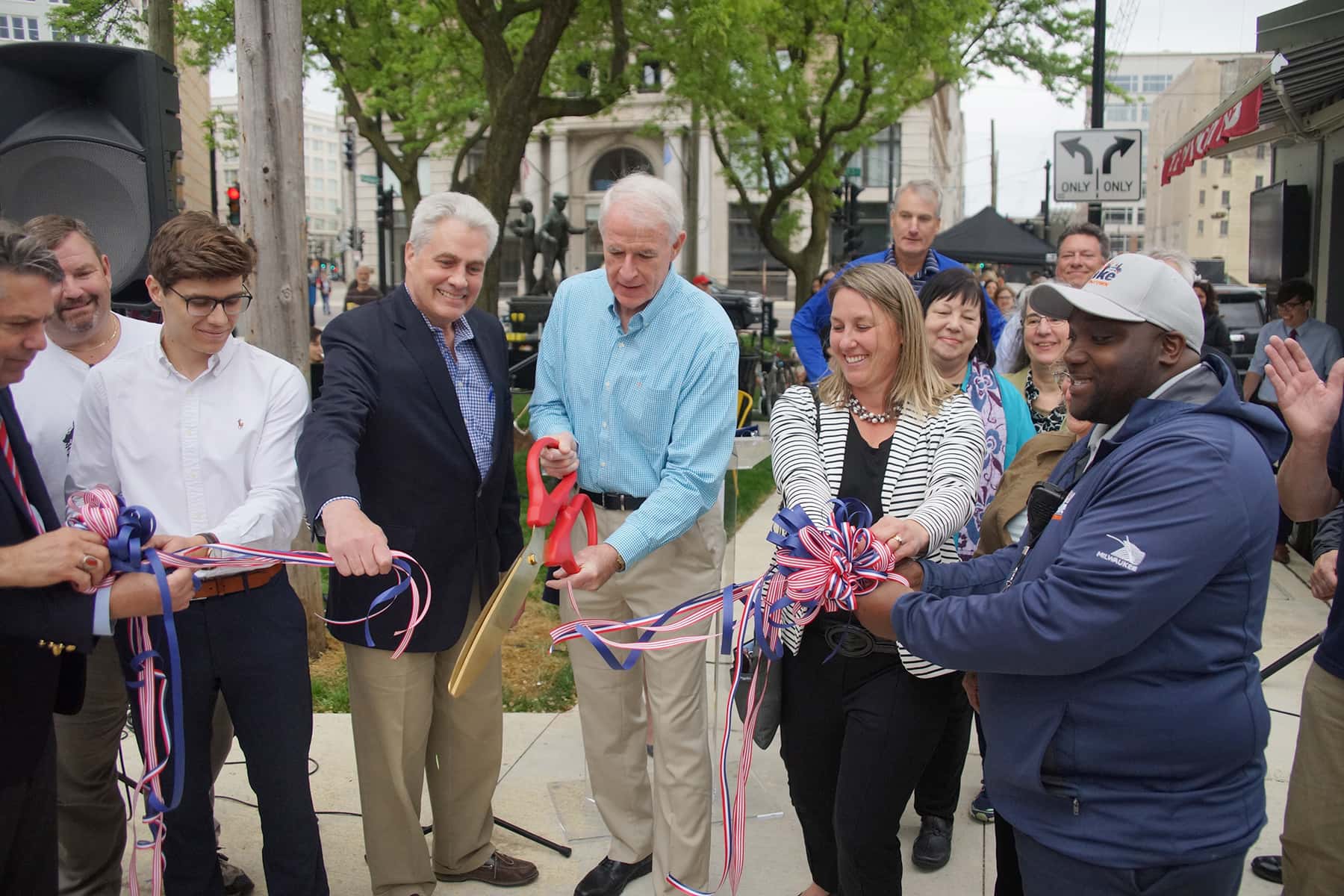 Although technically a triangle, downtown's Postman Square was transformed into Postman's Porch with a ribbon cutting ceremony on June 4, breathing new life into the underutilized prime location and making it a "third space" for the area community.
The Milwaukee Downtown BID #21 put their "stamp" on Milwaukee's latest public space, Postman's Porch, at the convergence of Plankinton Avenue, Wells Street, and 2nd Street. In partnership with members of the neighborhood, the traffic triangle was redeveloped through $12,000 of private investments, converting the space into a morning, midday, and after-hours meeting spot.
"Earlier this year, under the guidance of Gabe Yeager, we met with businesses and the adjacent residents to Postman Square and we created a plan that we knew would transform this underutilized traffic triangle into a cherished community cultural asset," said Beth Weirick, CEO of Milwaukee Downtown BID #21. "This development is part of our effort to pave the way for a new hybrid model, in what we call "third spaces," those spaces where the community comes together and everybody belongs."
During the event, music was provided by the Milwaukee Symphony Orchestra brass ensemble and DJ Shawna, with tunes like "Dear Mr. Postman" and "Signed, Sealed, Delivered I'm Yours." City leaders at the ribbon-cutting event included Mayor Tom Barrett, Alderman Bob Bauman, and Alderman Michael J. Murphy.
"Activating public spaces is extremely important," said Mayor Barrett. "I think the more that we can create these partnerships, the more they are going to allow the public to use these space for free. And locations like Postman's Porch are going to be important assets to the whole City of Milwaukee."
Later in the summer, Postman's Porch Unplugged, a concert series featuring intimate acoustic sets from local singers and songwriters, will take place on June 25 – Myles Wangerin, July 23 – Evan Christian, August 20 – Jim Madritsch Duet, and September 24 – Roxie Beane. The pop-up concerts will feature free food and beer samples from Rock Bottom Restaurant & Brewery. Milwaukee-based Pete's Pops will also make appearances with treats throughout the summer.
"Back in 1896 letter carriers went across the street the Schaefer's Saloon to form the National Association of Letter Carriers, and many of those guys were Civil War veterans," said Scott VanDerven, President of the National Association of Letter Carriers. "Their idea was to promote the welfare of the Postal Service, which was known as the postal department at that time. They wanted to ensure the delivery of mail to all Americans, and to do so in the spirit of public service."
For the centennial celebration in 1989, the site was chosen to host the commemorative postal statue, and the space was dedicated because of its proximity to the origins of the postal union, which remains one of the oldest unions in the United States.
"This public space is the perfect outreach between the public service that we provide to the American public and also a place for people to congregate and communicate – which is exactly the service we provide as letter carriers," added VanDerven.
Support for Postman's Porch came from Milwaukee Downtown BID #21, Brunch, Cardinal Capital Management, Inc. and Germania Apartments, City of Milwaukee Arts Board, Greater Milwaukee Association of REALTORS, Interstate Parking, MKE Lofts, Riverside Lofts Condominium Association, Rock Bottom Restaurant & Brewery, and Secure Parking.
© Photo
Lee Matz, Milwaukee County Historical Society, and Lynn HоwеII via Milwaukee Public Library