New plan envisions transforming Mitchell Park Domes into vital hub for Clarke Square Neighborhood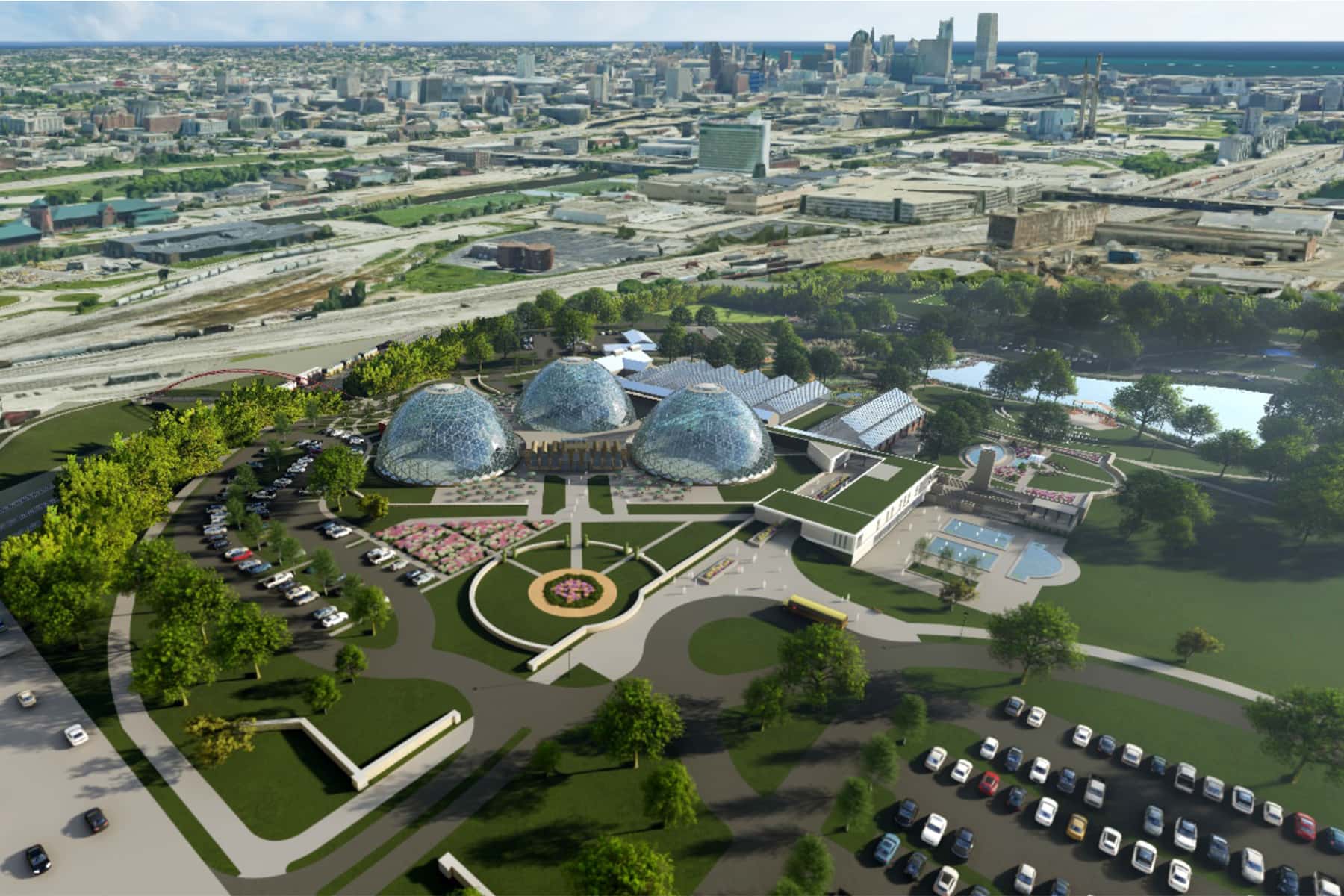 A Milwaukee County Task Force voted on August 13 to endorse a new $66 million plan to restore the aging Mitchell Park Domes and reimagine how it can be used to better serve the community.
The decade-long business proposal would expand the urban botanical park and transform the campus, upgrading many of its existing and beloved features. Funding for the project would come from a mix of public and private sources, including historic tax credits.
When finished around 2027, the site would serve the Clarke Square neighborhood as an economic hub for commerce and employment. A new nonprofit organization would also be created to operate the park, in cooperation with Milwaukee County. Located in the Clarke Square Neighborhood, the population demographics shifted over the past generation from a heavily Polish population to being comprised of 68 percent Latino.
The comprehensive 159-page plan detailed additions like a new welcome center that would hold retail and educational space, an improved amphitheater, a farm-to-table restaurant supporting an events pavilion, fresh programing to change exhibits more frequently, more access points and lighted pathways, and expansion of the pond with reflecting pool and landscaping.
"I want to thank the members of the Domes Task Force for the tremendous effort they have put into developing a long-term plan for the Mitchell Park Domes. Over the past three years, Task Force members have heard countless hours of presentations and reports and diligently read through hundreds of pages of information and analysis. I greatly appreciate the commitment of the Task Force members who have sacrificed their time in service to the public, and am eager to review their recommendations. I remain interested in restoring the Domes and enhancing their value for Milwaukee County residents and visitors." – Theo Lipscomb, Milwaukee County Board Chairman
One aspect of the report suggested a partnership with the Medical College of Wisconsin's Office for Community Engagement. The Domes would be part of a new research campus for its urban agriculture and health center.
The plan follows several years of debate for how to preserve the Domes, with a suffering infrastructure from lack of funding for maintenance. Demolition of the site was also a consideration. As Milwaukee's original horticulture and botanical garden, Mitchell Park was designated as on of the first five public spaces for the city in 1890.
If approved by the committee on September 10, the recommendation would next go to the Milwaukee County Board of Supervisors in late September. After that, projections estimate that construction could begin by the summer of 2020. Major changes would take shape within the first five years.