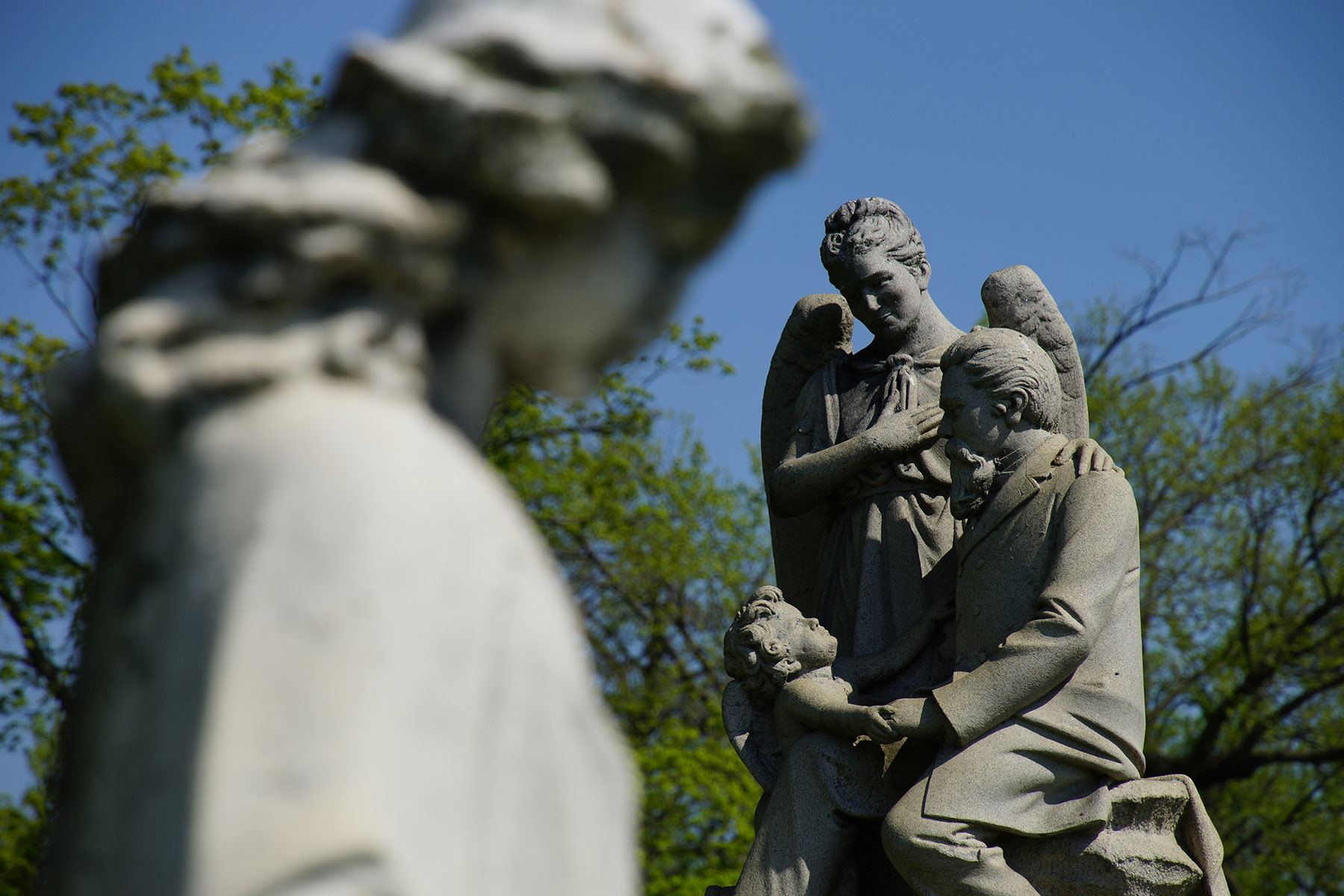 It would surprise some in Milwaukee to know that Union Cemetery is not part of the Harambee or Sherman Park neighborhoods. Located between 20th Street and Teutonia Avenue, and Chambers Street and Keefe Avenue, the area retains the name of Borchert Field, the ballpark demolished decades ago to make way for the Interstate highway.
Union Cemetery was established in 1865, the same year as the end of the Civil War. It contains the graves of early Milwaukee settlers, and was considered a north side equivalent to Forest Home on the south side in its early years.
Founded on a the site of Krause's Farm, along what had once been known as Cedarburg Plank Road, the land was purchased by the Lutheran Bethlehem congregation. It eventually expanded from an original forty-one acre plot to just over seventy acres.
A few blocks east of the cemetery was Borchert Field, home to Milwaukee professional baseball for over 60 years. It was located between Burlеіgh and Chambers Streets, and 7th and 8th Streets. Known originally as Athletic Park when it opened on May 20, 1888, the ballpark hosted the Major League Brewers in 1891, the Minor League Brewers from 1902 to 1952, and the Negro National League Bears in 1923.
The Milwaukee Bears attracted sizable crowds to their games. However, the Negro League team was hampered by scheduling conflicts at Borchert Field with the minor league Milwaukee Brewers, and by a lack of consistent newspaper coverage. The Bears compiled a losing record before disbanding in late July, well before the official end of their one and only season.
Additionally, the All-American Girls Professional Baseball League Chicks played there in 1944. Marquette University and the NFL's Milwaukee Badgers and Green Bay Packers also had football games at Borchert Field.
The rectangular wooden ballpark was renamed in 1927 following the death of Brewers owner Otto Borchert. It was the home field for such Hall of Famers as Al Simmons, Eddie Mathews, Bill Veeck, Casey Stengel, and Pete Hill, as well as Olympian Jim Thorpe. Milwaukee natives who played at Borchert Field on their way to the majors included Happy Felsch, Joe Jauser, and Ken Keltner. Home runs often landed on porches across the street from the neighborhood ballpark, especially when Cooperstown legends such as Lou Gehrig, Willie Mays, Stan Musial, Babe Ruth, and Jackie Robinson visited.
After the completion of Milwaukee County Stadium and the arrival of the Braves in 1953, Borchert Field was demolished. Interstate 43 now passes through the site of Milwaukee's longest-lived professional ballpark.