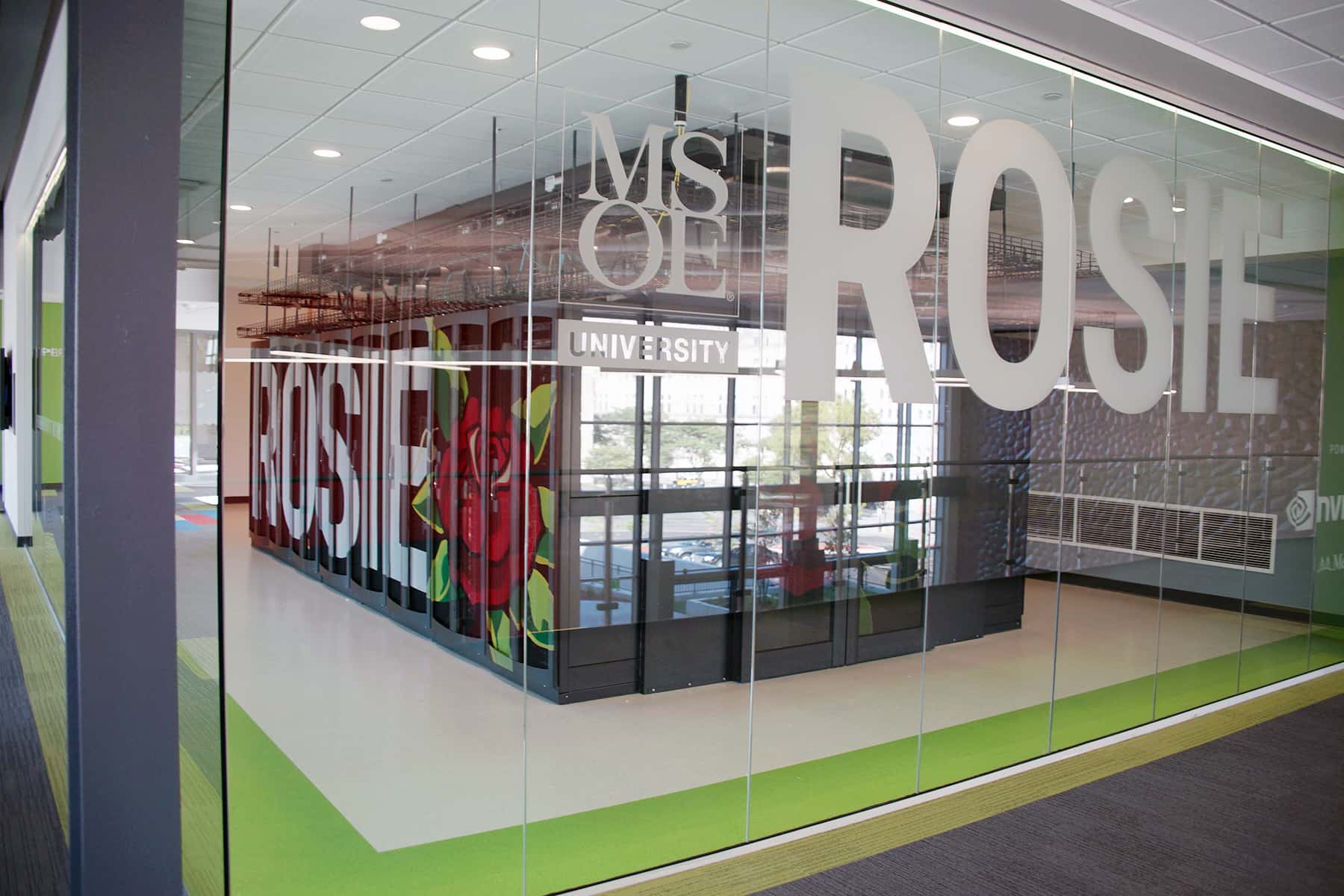 The Milwaukee School of Engineering (MSOE) celebrated the grand opening of the 65,536-square-foot Dwight and Dian Diercks Computational Science Hall and its cutting edge supercomputer on September 13.
Located at 1025 N. Milwaukee Street, the building was made possible with a $34 million gift from MSOE alumnus Dwight Diercks and his wife Dian, and featuring a NVIDIA GPU-powered supercomputer. The gift was the largest MSOE has received from an alumnus in its 116-year history.
"MSOE now has the single most important instrument of knowledge today," said Jensen Huang, founder and CEO of NVIDIA. "Without access to the correct instrument, you can't access knowledge."
Huang delivered his keynote address entitled, "AI: The Most Powerful Technology Force of Our Time," and talked about the rise of AI. The work done by NVIDIA has reshaped its business around this force, across the fields of graphics, robotics, data centers and self-driving cars.
Based in Silicon Valley, NVIDIA is the inventor of the GPU (graphics processing unit), a high-performance processor that is fueling advancements in AI which impacts all areas of its business, including graphics, robotics, data centers and self-driving cars. The company, which had more than $11.7 billion in revenue in its latest fiscal year, is a global leader in AI, supercomputing and visual computing.
Guest speakers during the special ribbon cutting ceremony included MSOE President John Walz; Dwight Diercks, senior vice president of software engineering at NVIDIA; Joel Brennan, secretary of the Wisconsin Department of Administration; Milwaukee Mayor Tom Barrett; and Dan Moceri, chairman of the MSOE Board of Regents.
"It is my goal that every student who graduates from our institution, regardless of their major, spends time in this wonderful facility and gains a deeper understanding of the impact of today's technology on their discipline," said Walz.
With its new B.S. in Computer Science degree focused on artificial intelligence and the supercomputer, MSOE is forging new frontiers in AI education. Unique to MSOE, the supercomputer will be available to undergraduate students, offering them the ability to apply their learning in a hands-on environment to prepare for their careers. Thanks to the university's corporate partnerships, students will access this high performance computing to solve real-world problems in their course work.
"We knew MSOE needed a supercomputer, one that can expand to scale out for students and scale up for local industries and professors," said Diercks said. "Because you don't ever take a day off learning."
Dr. Dwight Diercks grew up in Red Wing, Minnesota, and earned his bachelor's degree in computer science and engineering with a minor in business from MSOE in 1990. He also holds an Honorary Doctor of Engineering degree from the university. He joined NVIDIA in 1994, a year after its founding, as its 22nd employee and today serves as senior vice president of software engineering, overseeing more than 5,000 software employees.
Diercks unveiled the supercomputer and its name, "Rosie," during his keynote address. Rosie is housed in a state-of-the-art datacenter on the second floor of Diercks Hall. The supercomputer is central to MSOE's focus on AI. The system includes three NVIDIA DGX-1 pods, each with eight NVIDIA V100 Tensor Core GPUs, and 20 servers each with four NVIDIA T4 GPUs. The nodes are joined together by Mellanox networking fabric and share 200TB of network-attached storage. Rare among supercomputers in higher education, the system —which provides 8.2 petaflops of deep learning performance — will be used for teaching undergrad classes.
Located in the heart of campus on Milwaukee Street, the building was designed with students and the community in mind by providing modern classrooms, innovative laboratories, an auditorium and spaces to support companies that partner with MSOE. Diercks Hall—and the courses taught within—position MSOE at the educational forefront in artificial intelligence (AI), deep learning, cyber security, robotics, cloud computing and other next-generation technologies.
Rosie the supercomputer is powered by more than 100 of the most advanced NVIDIA GPUs. The name of this number-crunching behemoth was inspired by the women who programmed one of the earliest computers – the Electronic Numerical Integrator and Computer (ENIAC) and captured in the documentary "Top Secret Rosies – The Female Computers of WWII."
During World War II, the military hired six women as "computers" to calculate ballistics trajectories by hand. The job was time consuming so a machine was designed to do the work faster, and ENIAC was created in 1946. Programming the ENIAC was an intellectually demanding job that involved extensive preparation, planning, and then configuring wires on a machine stretching across a 50-by-30-foot room. At that time, only those six women were trained to use it. The women laid the groundwork for future programmers and software engineers and were instrumental in teaching others to program after the war.
With artificial intelligence computing, the magic of programming is done by the computer (Rosie) after the scientists and engineers feed it data. Like the days of the ENIAC, a modern Rosie is the secret behind the acceleration of AI for decades to come. More than $4 million has been contributed by several individuals and corporations to support long-term operations and maintenance of the facility.
Diercks Hall will soon be joined by the completely modernized Innovation and Technology Center, which Direct Supply is creating in the adjacent German-English Academy. When completed in October 2019, the facility will offer additional classroom space and intern opportunities for MSOE faculty and students.