Milwaukee ranked third in nation with pedestrian travel and safety for Complete Streets Policy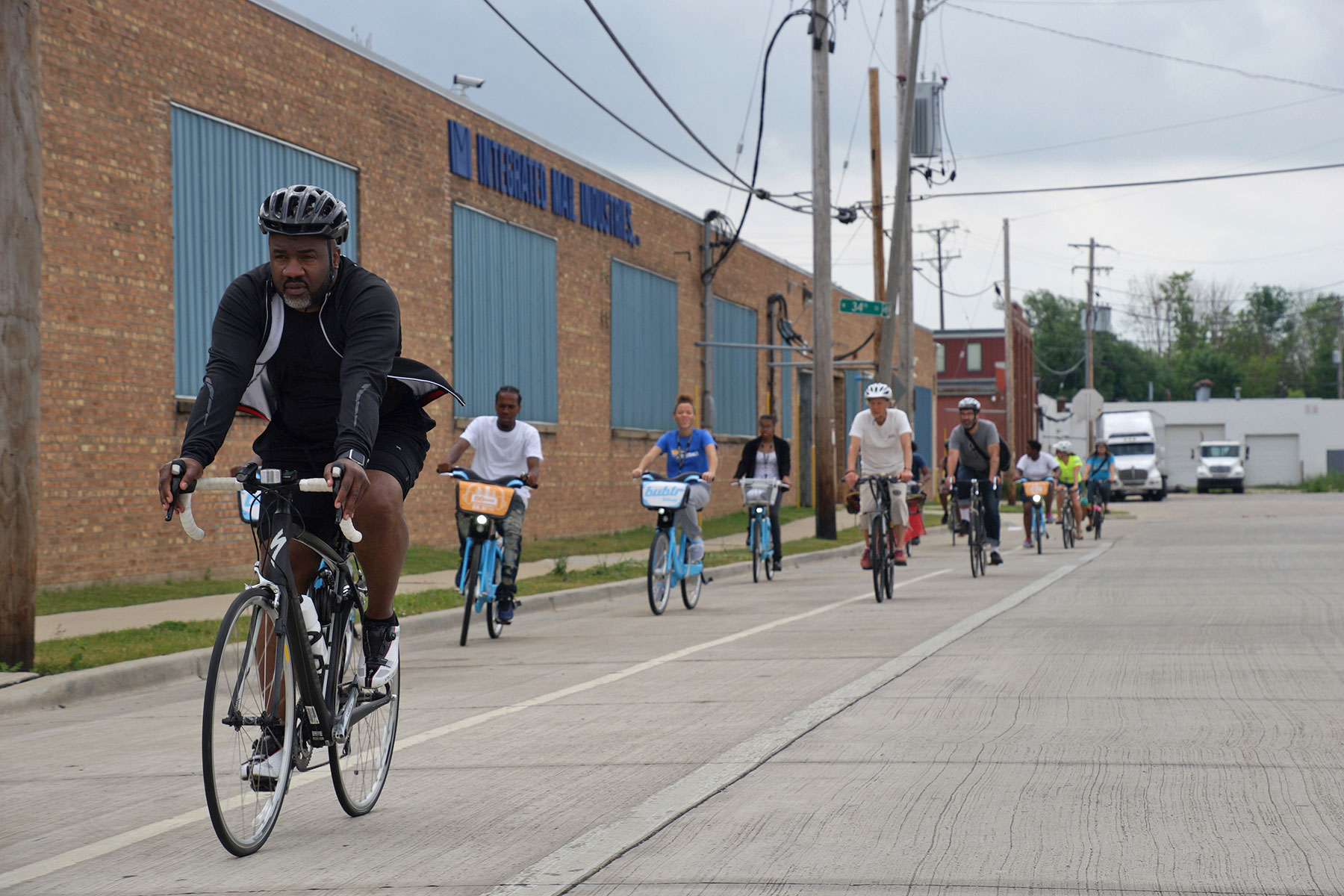 The City of Milwaukee was recognized for its hard work toward street design and construction practices that encourage walking, biking, and riding transit with a focus on safety for the most vulnerable users.
The nonprofit, non-partisan National Complete Streets Coalition ranked Milwaukee third in its best Complete Streets Policies of 2018. With the City of Milwaukee adopting its own Complete Streets policy in late 2018, Department of Public Works Commissioner Jeff Polenske cites numerous stakeholders who advocated for the policy, including Milwaukee Path to Platinum now known as Milwaukee Safe and Healthy Streets.
"The collaboration with stakeholders, city agencies, the Common Council and Mayor made this policy a reality," said Commissioner Polenske. "This award recognizes our commitment to involving the community in the work we do as we continue to create a more inclusive, holistic environment for people of all ages and abilities, no matter how they travel around our city."
The Best Complete Streets Policies of 2018, released on May 8 by the National Complete Streets Coalition, recognized ten specific communities that instituted the best Complete Streets policies of 2018 to make their streets safer for everyone who needs to use them. The program outlined ways to reduce pedestrian injuries and fatalities, and create vibrant places and local economies.
A total of 66 communities passed policies in 2018 that were scored and ranked by the National Complete Streets Coalition. These ten communities were given the highest scores:
91 – Cleveland Heights, OH
87 – Des Moines, IA
80 – Milwaukee, WI
79 – Baltimore, MD
72 – Madison, CT
67 – Neptune Beach, FL
65 – Fairfield, CT
58 – Huntsville, AL
58 – Amherst, MA
58 – Walpole, MA
"These polices are urgently needed," said Emiko Atherton, director of the National Complete Streets Coalition. "The number of people struck and killed while walking has increased by 35 percent in the last decade nationally, at the same time that overall traffic fatalities have been going down. The good news is that we already know the solution: designing and building streets that are safe for everyone who needs to use them. A strong Complete Streets policy is the first critical step toward making that a reality across the country, and we applaud these ten communities for their hard work to move the ball forward for their residents."
While more communities are passing Complete Streets policies, pedestrian fatalities have continued to increase and people in low-income areas and communities of color continued to be killed disproportionately. The NCSC raised the bar with a new grading framework to better reflect the challenges of turning these policies into tangible change on our streets.
2018 was the first year this new framework was used to grade policies. With this new standard, the average score for this year's policies dropped to 39, but these more stringent requirements make the high scores received by a handful of communities in 2018 even more impressive.
Milwaukee's policy earned 60 points—it's a solid policy with all of the basics. Although there is room for improvement, the policy is notable for emphasizing streets that re ect their surrounding context and creating a strong committee responsible for implementation that is made up of both city sta and people from outside organizations.
Before Milwaukee adopted a formal Complete Streets policy, the city was already building infrastructure projects that incorporated Complete Streets elements. The State of Wisconsin has a long history of supporting bicycle and pedestrian infrastructure. Though the state's Complete Streets policy supported Milwaukee's work for creating safer streets for all users, the City of Milwaukee found that the state's Complete Streets policy also was at times too prescriptive and lacked the necessary flexibility for the creative solutions required in Milwaukee's urban context.
Unfortunately, the state repealed its Complete Streets policy in 2015. But the Milwaukee Department of Public Works (DPW) seized this opportunity to develop a more context- sensitive policy at the municipal level. DPW began by evaluating existing processes for street design at the city and researching successful Complete Streets policies and practices that are known for being tailored to local needs.
"This gave us a real opportunity to have more extensive conversations around how we're approaching street design and construction," said Hannig. "So we just felt a Complete Streets policy was really timely and appropriate for the direction we wanted to go with our public right of way."
After reviewing its processes, DPW interviewed started to understand the status quo for designing and building streets. Hannig noted challenges in the current project development process when it comes to implementing Complete Streets.
"There are a number of policies within our department that are not necessarily in writing, but have been done for years. I think challenging that — even if the policy doesn't necessarily get into a lot of specifics — this is going to be a bit of a culture change in some respects."