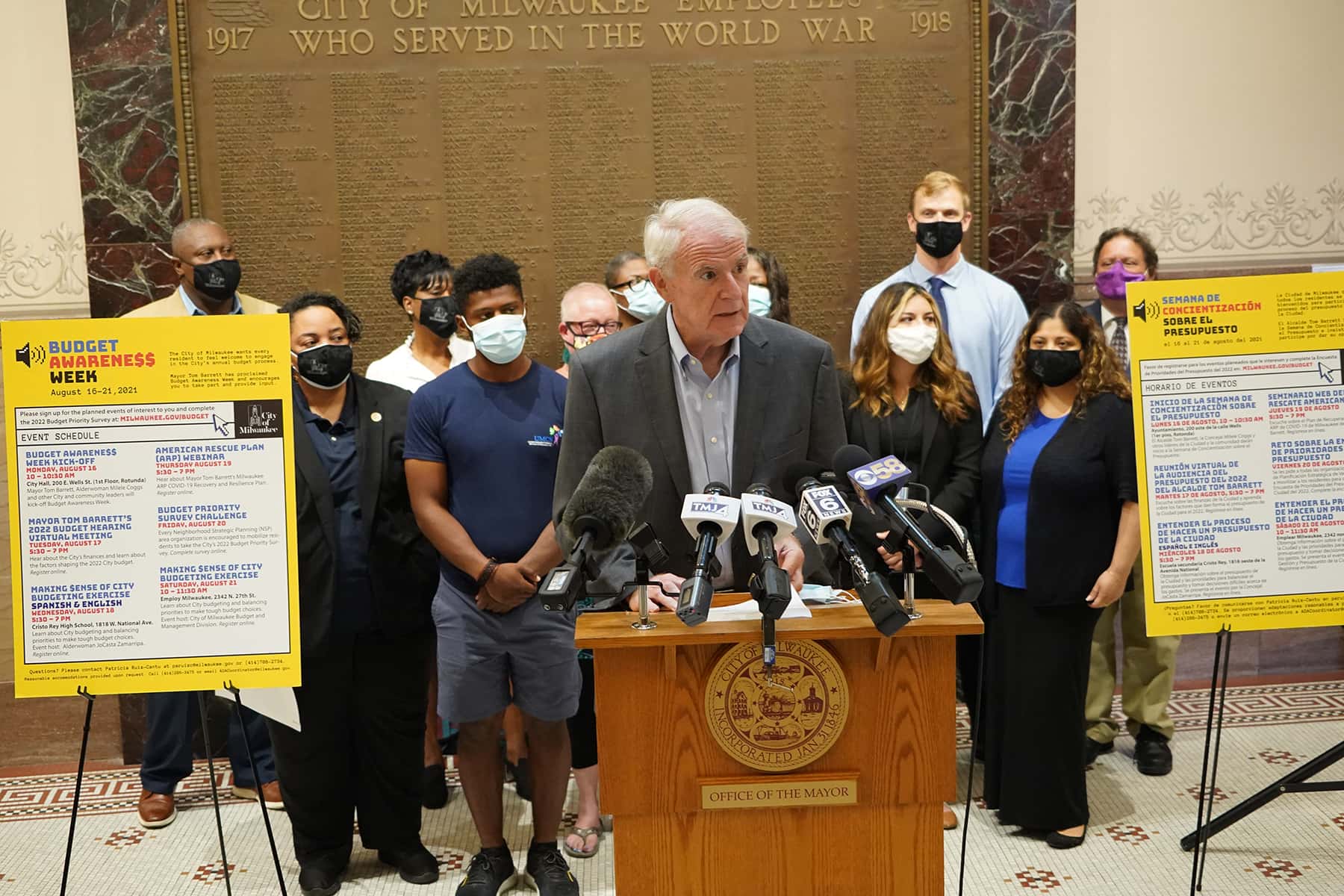 Mayor Tom Barrett proclaimed August 16 to 21, 2021 as the first Budget Awareness Week for the City of Milwaukee, as an educational and collaborative effort with members across the local community.
Budget Awareness Week includes a series of public engagement sessions where residents will have the opportunity to engage with City officials to discuss the City's budget process, the City's 2022 budget priorities, and solutions to budget challenges.
"Budgeting for our city's future has to be a collaborative process. That includes elected officials and the community we serve. That's what budget Awareness Week is all about," said Mayor Tom Barrett. "I want to affirm our city's commitment to fostering racial equity and inclusion in all the actions we take. That also means creating an environment where all residents feel welcome to engage in and participate in the city's annual budget process."
Mayor Barrett said that the city's $1.6 billion budget pays for critical services in areas such as health, housing, public safety, and the plan affects every household. He also renewed his call to reset the city's relationship with the state of Wisconsin. Currently, Milwaukee does not have the ability to boost revenue to pay for city services through general or sales taxes, unlike the vast majority of peer cities.
In addition to the various budget awareness activities planned, residents will be able to attend a webinar on the American Rescue Plan (ARP) Act, and the Mayor's Milwaukee COVID-19 Recovery and Resilience Plan. The City has received an unprecedented $394 million ARP award, and the Mayor's plan allocates $93 million of the first half of the City's ARP payment to help address pressing community needs and turn the tide on COVID-19.
The plan includes funding to connect unemployed residents to jobs, assists individuals and families facing evictions, increases access to affordable housing, addresses reckless driving, helps small businesses and more. The plan will be considered by the Common Council in the near future.
"As elected officials, we often hear from our constituents about their concern over a variety of issues and the services that the city provides," said Alderwoman Milele Coggs. "But everything ties back to the nearly $1.6 billion budget that we decide."
Alderwoman Coggs said that it was critically important for Milwaukee residents be involved with the process, because the city faced many economic challenges ahead in 2022. She wanted to make sure that the needs of residents were prioritized. But also, that residents could understand the budget process and how it worked.
"For Budget Awareness Week, we are using various events and meetings to connect residents for both resources and information," added Alderwoman Coggs. "Making those decisions will be easier if we're doing it together. If citizens understand what is happening, we can better utilize and spend the funding."