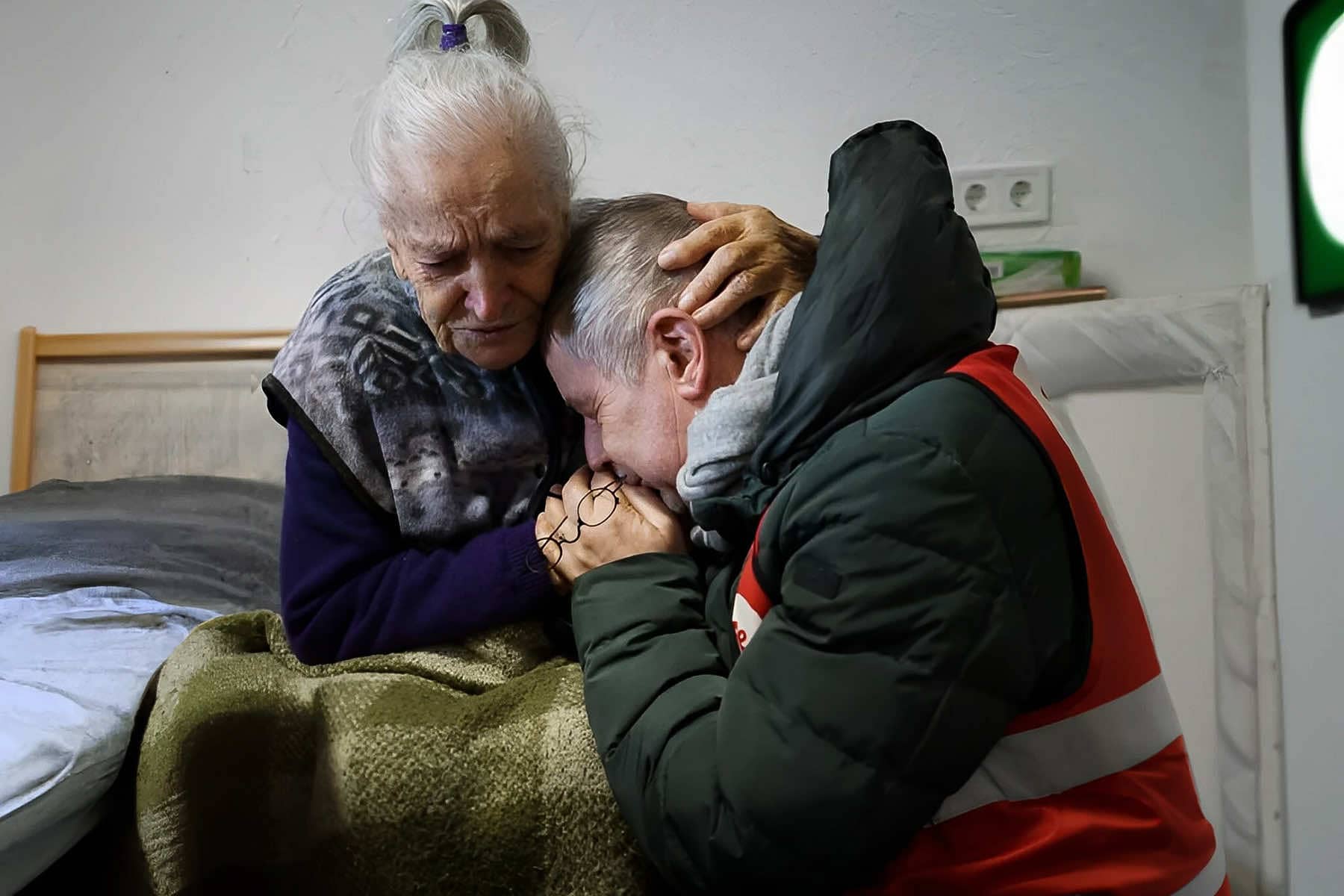 Entire cities in Ukraine have been destroyed, displacing more than 14 million residents from their homes, schools, and livelihoods for the past year.
Since the early days of the war, Milwaukee-based nonprofit Friends of Be an Angel has made extraordinary efforts in assisting hospitals, daycare centers, Internally Displaced Persons' centers, community centers, and religious establishments across Ukraine.
Additionally, support services were offered to thousands of refugees who were forced to flee their homeland.
"Together with other NGOs, creating strength through unity, we were able to join forces to fuel the initiative for a greater impact," said Anya Verkhovskaya, Director of Friends of Be an Angel
In response to the attacks on critical Ukrainian electrical power infrastructure, Friends of Be an Angel led an effort to deliver more than 1,700 generators this winter, totaling a market value of 2.2 million USD to Ukrainian hospitals, refugee centers, first responders, and other critical locations.
"I have been close to the frontline in destroyed rural areas without electricity and had the privilege to hand over generators," said Andreas Tölke, Director of Be an Angel. "I remember giving a generator to a three-generation family with five children. They were completely overwhelmed. We held each other in tears."
In total, more than 8,017 kilowatts of energy are being provided for critical infrastructure powering lights, medical facilities, and heating devices in homes and community centers.
"Standing in the warehouse in Ukraine this past February, surrounded by walls of generators, was genuinely awe-inspiring, but what really hit home was knowing the people who would benefit from this," said Dr. Douglas Davis, Ukrainian Medical Association of North America. "I saw firsthand many of the patients suffering amputations from frostbite due to Russia's weaponization of winter against the people of Ukraine. These generators from Friends of Be an Angel undoubtedly saved lives and prevented far greater devastation and suffering for literally thousands of Ukrainians."
The project was initiated in August 2022 in anticipation of the energy crisis in the winter months. Friends of Be an Angel formed a coalition with other NGOs and donors to work together to be able to obtain high-quality generators at wholesale prices.
"Hundreds of missiles rained down on residential homes with one goal: to terrorize and break the will of the Ukrainian people. Millions of Ukrainians froze in their own apartments and houses," said Iryna Suslova, director of the Women's Movement for the Future. "Doctors in hospitals had to fight for life in difficult conditions, and the cities were left without water and heat. Generators have become not only vital for us both on the front line and in the rear, but they gave us hope that we will not be broken."
Beginning in late September 2022, the critical infrastructures in Ukraine were attacked. Over the course of several months, Russian missiles damaged all thermal power plants, most of the combined heat and power plants, and all hydroelectric plants. Hospitals, refugee centers and homes lost power, heat, and access to water overnight.
This resulted in a dire need for non-grid energy sources such as generators, causing shortages, and driving the prices of generators to unaffordable levels for Ukrainians who were already struggling in the war-torn economy.
The generators were distributed to more than 150 hospitals and medical clinics, 80 warming stations, 478 refugee centers, 231 community centers and religious institutions, 238 disadvantaged families with disabilities and medical needs requiring power, 15 orphanages, and 34 schools were given generators to continue their life-sustaining operation.
The remaining generators were distributed to frontline medics and rescue operations. An estimated total of 20,475 people have been directly impacted by this initiative.
Friends of Be an Angel thanks donors, participating charities, and supporters for creating such a monumental impact on the lives of so many suffering Ukrainian people. Together, with the strength and courage of the brave Ukrainian people, this coalition has helped them persevere through these difficult winter months.
Our gratitude goes out to Women's Movement for the Future, Rotary Clubs across Wisconsin and the Upper Peninsula of Michigan, Ukraine TrustChain, the Federation of Jewish Communities of Ukraine, Project Kesher, White Stork, Landbell Group, Daar Foundation, House of Ukraine, Create an Impact Charitable Foundation, Vilni Liudy, Berlin to Borders, Project Aid & Rescue, World of Connections, Blau-Gelbes Kreuz Deutsch-Ukrainischer Verein e.V, The Small Projects Fund, Ukrainian Medical Association of North America, Liberty Ukraine Foundation, Mountain Seed Project, LNOB Civilfleet Support e.V, Historical Cultural Center in Uman, Adam Carmel, Igor Turin, and Ukraine Freedom Project.
"Thanks to the efforts of the Friends of Be an Angel, we managed to survive the coldest and deadliest winter of our lives," added Suslova. "We managed to bring light where there was darkness and save the lives of those who were on the verge of death. From the bottom of my heart and the Ukrainian people, I want to thank you for your help. And may there be light and peace in the world again."
Committed to empowering and assisting the most vulnerable in Ukraine, Friends of Be an Angel provides humanitarian aid and evacuations to those who need it most, while standing by its values of unity, humanity, solidarity, and most of all, compassion.