Mahsa Amini: Milwaukee's Iranian community holds vigil for woman who died in police custody in Iran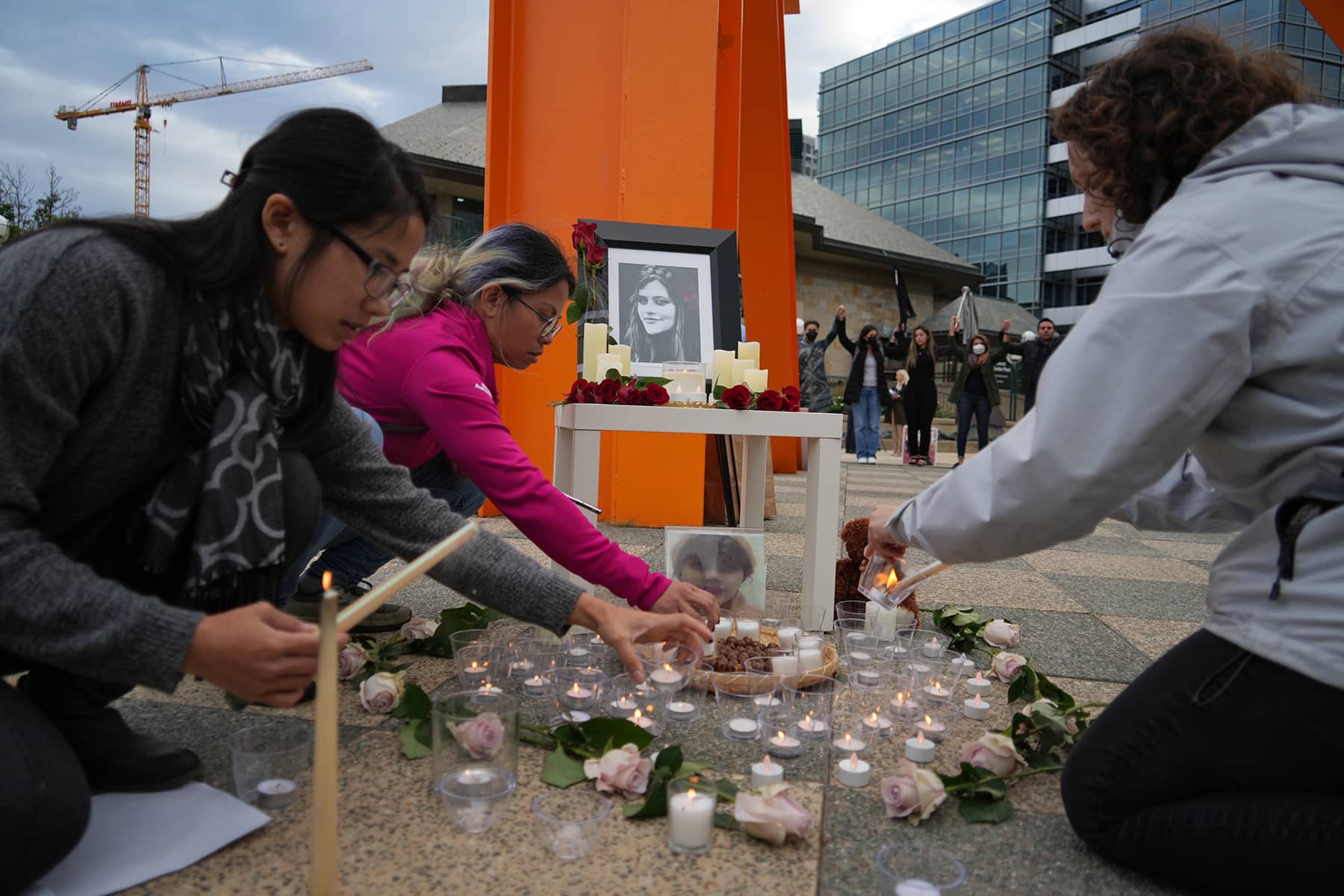 Editor's Note: One of the individuals who participated in this vigil has recently returned to Iran. Anyone who was seen taking part in a Mahsa Amini protest has been brutally persecuted by the current regime. This includes citizens who protested overseas and then returned to Iran. Therefore, considering the risk and safety of this individual from Milwaukee, who is now in Iran, some published images have been altered as a protection to hide their identity. This was done instead of quietly removing the images, so that the Milwaukee public would be aware of the continued dangers that citizens of Iran face for expressing their thoughts. And as a reminder of what free speech, "the freedom of an individual to articulate their opinions without fear of retaliation, censorship, or legal sanction," actually means and its value here at home. (January 4, 2023)
Milwaukee's Iranian community held a candlelight vigil in memory of Mahsa Amini on September 23 to show support for the people of Iran who are protesting the Iranian regime.
Mahsa Amini, a 22-year-old Iranian woman from the Kurdish minority, was with her brother in Tehran when she was arrested on September 13 by the so-called "morality police" for what was perceived to be an "improper" hijab.
She fell into a coma shortly after collapsing at Vozara Detention Centre. Amini, who also goes by the Kurdish name Jhina, died three days later. Iranian authorities have claimed she died of a heart attack, resulting from natural causes.
But multiple reports allege that Amini's death resulted from torture and ill-treatment by the morality police, such as being beat on the head with a baton, and having her head banged against a vehicle.
Organizers of the vigil in Milwaukee said that the Iran government had shut down the internet in their country, and blocked social media. With an information blackout and efforts to silence protests, it was the duty of the Iranian diaspora in Milwaukee to be their voice and spread the movement to communities across the United States.
"Iranian women have always been under the pressure of suppression," said Iris, a PhD student at the University of Wisconsin-Milwaukee and one of the vigil organizers. "I think that a lot of women all around the world can relate to this. I know that this is not all about the hijab. This is all about suppression and forcing people to not have their choice. This could happen to me, to my sister, to my family, to anyone. It broke my heart and I'm enraged."
Thousands have taken to the streets in a number of cities across Iran, including in Tehran, Isfahan, Karaj, Mashhad, Rasht, Saqqes and Sanandaj, in protests against Amini's death. Security forces have reportedly responded with brutality against the peaceful demonstrators, using live ammunition, pellet guns, and teargas. In eight nights of protests, there have been at least 35 deaths according to Iran's state media.
In recent months, the morality police have expanded street patrols, subjecting women perceived to be wearing "loose hijab" to verbal and physical harassment and arrest. The compulsory veiling laws remain a grave concern in Iran, where appearing in public without a hijab is punishable by imprisonment.
"I don't dare to go out and join the protests as they are killing people, but my friends are joining and tell me all about it. I don't know whether this is the best way to achieve freedom and peace – although I think that they may improve safety for women. Previous protests consisted mainly of men but this one is very different. Women started it and men are by their side. When the police force women to wear their hijab, men fight against the police. Most protesters are young, but older people support them too. In Iran, women and girls have no rights, and this protest is about that. Here, two female witnesses in court count as much as one male. If a woman wants to visit her parents without her husband's permission, he can sue her. I cannot take my son to another city without my ex-husband's approval. At school, I was punished often for not hiding my hair completely or for laughing too loudly. These protests are the sound of all these years. I think the younger generations cannot tolerate these humiliations any more." – Statement from a mother in Shiraz, Iran
The UN Human Rights Office has received numerous, and verified, videos of violent treatment of women, including slapping women across the face, beating them with batons, and throwing them into police vans.
"Mahsa Amini's tragic death and allegations of torture and ill-treatment must be promptly, impartially and effectively investigated by an independent competent authority, that ensures, in particular, that her family has access to justice and truth," said Nada Al-Nashif, Acting UN High Commissioner for Human Rights, in a statement. "The authorities must stop targeting, harassing, and detaining women who do not abide by the hijab rules."