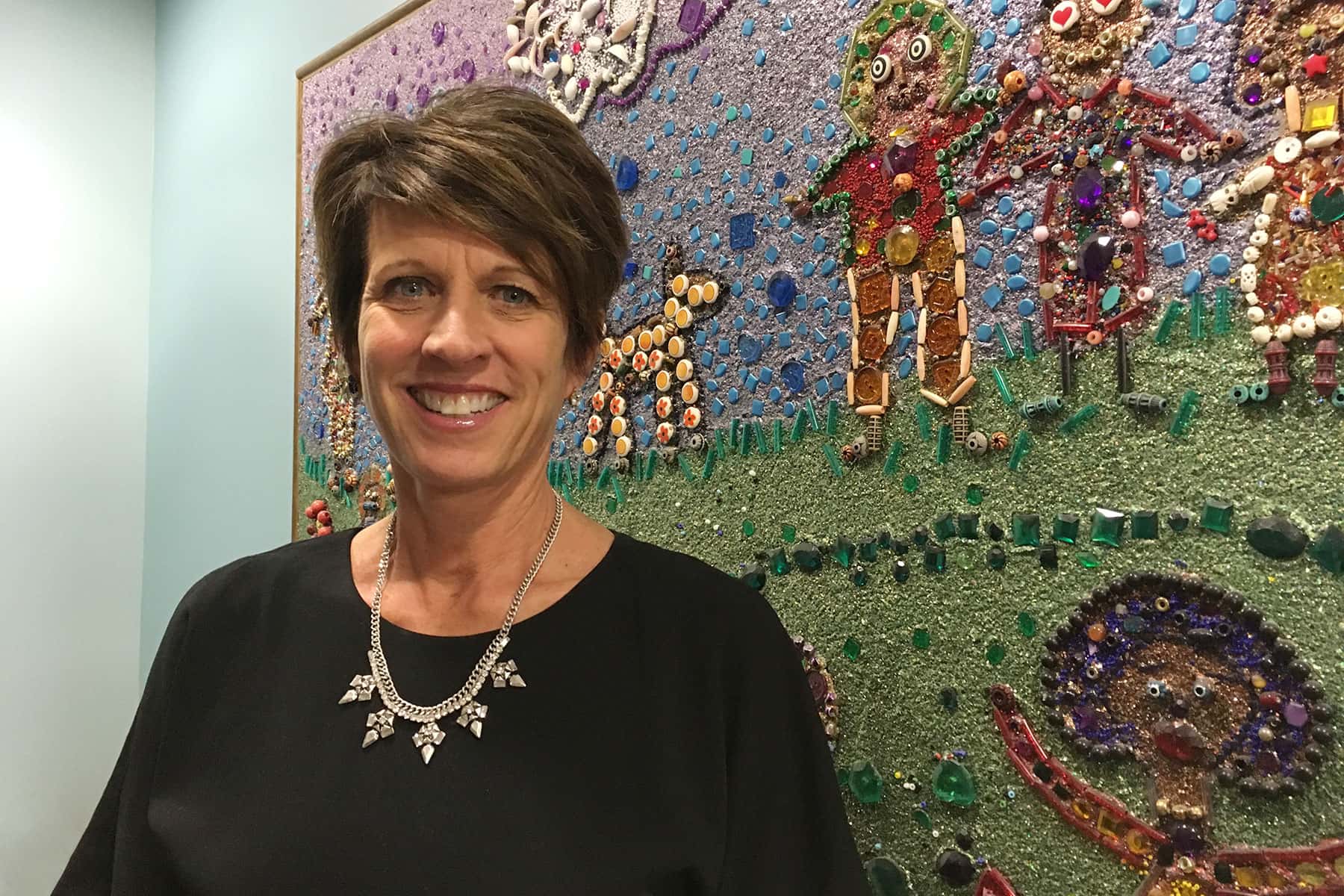 Lynda Kohler is guided by her belief that every child deserves to have the same opportunities to develop literacy and gain artistic skills.
Lynda Kohler never thought that she would work in the nonprofit sector while studying exercise physiology in college. After a career in the airline industry, Kohler became executive director of SHARP Literacy, which is a literacy program working with over 8,000 students in 36 of Milwaukee's at-risk schools.
SHARP Literacy uses the arts, experiential learning, and educational tours to build literacy skills in students from kindergarten to fifth grade. Since Kohler became the leader four years, SHARP has expanded to include a summer program, and has published three of their We Love to Learn Books. These are illustrated children's books about Wisconsin and Milwaukee that their students help create. They have also supported 20 murals at various spots around the city, such as the Austin Straubel airport, the War Memorial, and Miller Park.
"We're a one of a kind program," said Kohler. "There aren't any other programs like us in the state, or even in the rest of the United States, that use the visual arts like we do to inspire learning."
In the following Q&A, Kohler discusses her transition to working in the non-profit sector, why she enjoys the work she does, and how SHARP Literacy impacts the Milwaukee community.
JOURNEY TO SHARP LITERACY
Q:
How did you start working in the non-profit sector?
A:
After I graduated college, I worked for Midwest Airlines for 25 years. It was an awesome experience, as the whole culture of the organization was about doing things for the right reasons. At Midwest Airlines, we were very involved in the community, not just by giving out free tickets, but we also had a lot of executives who served on different non-profit boards. I personally sat on the board and executive committees with the Make-A-Wish Foundation. I did a lot community work with Children's Hospital and Vince Lombardi, and after the demise of Midwest I was approached by a recruiter about the Ronald McDonald House of Southeastern Wisconsin. I was president there for about four years before I came to SHARP.
Q:
How was your transition to becoming executive director at SHARP?
A:
It was interesting because I am neither an educator nor an artist, and our mission is really education through the arts. But I know how to run a business. I also had passion for the mission, so the transition was pretty seamless. I was also taking over for SHARP's founder and executive director, Marlene Doerr Kreikamp, who had been here for over 16 years. This organization was her baby. She created it and now here I was taking it over. But she had a say in the decision to hire me, as she was on the search committee.
Q:
Why did you decide to come to SHARP even though you are not an educator or an artist?
A:
It was all about the mission, I believed in the mission from day one. I have a passion for kids, and I want to ensure that all children have access to great education and fun programs, which is what SHARP provides. The best part of my job is when I am in the schools reviewing the programs in action, and I watch their smiles and newfound understanding. I also love seeing them at the educational tours, whether it's at the Milwaukee Art Museum, Growing Power, or the Museum of Wisconsin Art. The kids that we serve don't always have an opportunity to experience these kinds of field trips.
Q:
What are your main duties as executive director?
A:
I work in four quadrants: the leadership of the staff, fund development, board governance, and programming, especially in terms of building community partnership. I am fortunate to lead employees whose passion is second to none. I have a visual artist who has her masters in art therapy. I have a couple employees in the education department who spent a lot of time in urban education and Teach for America. And our fund development department really understands the important role that we play in our community.
One of my strong points is my collaborative spirit and partnership ability. I go out into the community, make the connections, and then I hand it off to my staff to develop programs and make sure they are implemented.
Q:
What kinds of programs are you working on now?
A:
We've been working a lot on the summer program we started last year. We want to try and halt the summer slide that kids get when school ends and summer starts. We felt there was a need for our program in the summer months, so we went out and partnered with many community organizations, such as Neighborhood House and Milwaukee Christian Center. We adapted our core program to the summer program, and we integrated more art activities and hands-on interaction. For example, we did three murals this past summer. The kids love working on murals. They go into it thinking that they're not an artist, and then they create this gorgeous mural that's going to go on a community site. They work with our artist Sally Duback and inspire her for the design, but they are the ones that implement it.
Q:
What is the most rewarding part of your job?
A:
The most rewarding part is definitely giving kids the ability to experience things in life that they normally wouldn't be exposed to. And along the way they not only experience these things, but learn from them. It's amazing knowing that their lives are different and that they get a book, bring it home and start their own library. It's so rewarding just being able to give a chance to kids who normally wouldn't have one.
Q:
Are you able to keep in contact with the kids after they finish the program in fifth grade?
A:
For some we are able to keep in contact. We actually had a gal who came to talk to our board a couple years ago. She had applied for an intern position we had, so we were interviewing her. We asked her, "How did you hear about SHARP?" She said, "Oh, I actually participated in SHARP when I was in grade school." She talked about the impact it had on her and now she is at MSOE going to school to be a biochemical engineer.
Q:
Is there a reason you limit your programs to grade school?
A:
We really want to get to the kids early and build the foundation for them to understand and acquire vocabulary, and we hope by the time they're in fifth grade they get that vocabulary. We get that question a lot, "what happens after fifth grade?" So we're looking at doing a bridge program to middle schools. But I don't think we'll ever go higher than fifth grade with the programs we have now.
Q:
What makes SHARP so unique in your eyes?
A:
I think it's the experiences and materials that we offer. We really develop the materials with the kids in mind. The books are whimsical, yet educational, and all of our books and materials are in English and Spanish because we have a high population of Hispanic students. I think the kids can truly see the care that's put into all of the materials. The kids actually help with the illustration of the books and workbooks. We also do a writing challenge at the end of the year where they get to show us what they've learned in writing, and what they've learned from their books or presentations. It's really incredible to see their creativity.
Q:
How has the organization changed since you've been a part of it?
A:
We've expanded, especially with our summer program and after-school programs. The school environment has changed and the demand on teachers has increased. There's different school districts in Milwaukee Public Schools and charter schools, so we're adapting our program to the different schools. We constantly need to adapt our programs to what they're learning.
Q:
What projects have you implemented that you are most proud of?
A:
I think I'm most proud of the summer program and how that has grown. I am also really excited about our after-school program, knowing that there's a demand for after-school programming and we can help fulfill that need. I am also proud of this intergenerational program we are working on with the Jewish Community Center. The seniors will come read to some of our students, and then some of our students will go to the senior home and read and do fun art projects with them.
Q:
What are some of the challenges your organization and efforts face?
A:
We always want to make sure we have funding and support. We have been lucky, the Milwaukee community has recognized the importance of urban literacy. They realize that we need these youth to stay in our city, as they are essential to the city's success.
ORIGINS OF SHARP LITERACY AND ITS MISSION
Q:
Could you talk about the founder, Marlene Doerr Kreikamp, and how she started it?
A:
Marlene was a docent at the Milwaukee Art Museum. As she toured around student groups, she would pay attention to how they reacted to different pieces of art. Also, her daughter is a teacher in Arizona who called her and asked how to demonstrate the concept of winter to her students. She replied, "use art, show them what art looks like, and partner with museums." She thought that it worked and and maybe she could do the same thing in Milwaukee.
Here we are 20 years later, serving more than 8,000 students. We now have a summer program that serves almost 450 students. We collaborated with eight community sites throughout the area and in January 2017, we'll be doing generational work. We have a great program with Marquette Basketball, Reading with the Golden Eagles. We have players that will go into the schools and read for the kids. I told a couple of the players last week really how much of an impact and inspiration they are to these kids, when you tell them how reading is important as an athlete. If you can't read, you can't do a lot of things. You can't do math. You can't do science. You can just see the kids digesting all of this and really getting it. If we can change the lives of these kids through our program, the city will be a better place.
Q:
What is the mission of SHARP in your own words?
A:
SHARP energizes and inspires urban school children to become more confident and capable readers and artists, through a hands-on program where they're not just sitting at a desk and listening to someone talk. They're up and they're moving. They're creating beautiful pieces of art that they never thought that they could do. They're going to the Milwaukee Art Museum and are being introduced to Picasso. They're going to Growing Power where they see and feel an Aquaponics system.
We are also very focused on having the kids involved in the books we develop. We have thirteen We Love to Learn Books. Since I've been here, we've worked with schools in different quadrants of our city. In our last Explore Milwaukee book, Adam Carr went to four different schools, where he would do 5 one-hour sessions. The kids would get so excited about what makes their block, neighborhood, and city special.
Q:
How exactly do SHARP's program work in the classroom?
A:
In the classroom we have our core program, which is the academic program. We start out in the beginning of the school year with training new teachers in our curriculum. We'll start at the Milwaukee Art Museum and they'll learn about the program, how to develop, and how to teach the program. They get the materials, tour around the Art Museum, and get in contact with the on-site representatives.
Each student gets a study workbook and the teachers get a teaching workbook, all developed in-house. We are piloting a K4 program this year and we are currently in K5 to 5th grade. The younger grades are part of the science curriculum and the older grades are part of the social studies curriculum.
The kids do a lot of different activities. The program is very vocabulary based, so the students are learning in different ways. Also, each student has the opportunity to go on what we call the field study program. The kindergarten students go to the Lynden Sculpture Garden because their curriculum is nature-focused. The first and fourth grade students go to the Museum of Wisconsin Art, which is located in West Bend. Part of the experience of going there is for them to get on a bus from the inner city and see things they would never see in their neighborhoods.
Most of our students never get out of a six block radius of their home, so they could never get to see cows and barns and railroad tracks otherwise. Our second grade students go to Discovery World because their book is the Salmon's Journey Home: a Great Lakes Adventure, which is all about weather, water, and environmental impact. The third grade students use a book on urban agriculture, so they go to Growing Power. Finally, the fifth graders go to the Milwaukee Art Museum. It's great because if you're a part of our program for all six years you're touching all different experiences and sites.
Q:
How do you choose which schools have SHARP programs?
A:
The schools and teachers come to us. We have always accepted schools and teachers that really want to be a part of the program, because it is extra work for the teachers. The educators work with believe in the program and the value that SHARP has. The demographics of our schools are 48 percent black, 43 percent hispanic, and more than 90 percent qualify for free or reduced lunch.
Q:
Can you explain how art plays into SHARP's programs, especially with reading?
A:
I think art really helps with vocabulary acquisition and reading comprehension. If you can see vocabulary in life, like an aquaponics system, you can better understand and remember it. It's a unique way of acquiring literacy. I remember learning vocabulary words when I was in grade school. We would write down the word 25 times. But we never learned the true meaning. It's much easier for kids to remember things if they can see something versus just read it in a book or as part of a test.