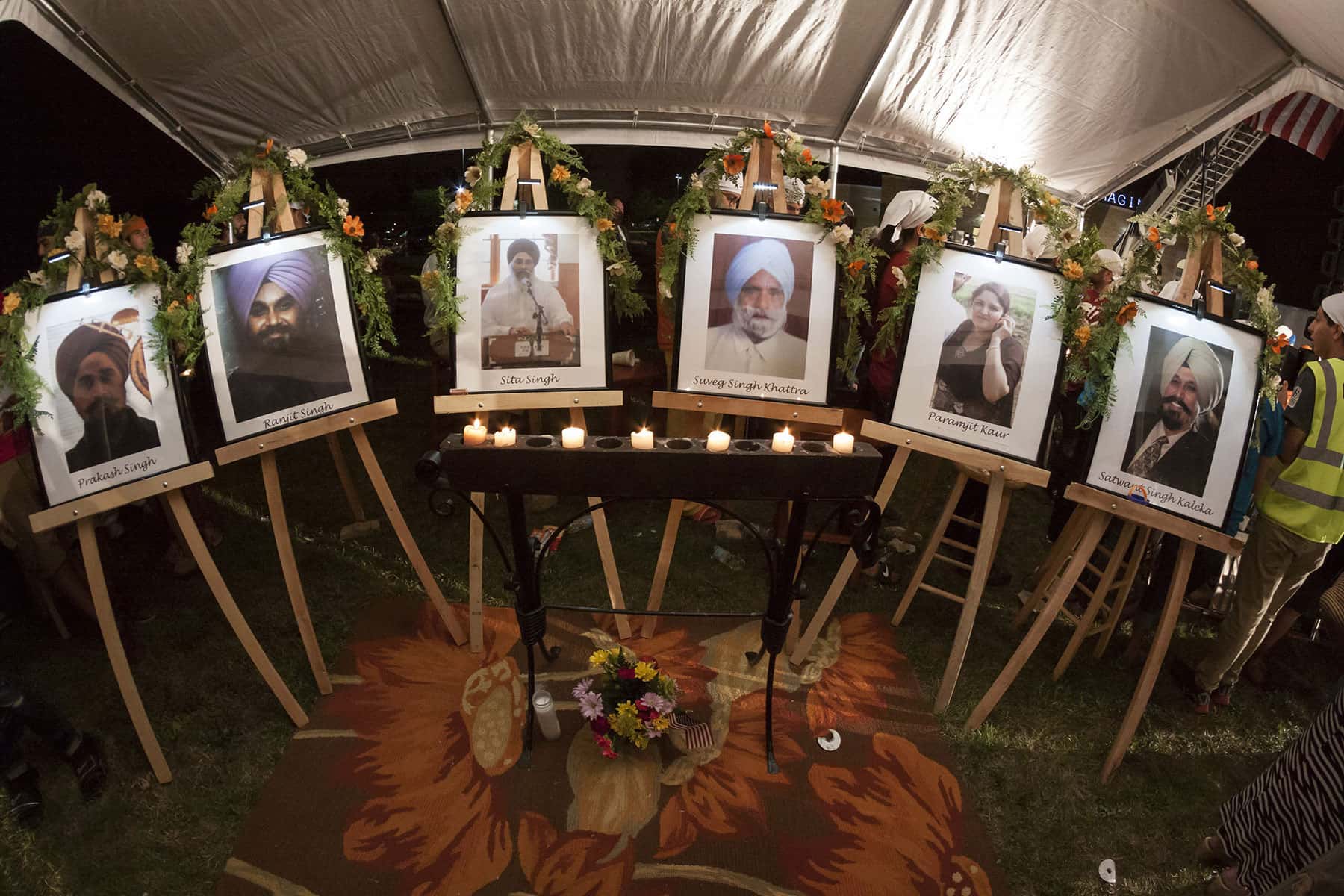 Groton, Massachusetts and Oak Creek, Wisconsin have a lot in common.
Both are quintessential American towns, embodying middle-class values and work ethic. The kind of places where anyone would be happy to raise a family. Decent jobs and great schools are the norm, as are nice grocery stores and quaint shops.
The citizens are good, hard-working people, and good neighbors, happy to lend each other a hand and get together for weekend BBQ or a football game.
For generations, diversity meant going to a different denomination Christian church or having ancestors from a different part of Europe. The few Italian and Greek families were cherished for their exoticness, and their cuisine, and Moose Lodges were surpassed only by the VFW.
Over the past few decades, new waves of immigrants came to Oak Creek and Groton, departing from Northern and Southern India respectively. One would imagine that these new neighbors would fit in just fine, being as good and as hard-working as anyone. Like all European immigrants to the United States, these immigrants from India left beloved homelands and ancient cultures to forge better lives via the American Dream.
But despite such shared values and experiences, everyone didn't welcome the immigrants.
In Groton, as Hindus proposed to build Mandirs, their houses of worship, some citizens voiced concerns. Some saw the new arrivals as a threat to the way of life they had become accustomed to. What if they take our jobs? What if some of them are terrorists? Will our schools suffer because some of those new kids don't speak English? There was a laundry list of rationalizations, but they all broke down to fear. Fear of change.
Oak Creek, being a bit larger population, and a bit closer to the city, seemed to be better suited for the many Punjabi families that moved there. A Gurdwara, or Sikh Temple was built, and that holy place became a beacon to guide more Indians to Wisconsin. The zeal for work that is a hallmark of the Sikhs earned them acceptance among many, but the Sikhs tendency to keep to themselves also served as fodder for suspicion.
On August 5th, 2012, Wade Michael Page, a self-proclaimed white power skinhead, shattered the beautiful summer Sunday morning by executing two brothers with a 9mm pistol as they walked out of the Gurdwara. He then marched inside and kept shooting, murdering four more people and wounding others, one of whom was Baba Punjab Singh, an elderly holy man who remains in a coma to this day. Lieutenant Brian Murphy of the Oak Creek PD was the first to respond. He got into a firefight with Page and was shot fifteen times before Officer Sam Lenda arrived and mortally wounded the shooter, who then took his own life.
The man who committed this atrocity was a member of the white power skinhead gang I had helped to start back in 1988. He was the person I used to be.
I was busy waging war against humanity for seven years back then. Looking back I can see it was me who I really hated. My inability to love myself manifested as volatile hostility that did immense harm to the world. I was incredibly lucky to encounter targets of my hatred who refused to be subject to my fear and ignorance. They demonstrated the way that human beings should treat each other for me. While I never followed those leads on the spot, I couldn't escape the basic goodness of our human experience indicating how wrong I was. Growing knowledge of that wrongness added to a growing exhaustion that ultimately led me to leave "the movement" after becoming a single parent and losing a second comrade to street violence in 1994.
I've been sharing My Life After Hate since 2010, hoping that others could avoid making the same mistakes. Kindness, gratitude, and forgiveness have led me from a loveless living hell to a place where I'm overjoyed to be alive and to be able to help my fellow humans heal.
The last person murdered on August 5th, 2012 was a man named Satwant Singh Kaleka. He fought the gunman with a butter knife, buying time for the police to arrive and saving the lives of the many children and elders who hid in the Gurdwara during the shooting. Satwant's eldest son Pardeep reached out to me in October of 2012, wanting to understand how someone could do such a thing as murder people in their house of faith.
My well-educated guess was that Wade Page had driven himself so miserable by practicing hate and violence for over a decade that nothing but homicide followed by suicide seemed to make sense. We become familiar with whatever we practice. This can result in a great golf game, or a hell of a guitar player, or a stinging aversion to love, kindness, compassion, and all of the noble human qualities that make life amazing. That last part is what happens when we become familiar with hate.
Par and I talked for five hours over Thai squash curry the night we met. We discovered that we had so much more in common than otherwise, despite being from opposite ends of the globe and seemingly disparate cultures. It struck us that such common humanity was the prerequisite to solve all of the problems we face as a human race.
The concept of Serve 2 Unite was born with days of the shooting at the Gurdwara. Pardeep, his younger brother Amardeep, and other survivors came together to conceive an organization based on seva, the Sikh principal of service to others, and Ik Onkar, the concept of One Supreme Reality that all life is part of. Serve 2 Unite.
In April of 2013 Pardeep and I, with a lot of help from a brilliant Milwaukee non-profit Arts @ Large, launched Serve 2 Unite in schools. Since then we have worked with young people from second grade through college in over 50 schools, cultivating common human identity through service learning, global engagement, and the arts. This opportunity to teach and learn from young people of all backgrounds has been one of the greatest gifts I've ever received, along with the gift of travelling with Pardeep to share our stories and demonstrate the possibility of love as it was once demonstrated for me.
In April of 2017 we travelled to Groton, Mass. The local interfaith group, in partnership with town government and the police chief had organized a screening of Waking in Oak Creek, a beautifully-crafted short documentary by Not In Our Town about the August 5th shooting and how the Oak Creek community came together in response. After the film, Par and I joined Groton Police Chief Donald Palma and President of the Groton Interfaith Council Shua Khan Arshad for a panel discussion. We had a great conversation with each other and the audience, exploring ways for us to think past fear to reveal true understanding of the value and wonder of human diversity.
Turns out that Town Selectman Jack Petropoulis had introduced a measure to place stone monuments saying "All Are Welcome" at all of the intersections leading into town as part of an initiative to welcome new immigrants and ease concerns of concerned townsfolk. We suggested adding service projects to better the town that all could take part in, and taking a page from our Serve 2 Unite students, partying together every chance they got. As Jack shared his frustration with some resistance to the idea, we implored him to keep pressing with love and devotion, with faith that it would reach through the doubts.
A few weeks after we got back to Milwaukee, I received this email:
Hi Arno and Pardeep,

I want to thank you for visiting our community last week, to tell you what it meant to me, and to tell you what I think it meant in a larger sense.

First of all, thank you. I understand that you took time for us and I appreciate the commitment that it takes to do that.

Secondly your message was heard loud and clear. Your encouragement to carry on buoyed my spirits and caused many of us to see things in ways that we have never experienced before.

Lastly I want you to know that your talk inspired me to bring forward our "All Are Welcome" article to our town meeting with renewed commitment to the importance of the effort. Your comments of 'even if it does not pass you will have moved the bar' were so true. More importantly your recounting of, and response to, the events of August 2012 served as both a warning and a roadmap for all of us. I went into our Town Meeting determined to carry the torch that I picked up that evening regardless of the outcome. I took the liberty of using your talk, your history and your encouragement in my message at Town Meeting. The vote passed by 27 in a room of 300. I know for a fact that there were people who came in ready to vote 'no' thinking that they knew all they needed to know about the initiative, who changed their minds and voted in favor. You can see the presentation on our town website beginning at 1:33:20

Within 2 minutes of the vote of approval, we were getting text messages with donations.

These signs will be placed at the town line on each of the major roads coming into our town. As fate would have it, that is exactly where our new Temple is located.

You made a difference in our town.

Thank you very much,

Jack
One of the many reasons Pardeep and I get along so well is that we both like to cause a bit of trouble. My taste for troublemaking almost kіIIed me and others back in the day, but now Par has shown me how to make trouble in the best way possible: by defying hate and violence. Pardeep says that to him, forgiveness is vengeance. Kindness is the most devastating weapon against the suffering that all violence stems from. Love is the antidote to the fear and loneliness that seeds hate.
Wade Page sought to terrify the Sikh community into submission, which in his eyes would have looked like a reflection. He wanted them to be violent. He wanted them to be hateful. He wanted them to renounce their faith in Chardi Kala — relentless optimism, especially in the face of struggle.
He failed. Miserably.
Because of his pathetic attempt to sow strife and discord, the Sikh community of Wisconsin and of the world is that much more engaged with everyone else. More people than ever know what Sikhs are all about: faith, love, and hard work.
Because of Wade Page's desperate assault on everything that is good about being a human being, the town of Groton now has stones that say "All Are Welcome" at every intersection leading into town.
That's how we respond to violent extremism. Whether it comes from white supremacists, far-right, far-left, or religious fundamentalists of whatever persuasion, we follow the universal truths of our common humanity to cultivate solutions defined by what we're for — kindness, gratitude, forgiveness, compassion, courage, wisdom, love — to soundly destroy what we're against. We don't let hate dictate the terms of engagement.
This is what five years of Chardhi Kala looks like.