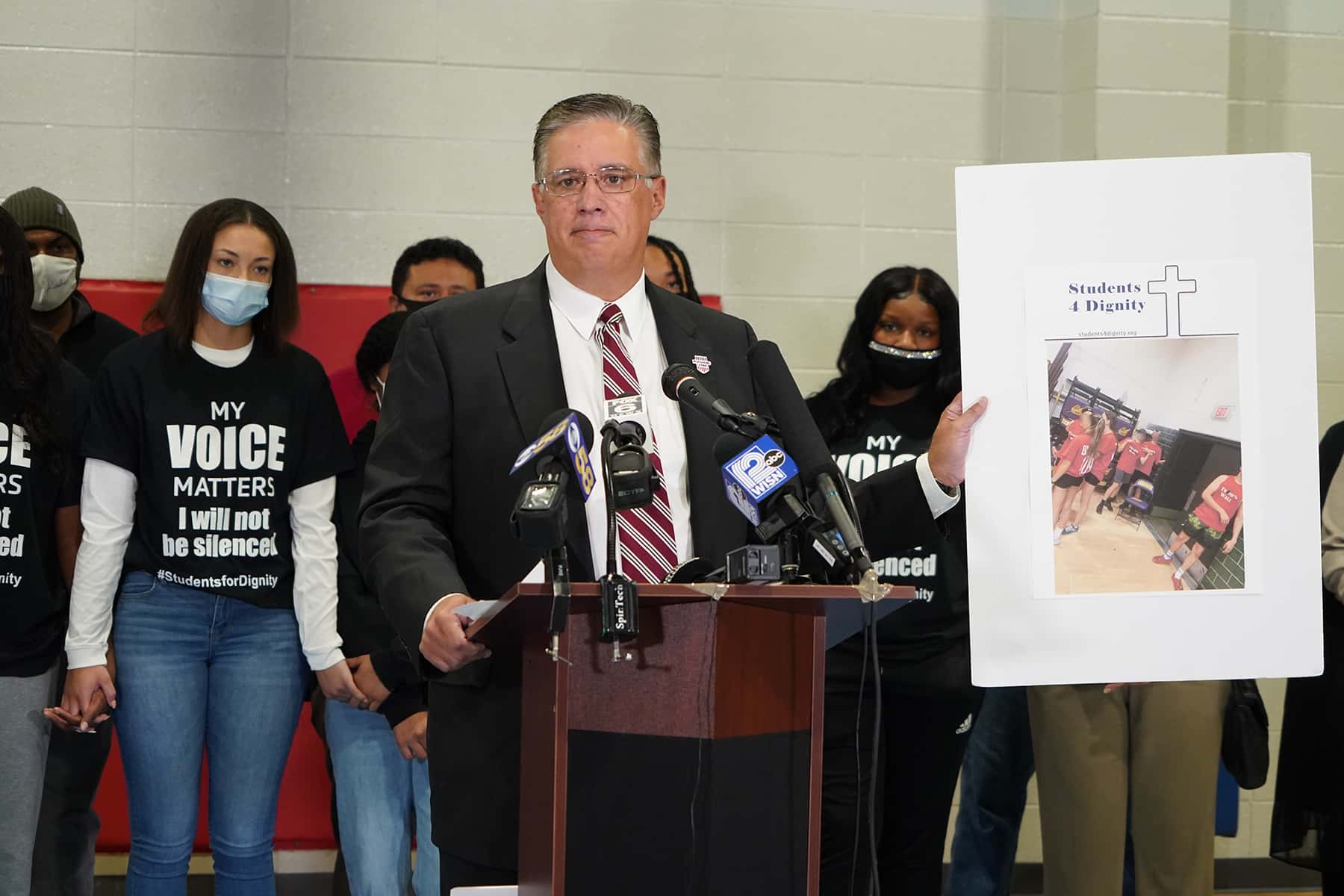 A group of southeast Wisconsin community and civil rights organizations have called on Racine Lutheran High School to take action, following reports of students being harassed based on their race, incidents of hateful language and vandalism, and what they say is the school administration's failure to fix an ongoing racially hostile environment.
During the recent homecoming week, several students wore "Trump's Wall" T-shirts and allegedly harassed Latino students. The community organization Forward Latino also received photos of a bathroom stall that had a swastika and a racial slur carved across the entire width of the door.
"At the end of the day, none of this should have happened to any of us," said senior Julian Ramsey. "When we're in school, especially at a Christian school, that should be a safe place, that should be a place where we all go and we feel safe and we feel OK, and if something happens we should be able to speak on it and not feel like we're silenced."
The newly formed coalition "Students for Dignity," which includes students, parents, and members from a variety of civil rights organizations, is calling on the school to implement a list of basic changes.
 Implement an anti-bias awareness program with faculty, staff, and students
Integrate multi-cultural awareness programming into school curriculum
Create and implement an equity policy with the input of parents and students
Create and implement a plan for greater diversity among the administration and instructional staff
Rules and discipline should be consistent and unbiased
Establishment of Parent Advisory or Appeal Board
Prohibit display or discussion of political views and opinions
Discuss negative lunch account balances with parents and not publicly with students
Celebrate nationally recognized months of the year, such as Hispanic Heritage, Black History Month, Women's History Month, among others.
"The list is something that should be in place anyway, within a school," said Linda Boyle, co-president of the Racine Interfaith Coalition. "That they have to step forward as youth and produce this list is part of the problem."
Forward Latino national president Darryl Morin said that he and Jose Rey Palacios, state director of United Latin American Citizens of Wisconsin, took students' and parents' concerns to the Racine Lutheran principal after the "Trump's Wall" T-shirt incident. Morin said the principal, David Burgess, said he had only started hearing about the incidents after Morin and Palacios reached out and was shocked.
"We left that meeting thinking that we had a partner," said Morin. "Shortly thereafter, state director Palacios and I realized and were told and shown proof that a number of the statements that we had heard were falsehoods, and an attempt to cover up how long these things had been happening, what they knew, and when they knew it."
Burgess did not respond to an emailed request for comment. Ramsey, the senior, said he's been disappointed with the administration's response as well.
"We went to the administration and we talked, and we poured our hearts out to them, and we gave them a chance to fix it and do what they're supposed to do as leaders of a Christian school," he said. "They failed, repeatedly."
Morin also showed screenshots of a conversation between a Racine Lutheran student and a local law enforcement officer who had a relationship with the school. In it, they talk about one of the students who had been harassed because of his race, and the law enforcement officer wrote, "I can't wait to catch his ass in traffic."
Morin would not identify the law enforcement agency or the officer, but said the coalition had gotten in touch with the agency and that they have started an investigation into the officer's conduct. The officer's relationship to the school also has not been disclosed.
Palacios said they have heard about racist incidents going back to at least when the current class of seniors were freshmen. But Ramsey said the incidents have escalated recently.
"Early on there were incidents, but nothing too major, we thought," said Ramsey. "This year, it got significantly worse, and there were multiple incidents, days in a row."
Several other Wisconsin schools and districts have come under the microscope over the past year over issues of racial harassment and hostile environments for LGBTQ+ students and students of color. Current and former students in Chippewa Falls filed a complaint over what they described as years of harassing treatment and the administration's failure to correct it.
The state education agency found Burlington schools had a racially hostile environment and ordered the district to fix it. Teenager Dasia Banks last month won her lawsuit alleging persistent racist treatment at Baraboo schools.
Ramsey said it makes him sad to see all these issues in Wisconsin schools.
"I just want us all to be treated equally," he added. "I just want us all to be able to go to school and that be a safe place."