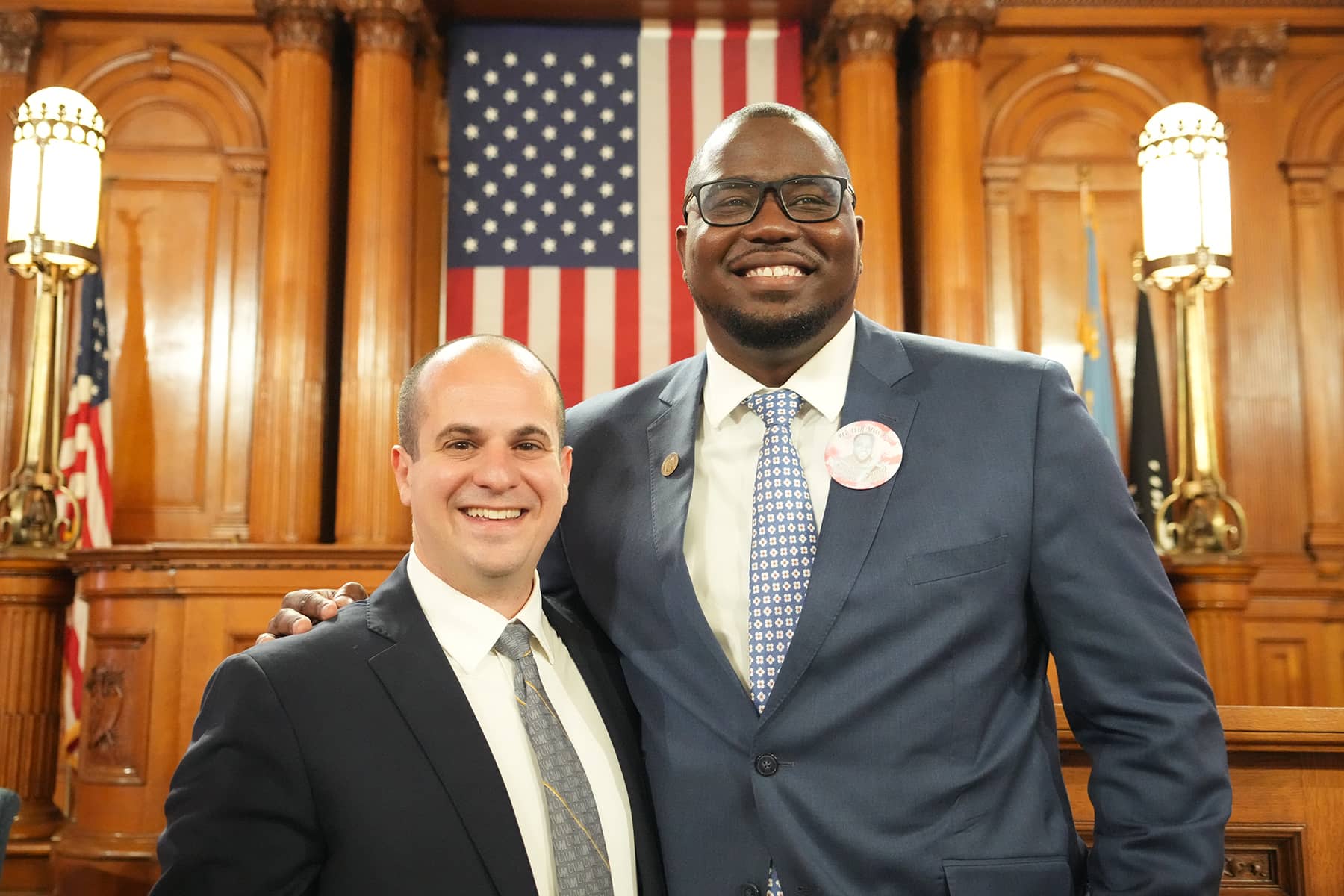 Jonathan Brostoff and Mark Chambers were sworn in as the newest members of the Milwaukee Common Council on November 16, surrounded by fellow elected officials, family, friends, and community leaders.
Alderman Chambers will represent the city's 2nd District and Alderman Brostoff the 3rd District, filling the two vacant seats after a special election on November 8.
City Clerk Jim Owczarski swore in Alderman Chambers. In his address to the Common Council, he pointed to a pin he was wearing and acknowledged the influence of his late friend. Jamaul Jones was a pedestrian killed by a car in 2021.
"Jamaul was a great friend," said Alderman Chambers. "He was an inspiration and one of the reasons why I entered this race. He gave me the strength to continue to go forward."
Alderman Chambers said that his goal was to faithfully serve the 2nd District to the best of his ability. During his campaign, he knocked on the doors of 15,000 residents.
"We have a tough road ahead of us, and we have to make some tough choices," added Alderman Chambers. "But I promise each and every one of the people who I spoke with when I knocked on your door, that I'm going to be honest with you. I'm going to be frank with you. You may not agree with me, but you will always get the truth from me."
Formerly a business consultant, Alderman Chambers plans to focus on public safety – specifically reckless driving – in the 2nd District. A longtime resident of the area, he grew up in the Westlawn Gardens public housing development.
A seasoned political veteran who previously served in the Wisconsin State Assembly since 2015, Alderman Brostoff was sworn in by Rabbi Mendel Shmotkin. It was the first time in recent memory that a Jewish ceremony was conducted for an incoming Alderman.
"As he commences his term in office, and with a spirit of wisdom, a spirit of understanding, and a spirit of counsel to turn adversity into opportunity, to transform the challenges of today into seeds from which grow the successes of tomorrow … understanding how to properly direct resources of government, according to the needs of all of its citizens, to unite all of us in our work for a better Milwaukee. May our beautiful city serve as a beacon of hope and a force for good, that we may join with all the cities of our blessed state, tipping the scale of good and evil for our country, and for the entire world at-large, for the good." – Rabbi Mendel Shmotkin
In Alderman Brostoff's speech, he said it was an extremely challenging time to come to City Hall as a newly elected official. He echoed the statement by Alderman Chambers, about there being no shortage of tough decisions ahead.
He also shared a personal story about the injuries he suffered early in his campaign for Alderman, when a reckless driver collided with his vehicle.
"Soon after I decided becoming an Alderman would be a perfect opportunity for me to maximize doing good in the community, my wife and I experienced a horrible car crash. It was someone basically on their cell phone, who ran a red light and smashed into us halfway through the intersection. We had some significant injuries, and I was reminded that you can't control what you can't control. So I continued with my campaign, going slower and made difficult by the physical pain. But I knew the pain of my community and the pain of my city," said Alderman Brostoff. "And I knew that my physical pain was nothing compared to what some of our community members have been through every single day, every week, every month, every year. So I got back out there because I was dedicated to representing my city."
A series of unusual circumstances led to several Council seats being open this year. More than six months ago, Common Council President Cavalier Johnson resigned after being elected Mayor of Milwaukee. Soon after, Alderman Nik Kovac stepped down to become the city's budget director. Alderman Ashanti Hamilton left the 1st District to lead the city's Office of Violence Prevention. Alderwoman Nikiya Dodd recently announced her plans to resign by the end of November. And Alderwoman Chantia Lewis was ordered to leave office after she was convicted of misconduct as an elected official.
There are currently three vacant seats, or roughly 20% of the Common Council, which will not be filled until spring of 2023.