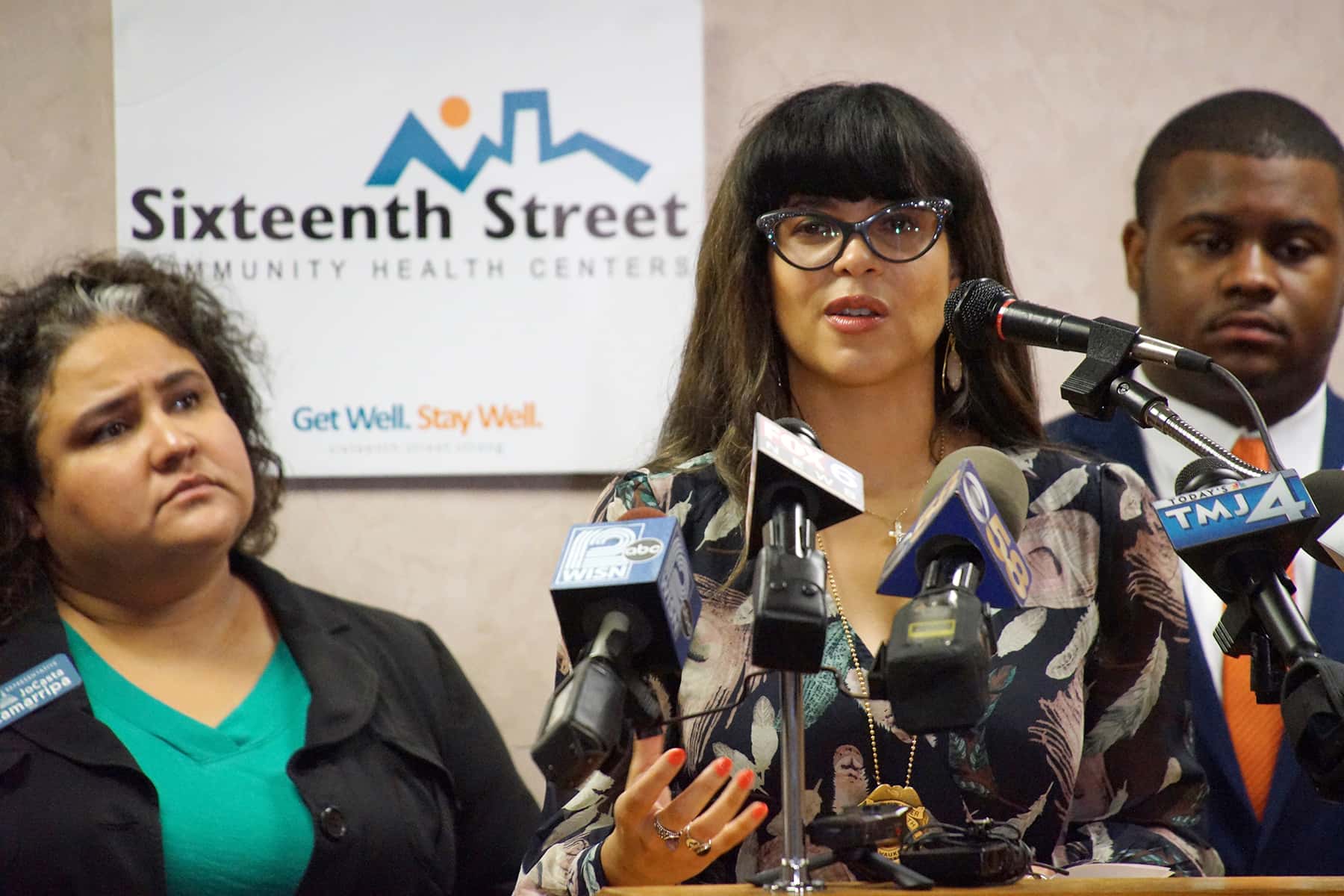 The U.S. Department of Housing and Urban Development (HUD) announced on September 30 that the City of Milwaukee has been awarded $5.6 million for lead abatement, to address lead hazards in 320 housing units for low-income families with children between now and April 2023.
Mayor Tom Barrett, U.S. Congresswoman Gwen Moore, Vice President of Sixteenth Street Community Health Centers Rosamaria Martinez, and Commissioner of Health Dr. Jeanette Kowalik held a press conference to announce the federal funding, with State Representatives JoCasta Zamarripa and Kalan Haywood II attending in support.
"We should all be proud that since 2004, the number of Milwaukee children with lead poisoning has decreased by over 70%," said Mayor Barrett. "This award will help us reduce that number even further, and shows Milwaukee remains ready and able to fight lead poisoning."
As part of the grant, the City will also conduct healthy home assessments and repairs in 114 units, while working alongside medical and social service providers. Getting financial support from federal government is a boost for the City's ongoing commitment to creating healthier and safer homes for local children and their families.
"We are committed to improving the lives of all families, especially children, by creating safer and healthier homes," said Secretary Ben Carson in a statement. "One of HUD's priorities is protecting families from lead-based paint and other health hazards. These grants will help states, tribes, and local communities do precisely that."
HUD awarded more than $314 million to 77 state and local government agencies, a record investment to protect children and families from lead-based paint and home health hazards. The grants are provided through HUD's Lead Based Paint Hazard Reduction Program and Healthy Homes Production Grant Program for Tribal Housing to identify and clean up dangerous lead in low-income housing. Many of the grantees announced today will work to clean up lead hazards in Opportunity Zones.
"We are grateful for the opportunity to continue to receive federal funding for our childhood lead poisoning prevention program," said Dr. Kowalik. "This new round of federal funding will be leveraged along with others to eradicate lead from our environment. Doing so will enable us to protect more children and families from the dangers of lead."
Plans for grant-funded activities include 400 properties assessed for lead, 320 units enrolled and abated, 114 of the 320 units would receive additional Healthy Homes work, and 40 individuals trained and hired for lead abatement work. he City of Milwaukee will partner with Sixteenth Street and SDC to share information about lead poisoning at community outreach education events, in addition to focusing on secondary prevention, and addressing homes of kids with lead poisoning.
HUD's Office of Lead Hazard Control and Healthy Homes promotes local efforts to eliminate dangerous lead paint and other housing-related health hazards from lower income homes; stimulates private sector investment in lead hazard control; supports cutting-edge research on methods for assessing and controlling housing-related health and safety hazards; and educates the public about the dangers of hazards in the home.
"HUD understands the close connection between health and housing," said Matthew Ammon, Director of HUD's Office of Lead Hazard Control and Healthy Homes. "This year, HUD is awarding a record number of awards to jurisdictions to directly support their efforts to identify and clean up housing-based health hazards like lead and mold."
Created under the 2017 Tax Cuts and Jobs Act, Opportunity Zones aim to stimulate long-term investments in low-income communities by offering significant capital gains tax relief to those who invest in these distressed areas. This initiative is anticipated to spur $100 billion in private capital investment in Opportunity Zones. Incentivizing investment in low-income communities fosters economic revitalization, job creation, and promotes sustainable economic growth across the nation, especially in communities HUD serves.