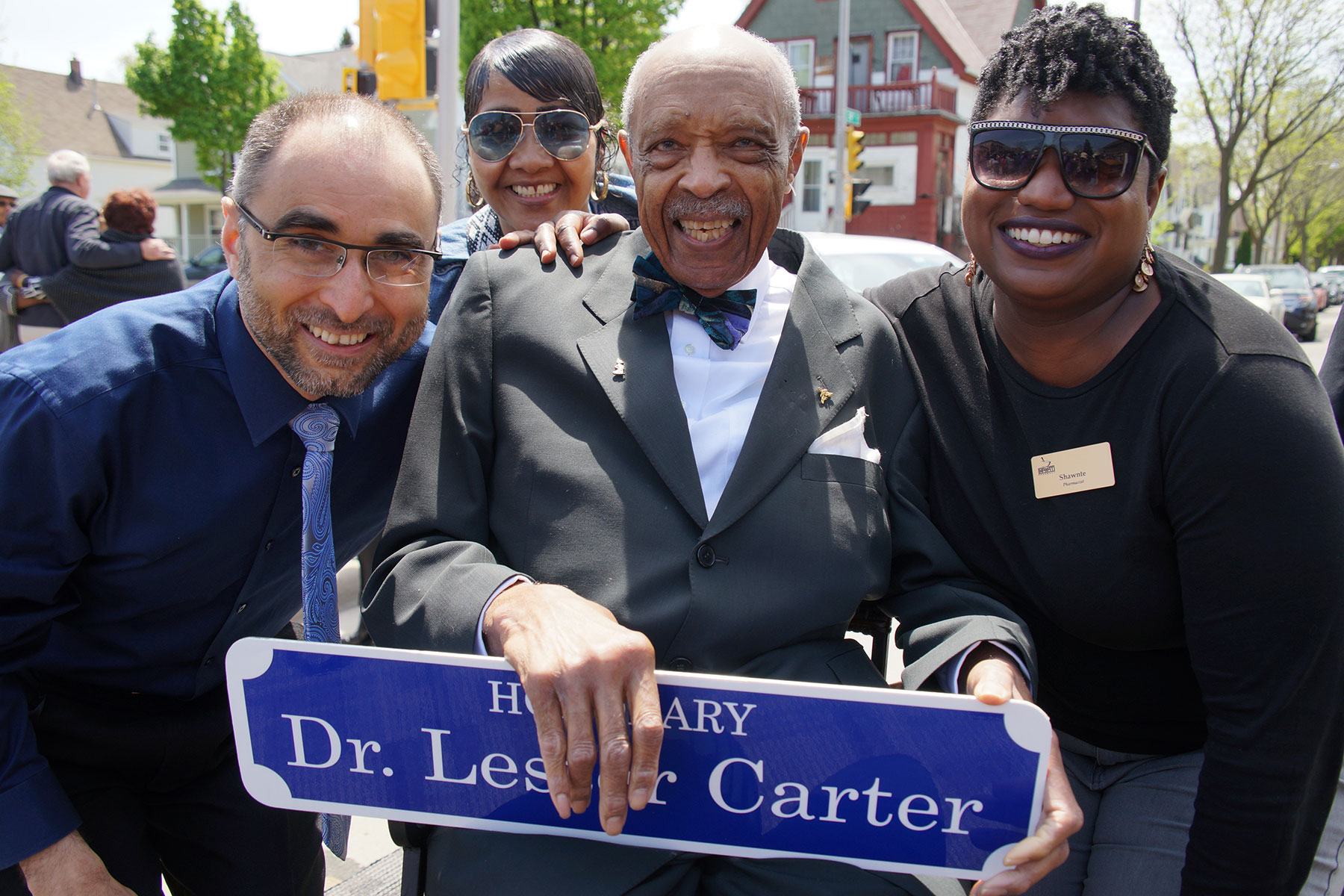 Two men who were separated by age and place of birth, found a shared bond in their love of helping people, experience in the study of pharmacy, interest in herbal remedies, and finding themselves as outsiders who relocated to Milwaukee.
Dr. Lester L. Carter, Jr. grew up in Omaha, Nebraska and was the first African American to open his neighborhood pharmacy in 1968. Hashim Zaibak, Pharm. D. was born in Palestine and came to America in 1992. In 2011 he began the Hayat Pharmacy chain in the Milwaukee area, taking the company's name from the Arabic word for 'life.'
On May 18, the City of Milwaukee celebrated the lifelong service of Dr. Carter for his pioneering and community service as a pharmacist, with an honorary street name dedicated. The neighborhood ceremony was held at the corner of 24th and Burleigh streets, in front of the Hayat Carter Herbal Pharmacy.
The Milwaukee Independent attended the commemoration and asked a few questions to explore the inspirational connection between these two men and their combined impact on an underserved population.
Milwaukee Independent: What is your fondest memory of working with Dr. Carter, and how has he influenced you?
Hashim Zaibak: Fifteen years ago, I had an intern at the Osco Drug Pharmacy on 35th and North. Her name was Shawnte. She told me that the reason she became a pharmacist was because of a great pharmacist in her neighborhood when she was growing up. He helped every one in the community and his name was Dr. Carter. He was one of the first black pharmacists to be registered in the state of Wisconsin.
Today, Shawnte is one of the best pharmacists to practice in the City of Milwaukee, and her Hayat Pharmacy is located only 20 blocks west of Carter Drug store. Best leaders are the ones who help others to become leaders, just like Dr. Carter did with Shawnte. When you ask Shawnte about Dr. Carter, she says "his passion and care when doing what he does is always the first thing that comes to my mind when I think of him."
Milwaukee Independent: How did you pick the location at 24th and Burleigh, and what is Hayat Pharmacy's relationship like with the community?
Hashim Zaibak: Four years ago, Dr. Carter got sick and his pharmacy closed for a couple of weeks when he was in the hospital. He contacted me and asked me if Hayat Pharmacy could take care of his patients until he came back. We agreed to doing that. When he felt better, he asked me if I would be interested in merging both businesses. We agreed on the terms, and since then Carter Drug on 24th and Burleigh became part of the Hayat Pharmacy chain.
Hayat Pharmacy was established in 2011 and has been offering the Milwaukee community unique services which are not typically offered by chain pharmacies. These include Medication Synchronization, all meds for the patient are filled on the same day monthly to eliminate the hassle of multiple trips to the pharmacy; pharmacist home visits to educate patients about how to take their meds; and home delivery to take care of the patients who cannot come to the pharmacy. We take care of lots of patient with transportation issues or with different disabilities.
Milwaukee Independent: What is your hope for the future of the Amani area?
Hashim Zaibak: Honestly, the Amani neighborhood has a great potential. City of Milwaukee and private businesses just need to invent in it. I see lots of great young people in the area who have big dreams which they want to accomplish. We have to believe in them and give them the chance.
Milwaukee Independent: Do any of your locations serve refugees from other countries, and what has been the biggest challenge you help them with?
Hashim Zaibak: We have ten locations in the Milwaukee area. Each of them has a small percentage of patients who are new refugees. Our location at 4931 S. 27th St in Greenfield has the highest percentage of refugee patients. Most of them are from Burma (Myanmar), Syria, Somalia, and Iraq. The healthcare systems in these countries are different than the one we have here in the United States. Some of the patients have a hard time understanding how the system works. In addition, many of them have transportation issues, so they love the home delivery services we offer.
Another challenge is trying to help them become more adherent to their medications. Educating them was absolutely necessary to help them understand the importance of adherence. We send pharmacists to visit them in their homes to educate them about how to take their medicines or use their medication devices. Language was not an issue with us. We hired people who could speak the languages of those communities from the very beginning. That step helped us significantly in connecting with the refugees.