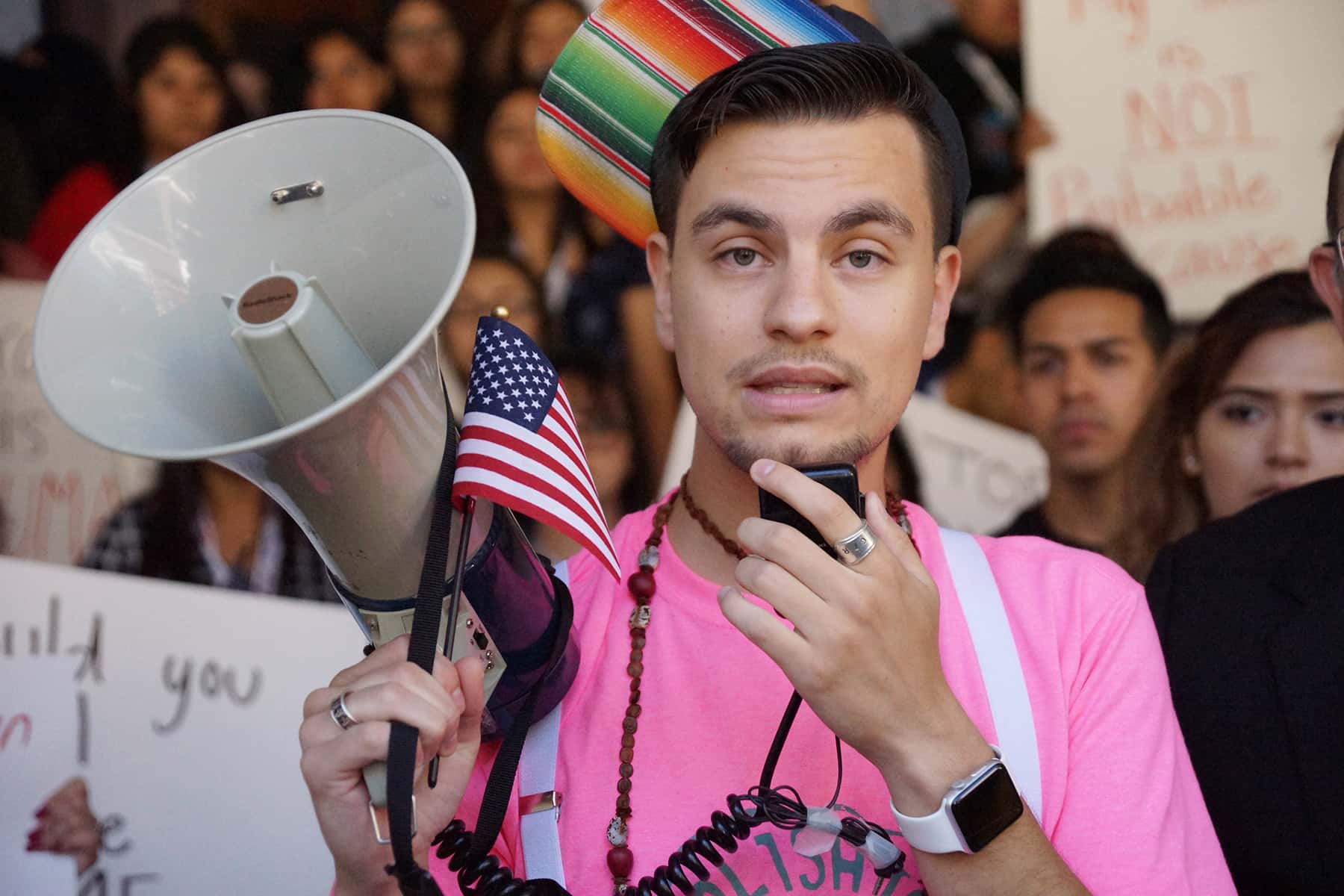 The oldest and largest Hispanic advocacy organization in America hosted a forum on July 10 to discuss the challenges of the Latinx LGBTQ Community during its 90th Annual Convention in Milwaukee.
The League of United Latin American Citizens (LULAC) was joined by advocates and members of the private sector in calling for bold steps to advance equal justice under law for all Latinxs. The event served as a platform to support equality for all.
The panel was joined by Jonathan Greenblatt, National Director and CEO of the Anti-Defamation League; Sissi Yado, Texas Regional Field Organizer at the Human Rights Campaign; Dr. Alan Curtis, President and CEO of the Eisenhower Foundation; Nadim Damluji, Senior Manager Global Public Policy at Starbucks; and Vanessa Gonzalez, Executive Vice President of Field and Member Services at the Leadership Conference on Civil and Human Rights.
"The discussion about equality is more important than ever, so from our standpoint it's a valuable opportunity to share and learn at LULAC," said Nadim Damluji, Senior Manager, Global Public Policy at Starbucks Coffee Company. "Core to our identity at Starbucks is to be a welcoming place for all – partners, customers and the communities we serve. For our partners, we've been proud of our benefits around healthcare, a debt free college education, childcare and more, and we're proud that we've made opportunity hiring a priority as well as maintaining pay equity for men and women and people of all races. Certainly, progress is a journey and we continue to learn, very aware that companies like ours can play a key role in people's everyday lives."
LULAC has supported efforts to dismantle discrimination against Latinxs, particularly as hate crimes have increased in recent years. LULAC's support extends to various pieces of legislation aimed at addressing LGBTQ equality in the United States, including the passing of the Equality Act. The organization works with corporate partners who share LULAC's values on inclusion.
"On the intersection of 'Latinidad' and LGBTQIA+ identity, LULAC is proud to honor and recognize our new National LGBTQ Committee and their contributions," said José Ignacio Gaona, National Policy Manager LULAC National. "In collaboration with the National Urban League, LULAC is moving forward with cross-racial coalition building efforts at a time when both demographics are facing new yet familiar civil rights challenges in our nation. At our 90th convention, LULAC is excited to engage community leaders and advocates from various religious communities in roundtable discussions to help promote understanding and solidarity."
Latinxs have a long and rich history of lesbian, gay, bisexual, transgender and queer activism. Early movement pioneers include José Julio Sarria, the first openly gay candidate for public office in the United States; Sylvia Rivera, a bisexual and transgender rights activist often credited with starting the Stonewall Riots; and Gloria Anzaldúa, a noted scholar of Chicano history and lesbian rights advocate. That activist spirit continues today in the work of people such as Raffi Freedman-Gurspan, the first openly transgender person to work in the White House.
According to the Pew Research Center, Latinxs made up 17.4 percent of the total U.S. population in 2014. Data analysis by the Williams Institute reveals there are approximately 1.4 million LGBT Latinx adults currently living in the United States. Of the 146,000 Latinx same-sex households in the U.S., 29.1 percent are raising children.
LGBTQ Latinxs tend to live in areas where there are already high concentrations of Latinx people. One-third of same-sex Latinx couples live in New Mexico, California and Texas. Other states with high LGBTQ Latinx populations include Nevada, Arizona, Wyoming, Colorado, New Jersey, Kansas, Florida, New York and Washington, D.C. Notably, many of these states lack statewide non-discrimination protections on the basis of sexual orientation and gender identity.
"I applaud LULAC for increasing its investment in the LGBTQ civil rights movement, from launching LGBTQ-focused LULAC councils and instituting pro-equality policy to linking arms with LGBTQ organizations to affirm that LGBTQ Rights are human rights," said Jesse Garcia, Chair of the National LULAC LGBTQ Committee. "The LGBTQ community is not just being invited to the party at LULAC — we are being asked to dance."