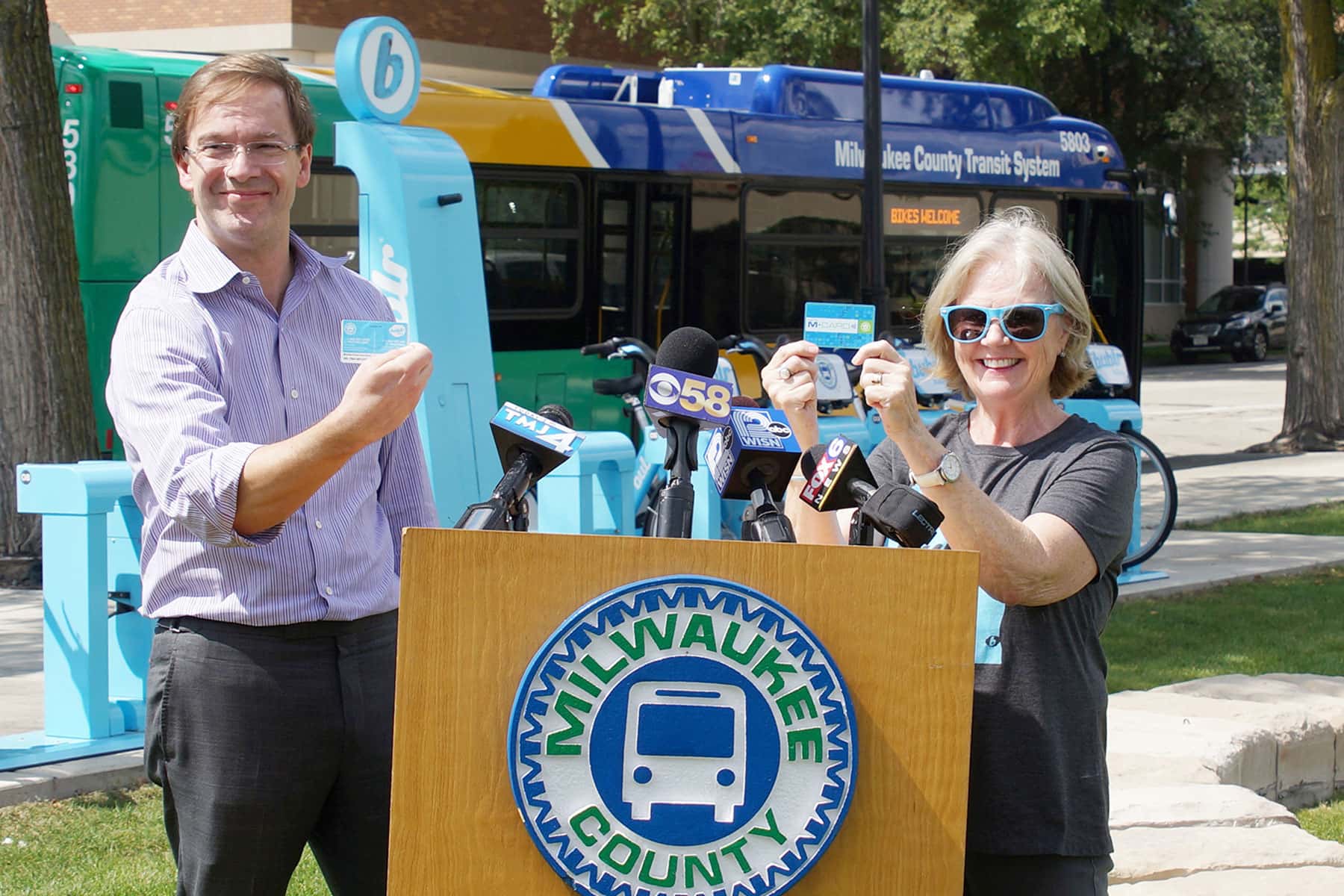 The new Busler card incorporates technology from the Milwaukee County Transit System (MCTS) and Bublr Bikes to improves ridership access and convenience across Milwaukee County.
The Buslr Card is high-tech in a small format, allowing people to ride MCTS buses and Bublr Bikes by using only a single card.
MCTS and Bublr found a simple way around the incompatible technology used in the M•CARD, the electronic smartcard people use pay their bus fare, and the Bublr fob which allows bikes to be checked-out from their station.
Bublr developed an adhesive laminate with an embedded chip that works on their system without interference to the M•CARD chip. The sticker is designed to be applied to the back of the M•CARD, also without obstruction to the card's serial number.
The innovation means riders can pay for their bus fare or Bublr bike with one powerful card.
"This is another way we are looking to make getting to work, school and everywhere you need to go even easier," said Milwaukee County Executive Chris Abele. "Kudos to MCTS and Bublr for finding a creative way around a problem. One of my goals since taking office has been to make government more nimble and empowering, and projects like this are the perfect example of what we can do when we work together."
After a few months of testing to ensure the durability of the stickers with no unexpected technical problems, the Buslr program was rolled out to the public on August 30. Tens of thousands of people use the M•CARD every year to take millions of rides on MCTS.
"Having one card is just more convenient. The easier it is for people to move seamlessly through Milwaukee's transit ecosystem, the easier it is for folks to leave their cars at home," said James Davies, Bublr Senior Director of Operations and Planning.
The Buslr Card comes as Bublr Bikes begins another phase of expansion to 85 stations, from its current 59, with an aim to reach 100 by early next year. The new stations will be placed in areas where public grants support the dock installations, like Wauwatosa and West Allis. An additional 260 bikes will be deployed, adding to the nearly 500 currently in use. Each bike is assembled by hand, produced by the Trek Bicycle Corporation of Waterloo, Wisconsin.
"Whether riders use Bublr to get them along the first mile of their journey, or they use Bublr to get them along the last mile of the trip, the Buslr will work perfect for everyone," added Sally Sheperdson, executive director of Bublr Bikes.
This past March, the Public Policy Forum released its research about the "last mile" problem in transit, which can arise when fixed-route transit services stop short of bringing commuters all the way to their job sites. The collaboration and increased integration between MCTS, Bublr, and various travel options available across Milwaukee County helps close that last mile gap.
"This partnership between MCTS and Bublr Bikes is another way of improving transportation options. Hop on a bus, a bike or use both to get to work, school, or simply to explore our parks, trails, and everything we offer," added Milwaukee County Executive Abele.
To promote this new collaboration, Bublr Bikes is offering 25% off a Bublr Annual Pass when riders order a Buslr sticker with the promo code Buslr17. To get a Buslr sticker, go to bublrbikes.org, click "Join Now," and select the "Buslr Card."
The Buslr sticker can be put on a current M•CARD, or a new M•CARD can be purchased at nearly 100 locations across Milwaukee County or online at M•CARD Online.