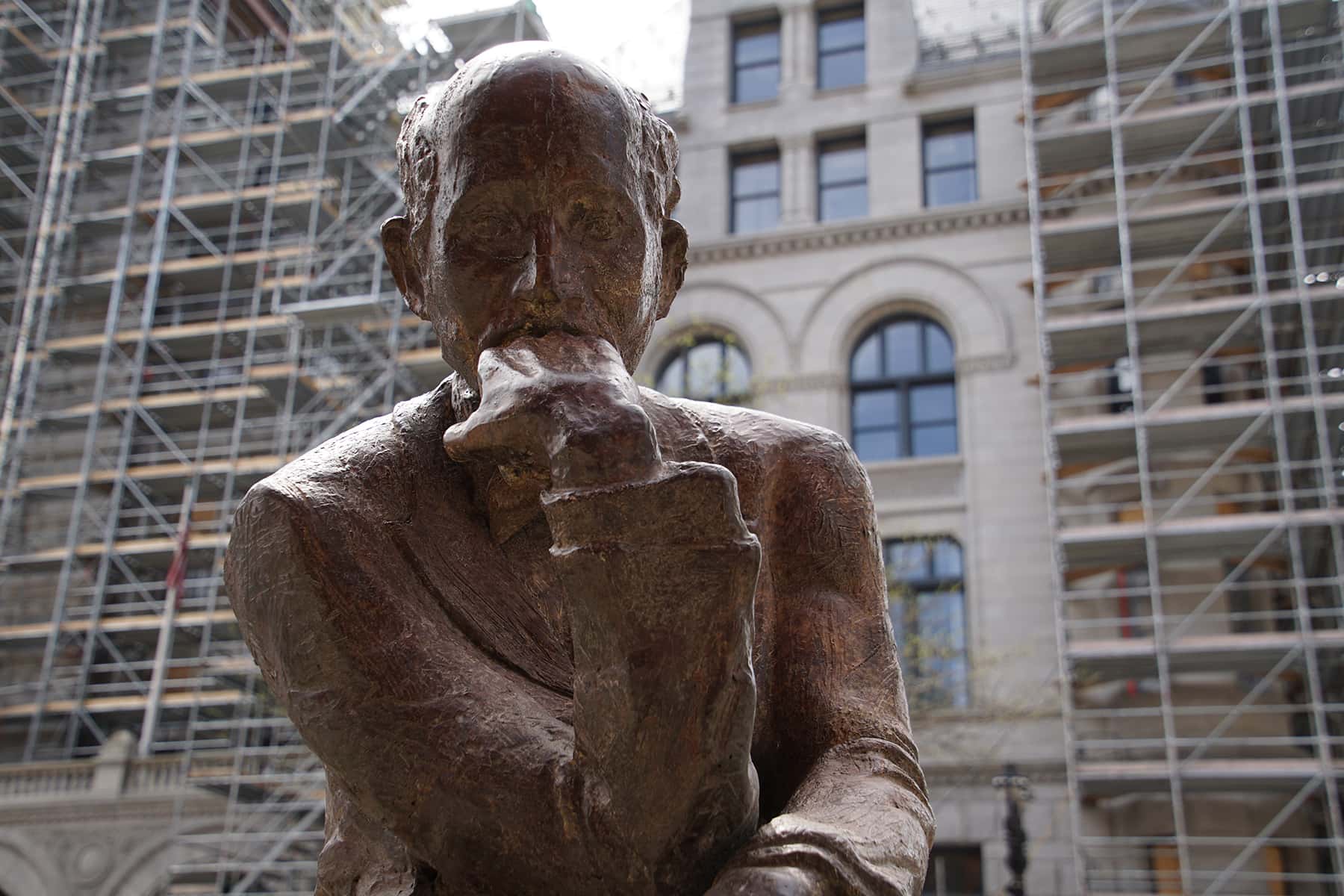 Susan and Mark Irgens announced that they have purchased Radcliffe Bailey's sculpture Pensive from the Jack Shainman Gallery on December 10.
Pensive, 2013, which was featured in Sculpture Milwaukee's 2019 exhibition, will be positioned in front of the new BMO Harris Tower located at 790 N. Water Street in downtown Milwaukee.
"We prioritize public art with our projects. Public art benefits the community at large, attracts talent, and is a valuable amenity that sets apart our building and city," said Mark Irgens, CEO of Irgens, developer of the BMO Harris Tower. "We couldn't be more proud, to not only add aesthetic beauty to our cityscape but to also tell the story of Pensive amidst the vibrancy and diversity of downtown Milwaukee. Our city center, like Pensive, is a pastiche—a true celebration of the style and character of the many artists and personalities who came before us."
Pensive is a cast bronze representation of civil rights activist, scholar, and co-founder of the NAACP, W. E. B. Du Bois. It mimics Rodin's iconic work The Thinker. The artist, Radcliffe Bailey, is a world-renowned, Atlanta-based artist who uses natural materials, relics and found objects to explore and portray issues of history, culture, and lineage.
"Du Bois is depicted as deeply philosophical, pondering the realities of human behavior separated by centuries of time," added Marilu Knode, Chief Curator and Director of Education for Sculpture Milwaukee.
Sculpture Milwaukee is an annual outdoor exhibition of public sculpture in downtown Milwaukee that serves as a catalyst for community engagement, economic development, and creative placemaking. The exhibit creates a free, open-air art gallery, wrapped in fun events and educational opportunities, which captivates residents, tourists, downtown employees, students, and art lovers alike. Sculpture Milwaukee and Irgens are planning a dedication event for a future date.
"We are thrilled that Pensive will reside in the heart of the city, less than a mile from the Fiserv Forum, the Third Ward, Milwaukee Art Museum, the arts district, and Westown," said Steve Marcus, Board Chair and Founder of Sculpture Milwaukee and Chairman of the Marcus Corporation. "Like several other sculptures from our exhibition that were purchased and installed at prominent sites in the city, including Robert Indiana's American Love at the Milwaukee Art Museum and Tony Cragg's Mixed Feelings at Milwaukee City Hall, Pensive will serve as part of Sculpture Milwaukee's legacy. We are grateful to Susan and Mark Irgens for this beautiful gift."