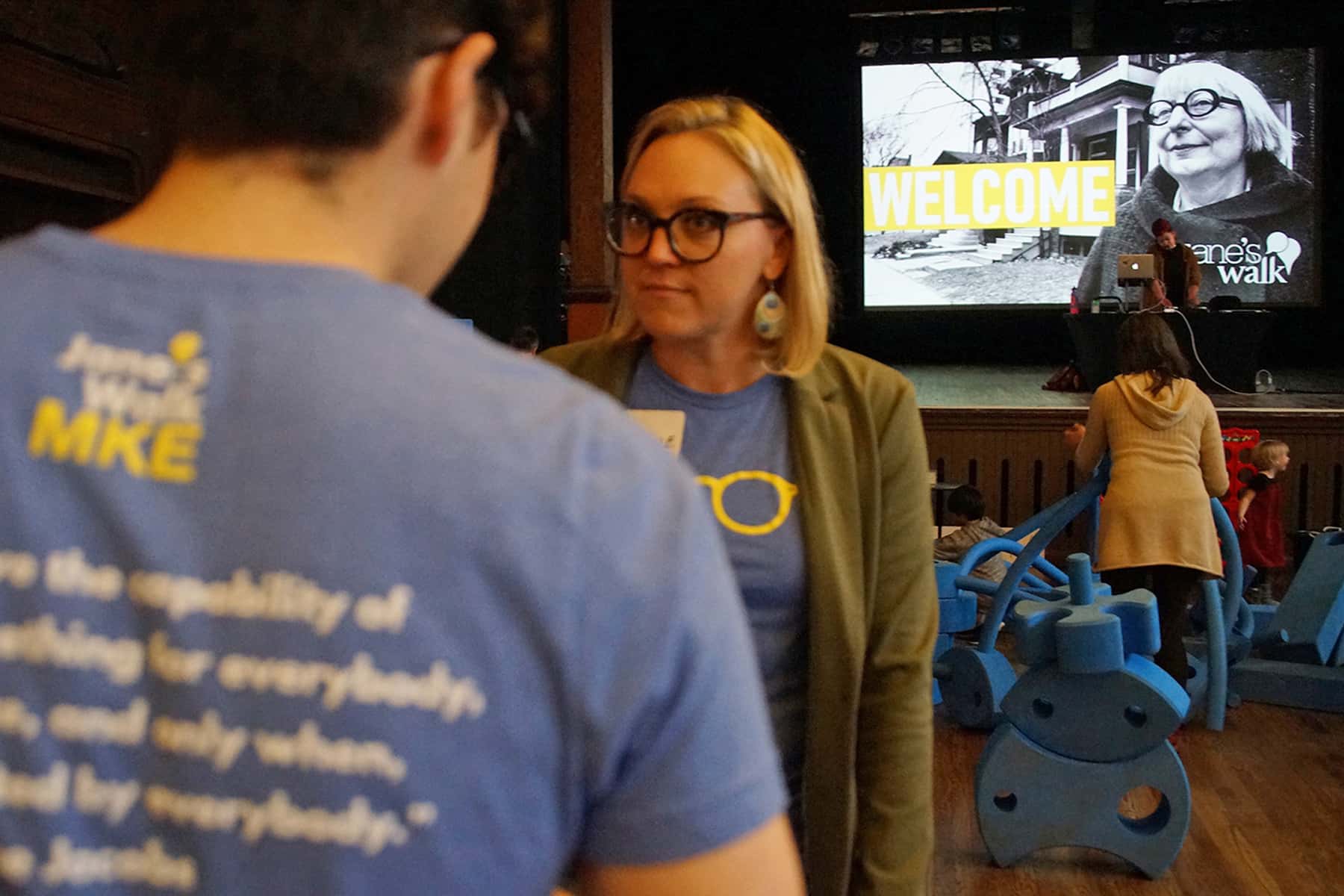 In its fourth year, Jane's Walk MKE encourages Milwaukee residents to walk, talk, explore, and reimagine the city together during the month of May.
There are more than 40 free, community-led tours and social opportunities to engage the public in exploring their own and other neighborhoods around the city. The all-volunteer effort includes walks and talks, as well as paddle events and bike rides.
More than 1,000 people laced up their shoes and hit the streets during the 2018 Jane's Walk MKE. This year, the month kicked off with a "Ballroom Block Party" on May 1 at Turner Hall Ballroom.
Jane's Walk MKE is part of a worldwide movement of more than 200 cities hosting free, resident-led walking tours, inspired by urbanist, writer and activist Jane Jacobs. Milwaukee is unique in that it offers one of the largest efforts worldwide by expanding from one weekend to the whole month.
Jacobs (1916-2006) championed the voices of everyday people in neighborhood planning and city-building. She is the subject of the critically acclaimed 2017 documentary Citizen Jane. and author of the classic Death and Life of Great American Cities.
The Ballroom Block Party was a free event inspired by the Project for Public Spaces and its Power of 10 concept, which argues that places thrive when users have a range of reasons (10+) to be there.
"Our namesake, Jane Jacobs, believed that 'the trust of a city street is formed over time
from many, many little public sidewalk contacts.' She likened public life to 'an intricate ballet in which the individual dancers and ensembles all have distinctive parts which miraculously reinforce each other and compose an orderly whole.' You are all ballet dancers tonight," said Dominic Inouye, City Organizer at Jane's Walk MKE, to the gathered crowd.
Attendees experienced art, music, Milwaukee trivia, food and drink, fun photo opportunities, and "sidewalks" lined with organizations dedicated to making Milwaukee better for all through neighborhood and community building efforts.
The full list of Jane's Walk MKE events can be found on its website, as participation efforts during May continue to grow. Here are a sample of some of the remaining community-led explorations. JanesWalkMKE.org
Wednesday, May 8: Jane's Walk – Bay View
Friday, May 10: ZIP MKE's 28 in 28 Tour: 53202
Saturday, May 11: Back Down Memory Lane (Villard Avenue)
Saturday, May 11: Hike the Gorge!
Saturday, May 11: Connections and Reconnections: Lakefront Brewery and Brady Street
Saturday, May 11: A Walk with Neighbors from Lindsay Park to Nash Park
Saturday, May 11: Jones Walk (on Jones Island)
May 11 & May 12: Milwaukee's Vanishing LGBTQ Landmarks (Walker's Point)
Sunday, May 12: Welcome to Forest Home Cemetery
Monday, May 13: 20 Years of Creative Transformation in the Menomonee River Valley
Wednesday, May 15: The hidden beauty of Milwaukee River Greenway
Friday, May 17: ZIP MKE's 28 in 28 Tour: 53203
Friday, May 17: What's cool and new in Riverwest
Friday, May 17: Bike-In Movie Series Kickoff – 88Nine's INVISIBLE LINES
May 18 & May 19: Through a glass darkly – Hike the Milwaukee River Trails
Saturday, May 18: Bike the Brown Deer Trail
Saturday, May 18: Wisconsin Ave to New State Theater – Transforming a Commercial Corridor
Saturday, May 18: Westown Walking Tour – The Good, The Bad, and The Ugly.
Sunday, May 19: Poetry WALK in Juneau Park
Sunday, May 19: Building a Healthy, Sustainable Neighborhood for All
Sunday, May 19: Milwaukee's Women in History at Forest Home Cemetery
Sunday, May 19: The Hartung Park Story: From Quarry to Landfill to Urban Park
Sunday, May 19: Lindsay Heights – Economic & Green Renewal
Thursday, May 23: Discover the Kinnickinnic River!
Thursday, May 23: KK River Trail Gap
Thursday, May 23: Yield Tosa – Crosswalk Audit of North Avenue
Thursday, May 23: Safer Passages: Hawley Road Diet Post Walk/Bike
Friday, May 24: ZIP MKE's 28 in 28: 53204
Sunday, May 26: Urban Food Roots Walk
Wednesday, May 29: Milwaukee's RiverWalk (downtown)
Friday, May 31: ZIP MKE's 28 in 28: 53205
Jane's Walk MKE is an all-volunteer effort made possible through an organizing committee and dozens of community partners and residents striving to engage and reimagine our city through observation, dialogue, education, and storytelling. Jane's Walk MKE is a local program of Milwaukee Turners.
Jane's Walk MKE's mission is to organize free, resident-led neighborhood explorations and building community connections that embody urban activist Jane Jacobs' legacy through observing and dialogue, education and storytelling, and collectively reimagining and changing the places in which Milwaukeeans live, work, and play.