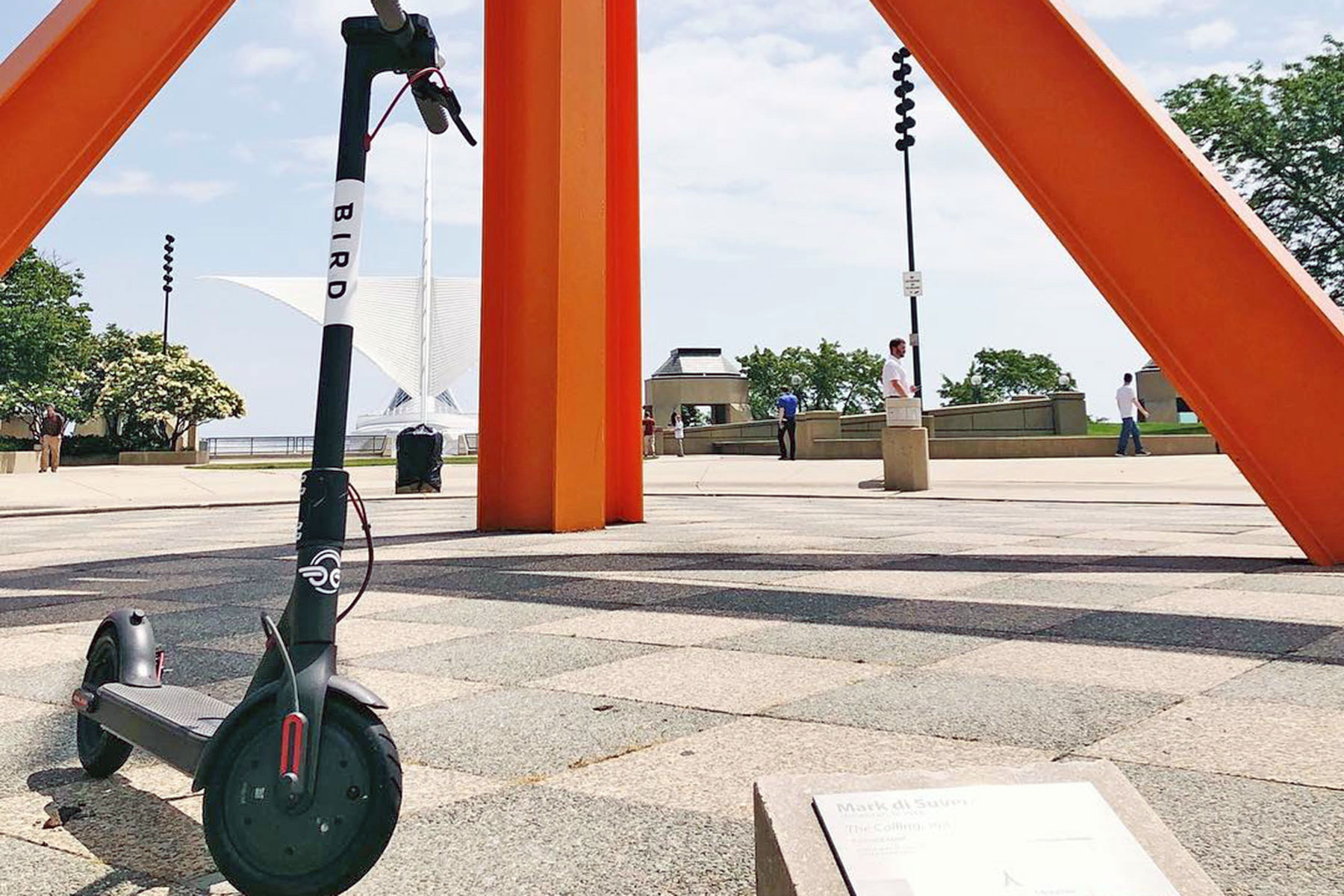 The City of Milwaukee filed a lawsuit on July 7 against Bird motorized scooters, with an injunction ordering their removal from streets and sidewalks in downtown and adjoining metropolitan areas.
Arriving just prior to Summerfest on June 27, the dockless, rental scooters were parked on various sidewalks and along local streets. However, as Alderman Robert J. Bauman, chair of the Public Works Committee, pointed out it is illegal to operate these electric vehicles on any public road or sidewalk in Wisconsin.
"It's irresponsible for this company to come into Milwaukee and place the unsuspecting public in legal jeopardy," said Alderman Bauman, who represents downtown where these electric scooters have been appearing. "Quite simply these vehicles are not authorized for use on sidewalks or city streets and for good reason."
The Department of Public Works released a statement on June 28 that the city was never given notice of Bird Ride operating in Milwaukee. Although the city has not physically removed the Bird scooters from streets and sidewalks, anyone who uses one could be fined.
"Bird has been made aware that use of its scooters is illegal but they are choosing to proceed anyway. It has recklessly undertaken a publicity stunt which could victimize its own clientele by encouraging them to violate the law and suffer consequences because of it," said Alderman Bauman.
The Alderman said Bird was made aware that the scooters are illegal, but chose to proceed with their deployment. A spokesperson for the Santa Monica-based company released the following statement in response to the lawsuit:
"Bird scooters are helping cities meet their ambitious goals of reducing carbon emissions and addressing the ever present car traffic crisis. We respectfully disagree with the city's contention that operation of any electric scooter in the state of Wisconsin is unlawful. We look forward to working with the city to create and enforce common sense rules encouraging the safe use of our sustainable transportation option that the people of Milwaukee have begun to adopt enthusiastically."
The City Attorney has indicated that Bird's Motorized Scooters may not be lawfully operated on any public street or sidewalk in the City of Milwaukee. Whether defined as a vehicle (Wis. Stat. Sec. 340.01(35)), motor vehicle (Wis. Stat. Sec. 340.01(35)) or a play vehicle (Wis. Stat. Sec. 340.01(43m)), under no circumstances may motorized scooters operate on a public street, because they are not designed for on-street usage. Consequently, any operator of a BIRD motor scooter on a city street or sidewalk is subject to a $98.80 citation for Operating an Unregistered Motor Vehicle upon a Highway contrary to Wis. Stat. Sec. 341.04(1). Based on circumstances, there may be other traffic law violations committed by the operator (such as OWI).
The lawsuit also notes a Wisconsin statute with a $200 fines for anyone using an unregistered motorized scooter on a highway. The city issued a cease-and-desist request to Bird on June 27 and the company refused to comply. The complaint refers to other cities that have rejected Bird's scooters, including a $300,000 settlement the company agreed to pay for its unlawful business model in Santa Monica. Additional cities have issued cease-and-desist orders against Lime and companies with similar business models.
"Bird has committed the same acts in other municipalities within the United States by depositing its motorized scooters on public streets and sidewalks. This was done without notice or adherence to law, and consenting to the operation of those motorized scooters on public highways, and with disregard as to whether such operation was legal," stated the City Attorney's complaint.
Around one hundred Bird scooters were distributed around downtown, the Historic Third Ward, and Walker's Point, and none were registered or capable of being registered in Wisconsin, according to the lawsuit. The city also believes that the scooters cause harm because they obstruct public rights of way. Bird does not tell users that they can be fined by police for operating the rental scooters illegally on public streets and sidewalks.