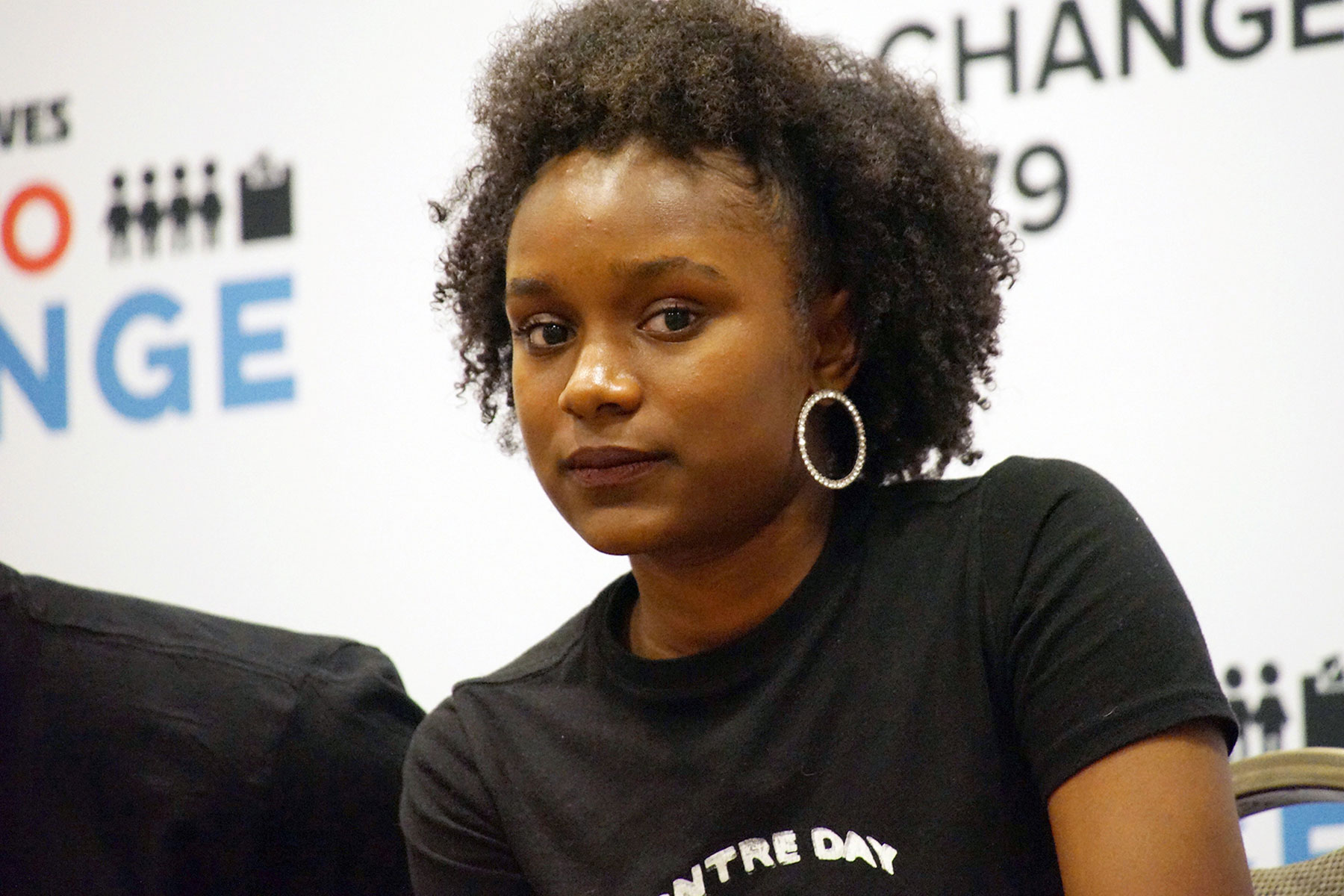 It was some time after 8pm when Angela Smith's teenage daughter contacted her with an urgent request. Bria, 17, wanted to leave home the next morning to join a weeks-long national bus tour for gun violence prevention.
The bus, filled with student survivors of the school shooting six months ago in Parkland, Florida, was leaving Milwaukee very early the next morning. Could she go?
"We don't know those people!" was Smith's first reaction, concerned at how much the fury and the venom of America's gun debate might tear at her youngest child's spirit. She was also worried whether Bria would be safe if she traveled with the Parkland activists, who had become the most revered and reviled group of teenagers in America.
But Bria had also grown up in inner-city Milwaukee, the child of two black pastors. Their neighborhood had its challenges, but, her mother said: "This is our world. We know this. She had not seen the true dark ugly of our nation. She had not been in, I'll be honest, white America, in the countryside of it, or where it's pretty much 99.9% white."
She said: "Our fear was that she would encounter racism in ways that she's never had to before."
Bria, like many young black activists, had originally found some of the reaction to the Parkland shooting frustrating, even hurtful. There had been an outpouring of nationwide support for the wealthy suburban students dealing with the trauma of gun violence. After some of the students began organizing, Oprah and George Clooney had written $500,000 checks to support their new movement. These celebrities had not rushed to write a check to support Black Lives Matter, or to support the the generations of black and brown Americans who had organized against gun violence in their communities.
"As a person of color, you feel like your voice is always overlooked," Bria said. "Why don't they care about us in inner cities, that deal with everyday gun violence?"
Bria said: "[It was] like we couldn't be a part of that conversation."
The Parkland kids had heard this criticism early on, and acknowledged that it was fair. Mass shootings were only a small part of America's deadly gun violence problem.
Of the school-aged children murdered each year in the United States, 98% to 99% are killed outside of school. Black children are about 10 times more likely to be the victims of a gun homicide than white children.
* * *
Bria was ready to join the revolution that her fellow teenagers were trying to carry out. Marching wasn't enough, the Parkland activists had told their supporters after the March for Our Lives protest earlier this year, which drew hundreds of thousands of people to cities across the country.
The only way to force the American government to act on gun violence was to vote out the politicians who refused to pass stricter gun laws. Their strategy was to bring a new wave of young voters to the polls –18-year-olds, 19-year-olds, members of the "Columbine generation" who grew up with school shooting drills as a normal part of life.
Over the summer, the young activists had decided to go local, criss-crossing the country in giant tour buses, trying to turn out the youth vote in dozens of key congressional districts with town halls.
As the trip progressed, the group had been picking up young activists in different cities – New York, Chicago, St Louis, Houston – and had them join the tour, trying to share the intense media spotlight trained on them after the murders of 17 students and teachers at Parkland's Marjory Stoneman Douglas high school on 14 February.
Matt Deitsch, the chief strategist of March for Our Lives, and at 20, the "elder" of the group, said he had been "blown away" by Bria's comments about inner-city gun violence as part of a public panel the activists had hosted in Milwaukee.
After the panel, Bria had been paired with Deitsch to do local media interviews. Bria had noticed, somewhat annoyed, that he was making her answer most of the questions. He would explain later that this had been a test, and that he had purposely directed all the hardest questions to her. The goal was "to make sure that she wasn't just out there with rehearsed talkings points, that she actually knew what she was talking about," Deitsch said. "That was how we sort of make sure that we get a student who is ready for this sort of workload."
Bria passed the test.
"There's a lot of Bria Smiths out there in the country that just haven't found their voice yet, and I hope by seeing her power they can find their own power," Deitsch said.
* * *
Now Bria just had to convince her parents to let her go. "Mom, you need to hear me out!" she remembers telling her. Bria had convinced her older sisters to lobby on her behalf. They told Smith, "Mama, this is her time," their mother recalled. They had already nicknamed their baby sister 'Angela Davis' after the famous black activist.
Bria's mother had a call with an adult staff member on the bus tour, who reassured her that the students were carefully watched over, that they had security with them, that parents would be able to know where they were going each day.
The group effort worked. "The gift she has – we don't want to stop her from using it," her mother said.
Within hours, Bria was packing her bag. By the morning of 24 June, she was on her way to Minneapolis, and then the Standing Rock Sioux reservation, and then Bismarck, North Dakota, then Texas, Colorado, Utah, California, South Carolina. The full tour, which she had joined midway, would include over 100 events in 24 states across the country.
Inside the big Road to Change tour bus, Bria found an elaborate set-up: beds, including one she would try to claim as hers, couches, an Xbox, plenty of snacks and cans of soda that were often being spilled and dropped on the floor. In person, the other teenagers, even David Hogg and Emma Gonzalez, the leaders and faces of the movement, were defiantly normal.
As they rolled from the site of one rally to the next, each of the students on the bus was responsible for their part of the group's organizing work. Bria was helping to organize local chapters, she said, while her friend Kyrah Simon, a 17-year-old Marjory Stoneman Douglas student, helped with social media. Jaclyn Corin worked on advanced planning for the next set of local events.
The teenagers fiercely guarded their space on the bus, allowing no journalists inside.The bus was their private space, a retreat where they could sleep, burst out into songs they had made up, deal with waves of grief.
"People like to think it's a bunch of kids on a road trip for fun," Bria said. "The stuff we go through is very, very hard."
* * *
In Colorado, the students had met survivors of the 1999 Columbine high school shooting. That same night, they had dinner with Sue Klebold, the mother of one of the Columbine shooters, Dylan Klebold, who has begun to talk more publicly about having a child who became a mass shooter.
Bria could not take in the conversation. She went to bathroom, where her friends asked her what was wrong. She finally broke down, sobbing in a restaurant bathroom. She had not told anyone that day was the anniversary of the day a high school friend had killed themselves with a gun just a few months before.
There were some events that were more light-hearted than others. To coordinate their Oakland rally, the group had contacted Kenzie Smith, who had decided to run for city council after a white woman called the police on him and his friends for having a barbecue in an Oakland public park. His encounter with the woman dubbed "BBQ Becky" had gone viral, one of a series of videos this summer that captured white Americans calling the police on black Americans.
Smith, like the Parkland students, was focused on turning out young people to vote, and he had agreed to help them. He organized a barbecue event for March for Our Lives in Oakland's Bobby Hutton Park, which was named in honor the 17-year-old member of the Black Panther party who had been shot dead by Oakland police in 1968. He invited one of his mentors, a former Black Panther party member, to meet the student gun violence activists.
Bria said later she had been thrilled to make connections with Oakland's black radical history. And focusing on the Black Panthers in Oakland, Corin agreed, was a natural fit.
"We wanted to come here to honor the Black Panthers," Corin said, "just because we know how it feels to start something where a lot of people are against you."
Corin also acknowledged that it was tricky to plan a March for Our Lives event in a community like Oakland, where residents of color had dealt with police violence and high rates of gun violence for decades, and been greeted more often with stigma than with an outpouring of support.
"I dealt with gun violence one day of my life," Corin said during the barbecue rally in Oakland. "We want people to know that we support communities like Oakland that have been dealing with gun violence, longer and more than Parkland ever has."
The most famous Parkland activist, Emma Gonzalez, was Cuban American. But other high-profile student leaders, the ones with name recognition and regular media appearances, were white, including Corin, 17. She had spoken furiously against the elected officials who had spent years blocking new gun control laws, and had received the full blast of media attention that came with that role, appearing barefoot on the cover of Time magazine in March, and then becoming the subject of further articles about why she had chosen to be barefoot.
Older generations of gun control advocates, who had courted support from police chiefs in trying to pass new federal gun laws, had not commented on police shootings of black Americans, or treated those shootings as a gun violence issue. The Parkland students, in contrast, had quickly embraced the issue. "I really want people to understand that we get the fact that police brutality is gun violence. We are advocating for these people, because either way, they have died from a gun," Corin said.
The group had also pledged to give away more than $100,000 in donations and proceeds from the voter registration T-shirts they sold to local gun violence prevention groups.
But the perception that March for Our Lives was a white movement persisted, to the frustration of the student organizers, including Bria. They bristled at news articles about their bus that labeled them the "Parkland students," since they were no longer all from Parkland.
"There is a common stigma that we are all white kids on this bus, which is completely false," Corin said. "There are actually more people of minority backgrounds than white people on the bus right now, that people really don't know about. They just focus on me and David Hogg."
"People don't really like to address that," she said. "They just want to pound us for being all white."
This perception problem could have real consequences. To have an impact on the midterm elections, March for Our Lives needed every youth vote it could get.
Low midterm voter turnout by young people, particularly by young minorities, typically favored the Republican politicians who were currently blocking every attempt to pass new gun control laws. A 7% drop in black voter turnout in the 2016 election had played to the advantage of Donald Trump. Asked how important it was to get young voters of color to the polls in 2018, Michael Blake, the vice-chair of the Democratic National Committee, said: "It's everything."
March for Our Lives needed young people of color – young people like Bria – to feel like they were part of the movement.
* * *
In Charleston, South Carolina, backstage at a historic theater downtown where the students were hosting a town hall, the students sat in a circle with local activists, family members of the victims of the Mother Emanuel church shooting on 17 June 2015, and one of the women who had survived the attack. A 21-year-old white supremacist had sat down with members of the historic black church at an evening Bible study, and then opened fire, killing nine people.
On the other side of the curtain, the audience rumbled, ready to denounce the National Rifle Association and the local lawmakers who supported them. But the mood in the circle backstage was somber. Polly Sheppard, 73, who had survived the shooting, was dressed in black, with elegantly coiffed hair and polished black nails. She told the students she regretted not pushing harder for change immediately after the attack.
"We were quiet, we were the forgiving ones, when we should have been talking," Sheppard said. "Maybe we could have gotten something done," she said, if they had "been a little more forceful about what happened in the beginning."
The students had done exactly what she had not: spoken out immediately to demand change. "I've never been so proud," she told them.
Then Bria asked a question.
"I'm a pastor's kid," she a said. "Sometimes, I begin to question, 'Why would that even be allowed? Why would God even let that happen? That's what I've been dealing with for the past couple of years of being conscious of how the world works – how you're racially profiled and stigmatized, different things, two friends' suicides in one year, and just seeing dead bodies, [as I'm] living in my own community."
"My question for you guys: how have you incorporated faith with moving on and being the person you are today? How do you guys push forward even though you might be questioning who you are as a person?"
"It's OK … it's OK to question God," one woman reassured her. "God will send you someone to give you answers."
"It's not a problem, it's not a sin to ask God questions – throughout the Bible, there are accounts – Job, Jeremiah, the prophets, who all ask God, 'Why is this happening?'" another said.
The sound of the audience filling the auditorium was growing louder. It was almost time for the public town hall discussion to begin. The students drew the conversation to a close, got up, hugged the family members. Sheppard wrapped Bria in her arms.
Bria was on the panel of March for Our Lives activists that night.
"I am here for all the Trayvon Martins, the Dontre Hamiltons, the Philando Castiles, the Eric Garners and every person of color … whose gun violence story was left untold, " she told the crowd. "I live in an inner-city and gun violence is so normalized and conditioned with me, as youth of color, because I let it be that way, I accepted my fate and my destiny."
"But I'm sitting here right now to tell everyone here, that's not my reality. And that's not going to be anyone else's reality," she said to cheers.
The other students had planned a panel with question after question for Bria – so many questions for her that the audience laughed.
How did funding and quality of public school systems in your city correlate to gun violence, they asked her? Was the perception that all inner-city violence is because of "gangs" accurate? How did Milwaukee's intense racial segregation relate to the importance of including minority voices in the gun violence conversation.
Bria talked about how 12,000 Milwaukee students had to walk through metal detectors and pass armed guards on their way to school, part of security measures that cost $15.1m, she said. "We're dehumanizing our youth through the school-to-prison pipeline, having aspects of what prison looks like and incorporating them into schools," she said.
"Instead of investing into safety protocols, we need to invest in better education."
She led the audience in a chant: "I refuse to be another statistic." She said, to cheers: "We need to elect moral leaders to represent who we are, because if they don't look like us, or know what we're about, why should they sit in that seat?"
Bria was enthusiastic about the response she had received that night. High schoolers had come up to her to tell her how amazing she was and ask for her Instagram. A young black woman had told her afterwards: thank you for talking about black and brown people.
But there were other meetings that had felt like setbacks. In Los Angeles, a local Black Lives Matter activist had said the March for Our Lives had still not succeeded in making black activists a visible part of the movement.
"It really hit me hard, and I looked at her, and I said, 'It takes time, and it's hard, but when have black people never worked 10 times harder?' And I said that and she was like, 'You're right.'"
It was hard for her to focus on returning to school, soon finishing her last year of high school, after so many weeks going from town to town, trying to achieve the revolution, with a group of students who believed they could actually do it.
She remembered one moment of rest in the middle of the tour. "We were sitting by a pond, connecting, and I thought, 'What if this is the peak of my entire life?'" She paused for a fraction of a second. "Well, why not?"