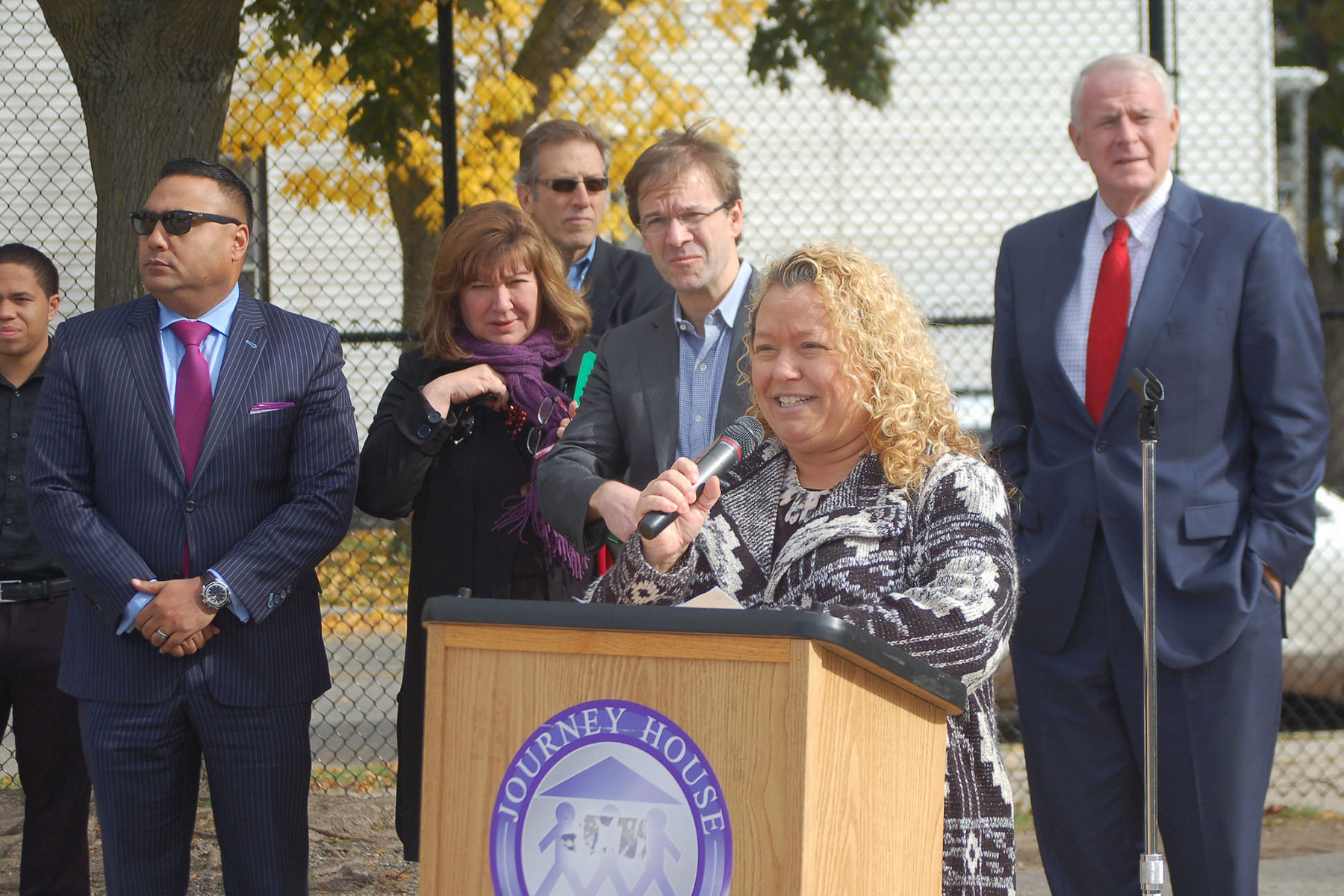 Dignitaries, community leaders and residents came together recently to celebrate the opening of Journey House's newest campus housing property, located at 2033 W. Scott Street.
"This home was an eyesore, dangerous, and was only still standing because the city didn't have the resources at the time to raze it," Mayor Tom Barrett said to the crowd gathered at the south end of Longfellow School's playground.
Each unit of the four-unit building, which had been a city-owned foreclosure, will house a teen who has aged out of the foster care system as part of the Campus Housing Initiative, a partnership between Journey House, Milwaukee County's Project O-Yeah and the city of Milwaukee.
According to Michele Bria, CEO of Journey House, the building had been a magnet for crime, including incidents where youth on recess or participating in summer camps were exposed to the sounds of gunfire at the property.
Instead of tearing it down, the city sold the lot to Journey House for $1 and provided a $60,000 no-interest loan to help renovate the home. The county provided $80,000 toward the project. The property will be leased by Wraparound Milwaukee to help former foster care youth and participants in its programs build a rental history, while also having access to services at Journey House.
The first Journey House campus housing property opened last June and is located a block away at 741 S. 23rd St. The first cohort of six youth all successfully transitioned into other affordable housing, according to Bria. Having Journey House within close proximity provides the campus residents access to a multitude of services the organization provides, easing their transition to adulthood.
"Residents of the campus housing get to work with our job or financial coaches, file their taxes, earn their GED at Journey House and find other ways to become embedded into the Clarke Square community," Bria said, adding that Journey House has purchased a third property in Clarke Square to be renovated for campus housing.
The building was constructed with the support of volunteer designers and laborers from Eppstein Uhen Architects, including Journey House board member John Miceli. Also working on the project were several participants of the MATC/ Journey House Pathways to the Construction Trades (PACT) YouthBuild Program.
Among them was Kathy Carlos, who spent seven weeks on the project. She worked on demolition and framing the windows, among other tasks. Working on projects like these has helped change her life's trajectory, she said.
"I never thought that as a woman I would be doing this kind of work, but now I'm trying to build my skills in the trades as a career," Carlos said.
The campus property is also helping deal with the serious problem of homelessness, especially among youth that have aged out of the foster care system, said Milwaukee County Executive Chris Abele, who was on hand for the grand opening.
"Homeless is a problem that affects youth, adults and seniors. It's an 'all of us' problem," said Abele, who described the property as a tribute to what can be accomplished when multiple entities work together.
It's also an example of how Journey House is working in Clarke Square to serve people of all backgrounds, said Barrett.
"These young people are part of this neighborhood's redemption story," he said.
Clarke Square resident Luis Robles said the block where the newest housing opened has improved significantly as a result of the work of Journey House and other organizations. Before, he said, he wouldn't even walk down that block. But, that has changed, he said.
"Now, the houses, the block, this whole area is looking better and becoming safer," Robles added.