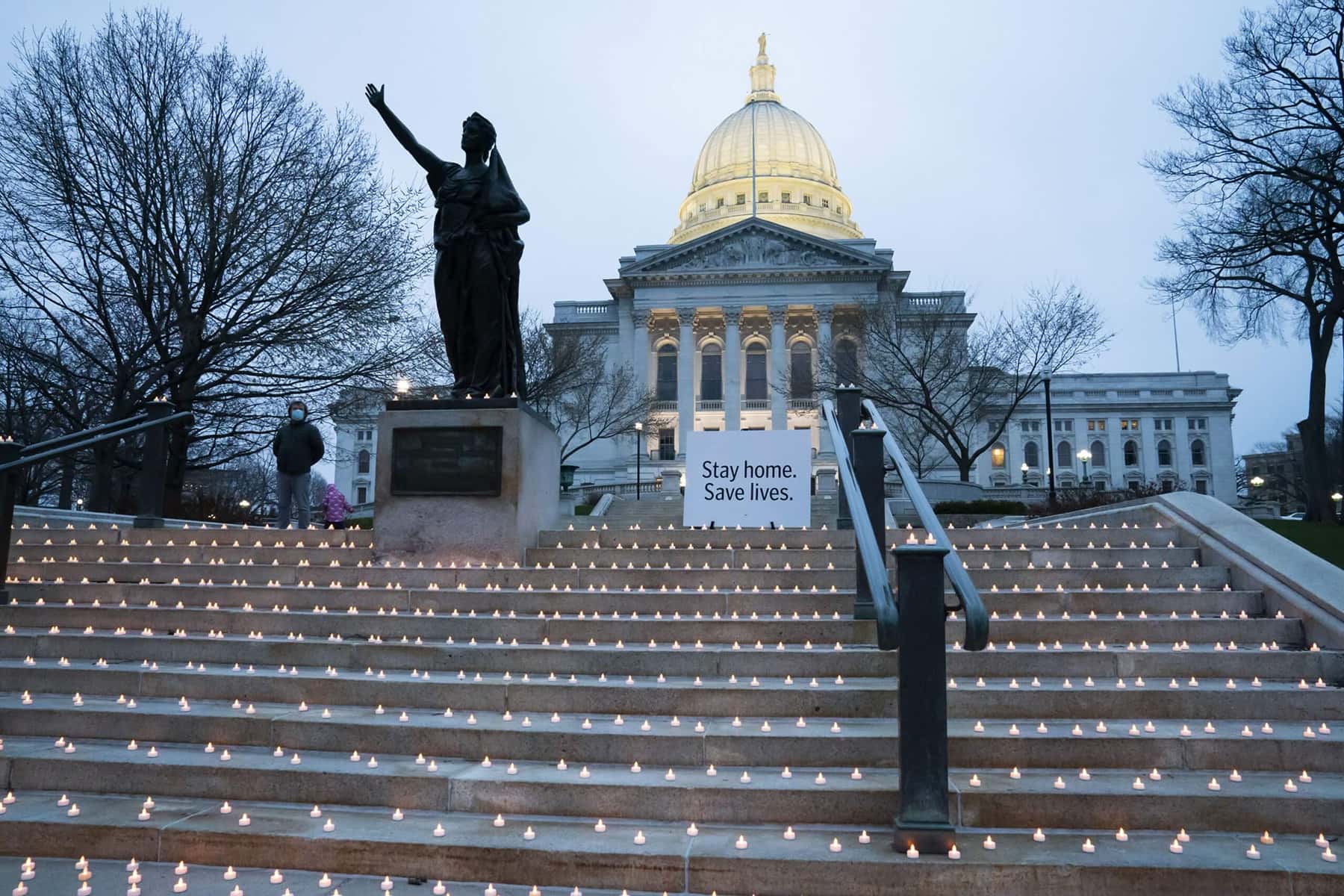 March 12 marks a year since Wisconsin issued the first COVID-19 health emergency, and the anniversary offers a moment to consider what comes next for health and for society.
When Governor Tony Evers issued the declaration on Thursday, March 12, 2020, five Wisconsin residents had been confirmed positive with the novel coronavirus. A year later that number has multiplied by 110,000. In Wisconsin, the virus SARS-CoV-2 has infected more than 566,000 people, according to the Wisconsin Department of Health Services (DHS). It has taken nearly 6,500 lives.
The world looks very different than it did 12 months ago. And it also looks different than 120 days ago — when the surge of new cases in the state was reaching its peak in mid-November. Now, 10% of Wisconsin residents have been fully vaccinated and their number grows every day. The daily report of newly confirmed COVID-19 cases has been tapering off, and the state's second-in-command health officer sees the possibility that the rest of the state could have the vaccine by early July.
If the question back in November, when new cases were still climbing, was 'Where is it going to end?' the questions now are turning to: What's on the other side? What will life in Wisconsin look like with the coronavirus still present — now in new, more contagious mutant forms — but with a majority of people protected from infection?
"What I'd love it to look like is we've eliminated COVID," said Julie Willems Van Dijk, deputy health secretary at DHS, during a media briefing on March 4. "I think that's really the goal. But I don't know if we'll get there,. There's very few vaccine-preventable diseases that we've actually eliminated."
Prevention and immunity
A more likely outcome, Van Dijk said, would be control over the virus, with the number of cases "quite low" and the vaccine widely accessible to everyone who wants it. How soon that day comes depends on how careful people are in the meantime, and how many get the vaccine.
"To continue to propagate, a virus needs to be able to go from an infected person to a susceptible person," said Dr. Patrick Remington, professor emeritus at the University of Wisconsin-Madison School of Medicine and Public Health and director of its preventive medicine residency program. "We need to get back to a place where this virus is not being spread from person to person.
If 80% of the population gets a vaccine, that can sharply reduce the ability of the virus to spread. If that cannot be achieved, the other approach is to reduce the likelihood that people will spread the disease. That will require continuing to emphasize physical distancing, avoiding crowds and gatherings and continuing to wear masks. But if immunity falls short and compliance with public health prevention fades, that will simply prolong the pandemic's impact, not only on health but on the economy and on the rest of society.
"To get back to work and get back to school we either have to achieve population-wide immunity or continue to wear masks and socially isolate. The average person will be reluctant to go back to work and go back to school when we continue to see people dying," Remington said. "The longer we go and the harder it is to achieve community-wide immunity, the greater will be the impact on our economy and our families."
By itself, widespread vaccination doesn't guarantee a rapid public health recovery. If 95% of the public has had the vaccine, said Van Dijk, but "you're having thousands and thousands of cases, and 5% of your population [is at] risk of acquiring the disease, that is a whole different scenario than if you have almost no disease with 95% protection."
Vaccination by summer?
Last week the Biden administration projected there could be enough vaccine doses for everyone in the country by May. Van Dijk said the prospect that the state could drop its carefully calibrated priority lists and offer everyone shots by then "is a very realistic goal" — but depending on how well supply keeps up with demand, that it could take until June "and maybe even early July" to vaccinate the entire population.
In assessing public health conditions, DHS officials have said it is more important to measure the total number of cases, whether or not they're fatal, than it is to simply watch for fewer deaths from COVID-19 because it is not known which case is going to be transmitted to someone that could lead to someone who is going to die.
"It's also important to recognize that COVID disease is serious as well," added Stephanie Schauer, DHS vaccine program manager. "We're trying to prevent that infection to start with — because there are so many unknowns when it comes to infection with COVID-19."
At a media briefing earlier this year, Dr. Ryan Westergaard, chief medical officer in the DHS Bureau of Communicable Diseases, acknowledged that completely eradicating the virus would be unlikely.
"We may have this virus circulating at some level in the human population forever, "Dr. Westergaard said. If so, he added, "we should think about [COVID] vaccines in a different way than we think about other vaccines."
Currently, only about half of the population gets vaccinated for influenza despite the efforts of health care providers to encourage everyone to take part.
"One of the things that we learned that was very striking about all of the vaccine candidates for COVID-19 is that, even if they're not 100% effective for preventing transmission, they are remarkably effective at preventing severe disease and hospitalization,"Dr. Westergaard said. "If we can get 90% of people in the United States vaccinated for COVID-19 in the coming year, even if it continues to circulate at a low level, we're going to save lives."
That level of public participation in the vaccine "could really transform what life is going to be like in the next couple of years," he added. In the process, "We can make hospitalizations and deaths very, very rare from COVID-19. Even if we don't completely stop transmission in the community, that's something that should be a shared goal … getting very, very high levels of immunization coverage."
The road back
Moving "back to normal" will not be an overnight trip. It will not go from masks, social distancing, good hand hygiene, good respiratory etiquette to nothing.
"We all have to think about it step by step and have to think, 'What is my own risk? Do I want to be out and about? Am I vaccinated? And how long can I wait?,'" Van Dijk said. By taking a "methodical" approach, "we will be able to both start to enter into some of the activities that many of us love so much and yet not take undue risks as we move to the other side at COVID."
In a world living with COVID
At a briefing in early February, Evers suggested another outcome: a heightened appreciation in Wisconsin for the outdoors. "We've learned how important it is to get outside and be in fresh air as often as you can," the governor said. "I'm glad we're in Wisconsin in this pandemic and not in the area where you can't get outside that often."
Van Dijk envisions the continuing availability of the vaccine as well as booster doses as needed to shore up people's immunity to the virus. She expects ongoing testing for the virus to detect new outbreaks and allow people to take precautions.
"In our country, it has not been traditional to go outside during flu season with a mask on," Van Dijk said. "But that's not true in a number of other countries."
The post-pandemic world "might look like there are periods of time where people go back to mask use," she continued. "But I think in general, the other side looks like we won't be wearing masks every time we leave our house."
But the pandemic also points to the potential for broader change — and its necessity, said Tiffany Green, an economist at the University of Wisconsin School of Medicine and Public Health.
"You can't go back to the way things were," said Green, a professor in the population health sciences and obstetrics and gynecology departments whose research includes health disparities. "This won't be the last pandemic that we see."
Policymakers must shore up the social safety net to ensure access to health care and regular medical providers for low-income people and make it possible for people who are sick to stay home from work for their own health and that of their co-workers.
It is also necessary "that we have adequate workplace protections — so we don't have the kind of outbreaks like we did in meatpacking plants in Brown County," Green continues. "Moving forward, we need to imagine something different, and imagine a Wisconsin where people have their basic needs met, and understand that when it comes to infectious disease, we're all in this together."
She sees some hope that those messages are getting through — starting with provisions in Evers' 2021-23 budget proposal that recognize health care disparities and seek to expand health care access.
"The fact that people are understanding that social determinants of health need to be addressed, in Wisconsin and nationally, is actually a huge first step," Green said. "People are starting to understand that these disparities that we're seeing don't have to be" — and that addressing people's basic needs can help improve their health.
Addressing reporters last week, Van Dijk expressed similar priorities. The deputy health secretary called COVID-19 a "very disruptive, communicable disease event" — one that "will make all of us think differently about being out in public, touching public surfaces, washing our hands, how we cover our coughs."
It also underscores the importance of policies such as paid sick leave, she added.
"If we could just stay home when we're sick, we could prevent lots of illness, " said Van Dijk. "As a society, we have to take care of each other when we're sick. And so you have to have employers who understand that people should stay home. And we also have to have people who don't lose their income when they stay home."
Van Dijk added: "Those are barriers that many, many people in our society have to managing communicable diseases in general. Those are all things that I think we have learned through COVID that hopefully will help us when we are on the other side."
Donate: Wisconsin Examiner
Help spread Wisconsin news, relentless reporting, unheard voices, and untold stories. Make a difference with a tax-deductible contribution to the Wisconsin Examiner
The
Milwaukee Independent
began reporting on what was then referred to as the mysterious "Wuhan Virus" in January 2020. Other local media did not picked-up on the story until many weeks later. Our early features focused on the economic impact, social issues, and health concerns long before other Milwaukee news organizations even mentioned the coronavirus. Over the following year, we have published hundreds of articles about the pandemic and how it has affected the lives of Milwaukee residents. This extensive body of work can be found on our
COVID-19 Special Report
page, a chronological index of links by month. Our editorial voice remains dedicated to informing the public about this health crisis for as long as it persists.
For medical resources, please visit the
CDC's COVID-19 page
or the
Wisconsin Department of Health Services
. All editorial content published by
Milwaukee Independent
can be found at
mkeind.com/COVID19
. With a mission of transformative journalism, our staff is free from commercial bias and are not influenced by corporate interests, political affiliations, or a public preferences that rewards clicks with revenue. As an influential publication that provides Milwaukee with quality journalism, our award-winning photojournalism and features have helped to achieve a range of positive social impact that enriches our community. Please join our effort by entrusting us with your contribution. Your Support Matters -
Donate Now