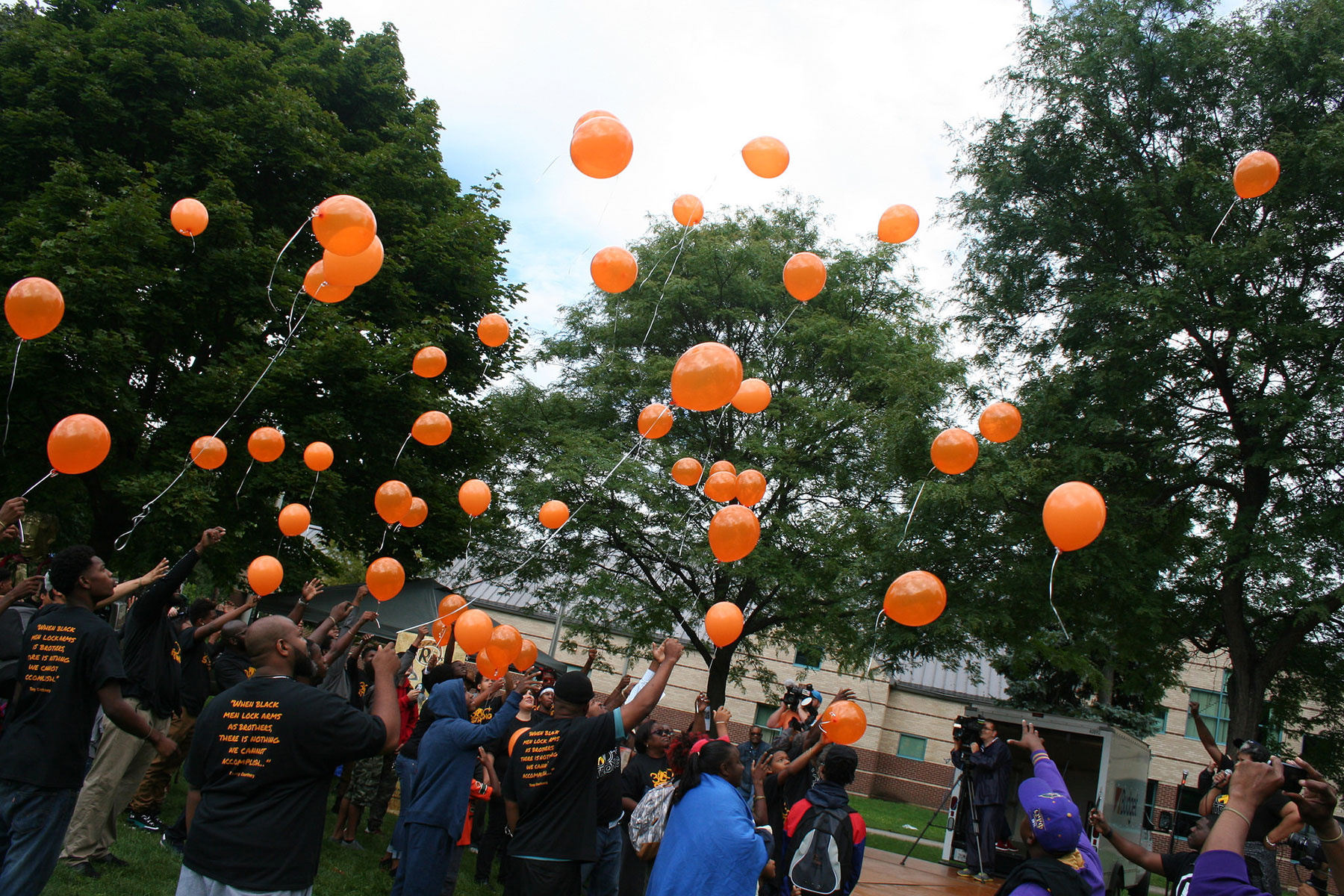 Attendees release balloons in a tribute to Eric Von, the iconic Milwaukee media personality who recently died unexpectedly.
After a dark, rainy morning, sun finally broke through the clouds over Sherman Park as a host of orange balloons ascended into the bright blue sky. The balloon release, a tribute to Eric Von, who recently passed away unexpectedly, was a fitting opening to a gathering that sought to demonstrate unity in Milwaukee's black community.
"He was truly the voice of Milwaukee," long-time colleague Ptosha Davis said of Von, whose 25-year career as a journalist spanned multiple radio stations, Milwaukee Public Television and, most recently, Precious Lives, a radio series examining the effects of gun violence.
Davis said Von "blazed a trail" as a black journalist and as someone who sought to get to the heart of the matter. She said he made sure that the community was informed, challenging young people at the event to "pick up the baton."
"Everybody has a story," Davis said. "We may talk about a riot or arrests, but at the root of all of that, there are lives that are impacted."
The event, the second annual rally held by the co-operative 300+ Strong, provided entertainment, speakers, free food and a place for community members to connect with one another. The group, comprising Running Rebels, We Got This, Program the Parks and other organizations that serve city youth, was created in conjunction with the national My Brother's Keeper initiative and Milwaukee's Black Male Achievement Advisory Council.
Jeff Roman, an organizer of 300+ Strong, said the rally, though planned in advance of recent events in Sherman Park, was about "re-uniting" and "re-claiming" the park, as well as building connections and capacity among grassroots organizations.
"I think media and people outside of Milwaukee, they sort of built this false narrative around the young people and communities that live in this area," Roman said. "There have been people here on the ground doing stuff for young people, so we wanted to lift them up."
Milwaukee's black poverty rate of 39.9 percent is 25 points higher than the poverty rate among whites. Less than half of working-age African-American men in Milwaukee were employed in 2010, according to a 2012 paper by Marc Levine of the Center for Economic Development at UWM. Wisconsin incarcerates black men at a higher rate than any other state; in Milwaukee County more than half of African-American men in their 30s have served time behind bars.
"It's part of white supremacy to make us think not only that we're bad but to make the rest of the world think that black folks are bad. But this is what we are," said community activist Tejumola Ologboni, referring to the gathering.
We Got This founder Andre Lee Ellis agreed. "These are the things that should be seen on Facebook, not the fights and negativity; these are the things that should be seen on our blocks; these are the things that will promote love in our community."
Ologboni led a traditional African libation at the event. The purpose of the libation, a ceremonial pouring of liquid, was to remind people of their connection to each other. "People think we're separate," he said. "But … the fact of the matter is that we're not."
Vaun Mayes, who has been working with challenged youth in the area throughout the summer, said it is necessary to return to the mentality that "it takes a village" to raise a child.
"Everybody [does] what they do for a reason," said Terry McDuffy, 14, who participated in the balloon release. "Some people's mommas ain't got cars — they want their momma to have cars; some people's mommas can't pay their rent — they gotta find a way to pay the rent."
Ashanti Hamilton, president of Milwaukee's Common Council and co-chair of the Black Male Achievement Advisory Council, praised the work of individuals and grassroots organizations doing hands-on work in the central city. He said the Common Council has tried to support proactive efforts to address violence and crime, including Safe Zones, a city-funded community-policing initiative, and the Residents Preference Program, which focuses on providing job opportunities to struggling city residents.
Hamilton added that he would like to see an "equalization" of resources across departments and initiatives involved in addressing those issues. In 2016, the Milwaukee Police Department accounted for 45 percent of the city's $615 million proposed budget.
Rahim Islam, a sponsor of the event and president of Universal Companies, a Philadelphia based nonprofit, said it is important for leaders to bring their abilities together and come up with a strategy to address the root causes of the plight of black people. "Everybody's just responding, responding, responding. That's a paradigm that's not going to get [us] to where we [want to] get to. It hasn't yet," he said.
Ologboni encouraged elders in the black community to be a positive example for youth. "Hope isn't an abstract concept," he said. "The hope is you, hope is me, hope is what we do."
Khalil Henley, 16, said it's important to find positivity within the negativity. He said he hopes to see Milwaukee's black community become a family, once again.
Eric Von was "more than a radio personality," Davis said, calling him a community activist, as well. She encouraged young people to educate themselves, search for truth and understand the importance of their voice.
Davis added, "We have a different story to tell."