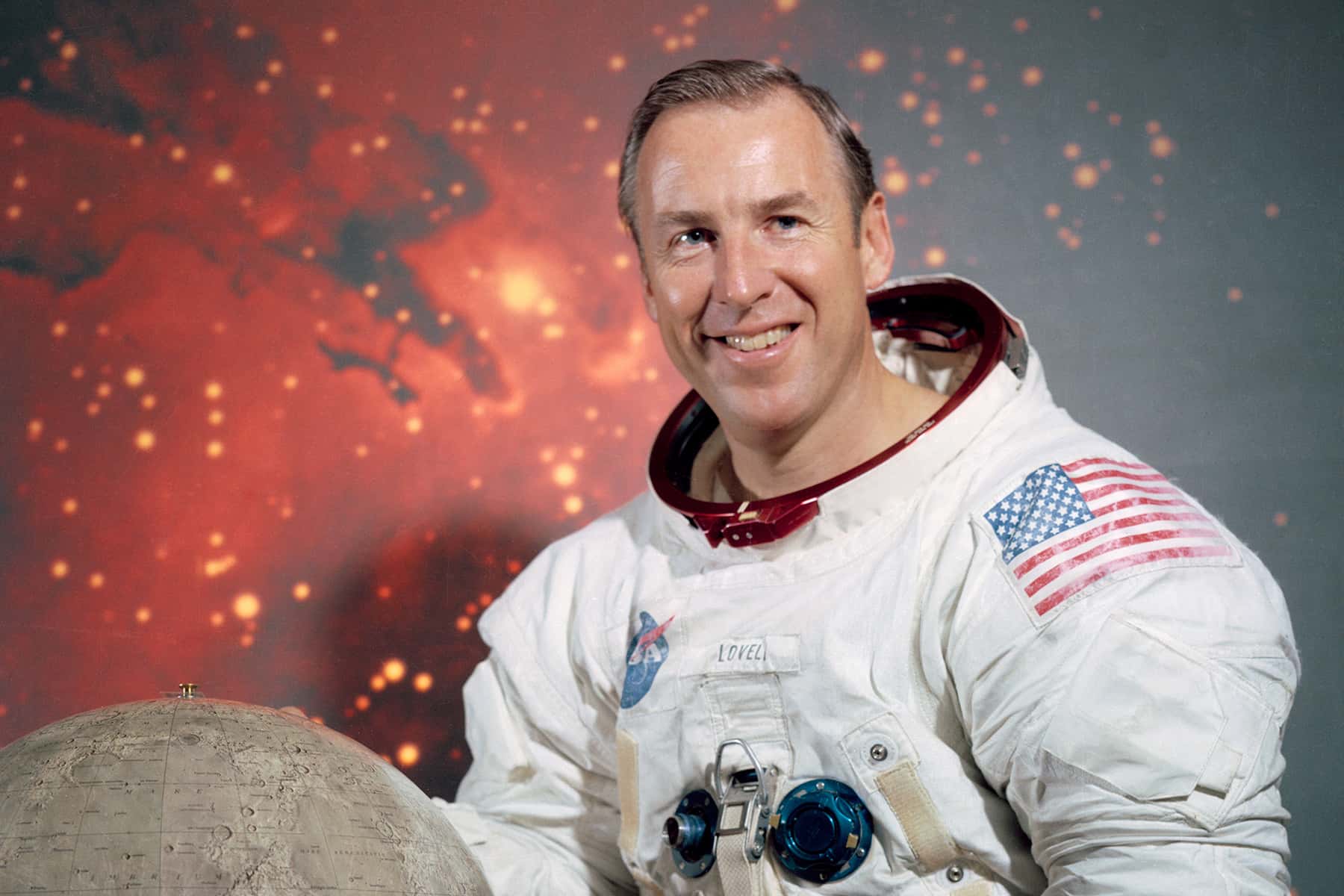 The Milwaukee boy who avidly read Jules Verne novels as a child was, by the mid-1940s, in high school and building his own rockets, and would go on to fly on Apollo 8, the first manned mission to orbit the moon, and commanded Apollo 13.
James A. Lovell Jr. was born March 25, 1928 in Cleveland, Ohio. His father died in a car accident when Lovell was young. Along with his mother, he relocated to Milwaukee and went on to graduate from Solomon Juneau High School. After attending the University of Wisconsin for two years he transferred to the United States Naval Academy, receiving a Bachelor of Science degree in 1952. He is also a graduate of the Aviation Safety School at the University of Southern California (1961), and of the Advanced Management Program at Harvard Business School (1971).
"Now approaching lunar sunrise. And for all the people back on Earth, the crew of Apollo eight has a message that we would like to send to you. 'In the Beginning God created the Heaven and the Earth. And the Earth was without form and void. And darkness was upon the face of the Deep. And God saw that it was Good.' And from the crew of Apollo 8, we close with good night, good luck, and a Merry Christmas. And God bless all of you, all of you on the good Earth." – Flight crew of Apollo 8, Christmas Eve, 1968
Upon leaving Annapolis in 1952, Lovell was commissioned an ensign in the Navy. As a naval aviator, he served in a variety of flight assignments before attending the Naval Test Pilot School at Patuxent River, Maryland. After completing flight training there in 1958, he stayed on as a test pilot until 1961. At the same time he was also a program manager for the F-4H Phantom, in charge of evaluating the fighter's weapon system. He later served as a flight instructor and safety engineer with Fighter Squadron 101 at the Oceana Naval Air Station in Virginia. Captain Lovell logged more than 5,000 hours flying time, including more than 3,500 hours in jet aircraft.
Jim Lovell was selected to be an astronaut by NASA in September 1962. On December 4, 1965, he and Mission Commander Frank Borman, were launched into space on the history-making Gemini VII mission. The flight lasted 330 hours and 35 minutes, and was America's longest space mission until Skylab in 1973. Gemini VII accomplished its primary goal, the first rendezvous of two manned maneuverable spacecraft, a maneuver essential to the planned Apollo program.
Gemini XII, commanded by Lovell with Edwin "Buzz" Aldrin as Pilot, began on November 11, 1966. Mission highlights included three extravehicular activities (EVAs) by Aldrin and a manual rendezvous with an Agena rocket. The four-day, 59-revolution flight brought the Gemini program to a successful close, as NASA began to ready the Apollo program, man's journey to the Moon.
Lovell next served as Command Module pilot on the epic journey of Apollo 8, from December 21 to 27, 1968. This was the first manned mission to be lifted into earth orbit by the massive seven and a half million-pound thrust Saturn V rocket. On December 24, Lovell, Mission Commander Frank Borman, and Lunar Module pilot William A. Anders became the first humans to orbit the Moon. The crew captivated an estimated billion people in 64 countries on Christmas Eve as they broadcast televised images of the Moon and distant Earth while reading selections of the book of Genesis. The mission ended with a splash down in the Pacific after a flight of 147 hours and 42 minutes. Time magazine voted the crew of Apollo 8 its "Men of the Year" for 1968.
Lovell completed his fourth and final NASA mission as Spacecraft Commander of Apollo 13, launched on April 11, 1970. He was the first man to journey twice to the Moon (though he never actually landed on it). Apollo 13 was to last ten days; however, 55 hours into the flight the Service Module cryogenic oxygen system failed. Almost 200,000 miles from Earth, Lovell and fellow crewmen, John L. Swigert Jr. and Fred W. Haise Jr., working closely with Houston ground controllers, converted the Lunar Module Aquarius into an effective lifeboat.
Their emergency activation and operation of lunar module systems conserved both electrical power and water in sufficient supply to assure their safety and survival while in space, and for the safe return to earth. While passing over the far side of the moon, Apollo 13 was 248,655 miles from earth; the farthest man has yet journeyed into space. With the safe return of Apollo 13 on April 17 Captain Lovell logged a total of 715 hours and five minutes, almost 30 days, in his four spaceflights.
On March 1, 1973, James Lovell retired from the Navy as a Captain. He left NASA at the same time. He later co-wrote a book on the Apollo 13 mission, "Lost Moon: The Perilous Voyage of Apollo 13." This book was the basis for the 1995 Oscar-winning movie Apollo 13 starring Tom Hanks as Lovell. Lovell has a cameo role as the captain of the recovery ship.
"From now on we'll live in a world where man has walked on the Moon. It's not a miracle, we just decided to go." – Jim Lovell