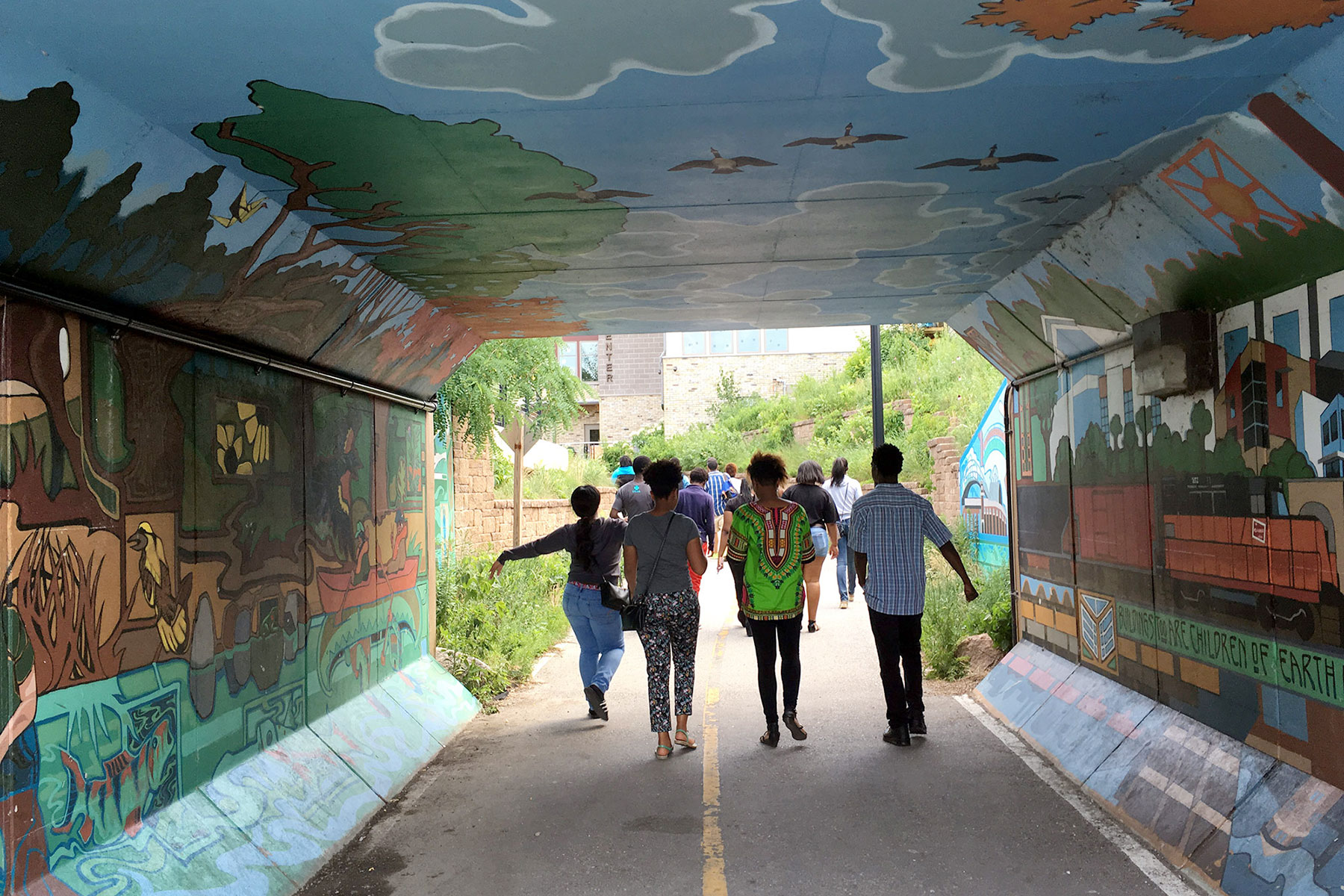 Youth Rise Magazine, a pilot online publication produced by central-city teens, profiles five young Milwaukeeans of color as part of the Urban Underground program.
Payton Stovall, a Whitefish Bay High School student who lives on the North Side, feared that Urban Underground's Earn & Learn summer project would be boring. She wasn't interested in journalism and didn't think she would enjoy writing. But she was surprised to learn how many different skills it takes to produce an online publication.
"And it wasn't like school writing. It was more like storytelling," Stovall said.
Stovall, 15, and 16 other young adults participating in the program went from brainstorming ideas to celebrating the launch of an online youth magazine in just eight weeks.
Youth Rise Magazine profiles five young Milwaukeeans of color: Nautica Whitelow, 15, a self-appointed peacemaker in Sherman Park; Thomas Leonard, spoken-word poet and recent graduate of Wauwatosa West High School where he was the Black Student Union president; Arthur Clements, 19, recovered drug addict and anti-drug activist; Dontazsha Duncan, 18, Safe Zones ambassador whose best friend was fatally shot on her front porch; and Payton Wade, City of Milwaukee Youth Council representative.
The project was initiated by Allison Dikanovic, a Marquette University senior majoring in journalism and international relations. A former reporting intern at Milwaukee Neighborhood News Service, Dikanovic applied for and received a $3,500 mini-grant from the Marquette University College of Business Administration Kohler Center for Entrepreneurship's The Dorm Fund, a student-run venture capital firm that invests in undergraduate student-run initiatives.
A volunteer academic-support coordinator at Urban Underground for three years and summer staff manager this summer, Dikanovic acted as project editor and mentor. Working together with Dikanovic, the teens originated, reported, created, produced, designed and edited all the magazine's content.
Dikanovic is "an amazing youth worker," said Sharlen Moore, Urban Underground director. The relationships she has built with the young people during her years at Urban Underground, as well as her journalism background, made her the perfect person for this project, Moore added.
Youth Rise Magazine fills a void in the city, added Moore. "It provides a platform for young people to share the stories of other young people who are doing some great things in this community." She noted that youth are often left out of conversations about solutions to problems in the community.
Moore said she will seek funding to continue the project during the school year.
"The participants identified different issues in the community that they were concerned about and found youth who connected to those issues in some way," Dikanovic explained. They attended a wide variety of events in the city and narrowed the list to five topics to explore and highlight.
Mariah Walls, 16, who lives in the Midtown neighborhood and attends Pius XI Catholic High School, said she learned a lot about the community from attending these events. For example, she was surprised to see young people participating in a meeting between police and Sherman Park residents before the violence that started on Aug. 13. But she was disturbed that police officers and some adults imposed time limits on the comments of young people who wanted to speak, and appeared not to listen to what they had to say. "Maybe hearing them would have even prevented the burning of the gas station," Walls said.
In addition to the featured profiles, members of the project wrote blog posts offering commentary on issues related to the stories.
"The teen participants were able to connect quickly and meaningfully to their subjects in a way that allowed them to conduct interviews and have conversations differently than any adult reporter would have been able to," Dikanovic said.
The project culminated with a recent celebration attended by 50 participants, supporters and well-wishers at Marquette University's Alumni Memorial Union. Dikanovic and three teens explained the project and projected the magazine on a large screen. It was the first time the teens were able to see their finished product.
"I thought it was a great experience. I liked that we were able to get the youth voices heard through the magazine and now everyone is able … to see what they think and how they view the problems in their city," said the project's social media director Shira Higgins. Higgins, 18, is a recent Rufus King International High School graduate who will enter UW-Milwaukee this fall.
In the end, Payton said, she learned that she shouldn't limit herself to things she thought she was interested in and could do well.
"It was fun to watch students explore talents that they didn't know they had, whether that was photography, graphic design or interviewing. It's cool to see how much students can grow when pushed into a space just past their comfort zone," said Dikanovic.
The Earn & Learn program is an initiative of the City of Milwaukee, in partnership with local businesses and nonprofit, community- and faith-based organizations.