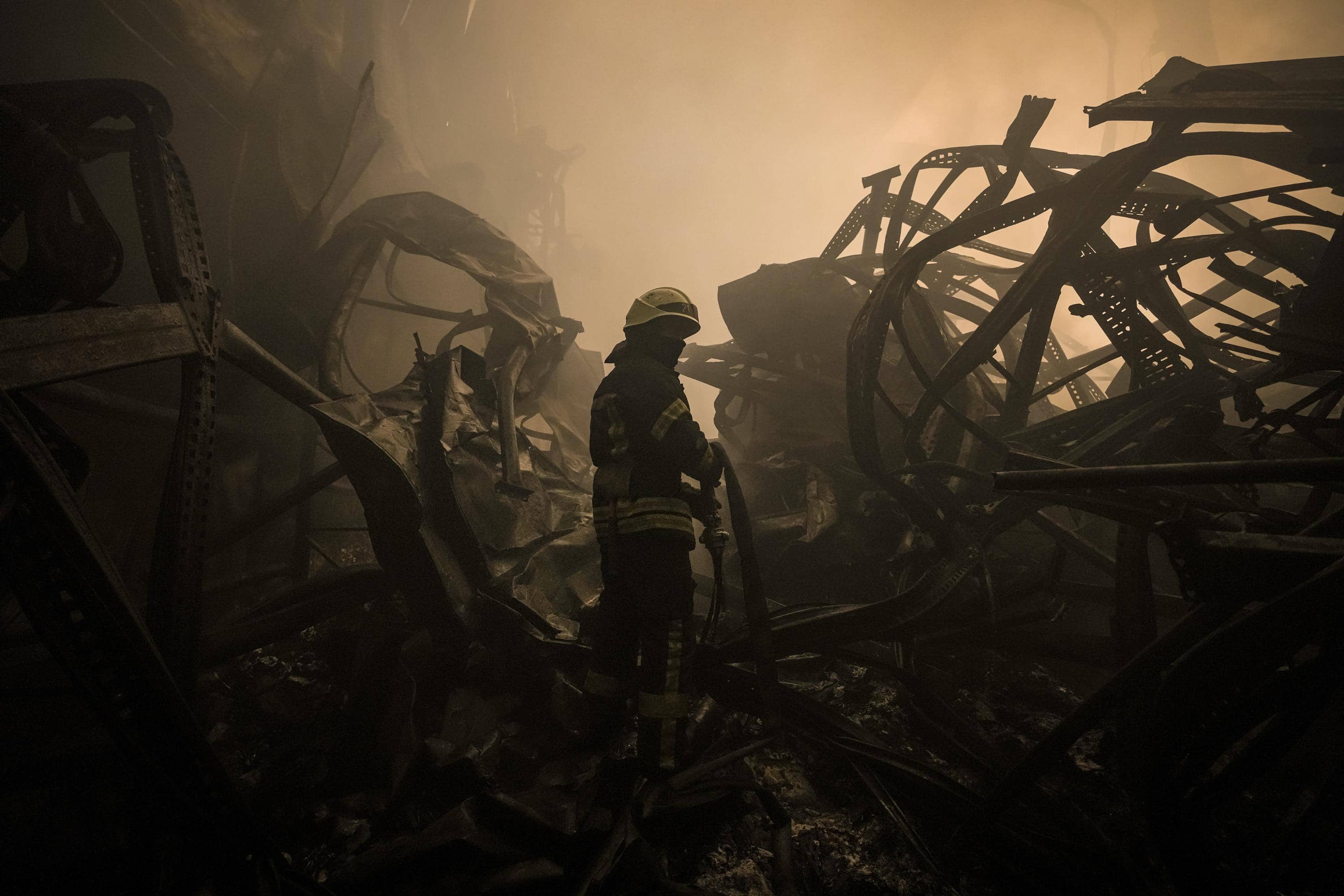 While peace talks and humanitarian aid for civilians remain top global priorities amid Russia's ongoing assault of Ukraine, a United Nations report released on March 16 estimates that over $100 billion in damage has already been done to the country's battered infrastructure.
As more than three million Ukrainians have fled and the death toll and war crimes allegations against Russia have mounted, the invading forces have severely damaged infrastructure across Ukraine, according to the United Nations Development Program (UNDP).
"Early UNDP projections suggest that already in the short- to medium-term, the development setbacks for Ukraine will be significant," the report states. "Poverty and inequalities will rise; the country's economy, its social fabric, and the environment will suffer."
"Government of Ukraine estimates suggest that at least $100 billion worth of infrastructure, buildings, roads, bridges, hospitals, schools, and other physical assets have been destroyed," the assessment continues. "The war has caused 50% of Ukrainian businesses to shut down completely, while the other half is forced to operate well below its capacity."
The document warns that "if the war deepens and protracts further, up to 90% of the population of Ukraine could be facing poverty and vulnerability to poverty."
Along with warning that "every day of delayed peace will accelerate a freefall into poverty for Ukraine," UNDP emphasized the need for immediate international action.
"To mitigate such dramatic development setbacks, targeted and scaled response and recovery support to the government of Ukraine, wherever feasible, will be critical," says the report. "This is possible now and needs to happen in parallel with the ongoing humanitarian response."
"It requires a continuous and strengthened focus on maintaining the functionality of the governance ecosystem, and delivering public services in addition to longer-term development support," the report adds. "An effective humanitarian-development-peace nexus will be critical, that is why humanitarian, early recovery, and development activities have to work hand in hand in Ukraine."
"Initial estimates are that $250 million per month in funding will be needed to cover partial income losses for 2.6 million people who are expected to fall into poverty. Providing the most vulnerable with a basic income of $5.50 per day would cost $430 million a month, UNDP said." – U.N. News
While noting that conditions are dire for those who remain in Ukraine, the UNDP administrator, Achim Steiner, also underscored the major opportunity for global aid to help ensure a better future for Ukrainians.
"The war in Ukraine is causing unimaginable human suffering with a tragic loss of life and the displacement of millions of people," said Steiner. "While the need for immediate humanitarian assistance to Ukrainians is of the utmost importance, the acute development impacts of a protracted war are now becoming more apparent."
"An alarming economic decline, and the suffering and hardship it will bring to an already traumatized population, must now come into sharper focus," the administrator declared. "There is still time to halt this grim trajectory."
"As part of the United Nations' unwavering commitment to the Ukrainian people, UNDP's primary focus is to help preserve hard-won development gains," he said. "That includes supporting the government to sustain critical governance structures and services, which constitute the bedrock of all societies."
Steiner also stressed that "in order to avoid further suffering, destruction, and impoverishment we need peace now."
Еvgеnіy Mаlоlеtkа, Fеlіpе Dаnа, Оlеksаndr Lаpshyn, Vаdіm Ghіrdа, Аrіs Mеssіnіs, Еmrе Cаylаk, Wоlfgаng Schwаn