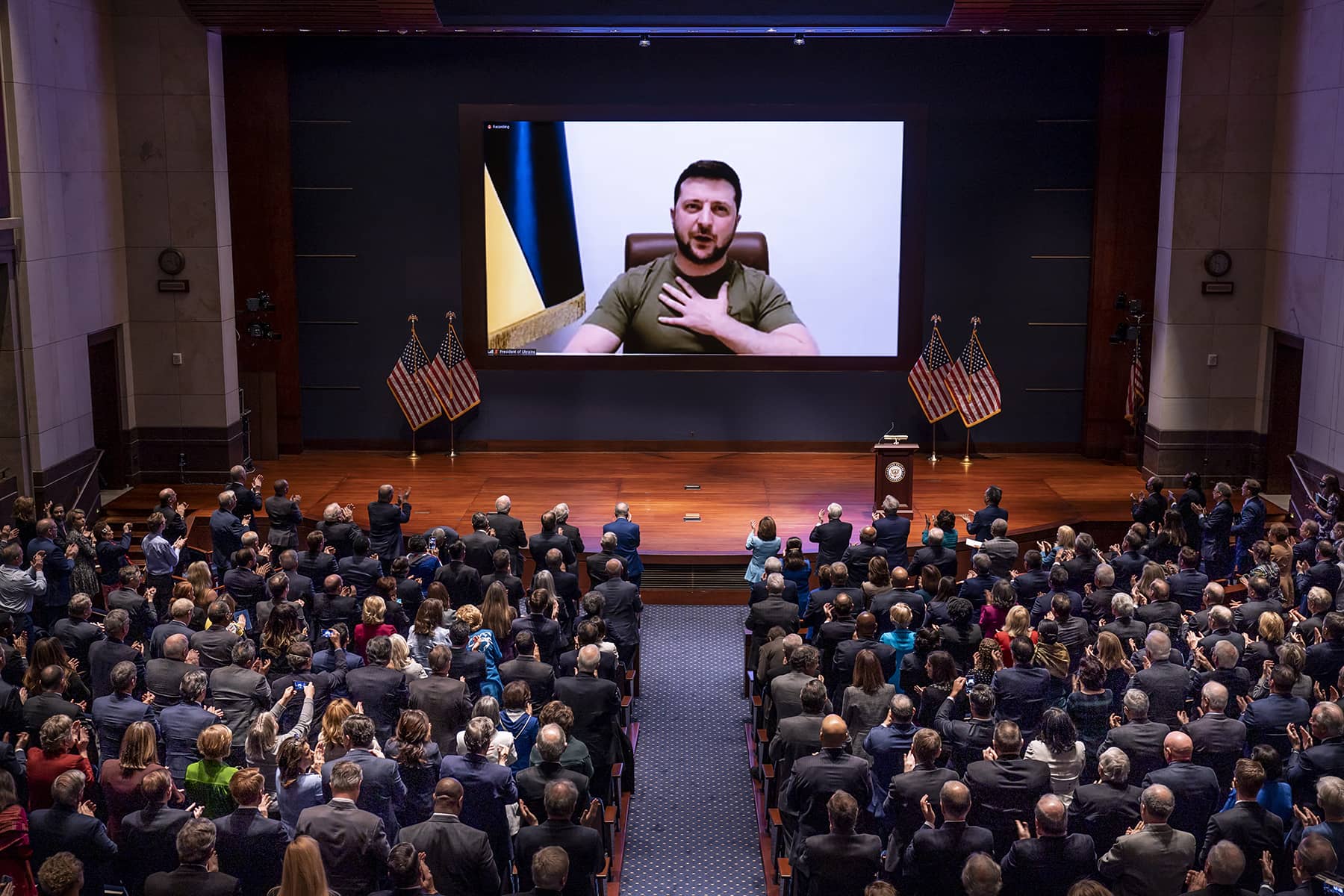 Russia's war on Ukraine has given us a penetrating snapshot of democracy and autocracy.
Ukraine president Volodymyr Zelensky addressed a joint session of Congress virtually on March 16. His speech was live streamed to the American people. Looking tired, he wore a green military tee shirt and was unshaven, sitting next to a large Ukrainian flag, a visual representation of his besieged country.
Speaking from Kyiv, Zelensky emphasized that he and Ukrainians were fighting to be free, to preserve their democracy, and he reminded Americans of our own declared principles.
"Russia has attacked not just us, not just our land, not just our cities. It went on a brutal offensive against our values, basic human values. It threw tanks and planes against our freedom, against our right to live freely in our own country, choosing our own future, against our desire for happiness, against our national dreams, just like the same dreams you have, you Americans."
He urged Americans to remember our own darkest days, Pearl Harbor and 9/11, and begged for a no-fly zone. Knowing that is unlikely — it would initiate a world war — he asked for planes to protect the skies over Ukraine. He thanked the U.S. and President Joe Biden for their support, but asked for more. In addition to continuing economic sanctions, he called for new institutions and new alliances to respond to provocations more quickly than the world has done for Ukraine.
It is, indeed, unimaginable what destruction Putin has rained down on Ukraine in less than three weeks: also on March 16 we learned that Russians deliberately bombed a theater where more than 1000 people, including many children, had taken shelter, apparently revisiting the technique of targeting children and civilians he developed in Chechnya and Syria. Zelensky showed a six-minute video of the destruction in Ukraine, showing how a country that only three weeks ago was full of people just going about their lives has turned into a war zone.
"Peace in your country doesn't depend anymore only on you and your people," Zelensky said. "It depends on those next to you and those who are strong. Strong doesn't mean big. Strong is brave and ready to fight for the life of his citizens and citizens of the world. For human rights, for freedom, for the right to live decently, and to die when your time comes, and not when it's wanted by someone else, by your neighbor."
"Today, the Ukrainian people are defending not only Ukraine," Zelensky said, "we are fighting for the values of Europe and the world, sacrificing our lives in the name of the future. That's why today the American people are helping not just Ukraine, but Europe and the world to give the planet the life to keep justice in history." He called attention to how very young he is to be leading the global fight for self-determination, and the extraordinary weight he is bearing. "Now, I am almost 45 years old; today, my age stopped when the hearts of more than 100 children stopped beating. I see no sense in life if it cannot stop the deaths. And this is my main issue as the leader of my people, great Ukrainians."
"And as the leader of my nation, I am addressing… President Biden, you are the leader of… your great nation. I wish you to be the leader of the world; being the leader of the world means to be the leader of peace. Thank you. Glory to Ukraine. Thank you for your support. Thank you."
In contrast, Russian president Vladimir Putin gave a public speech that Russia specialists saw as the launch of a fascist dictatorship. He continued to defend his invasion of Ukraine and claimed he was in an existential war for his country's survival. He warned his people that the West was counting on "the so-called fifth column, on national traitors," to destroy Russia. He identified those people as a culturally weak global elite who did not identify "with our people, not with Russia." They believe they are better than Russians, he said, and would do anything to keep their lifestyle.
The West, he said, is trying to split Russians and is using that "fifth column" to achieve its goal of destroying Russia. He called for Russians to distinguish true patriots from "scum and traitors" — political opponents and dissidents — and to get rid of the latter like bugs. "I am convinced that such a natural and necessary self-purification of society will only strengthen our country, our solidarity, cohesion and readiness to respond to any challenges."
Russia specialist Anne Applebaum tweeted: "Putin's call for a 'self-purification' of Russian society can have only one intention: To remind Russians of Stalin and his 'purges.' He wants them to be haunted by dark, ancestral memories, to remember their grandparents' stories and to be petrified with fear." Indeed, Russian authorities promptly launched a crackdown against anyone who showed any sympathy for western culture, beginning with a popular lifestyle blogger who had expressed opposition to the war on Instagram.
Putin's show of force internally may well reflect his weakness externally. The Pentagon estimates conservatively that the Russians have lost a staggering 7000 soldiers in less than three weeks in the invasion of Ukraine, more than the U.S. lost in 20 years in Iraq and Afghanistan combined. Officials estimate they have an additional 14,000 to 21,000 injured, out of a deployed fighting force of 150,000. Evelyn Farkas, the top Pentagon official for Russia and Ukraine during the Obama administration, told New York Times reporters Helene Cooper, Julian E. Barnes, and Eric Schmitt, "Losses like this affect morale and unit cohesion, especially since these soldiers don't understand why they're fighting."
Meanwhile, sanctions imposed by countries around the world are strangling the Russian economy. Reuters reported that Russia is "on the brink of its first default on international debt since the Bolshevik revolution [of 1917]." A Russian political scientist tweeted: "I have collected some thoughts on the immediate impact of sanctions on the Russian economy." The short version: "30 years of economic development thrown into the bin." "All in all, no other economy in the world has experienced anything like this, extreme de-globalization in a matter of days."
Secretary of State Antony Blinken said that sanctions would remain until there is no chance that Russia could ever again launch the sort of invasion Putin has launched against Ukraine. The U.S. Departments of Treasury and Justice launched a task force with Australia, Canada, the European Commission, Germany, Italy, France, Japan, and the U.K. to freeze and seize assets of sanctioned oligarchs. The Treasury Department also began to offer bounties of up to $5 million for information leading to "seizure, restraint, or forfeiture of assets linked to foreign government corruption."
All but about 40 American companies have pulled out of Russia, according to Judd Legum and Rebecca Crosby of Popular Information. Koch Industries, the second-largest privately owned business in America, is staying put. Political groups affiliated with right-wing billionaire CEO Charles Koch oppose broad sanctions and have suggested the U.S. should remain neutral in the crisis.
Meanwhile, a deepfake video of Zelensky calling for Ukrainians to surrender to Russia made the rounds on social media. The false video used artificial intelligence to graft words onto Zelensky's image.
Russia specialist Julia Ioffe told MSNBC: "Every time I'm asked by Americans do Russians really believe this stuff… as if we don't have the same thing happening here. You have 40% of the American population that was convinced in just one year that Donald Trump actually won the 2020 election…."
And, indeed, Trump loyalists like Representative Marjorie Taylor Greene (R-GA) and Fox News personality Tucker Carlson continue to echo Russian talking points to undercut Ukraine's war effort. Media scholar Eric Boehlert noted that "the anti-democratic, authoritarian bonds are becoming tighter as the Trump movement now turns to the Kremlin for its messaging cues. The overlap is undeniable, and the implications are grave."
Even more striking was white nationalist Nick Fuentes's encouragement for people to pray for what he called the brave Russian soldiers fighting to "liberate Ukraine from the Great Satan and from the evil empire in the world, which is the United States." Fuentes is an extremist but not an isolated one; both Greene and Representative Paul Gosar (R-AZ) spoke at a recent conference he organized (Greene in person; Gosar virtually), and House Minority Leader Kevin McCarthy (R-CA) took no action to disavow their participation.
After Zelensky spoke on March 16, Biden announced another $800 million in military equipment for Ukraine, including 800 anti-aircraft systems. "What's at stake here are the principles that the United States and the united nations across the world stand for," he said. "It's about freedom. It's about the right of people to determine their own future."
While Russia's war on Ukraine continues in all its blistering horror, there are glimmerings that suggest Russia's position in its assault on Ukraine is weakening. A senior U.S. defense official told reporters on March 17 that while there is significant fighting going on, the only major military news is that Russia has now launched more than 1000 missiles at Ukraine.
Ukraine's allies are working on supplying Ukraine with long-range air defense systems. The Pentagon also believes the airspace over Ukraine continues to be contested, and tentatively assesses that the morale of Russian soldiers is flagging.
Secretary of State Antony Blinken warned again that Russia appears to be considering using chemical weapons and trying to blame the ensuing destruction on Ukraine. President Joe Biden called Putin a war criminal.
China, which was allied with Russia when the war began and initially refused to condemn the assault, declined to co-sponsor a "humanitarian" resolution with Russia at the United Nations. At the beginning of Russia's invasion of Ukraine, China joined Russia in vetoing resolutions. Then China abstained. Now it is refusing even to co-sponsor a "humanitarian" resolution.
While Chinese state media continues to indicate friendship for Russia, it showed a video illustrating the story that Russian troops killed people standing in line for bread in Chernihiv, a city in northern Ukraine.
A German newspaper reported that on March 17 Russian foreign minister Sergei Lavrov was on a flight on its way to Beijing, but the plane turned around during the flight and returned to Moscow. President Joe Biden and Chinese president Xi Jinping are scheduled to talk tomorrow for the first time since November after U.S. national security advisor Jake Sullivan met with top Chinese diplomat Yang Jiechi for seven hours in Rome on March 14.
China has not abandoned support for Russia, but it does appear to be rethinking its position as the world condemns the invasion and has acted in concert to isolate Russia effectively from the global economy. Russia did in fact make a $117 million interest payment on its debt on March 17, avoiding — for now — a default on its debt. For all Putin's talk of not needing the international financial system, in the end, he chose to honor the debt, and in dollars rather than in the badly devalued rubles he had threatened.
Pieces continue to move elsewhere in the world, too. Uzbekistan became the first Central Asian country to openly support the territorial integrity of Ukraine and condemn Russia's "military actions and aggression." The Council of Europe, a human rights organization founded in 1949 and consisting of more than 45 member states, expelled Russia on March16.
It appears that Putin is reacting to the crisis he has launched by turning on some of his key advisors, including military chief General Roman Gavrilov. Former U.S. ambassador to Russia Michael McFaul reacted to this news: "Putin looks like a panicked leader these days, hardly the smart, strong, savvy leader that others assumed he was."
The Russian Elites, Proxies, and Oligarchs Task Force, known as REPO, issued a joint statement committing to "prioritizing our resources and working together to take all available legal steps to find, restrain, freeze, seize, and, where appropriate, confiscate or forfeit the assets of those individuals and entities that have been sanctioned in connection with Russia's premeditated, unjust, and unprovoked invasion of Ukraine and the continuing aggression of the Russian regime."
REPO includes Australia, Canada, the European Commission, France, Germany, Italy, Japan, the U.K., and the U.S.
While a crackdown on illicit money should squeeze oligarchs, it also has the potential to alter our domestic politics. Recent reports show that politics in the U.K. has been awash in Russian money, and it seems likely that such cash has influenced the U.S. as well. This crackdown, along with new regulations about transparency in shell companies, might affect campaign finance.
The Freedom to Vote Act rejected by the Senate this year would have addressed this issue more effectively; it required any person or entity donating more than $10,000 to a campaign be identified. It would also have protected against the voter suppression laws passed last year in 19 Republican-dominated states, which the Texas primary revealed to be as discriminatory as opponents feared: about 13% of mail-in ballots, 23,000 of them, were rejected in a state that in the past rejected about 1%. Officials in counties that lean Democratic rejected mail-in ballots at a higher rate than officials in counties that lean Republican: 15.1% to 9.1%.
The House of Representatives voted to suspend normal trade relations with Russia and Belarus, permitting the administration to raise tariffs against them. The measure passed by a vote of 424 to 8. The eight votes against the measure came from Republican members Andy Biggs (AZ), Dan Bishop (NC), Lauren Boebert (CO), Matt Gaetz (FL), Marjorie Taylor Greene (GA), Glenn Grothman (WI), Thomas Massie (KY), and Chip Roy (TX), all staunch Trump supporters.
Meanwhile, the support of certain U.S. lawmakers for Russia in this crisis has been a boon to the Russian president. Representative Marjorie Taylor Greene is openly pushing Russian talking points, claiming that NATO is supporting Nazis in Ukraine. Russian state TV is replaying Representative Madison Cawthorn's (R-NC) remarks calling President Zelensky a "thug."
The other big news came from The Guardian's Hugo Lowell: the report alleging that Trump lost the 2020 election because of Dominion Voting Systems — a report that Trump used to justify his attempt to overturn the election, including a plan to assume emergency powers — was not written by a volunteer lawyer after the election, as previously understood. In fact, it was written by a senior White House aide, Joanna Miller, who worked for key Trump advisor Peter Navarro. Navarro incorporated the Miller report into one of his own, which he and aides had begun to write two weeks before the election even happened.
That is, it was the White House itself that invented the "report" that the election was stolen, even before the election took place, and then used that report to justify the Big Lie that 19 state legislatures have relied on to restrict voting.
Ukraine's people are trying to save their democracy from a criminal assault by an autocrat who has perverted his own country's government, concentrating the nation's wealth and power in the hands of his cronies, and silencing those who want a say in their government.
That fight is not limited to Ukraine.
Full Speech by President Zelenskyy
Address by President of Ukraine Volodymyr Zelenskyy to the U.S. Congress
Mrs. Speaker, Members of Congress, Ladies and Gentlemen, Americans! Friends!
I am proud to greet you from Ukraine, from our capital – Kyiv. From a city that is under missile and air strikes by Russian troops. Daily. But it does not give up. And it didn't even think to give up for a single minute! Just as dozens of other cities and communities in our country, which found themselves in the worst war since World War II.
I have the honor to greet you on behalf of the Ukrainian people, brave and freedom-loving people. For eight years they have been resisting the aggression of the Russian Federation. They sacrifice the best children – sons and daughters to stop the full-scale Russian invasion.
Now the fate of our state is being decided. The fate of our people. It is being decided whether Ukrainians will be free. Whether they will preserve their democracy.
Russia has attacked more than just our land and our cities. It went on a brutal offensive against our values. Basic human values. It threw tanks and planes against our freedom. Against our right to live freely in our country, choosing our own future. Against our desire for happiness. Against our national dreams. Just like yours, ordinary people of America. Just like those of everyone in the United States.
I remember your Rushmore National Memorial. The faces of your prominent presidents. Those who laid the foundations of America. As it is today. Democracy, independence, freedom and care for everyone. Everyone who works diligently. Who lives honestly. Who respects the law.
We in Ukraine want the same for ourselves. All that is a normal part of life for you.
Ladies and Gentlemen! Americans!
In your great history you have pages that will allow you to understand Ukrainians. Understand us now. When it is needed most.
Remember Pearl Harbor. Terrible morning of December 7, 1941. When your sky was black from the planes attacking you. Just remember that.
Remember September 11th. A terrible day in 2001, when evil tried to turn your cities into a battlefield. When innocent people were attacked. Attacked from the air. In a way no one expected.
In a way you could not stop it. Our state experiences this every day! Every night! For three weeks now! Different Ukrainian cities… Odesa and Kharkiv, Chernihiv and Sumy, Zhytomyr and Lviv, Mariupol and Dnipro. Russia has turned the Ukrainian sky into a source of death. For thousands of people.
Russian troops have already fired nearly a thousand missiles at Ukraine. Countless bombs. They use drones to kill more precisely. This is a terror Europe has not seen for 80 years!
And we ask for a response. For the response from the world. For the response to terror. Is this too much of a request?
To establish a no-fly zone over Ukraine is to save people. Humanitarian no-fly zone. Conditions under which Russia will no longer be able to terrorize our peaceful cities every day and night. If that's too much, we offer an alternative.
You know what defense systems we need. C-300 and other similar systems.
You know how much depends on the battlefield on the ability to use aircraft. Powerful, strong aircraft. To protect your people. Your freedom. Your land. Aircraft that can help Ukraine. That can help Europe.
And you also know that they are available. But on land. Not in the Ukrainian sky. They do not protect our people.
"I have a dream" – these words are known to each of you. Today I can say: I have a necessity. The necessity to protect our sky. The necessity for your decision. Your help. And it will mean exactly the same thing. The same thing you feel. When you hear: I have a dream.
Ladies and Gentlemen! Friends!
Ukraine is grateful to the United States for its overwhelming support. For all that your state and your people have already done for our freedom. For weapons and ammunition, for training and funding, for leadership in the free world, which helps put pressure on the aggressor economically.
I am grateful to President Biden for his personal involvement, for his sincere commitment to the defense of Ukraine and democracy around the world.
I am grateful to you for the resolution, which recognizes all those who commit crimes against the Ukrainian people as war criminals.
However, now, in the darkest time for our country, for the whole of Europe, I urge you to do more! New packages of sanctions are needed every week. Until the Russian military machine stops. Restrictions are needed as regards everyone on whom this unjust regime is based.
We offer the United States to impose sanctions against all politicians in the Russian Federation who remain in office and do not sever ties with those responsible for the aggression against Ukraine. From State Duma deputies to the last official who lacks the morale to sever ties with state terror. All American companies must leave Russia, their market. Leave this market flooded with our blood.
Ladies and Gentlemen. Members of Congress!
Take the lead! If you have companies in the constituencies that sponsor the Russian military machine, keeping their business in Russia… You have to put pressure. So that the Russian state does not receive a single dollar, which it spends on the destruction of Ukraine. On the destruction of Europe.
All American ports must be closed to Russian goods and ships. Peace is more important than profit. And we must defend this principle throughout the world together.
We have already become part of the anti-war coalition. The great anti-war coalition, which unites many states, dozens of states. Those who reacted in a principled manner to President Putin's decision – to Russia's invasion of our state.
But we have to move on. We have to create new tools. To respond quickly! And stop the war. The full-scale Russian invasion of Ukraine began on February 24. And it would be fair if it ended in a day. In 24 hours. So that evil is punished immediately. Today the world does not have such tools.
The wars of the past have prompted our predecessors to create institutions that were supposed to protect us from war. But… They don't work. We see it. You see it. So, we need new ones. New institutions. New alliances.
And we offer them.
We offer to create an association – U-24. United for peace. A union of responsible states that have the strength and conscience to stop conflicts. Immediately. Provide all necessary assistance in 24 hours. If necessary – weapons. If necessary – sanctions. Humanitarian support. Political support. Funding. Everything necessary to preserve peace quickly. To save lives.
In addition, such an association could provide assistance to those who are experiencing natural disasters, man-made disasters. Who fell victim to a humanitarian crisis or epidemic.
Remember how difficult it was for the world to do the simplest thing – to give everyone vaccines. Vaccines against Covid. To save lives. To prevent new strains. The world spent months and years doing things that could have been done much faster. So that there were no human losses.
Ladies and Gentlemen! Americans!
If such an alliance, the U-24, had already been formed, I believe it would have saved thousands of lives. In our country, many other countries that need peace so crucially, that suffered inhuman destruction… I ask you to watch one video now. Video of what Russian troops did on our land. We have to stop this. We must prevent such things. Preventively destroy every aggressor who seeks to conquer another nation.
Please watch…
And in the end to sum it up.
Today it is not enough to be the leader of the nation.
Today it takes to be the Leader of the world. Being the Leader of the world means to be the Leader of Peace.
Peace in your country does not depend anymore only on you and your people.
It depends on those next to you, on those who are strong.
Strong does not mean big. Strong is brave and ready to fight for the life of his citizens and citizens of the world.
For human rights, for freedom, for the right to live decently and to die when your time comes, not when it is wanted by someone else, by your neighbor.
Today the Ukrainian people are defending not only Ukraine, we are fighting for the values of Europe and the world, sacrificing our lives in the name of the Future.
That's why today the American people are helping not just Ukraine, but Europe and the world to keep the planet alive, to keep justice in history.
Now I am almost 45 years old. Today my age stopped when the hearts of more than 100 children stopped beating. I see no sense in life if it cannot stop death. And this is my main mission as the Leader of my people – great Ukrainians.
And as the Leader of my nation I am addressing President Biden.
You are the Leader of the nation, of your great nation.
I wish you to be the Leader of the world. Being the Leader of the world means to be the Leader of Peace. Thank you.
Glory to Ukraine!
Ukrainian Presidency, Sаrаhbeth Mаnеy, Carlо Brеssаn, and J. Scоtt Аpplеwhіtе
Letters from an Аmerican is a daily email newsletter written by Heather Cox Richardson, about the history behind today's politics