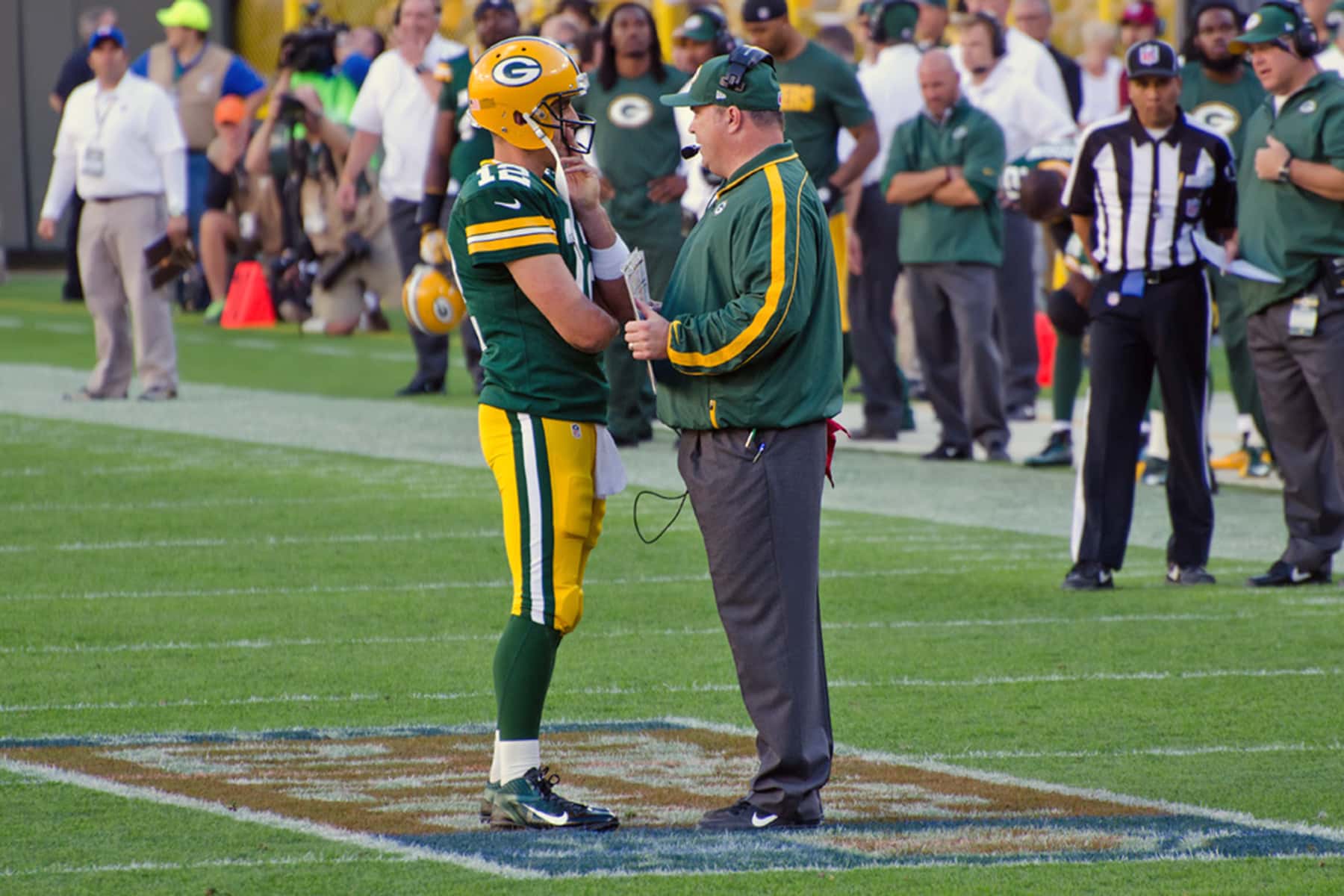 When the Green Bay Packers lost to the Arizona Cardinals 20-17 on the afternoon of December 2, a consensus began to form that the upset could mark the end of Mike McCarthy's tenure at head coach. What few suspected was that the change would happen so quickly.
Mere hours later, the Packers announced that McCarthy was out and that offensive coordinator Joe Philbin would act as interim head coach. With that shock announcement, McCarthy's 13-year stint in Green Bay came to a rather abrupt and ignoble end.
"The 2018 season has not lived up to the expectations and standards of the Green Bay Packers. As a result, I made the difficult decision to relieve Mike McCarthy of his role as head coach, effective immediately," Packers CEO Mark Murphy said in a statement before thanking McCarthy for his service. "Mike has been a terrific head coach and leader of the Packers for 13 seasons, during which time we experienced a great deal of success on and off the field."
While there's been no question that McCarthy has had a successful run in Green Bay, it was obvious that whatever had worked in the past simply wasn't working anymore. As losses began to mount, there was a growing sense that this was going to be McCarthy's season barring a miracle turnaround. After the Packers' record fell to 4-7-1 following a home loss to a Cardinals team that had won exactly two games, the team decided there was no use delaying the inevitable.
As with everything in Green Bay, the decision came down to quarterback Aaron Rodgers. A two-time MVP, Rodgers has been one of the best starting quarterbacks in the league for most of his career, and the team has made the playoffs every year he's been healthy since 2008. He has, however, only won a single Super Bowl in all those trips.
While some of that comes down with the quality of players that the team has put around him, there's been a sense that McCarthy's play-calling has been, at best, a non-factor. As long as the Rodgers/McCarthy combo was consistently making the postseason, the Packers were not inclined to make any major moves. Well, the Packers, losers of their last three games and currently in third place in the NFC North, are not making the postseason this time around.
It was just a few days ago that Sports Illustrated released a detailed report by Kalyn Kahler called, pointedly, How It All Went Wrong in Packerland. The report details growing tension between McCarthy and Rodgers, particularly with regards to play-calling. Rodgers, an incredibly intelligent player, often has the green light to run his own plays something which has led to increasing conflict: "McCarthy might call the same play three times in a game, without the play actually being run as he called it. And if McCarthy calls a play that Rodgers doesn't like early in the game, that can sour the mood for the rest of the game."
To say the least, this is not a dynamic that was going to last much longer and when there's conflict between a Hall of Fame quarterback still in his prime and his head coach, well, a team is going to side with the QB. Green Bay simply can't expect to find and interview candidates to replace an Aaron Rodgers.
Of course, even if the two were on the same page, circumstances might have forced the team to make a change regardless. This season was so disappointing that the overall sense around the league that the team needed a fresh start if it wanted to maximize its opportunities to win with Rodgers. The Packers have underachieved and while McCarthy might not have been the problem, complacency alone can sometimes be a kiIIer. The question now, assuming that Philbin is merely a place-holder and not a likely head coach candidate, is where the franchise goes from here. They will have plenty of time to think about it.